So this week has been AWESOME!! I got to catch up with a great friend I haven't seen in quite a while early in the week. Plus I'm getting to spend my first full week in my apartment since I moved in April. And I wanted to celebrate with a healthy treat. I had some zucchini on hand, so this Chocolate Chip Zucchini Bread naturally seemed like a great choice.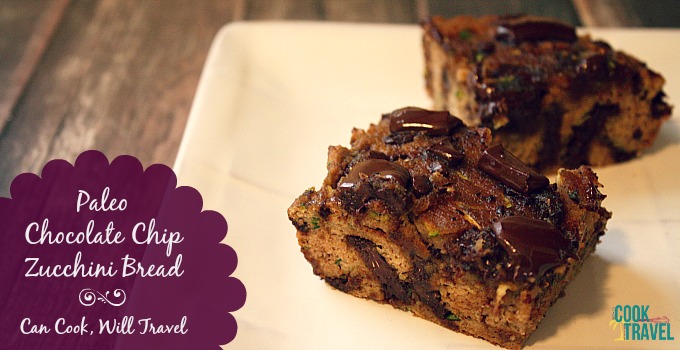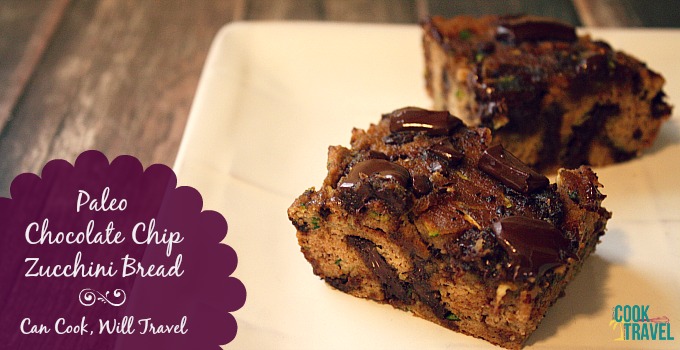 What's funny is that I've been gone every week to the point that I just assumed I'd be gone next week. But I took a look at the calendar and realized I'm here for two FULL weeks! How exciting!
So in an effort to enjoy every second (and bite) of my week, Chocolate Chip Zucchini Bread was a must! This zucchini bread is baked in a dish, so it looks like a cake since it isn't baked in a traditional loaf pan. And Erin at Well Plated was speaking my language with the addition of dark chocolate in the zucchini bread and sprinkled on top.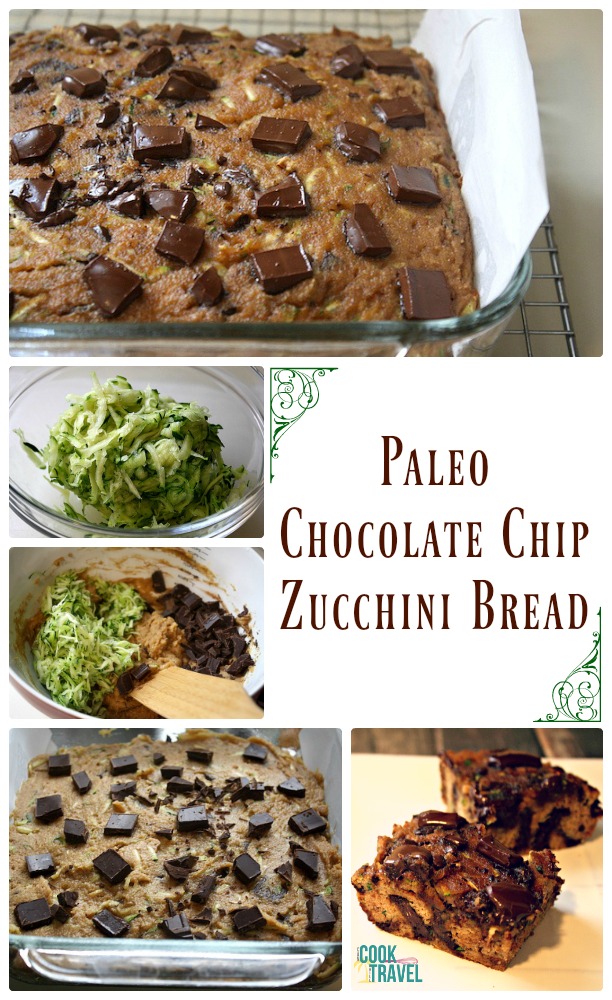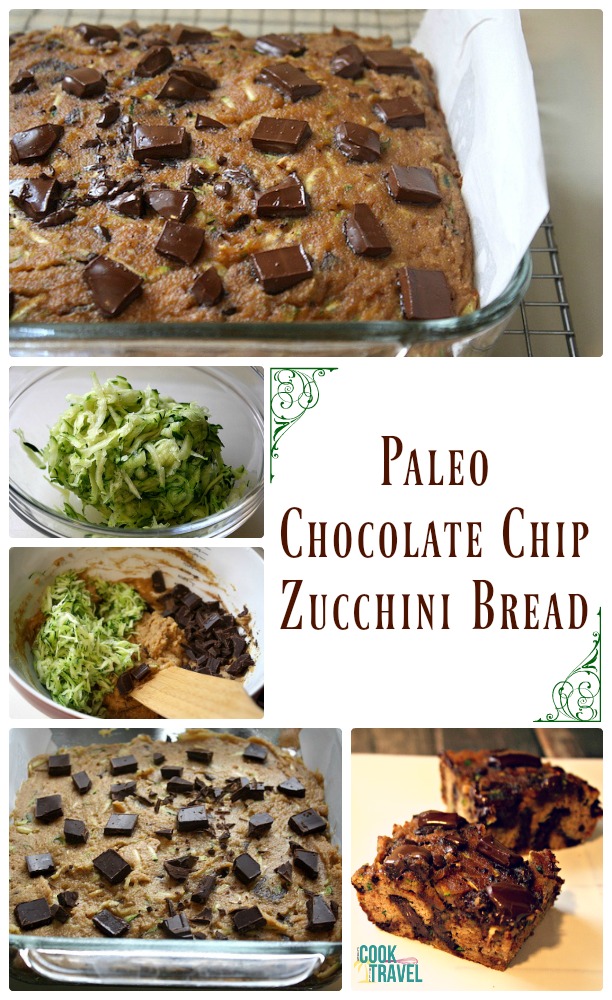 My friend, Nicole, had asked earlier this year for some paleo recipes. Nicole, this one's for you! Start off by grating a medium sized zucchini and you'll squeeze out the excess moisture. Then mash a ripe banana. Whisk in eggs, coconut oil, maple syrup and vanilla. This isn't an overly sweet bread, so feel free to add another tablespoon of maple syrup if you want to up the sweetness.
To the wet ingredients, you'll mix in coconut flour, cinnamon, nutmeg, baking soda, and salt until it's all well combined. Fold in the zucchini and chocolate (reserving some for topping the batter). Pop it in a square baking dish, top with the remaining dark chocolate and bake until it's fully cooked.
This dish is super easy! Plus there are no heavy, bad-for-you ingredients involved. I always appreciate that! And I adore zucchini bread, in case you can't tell from this recipe (with a little pineapple) or this one that is like a chocolate loaf of heaven! Damn, now I want to bake both of those!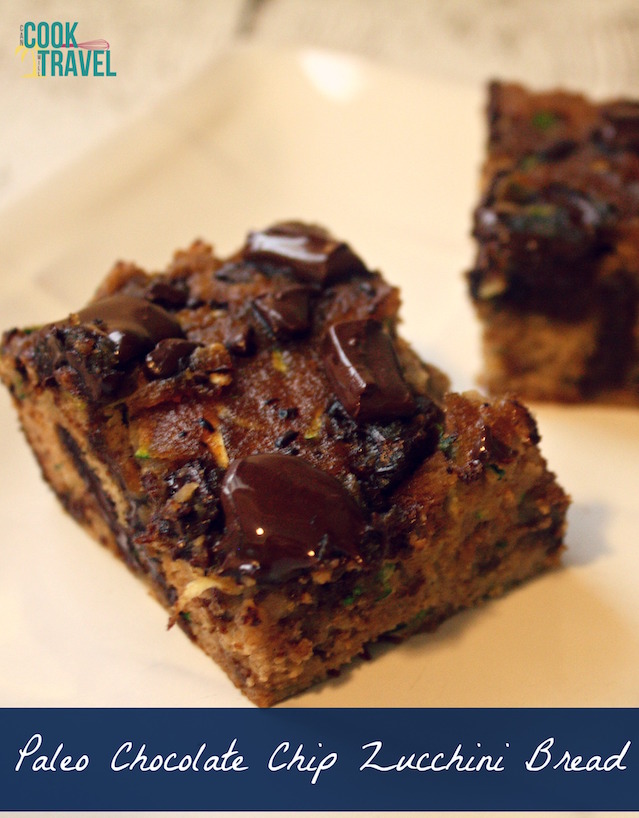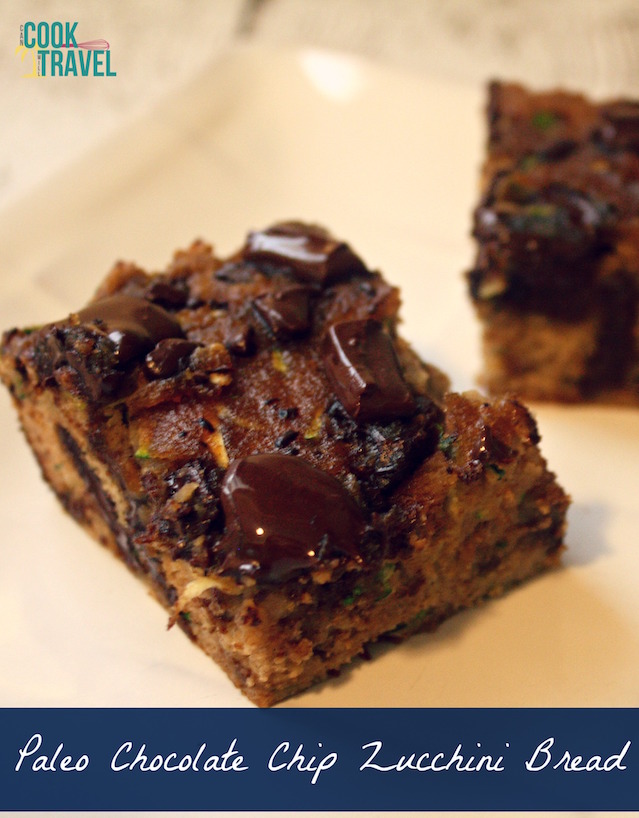 If you go into this knowing that this recipe is a bit healthier and not uber sweet, then you'll love it. The bits of chocolate in each bite help you to forget that you're not indulging. Plus sneaking in a paleo dish with healthy zucchini inside is good for the whole family!
Add this Chocolate Chip Zucchini Bread recipe to your "healthy recipes to make" list ASAP. You'll be glad you did! Be sure to click the link for the recipe and step by step instructions! Happy shredding, my friend!
A look back:
One year ago: Crispy Garlic Curly Fries = A Perfect, Healthy Snack
Two years ago: Smokey Roasted Chickpeas Make Snack Time Uber Healthy
Three years ago: Firecracker Chicken with a Side of Yum!
Four years ago: Oat Cake Treats – Trust Me They are So Good!
Five years ago: Cooking with Zucchini – Part 2
0