You'll find a pattern on my blog around the new year where I just have to make a dip. That holiday has typically been one where I nosh on appetizers and then ring in the new year with When Harry Met Sally. If I'm lucky, then I'm not alone with said tradition. Sometimes I'm hanging with my parents or my sister, but the one constant is that movie and the promise of a delicious dip! So this Spicy Bean Dip makes an appearance to round out this year.
One of my favorite dips is one I shared at the end of last year, and it's divine. Then I actually made a spicy vegan dip this Fall that is a healthier, dairy free version. I have a feeling the latter will have to show up again this year, because it's so freaking good!
Okay the more I think about it, I really have a TON of favorite dips, so why don't you just check out all the dip recipes I've made? You're guaranteed to find something you'll love like Taco Ranch Dip or Cheesy Corn Bacon Jalapeño Dip. Honestly I could probably add 10 more faves to the list, so it's best if you just peruse yourself – haha!
Alright but back to the Spicy Chipotle White Bean Dip, because that's what we're here for, right?! Lately I've been making my own recipes or riffing on ones I've found, but not in this case. I found this recipe on Damn Delicious, which is such a great site if you don't check it out. I literally found nothing I wanted to change with it (other than adding some salt and more citrus), so I stuck with the original.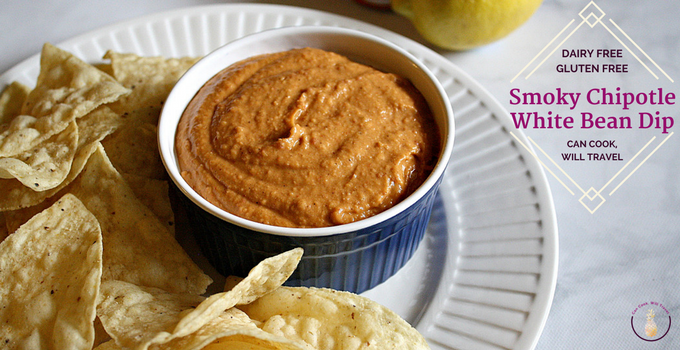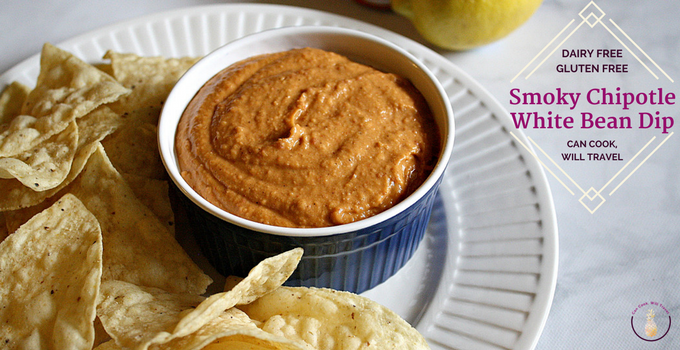 All you need is a food processor, and you'll be devouring this Spicy Chipotle White Bean Dip in no time. Just rinse and drain cannellini beans, then add them to the food processor. Toss in some garlic, cumin, chipotle pepper, lemon juice, and then chipotles in adobo (I went with 3 so it'd be spicy). Process away and then slowly pour in olive oil as it purées and you end up with this thick, totally dip-able mixture! Adjust the seasonings and dive in.
I served mine with tortilla chips, and it was crazy good! But we love bean dip with Fritos scoops too, so try that if you like. I brought this dip home for the holidays and we also tried them with some gluten-free multi-grain crackers, and that was amazing too. The moral of this story is, that chips, Fritos, crackers, veggies, etc will all work well.
The texture is really great and isn't too thick, but I'd recommend not serving it cold. Remove it from the fridge and take the chill off for 30 minutes or so before enjoying, so you get maximum flavors! Holy smokes this Spicy Chipotle White Bean Dip is no joke with the spice, but it's really delicious! My family enjoyed it when I added this one to our appetizer spread, so I'd call it a dip win!
When you want an easy, spicy dip then you must try this Spicy Chipotle White Bean Dip! Click that link for the step by step instructions, and then happy dip making. I have a feeling the spicy food lovers in your life will enjoy devouring this recipe!
A look back:
One year ago: Winter Oatmeal that Hits the Spot
One year ago (Because sometimes you get 53 Fridays in a year): Crab Rangoon Dip … Goodbye 2016!
Two years ago: Healthy Sticky Cinnamon Roll Batter Oatmeal . . . Yum!
Three years ago: Broccoli Parmesan Cheese Dip … Tis the Season, After All
Four years ago: Hot Buffalo Chicken Dip … It's Officially a Hit
Five years ago: Turkey Tetrazzini … The Only Way to Eat Leftover Turkey!
Six years ago: Bring on the Artichokes!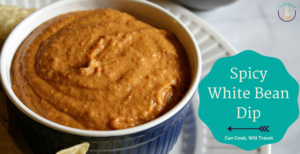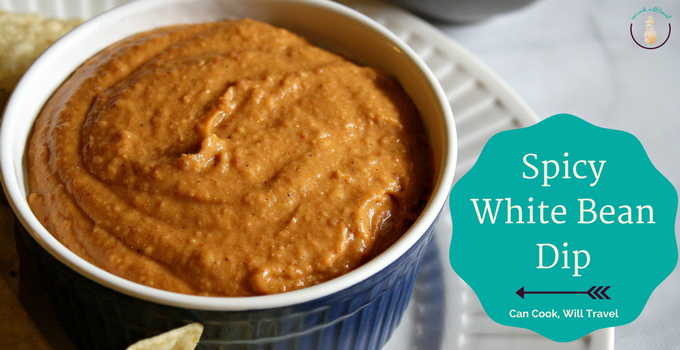 Print
Spicy Chipotle White Bean Dip
Yield 12 servings
This dip comes together in no time with the food processor, and it's a spicy and healthy snack!
Ingredients
Dip Ingredients:
1 (15-ounce) can Cannellini Beans, drained and rinsed
1-3 Chipotle Peppers in adobo sauce, or more to taste (I went with 3 so it was nice & spicy)
2 Garlic cloves, trimmed with peels removed
2 tablespoons Lemon Juice
1 teaspoon Cumin
1 teaspoon Chili Powder
1/2 teaspoon Salt
1/4 cup plus 2 tablespoons Extra-Virgin Olive Oil (or olive oil)
Dipping Ideas:
Tortilla Chips
Fritos Scoops
Multi-grain crackers
Carrots and Celery
Instructions
Once your beans are rinsed and drained, then place them in the bowl of a food processor along with the chipotle peppers, garlic cloves, lemon juice, cumin, chili powder and salt.

 

Process for a few seconds, and then while the processor is running stream in the olive oil. Combine until the mixture is thick and creamy.

 

Taste the dip and adjust seasoning if needed, so I added salt and more lemon juice to mine. Then serve right away with tortilla chips or your favorite methods of transportation to your mouth! Enjoy!
Notes
Quick Tip: If you want this one pretty spicy, then go with 3 chipotle peppers, but adjust to your taste!
Courses Appetizer
Cuisine Dip
Nutrition Facts
Serving Size 1/12 of dip
Amount Per Serving

Calories 87

% Daily Value

Total Fat 7 g

11%

Saturated Fat 1 g

5%

Unsaturated Fat 6 g

Sodium 220 mg

9%

Total Carbohydrates 3 g

1%

Dietary Fiber 1 g

4%

Sugars 1 g

Protein 1 g

2%
* Percent Daily Values are based on a 2,000 calorie diet. Your daily values may be higher or lower depending on your calorie needs.
0