I don't know about you, but I have certainly been cooking, baking, and eating a TON more than normal the past week. (Okay more than that if you've been following me every week and my yummy Christmas sweets the past 2 weeks.) And I decided that now that Christmas is here, it's time for a healthier kick. And even better than that is that if you're like me, then you like to trick yourself a bit and still feel like that healthy food you're eating is still decadent. That is precisely why I settled on this Sticky Cinnamon Roll Batter Oatmeal. Trust me on this…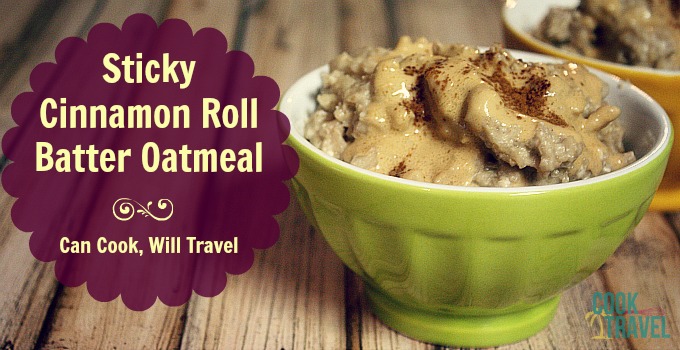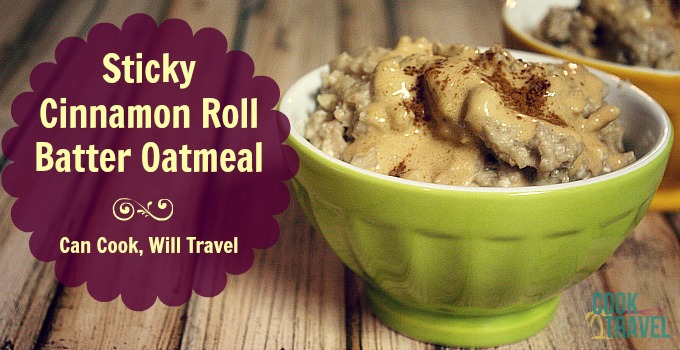 First off, the back story of where this Sticky Cinnamon Roll Batter Oatmeal recipe came from is hilarious. It's from the site The Big Man's World, where Arman (an Aussie native) describes how a less than healthy eating experience of his involving a tube of cinnamon rolls inspired him to create this recipe as a healthy inspiration. It's a funny read!
All I had to see was that this breakfast was healthy and delicious-looking and my curiosity was completely piqued and I had to try it. AND I had everything on hand (or close enough), which is perfect, because I had zero time to go grocery shopping this week.
The Sticky Cinnamon Roll Batter Oatmeal was super easy to make. Just combine rolled oats (or old-fashioned oats), a little salt, sweetener, cinnamon, and almond milk in a sauce pan. A note on the sweetener. I was planning on using some stevia sweetener that I put in my coffee, but I was also doubling the recipe. (It makes 1 serving, but I wanted to make enough for me and my sister.) In doubling the recipe, it would have required at least 16 packets of stevia … so I compromised. I did half stevia and half sugar. But you can get creative here and use your favorite sweetener.
Just heat the mixture over medium and cook for several minutes until the liquid cooks down. Then mix in egg whites and finally add a tablespoon of coconut flour. Then your oatmeal is done!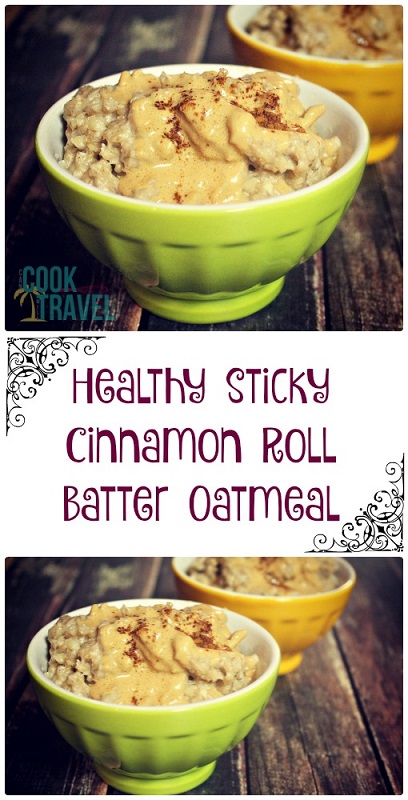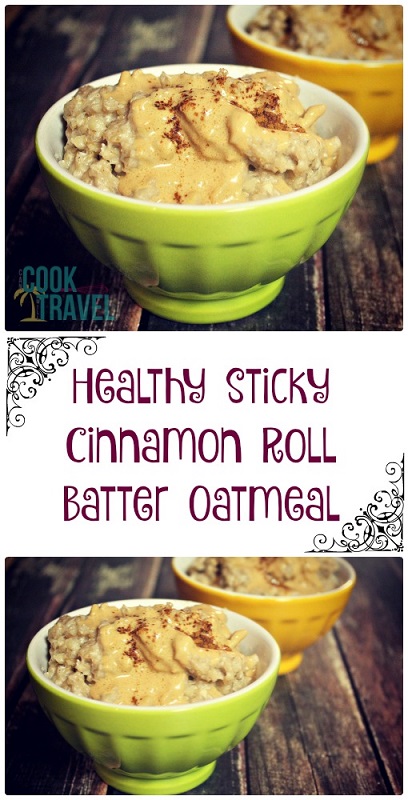 Let's not forget the glaze. This glaze could easily top your favorite cinnamon roll recipe in the future. It calls for coconut butter, which I didn't have on hand, so I used butter instead (no judging – I didn't use much or use all of the glaze). You'll mix the melted butter and your favorite vanilla protein powder together. Then whisk in some more almond milk until it's at a good drizzling consistency. And that's it. Serve up the oatmeal and drizzle the glaze over the top and enjoy!
I'll be honest … I wasn't so sure about this. You kinda think you'll sacrifice some flavor when you use such healthy ingredients. But it was damn good!
I love that it was comfort food-ish because it was a perfect little breakfast to warm you up from the inside out. And it really did taste like cinnamon rolls! And it was healthy. Yes, I did add white sugar and butter, but the amount added was so little that I felt no guilt there.
I cannot wait for you to try this Sticky Cinnamon Roll Batter Oatmeal recipe ASAP! It has certainly helped make me feel slightly less guilty about all of the indulging I've been doing lately. So good. Be sure to click that link for the recipe and step by step instructions. Happy healthy eating!!
A look back:
One year ago: Broccoli Parmesan Cheese Dip … Tis the Season, After All
Two years ago: Hot Buffalo Chicken Dip … It's Officially a Hit
Three years ago: Turkey Tetrazzini … The Only Way to Eat Leftover Turkey!
Four years ago: Bring on the Artichokes!
1