Is it just me or did this month fly by faster than any other month of the year? Well it felt like it, so since December is nearly over it's time for December's blogging roundup.
In case you're new around here, I love the holidays so that's pretty evident. I also think of December as a time of holiday baking, because as a kid that was a big part of what we did. My mom had all of her holiday specialties that she'd make for friends, family, and neighbors. So I was often helping her in the kitchen with them throughout the years.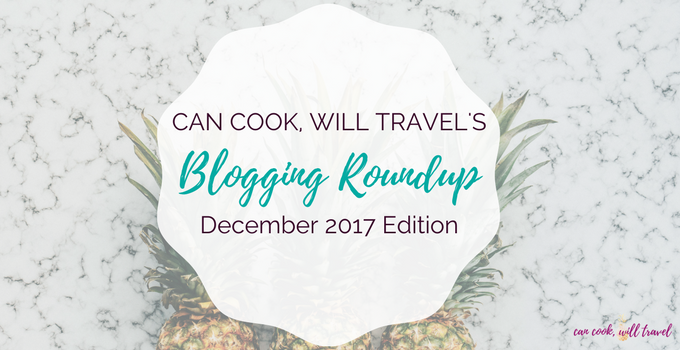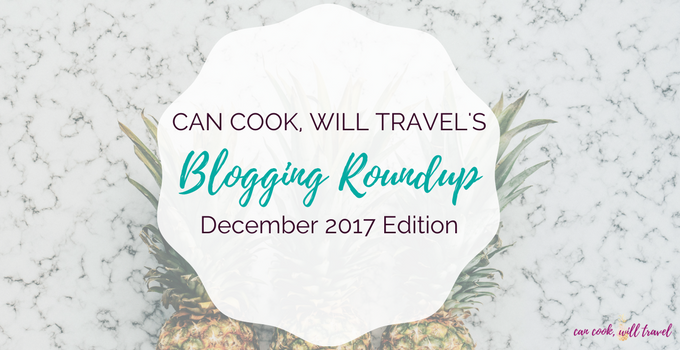 With that thought in mind then, it isn't surprising that this month seems pretty indulgent to me. And when it comes to the holidays, I don't mind indulging a tad. Usually I'm one to eat pretty healthy but all things in moderation, right.
If you celebrate Christmas like our family, then I hope you had an amazing holiday! We had an overabundance of gifts for our small family, but at least it wasn't quite as obscene as last year's pile of gifts. And I made out with some awesome gifts!
Okay back to the roundup! So this month I was featuring some crazy good dishes, but I think they can all transition past the holidays luckily. You'll find a breakfast recipe, 2 crazy good desserts, and a cocktail to sip by the fire. And I'm showcasing all things holidays plus ideas for what to cook in December (that will still work throughout the winter).
So let's dive into December's blogging roundup, shall we?!
December's Recipe Blogging Roundup:
BREAKFAST:
If you love the warm, spice-filled flavors of gingerbread, then this Gingerbread Belgian Waffles must be made. They're light and fluffy with a nice crust thanks to folding egg whites into the batter, and the flavors are crazy good! It smelled just like I had gingerbread baking in the oven. I love freezing at least half of the waffles so I can enjoy them throughout the month, since I'm the only one ever eating breakfast.
DESSERTS:
Not only is this Rustic Pear Cranberry Galette stunning to look at, but it's a breeze to make. You can use pre-made pie crust or puff pastry if you like or whip up your favorite pie crust if you like. Roll it into a circle, and fill it with this pear, cranberry, spice-filled filling that is out of this world. Seriously it looks rustic and like you slaved away on it, but you'll know that wasn't the case!
Oh you really must whip up this Warm Lemon Pudding recipe if you love lemons, because making it is simple! Once you get the hang of whipping egg whites it's a cinch, and the cake-like layer on top with the thick pudding on the bottom is tart and sweet perfection. Please make this one, but be warned it's definitely an indulgence with a fair amount of sugar in it. I do want to experiment more with it and see if I can't make it a bit healthier because it's THAT good!
COCKTAIL HOUR:
Finally we have a fabulous Hot Buttered Rum Cocktail that I made dairy free, and dear me it's so good. You get lots of rum in it but the layer of "butter" and spices on top makes it a bit less strong. And I love the idea of sipping on this over the holidays by the tree, or with a fire going with snow on the ground!
December's Weekly Crush Blogging Roundup:
What to Cook Series:
It's all about Kale, Brussels Sprouts, and Pomegranates in this post on what to whip up in December. TONS of fruits and veggies are in season this month, and these are 2 veggies I use often. And pomegranates are fun to work with and totally look like an alien fruit, so they had to be featured. I've got a ridiculous amount of delicious recipes I've made over the years with these 3 ingredients, so cook away!
Holiday Guide:
My love for the holidays is hopefully a bit contagious as I shared some of my favorites of the season in my holiday guide. I'm covering everything from tips for shopping and gift ideas to why ornaments are awesome. Plus I'm sharing my steps for how to wrap a present like a pro including photos, because I'm the resident gift wrapper in our family. I wrapped about 30 this year between the four of us (me, Mom, Dad, and sis), so I get a lot of practice in!
Holiday Baking:
Finally I'm wrapping up this indulgent season with the Ultimate Holiday Baking List. I've compiled a list of my favorite recipes to make plus tons from Pinterest that had me drooling. There's something for everyone regardless of tastes or skill level, so click that link and pin it for future holidays. You'll need it, because it's a one-stop shop for holiday baking inspiration.
December was such a fun, busy, and delicious month here on the blog. So I hope you enjoyed this blogging roundup as much as I did sharing it with you.
I'd love to know what recipes and posts you're loving here, so comment below. Also tell me your favorite holiday tradition from this year, and then let's keep chatting!
Stay inspired & keep discovering cool stuff!
~Kelli
0