Ahhh, we're in Spring and Summer is on its way, and I'm craving fresh and bright flavors. Is there anything more fresh and bright than lemons? I think not. So this month I'm highlighting the lemon and some of my favorite ways to use it.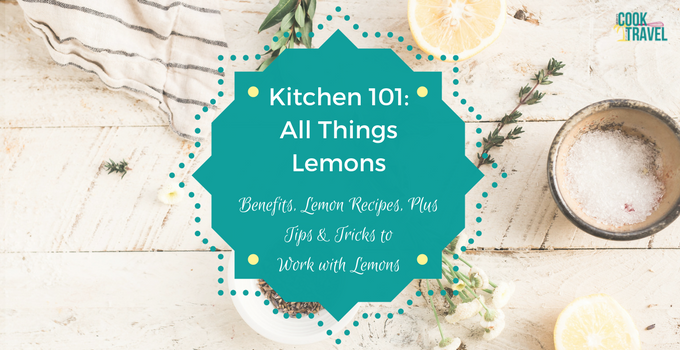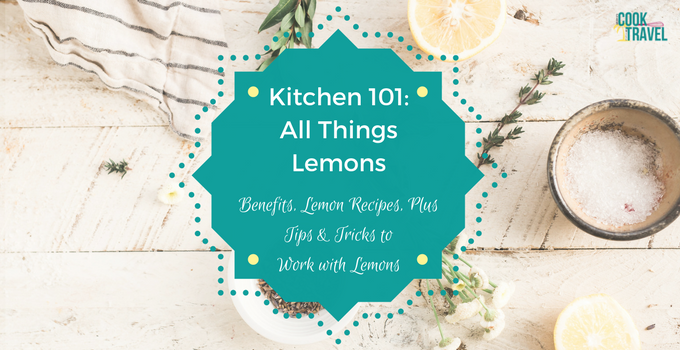 Lemon is both amazing to cook AND clean with, but we're just focusing on cooking with it today. Cleaning with lemon will be a whole other post, because I have a TON to cover in this post. We're talking about what makes lemon such a beneficial food in your diet, and some of my favorite tricks with working with lemons. Then it's all about cooking and eating lemons, including my daily morning regimen, a healthy way to enjoy lemonade this Summer, and some of my favorite recipes that use lemons.
Let's talk benefits of lemon:
Hydrate, hydrate, hydrate!  When you're sick of drinking water but know you need to, then add some lemon slices and other fruit to the water. This is perfect to trick your taste buds into forgetting you're drinking water.
Vitamin C! One thing I learned from last week's Cookbook Love feature is that your body and skin need Vitamin C. While you don't see lemon as a huge source of the vitamin, if you consume about 1/4 cup of raw lemon juice throughout the day, you're getting more than 30% of your recommended daily allowance. That's about 23.6 grams of this important vitamin according to this article.
Skin Benefits! When you have more vitamin C in your system, your skin is less likely to wrinkle and isn't as dry. I'll take those benefits every day, and I bet you would too! Plus point #1 is super important for keeping your skin and body healthy, so adding some lemon to your water helps you stay hydrated.
Aids in digestion! The idea of drinking warm/hot lemon water in the morning is a popular idea. It's something I do pretty much every day unless I'm traveling, because it's less convenient on the road. The whole thought is that it helps wake up your digestive system and jumps start it in the morning. This enables you to not only digest your food more easily, but it also prevents the buildup of toxins. I'll cover my routine below or click here to jump to that spot now!

Better Breath!

This concept is new to me, but I like it! Lemon can help neutralize odors from smelly food you ate (I mean I love garlic, fish, and kale but they're smelly). And it's also thought to stimulate your saliva, which will in turn prevent dry mouth, which can be a cause of bad breath. How fascinating, right?!
Kidney Stone Remedy! Citric acid can actually prevent kidney stones, and guess what has citric acid in it? Yep, it's obviously the lemon, and all you need is 1/2 cup of lemon juice to get the same amount of citric acid you'd find in prescriptions. It also will dissolve gallstones and calcium deposits too, so keep adding lemon to your food, my friend!
Restore Your Body's pH! Lemons not only are acidic as we just talked about, but they are also alkaline-forming on your body fluids. This can help balance your body's pH, which is super important to keeping your body harmonious and happy.
Liver Friendly! Detoxify that liver with lemon, and I'm a fan of alcoholic drinks as many of us are. I'm sure my liver appreciates my morning lemon water ritual, because of that!
Anti Cancer! Now we're talking, because if there is anything I hate in this world, it's F***ing cancer! Lemon has 22 anti-cancer compounds that slow or stop the growth of cancer tumors according to this site. Hey, it sure can't hurt to give it a go, right?!
Burns and Scars Be Gone! Lemon can help fade old burn scars, and it also cools irritating burns you may have. Check out this link for even more cosmetic benefits of lemon!

TIPS AND TRICKS WITH LEMONS:
Okay so clearly lemon is a keeper and totally worth having on hand. Knowing that, I'm always using lemons in cooking every single day. And when you use an ingredient a lot, and you watch a lot of cooking programs, you learn a few fun tricks.
TIP 1: Juicing a Lemon without seeds
Check out this video of exactly how I juice a lemon without having to chase pesky seeds out of my food. So darned simple!
TIP 2: Zesting a Lemon
The zest of a lemon (or lime, orange, or grapefruit) has tons of flavor, and is a great ingredient to use in cooking. Watch the above video to see my favorite way to zest a lemon with my handy microplane grater!

TIP 3: Keep fruit from turning brown
I hate when I'm eating an apple and it starts to turn brown before I get to it. Squeezing a little lemon juice over a cut lemon, bananas, and avocados adds a barrier of protection. Easy and your fruit will still taste great!
TIP 4: Smells be gone
Do you ever find that you ran a bunch of smelly food through your garbage disposal and no matter what you do, your sink reeks? Yep, we've all been there. So just cut a little wedge of lemon (not huge or your disposal will be angry), and run it through the disposal with COLD water. Before you know it, that lemon juice will neutralize the odors and your kitchen will smell good again.
I love this tip, and I remember telling a friend about it and she was like "Oh my God, that actually worked!". Yes, yes it does.
TIP 5: How to get the most juice from a lemon
You can do one or both of these tricks, and you'll get the most bang for your buck when juicing a lemon. One step I take is to pop a lemon in the microwave for about 10 seconds to warm it up a bit and release the juices. This is especially helpful if the lemon is pretty hard when you squeeze it. You can also roll the juice with your palm on your counter top or cutting board applying some pressure. That will help break down the lemon inside a bit, and release even more juices.

MY MORNING LEMON WATER:
Lemon Ginger Water is my morning go to! Whenever I'm home, after getting out of bed and stretching and exercising, lemon water is my first priority. I will not have breakfast, coffee, or anything else until I've drank my lemon ginger water.
I have a countertop hot water kettle, and I fire that up straight away. Then juice about half of a lemon and slice 4-6 slices of fresh ginger (no need to peel). Once the water is boiling, pour it into your mug with the lemon juice and ginger. I let it steep for at least 5 minutes to ensure the ginger infuses the water as much as possible.
Then use a spoon to fish out the ginger, which is usually floating on the top. Then if my throat is sore or I want a little sweetness, I'll add some unfiltered, raw honey (a teaspoon or less should do the trick). Give it a stir and then drink up!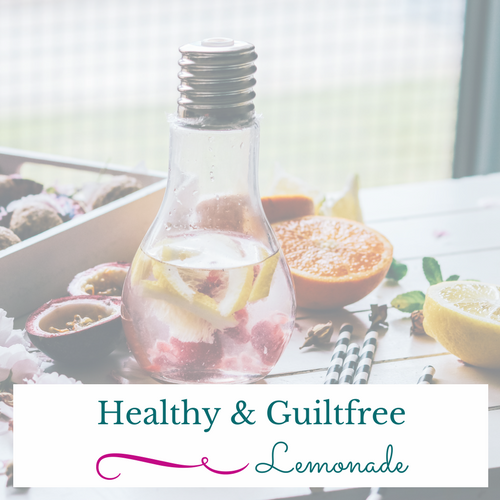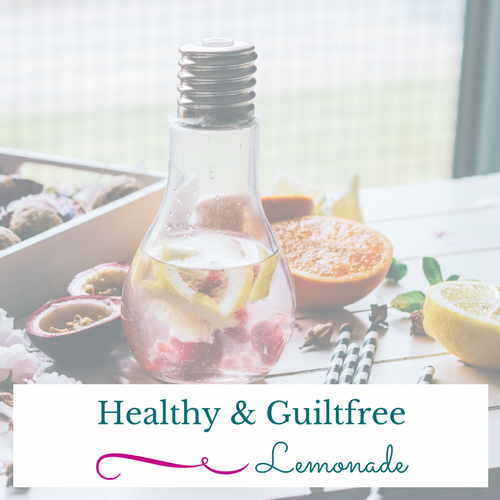 HEALTHY(IER) LEMONADE RECIPES:
Lemonade hits the spot just about every time as the weather heats up, but it's not always so great for you. Usually lemonade is loaded with sugar to cut the tang of the lemon, so I wanted some healthy lemonade options.
So leave it to my Tone It Up girls to have several guilt-free healthy lemonade recipes. Now we can be armed with some awesome recipes to break out this Spring and Summer. Here are 3 that caught my eye: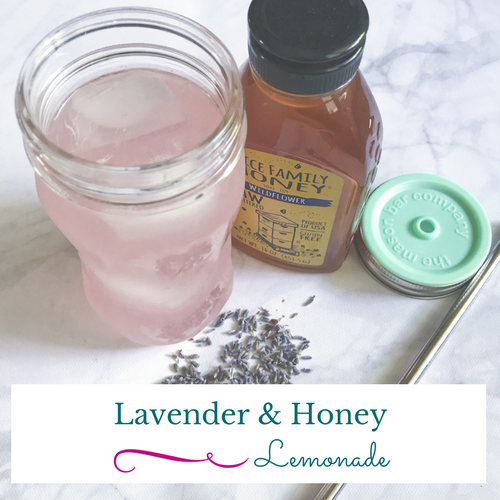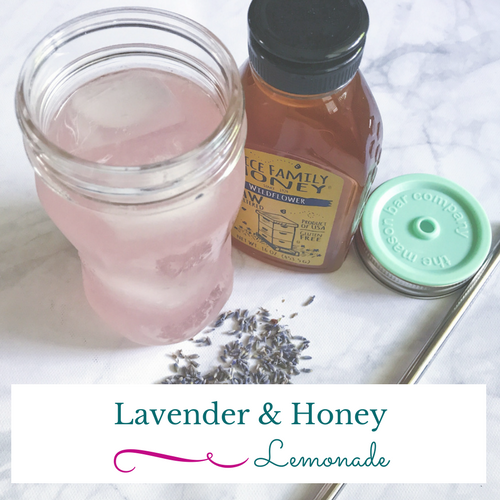 Strawberry Lemonade that looks divine and I can't wait to try this recipe.
Lavender Honey Lemonade that I tried, and this one is stellar! It's tangy but so lovely with its floral flavor from the lavender and honey. So glad I picked up that dried lavender at the spice shop.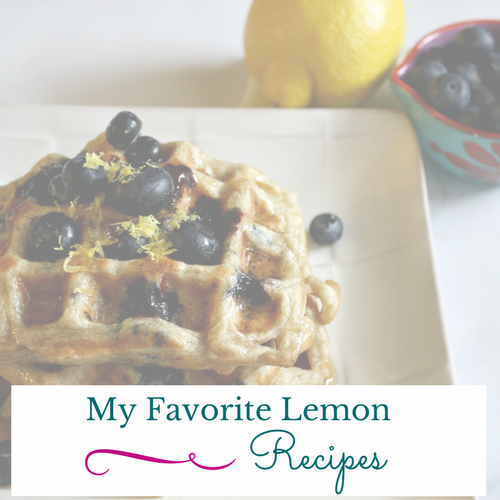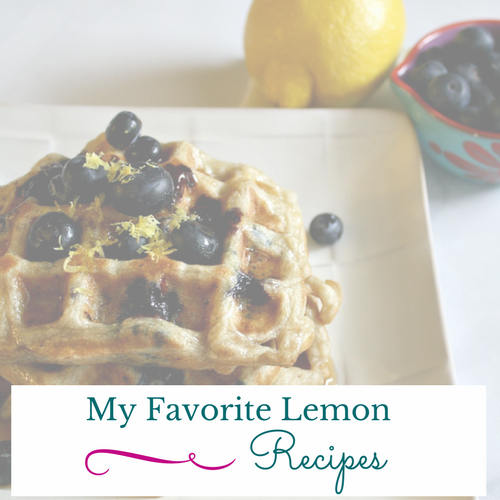 My Favorite Lemon Recipes:
Want a constant supply of lemons? Lemon trees can be both outside trees and grown inside. Here's tons of info on how to grow your own lemon tree!
Alright, I think we've covered working with lemons as much as possible. Clearly this fruit is jam packed with great benefits, so go pick up a TON of lemons at the store on your next trip.
From 10 impressive benefits, to all of my favorite tips and tricks, lemon recipes, & 2 lemon-y drinks, you're well armed to tackle this awesome ingredient. So go forth and start enjoying your morning lemon water! What's your favorite way to enjoy lemons? Comment below!
Stay inspired & use more lemons!
~Kelli


1