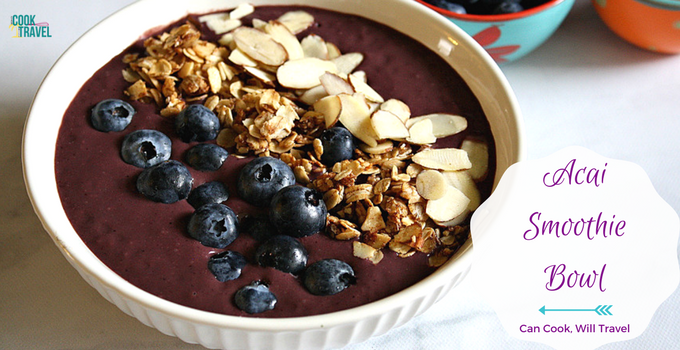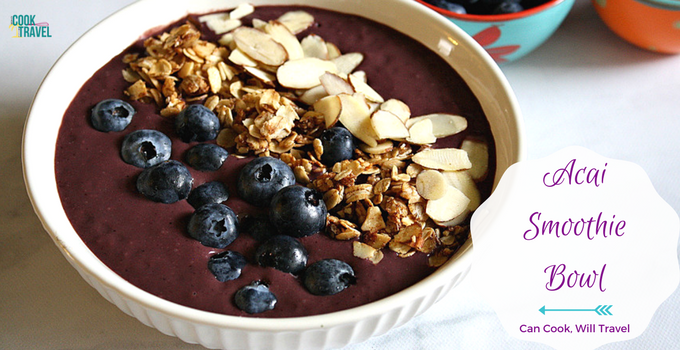 (This Acai Smoothie Bowl comes from the Simple Green Smoothies cookbook, and you can buy it here.)
Step by Step Instructions:

You don't need much to enjoy this Acai Smoothie Bowl, so grab the following along with a good blender: Unsweetened Acai Puree Packets (you'll need one 3.5 ounce packet per smoothie), frozen Mixed Berries, Unsweetened Almond Milk, 1/2 cup of fresh Spinach, 1/2 a Banana, and Granola, Berries, and Almonds for topping.

Start by roughly measuring 1/2 cup of mixed berries, and then pop them in the microwave for 20-30 seconds to take the thaw off.

Here's the frozen puree packet, and acai is a great food to use in smoothies, because it's lower in sugar and has a mild berry taste!

Run warm water over the packet for 5-10 seconds or until you can start to break up the puree into smaller pieces so then it's easier to get it out of the package.

Alright, it's time to blend our Acai Smoothie Bowl, so start by adding 1/2 cup of almond milk to your blender.

Then add 1/2 cup of fresh spinach to the blender.

Get the smoothie started, so first blend the milk and spinach.

Then add half a banana to the blender.

Typically you want to start with fresh fruit and then add frozen fruit on top, so toss in your berries.

Finally slice open the puree packet and then add the acai puree to the blender.

Now it's time to finish up the Acai Smoothie Bowl, so let's get ready to blend.

Then turn the blender on slowly to get the smoothie started.

Increase the speed of the blender, so that you can blend until the smoothie is fully combined.

Now it's time to eat up your Acai Smoothie Bowl, so pour it into a bowl and then top with your favorite toppings. I had homemade granola, fresh blueberries, and sliced almonds on hand, and they added the perfect texture to the smoothie. Grab a spoon, dig in, and then you're on your way to happy smoothie bowl eating!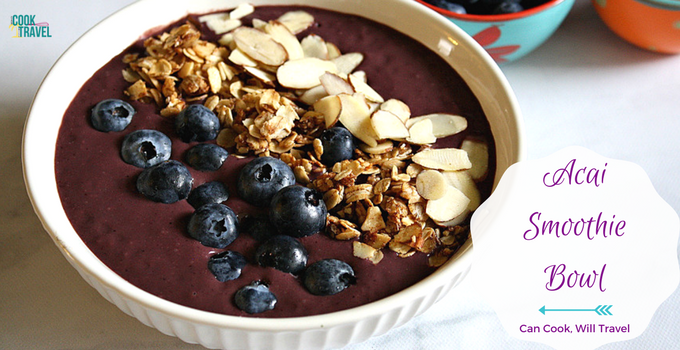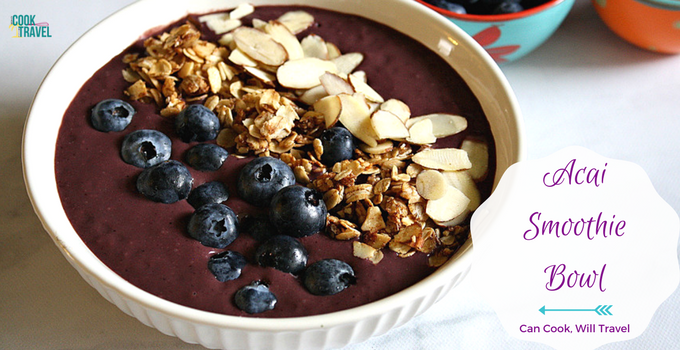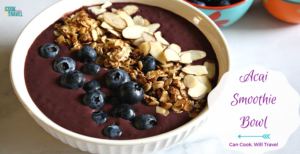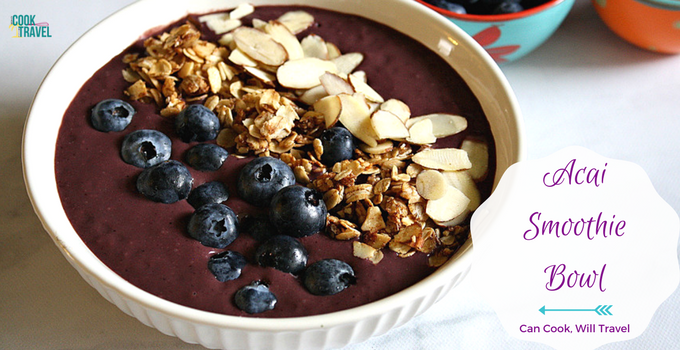 Print
Acai Smoothie Bowl
Yield 1 Smoothie
Grab your blender and make this smoothie ASAP. It's sweet from the berries without being overly sweet thanks to the acai puree. And it's absolutely delicious!
Ingredients
Ingredients:
1/2 cup of Spinach
1/2 cup of Almond Milk
1 cup Mixed Berries
3.5 oz packet of Unsweetened Acai Puree
1/2 large Banana
For Topping:
Granola
Berries (Blueberries, Strawberries, Raspberries, etc.)
Sliced Almonds (or your favorite nuts)
Shredded Coconut
Instructions
Start to thaw out the acai packets, by running warm water over the individual packet until you can break the puree into pieces.

 

In your blender, add the milk and spinach and then blender.

 

Then add the banana, berries, and slice the acai puree packet open and add the puree to the blender. Blend until completely smooth.

 

Pour the smoothie into a bowl and top with your favorite toppings and enjoy!
Notes
Quick Tip #1: For the best texture, make sure that your acai puree is still partly frozen as are your mixed berries. This will allow the smoothie to be thicker and colder.
Quick Tip #2: Add your favorite toppings for crunch and flavor.
Courses Snack
Cuisine Healthy
Nutrition Facts
Serving Size 1 Smoothie
Amount Per Serving

Calories 225

% Daily Value

Total Fat 7 g

11%

Saturated Fat 2 g

10%

Unsaturated Fat 1 g

Sodium 127 mg

5%

Total Carbohydrates 38 g

13%

Dietary Fiber 8 g

32%

Sugars 19 g

Protein 4 g

8%
* Percent Daily Values are based on a 2,000 calorie diet. Your daily values may be higher or lower depending on your calorie needs.


0