When it comes to choosing cookbooks for this series, I'm usually gravitating to the ones that look insanely yummy with some healthy recipes in there. But this month was a little different. Something called me to pick up this Clean Skin from Within book by Dr. Trevor Cates on Amazon last month, and it's too good not to share with you!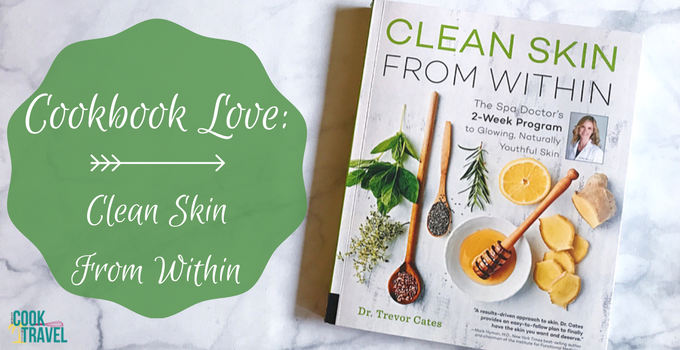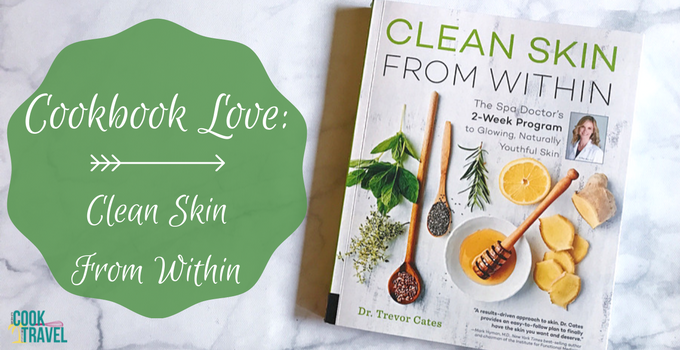 A little real talk here: Can I just say that I'm thankful for all of the filters we have these days in our photo apps? And also for editing programs and sites? Oh and for great makeup! Honesty I've struggled with my complexion since I was in high school. I always blamed stress, and I think I'm partly right to blame it.
But the more I research and immerse myself in reading about our health, I'm realizing that clean skin from within is more than a title. Sure stress plays a part, but what we put on our skin and in our bodies plays just as large of a role.
My first real proof of this was 2 years ago when I did the Bikini Series from the Tone It Up girls. I made it about halfway through that challenge of eating clean and exercising and my skin was GLOWING! I honestly don't remember it ever looking so great for the past 20 years. Proof that diet and exercise do so much for our complexion.
Life happens, and I fell off course a bit, but this year I'm really focusing more on the products I use and the food I eat. Sure, I cheat here and there and indulge, but life is too short not to do that, in my opinion. But I'm restarting the Bikini Series this year (with a little hiccup last week from an emergency work trip I had to go on). I'm excited to see where that goes and to use the knowledge from this book to take my skin health to a whole new level.
Why Dr. Trevor Cates?
She's known as The Spa Doctor, and has worked in high end spas for years helping women achieve the best skin they can.
The reason that I got pulled into this book was from the title, honestly. I mean all I have consistently wanted (aside from the stuff everyone probably wants like money, love, and a slamming body) is to figure out my skin issues.
Now if you look at me, most days my acne issues aren't obvious. In fact, I'm always shocked when people tell me how pretty my complexion is. I feel partly so happy that they think so, but also like I'm tricking them with seriously good makeup.
So when I started reading about Dr. Cates and that she too had battled a variety of skin issues throughout her life, I was intrigued to learn how she overcame them. She had raving reviews from clients, and proof from her own life that her findings work, so I wanted to learn more.
You can learn all about her and her credentials here, as she is on a mission to help us all having glowing skin in a natural, non-toxic way. Can I get an amen??
Clean Skin from Within Organization:
This isn't your typical cookbook that I'd usually feature here in this series, but I like to change it up from time to time. So knowing that, it makes sense that the Clean Skin From Within book's organization will be a bit different.
It starts off with a forward and introduction about Trevor so you can learn a bit more about her. You also find out why she's not your typical dermatologist, and what her approach is with healthy skin.
The first section of the book talks about how to approach skin a bit differently. You'll learn what the main issues are for a variety of skin problems, and how to start looking in the mirror for clues as to why your skin might be having issues. She even has a great skin quiz to take to first identify your skin type, and then you get a series of emails walking you through what the main problem areas are for that particular skin type.
Throughout the book, you'll have your skin type in the back of your mind as you start understanding what remedies you specifically could improve on that are tailored for the issues you have. I love that! Seriously how great is it that you can start realizing that there are a handful of issues that can be resolved with a little tweaking?!
Dr. Cates offers a 2-week program to help detox your skin, and that is what the second section of the book covers. You'll understand specifically for your skin profile (I'm an Olivia primarily) what steps to take during the detox. You'll learn 4 main principles here: Clean Plate (your diet), Clean Slate (removing toxins), Clean Body (detoxing to get the bad stuff out), and Clean Mind (ways to help you grow emotionally and reduce stress).
Using these principles throughout the two week program has you well on your way to the skin of your dreams. I've already started incorporating a few suggestions into my day, and we'll cover that more in a sec.
The next section is all about the recipes, which is where the "cookbook" connection comes in. From smoothies to main dishes to snacks and treats, she's got you covered with clean eating that focuses on the nutrients your skin needs. Another thing I LOVE is her DIY recipes for beauty such as face masks, toners, exfoliants, cleansers, and baths that are all natural. She even has recommendations for which ones you should try based on your skin profile.
The final chapter of the book is a "hurray for completing the 2-week program!" and here's how to start practicing it regularly after detoxing. I love that she's realistic that you don't have to be this strict after the 2 weeks…it's more of a reset for your skin and body.
So much good stuff and explanations throughout the whole book to keep you making informed decisions!

What's to Love About the Clean Skin From Within Book?
Eye Opening – Oh. My. God! In regards to what toxins to look for in products alone, this book is worth its weight! Here I was thinking I was using really healthy products when several of mine have at least one of Dr. Cates' top 20 harmful ingredients. Yikes!! (FAB Beauty, Palmers, Neutrogena, Origins, and more – insert sad face here.)
Tons of Explanations – This book tells you not only what to incorporate and avoid in your diet and products but also why. To me that's huge to not only implementing, but understanding the reason helps me to make it a habit much more easily.
Skin Quiz – Definitely go take this quiz even if you don't buy the book. You'll get some follow up emails and will be on Trevor's email list to continue to learn more.
Create What's Best For You – Once you know your skin profile, you can start figuring out what you need to be including in your diet to really help your specific needs. We're all unique, so a one-size-fits-all skin care regimen isn't realistic.
2-Week Program Included – You'll have everything you need to start the 2-week detox immediately. Then you'll learn how to move forward after that time and start incorporating certain foods back in. It's all in an effort to reset your system and start fresh!
Product Line – In a way it might seem annoying that she promotes her products, but it's nice to know that she's created products that are natural and healthy. After all, half of my skin care products turned out to have toxic ingredients – what the heck??!
Recipes for Everything She Recommends – The detox program is easy to follow, because she includes easy recipes to help you complete it with ease.
Inspired Me to Take Action! – Yep, I started seeing what specific vitamins & minerals my skin type needed, and found a supplement that fit those needs. Plus thanks to her I've started incorporating probiotics into my diet in the form of Kimchi and Kombucha, for example. I'm loving adding those fermented items into my daily routine. Yum!! And I'm inspired to start dissecting those intimidating ingredients in my products to see what's healthy and what isn't. Pretty scary to think my go-to moisturizer for over a decade has formaldehyde in it. And my favorite skin cream contains an ingredient linked to skin irritation and nervous system damage. Out they go!
Crave-worthy Clean Skin From Within Recipes:
Red Velvet Smoothie
Purple Passion
Golden Smoothie
Turmeric Ginger Coconut Milk
The Spa Dr.'s Bone Broth
Chilled Avocado Soup
Sauerkraut
Chicken Soup with Rice & Veggies
Pesto Spaghetti Squash
Bean Dip
Grain-Free Granola
Chamomile Oat Cleanser
Evening Avocado & Lime Cleanser
Ginseng Toner
Oats & Oil Exfoliant
Papaya Skin Exfoliant
Oat, Green Tea & Yogurt Face Mask
Those recipes are just to name a few that I'm excited about, because they sound delicious and lead to healthy skin! Seriously this was confirmation that the food I put in my body really does affect my skin. I mean it makes sense, but sometimes you kinda wish it weren't true so you could eat junk food.
As I continue to limit dairy when I can, and have a healthier lifestyle, this Clean Skin from Within book reinforces exactly WHY I'm doing it! Yes, it's a pain at times, and my friends and family definitely give me an eye roll, but who cares? It's time to prioritize and do what feels right for me, and not them.
Have you struggled with acne, rosacea, eczema, or any other skin issues? If so, then go pick up your own copy of this Clean Skin from Within book by Dr. Trevor Cates! It's really eye opening and rather empowering.
Stay inspired & cheers to glowing skin!
~Kelli
0