How are we nearing the end of May already? This month has been a whirlwind of a month for me as I traveled a ton for work, but I also blogged about all sorts of goodies, so let's get you caught up with this month's blogging roundup.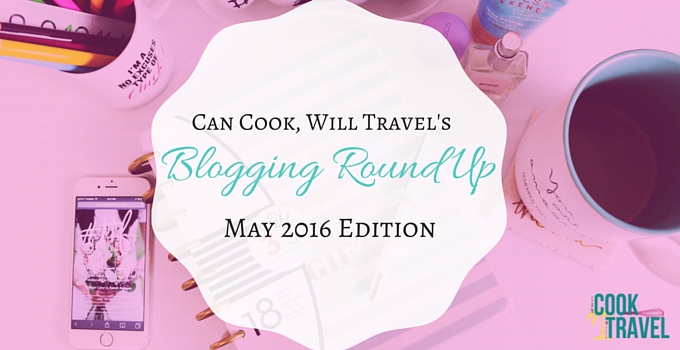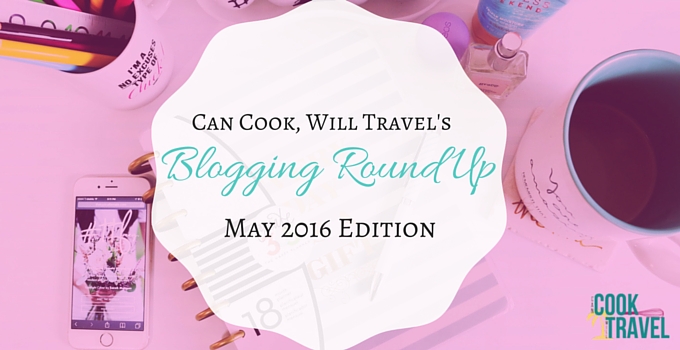 May was a month that let me indulge a bit and make a couple of recipes out of my comfort zone, which I love! Since I was traveling quite a lot for my full-time job (to Texas and California, in case you're curious), I knew that I needed recipes that were easy but comforting too. Because goodness knows that when you're home, you want to enjoy every second of it. But I also made sure to throw in some healthier dishes too, so I wasn't feeling guilty or overeating.
And when it came to the crushes I was having throughout the month, well I couldn't wait to share! I featured a new cookbook that I'm totally smitten with, some of my favorite Asian flavors, and blogs that inspire me to get creative.
I can't wait for you to check all of the goodness that was May. So let's dive into this month's blogging roundup, shall we?!
RECIPES BLOGGING ROUNDUP:

Breakfast:
I adore breakfast. It's a fact. And as a kid I made a killer French toast that I loved making for my family on the weekends. But I'd never really gotten on the baked French toast bandwagon until this week. And I jumped on that train with an incredible, sinfully delicious Brown Sugar Banana Baked French Toast. It's perfect for weekend breakfast or brunch or when you have guests over. You make this delicious casserole the night ahead and refrigerate overnight. Then pop it in the oven about an hour before you're ready to eat. Trust me, your family and friends may never leave because this is so tasty!
Veggies:
Brussels sprouts totally get a bad rap, and I really strive on my blog to showcase veggies as much as possible. I'm not sure I've met a vegetable I don't love, so it's a bit of a mission for me to show you different ways to enjoy (and crave) veggies you may have avoided in the past. I have a feeling Brussels sprouts top the list of "veggies people avoid" but that's only because they've never had them prepared well. If you want to experience Brussels sprouts in an amazing way, then you MUST try this Skinny Brussels Sprouts Gratin. Not only is it a lighter take on normally cheesy and heavy side, but it may just be my favorite way to enjoy this veggie, and that is a pretty big statement. So grab everything you need for this dish and dig in – it's crazy good!
Main Dishes:
Another healthy dish I cooked up in May was Sweet and Sour Chicken, which is cooked on the stove with no frying. Hooray! I used to love sweet and sour chicken, but as an adult, I realized it wasn't the healthiest Chinese food to enjoy, so I found myself avoiding it. And that was okay, because that decision opened my eyes to some delicious sauces and spicy flavors over the years. But when I saw a recipe for a healthy version, it took me back to my childhood and I was excited to give it a go. I'm so glad I did – this was Sweet and Sour Chicken that I could enjoy without guilt and the flavors were perfectly balanced and reminded me so much of being a kid again.
I'm going to go on a limb with this Sesame Chicken Noodles dish and say that I could probably eat it every single week. It's packed with so many amazing flavors from sesame to peanuts to chili oil and tahini. And let me tell you that they work so well together and every bite you take just makes you want to eat more. And it's simple and fun to make too, which I adore. You really HAVE to try this one for yourself!
WEEKLY CRUSH BLOGGING ROUNDUP: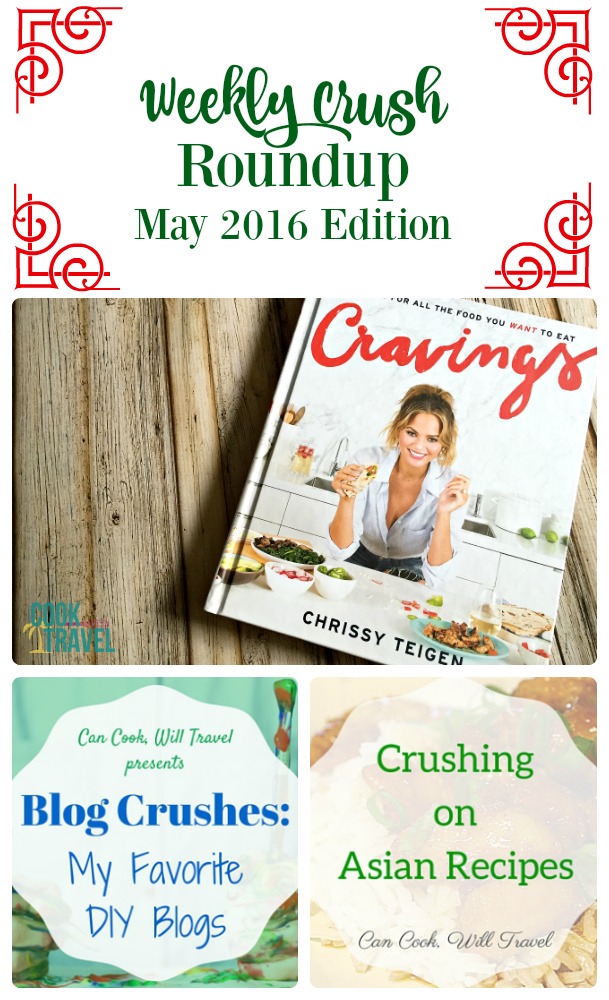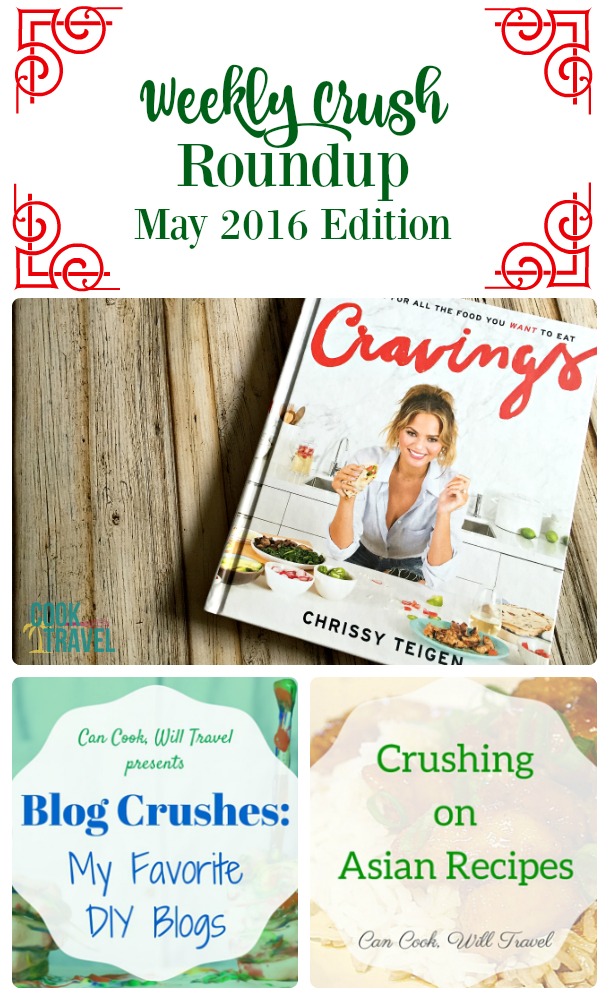 I'm really enjoying my Cookbook Love series, and this month I highlighted my newest cookbook in my collection. Cravings by Chrissy Teigen is brimming with recipes that are drool worthy for sure (including the Sesame Chicken Noodles dish I mentioned above). It's also filled with stunning photographs and is packed with wit and humor. Chrissy may be famous for modeling, but her cookbook is absolutely noteworthy as well. Tons of variety in the recipes and gorgeous pics make it nearly impossible to choose what recipe to try next!
I think it was Chrissy's cookbook that inspired me to share some of my favorite Asian recipes that I've cooked on my blog over the years, and holy moly do I have a ton of them! It was difficult to get my list of favorites down to a reasonable size, so know that all of these recipes are Kelli tested and approved! I may actually have dreamed about a few of them as well (I'm talking to you, Firecracker Chicken!) because they're so good! Have you tried any of these dishes yet? What are you waiting for??
Last month I moved, and it's something about a fresh start that gets my creative juices flowing. And when it came to this month's Blog Crushes series, I was really excited to share 3 of my favorite DIY blogs. They feature crafts, building projects, yummy recipes, and tons of design inspiration. From big projects to easier 1 or 2 days DIY moments, I dare you to not be inspired as well!
Well there you have it! May has nearly come and gone and this month's blogging roundup is complete. From healthy to indulgent dishes, you're sure to find something you along with your friends and family will love. And I hope my weekly crushes have gotten you excited to try out some new flavors, recreate some favorite dishes, and make YOUR creative side sing.
WHAT DO YOU WANT TO SEE MORE OF ON THE BLOG? ANY FAVORITES FROM THIS MONTH'S BLOGGING ROUNDUP? COMMENT BELOW AND LET ME KNOW WHAT YOU THINK!
Stay inspired & happy discovering!
~Kelli
0