This week I shared a new post in my Cookbook Love series featuring Cravings by Chrissy Teigen. And as I flipped through her book, I couldn't settle on what to make from it. Nearly everything in there screamed: "Make me, Kelli!" But I saw this recipe for Sesame Chicken Noodles, and it seemed to yell a bit louder than the rest.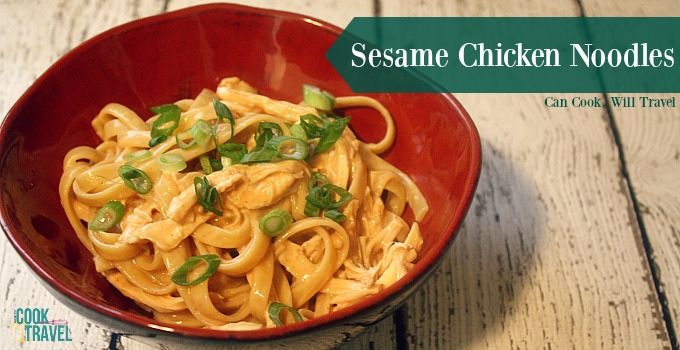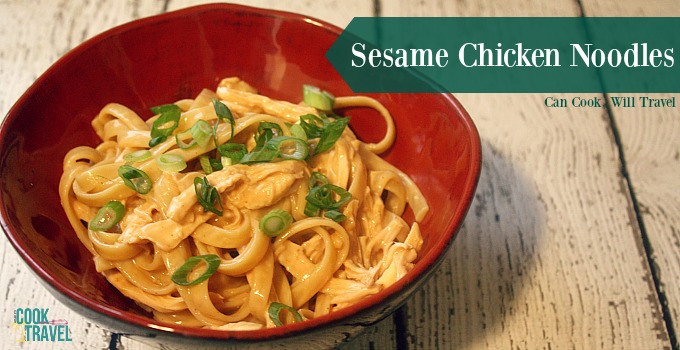 We know by now that I have a serious love of pasta, and it would seem so does Chrissy. She has a variety of recipes infused with her Asian influences from her mom, and I'm a big fan of Asian cuisine (Chinese, Japanese, Thai . . . it's all pretty stellar). So any chance I get to experiment with flavors that I didn't grow up eating, I'm all for.
And these Sesame Chicken Noodles did just that. Peanut oil, tahini, sesame oil, chili oil . . . yes quite a lot of oil there but the flavors from each one are so unique yet work incredibly well together. Tell me more, was all I could think with each ingredient on the list.
Let's talk about cooking up this dish. First off it was a cinch. You just poach chicken, and then cook the pasta in the poaching water when the chicken is done. Already adding flavor to the pasta from the start.
You'll whip up the sauce full of flavorful oils along with garlic, honey, and cayenne. And once the pasta is cooked, rinse it with cold water to stop the cooking process. Now the interesting part is that you want the noodles as dry as possible, so that the sesame oil and the oh-so-flavorful sauce coats them well and gets soaked up by the dry noodles. Toss the pasta with the chicken (which has been shredded) and the sesame/peanut sauce and top with scallions.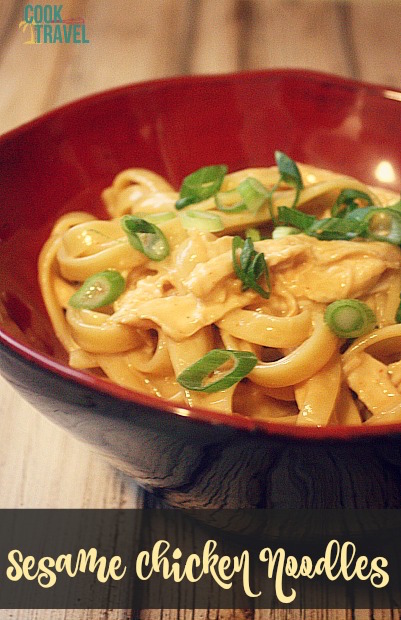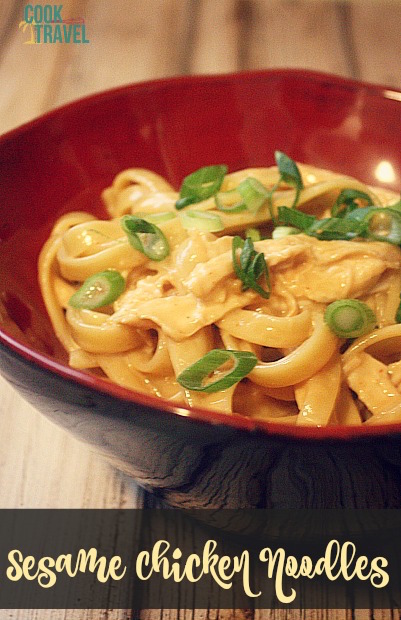 Yup, that's it! And let me tell you – wow are these Sesame Chicken Noodles stellar! You certainly get this peanut undertone with each bite and complexity from the sesame oil and tahini. If you aren't familiar with tahini, it's essentially a paste made from sesame seeds and really hits home the nutty, sesame flavors in the sauce. Plus the tahini helps make this sauce creamy and indulgent.
And the heat! It's not in your face heat, which certainly has its place in some dishes. It's a slow heat that kind of lingers. The heat comes from cayenne pepper and the chili oil. When it comes to the chili oil, I seem to have a tough time finding any. But what I did have on hand is Mongolian Fire Oil. This oil is basically infused with chiles, garlic, onion, and ginger. Since onion and ginger would be pretty fitting for this sauce, I figured it would work pretty well, and I was right. So Mongolian Fire Oil is a solid replacement for chili oil if necessary.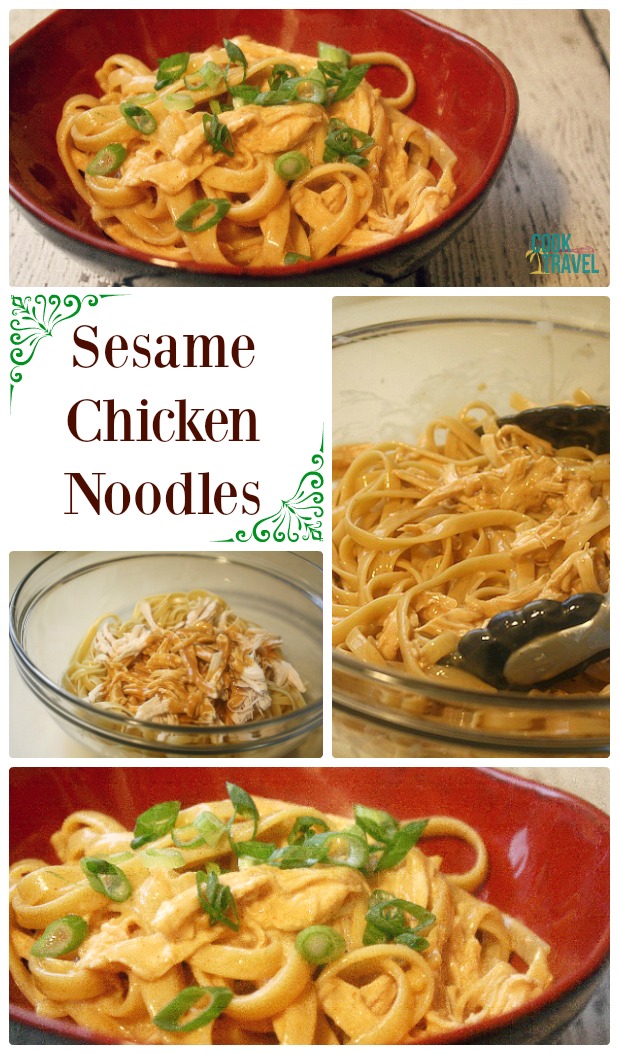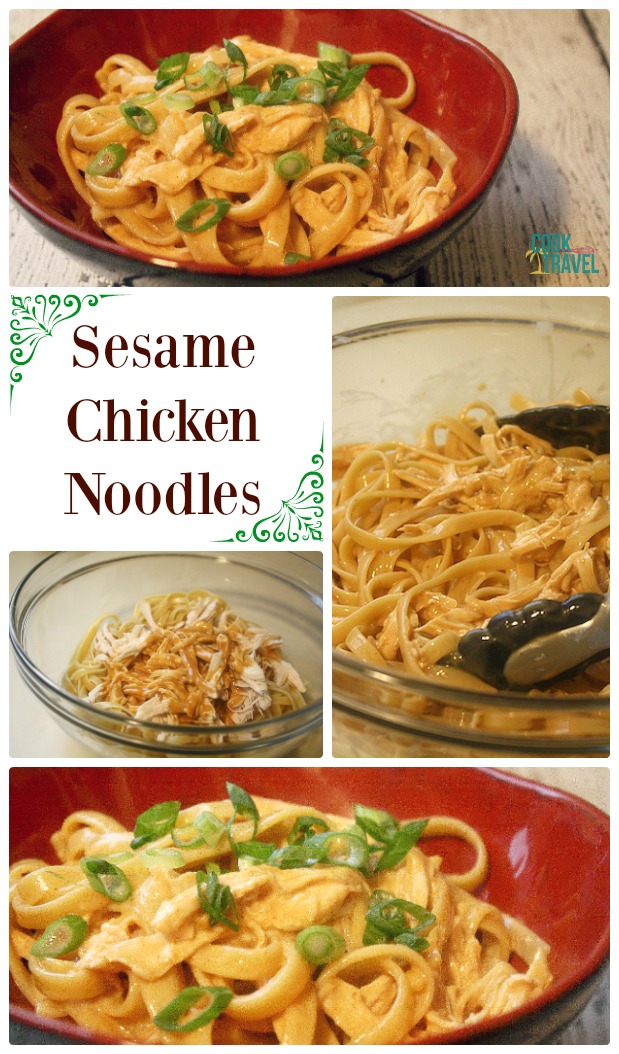 When it comes to serving the noodles, I made a meal out of them, but you could always eat them as a side. Top them with scallions and dig in. Or dive in, cuz I know I wanted to practically swim in this dish. Yum, it's so good! And it's great at room temperature or also straight out of the fridge as a cold leftover dish.
So as you're planning out next week's meals, definitely add these Sesame Chicken Noodles to your must-make list. Click that link for the recipe and step by step instructions, and you too will be in noodle bliss in no time. Happy slurping!
A look back:
One year ago: Roasted Tomato Basil Soup is Completely Delightful!
Two years ago: Who Loves Stir Fry?! Time for Hot and Sour Stir-Fried Shrimp!
Three years ago: Learning to Love Salad – Part 11: Shaved Brussels Sprouts Salad
Four years ago: Cupcakes & Beer
Five years ago: Challenge: Soufflé
0