I love Chinese food. Always have. Always will. As a kid, my sister and I would argue over where to go eat. She always wanted to Mexican and I always voted for Chinese. And when I was little my go-to dish was Sweet and Sour Chicken.
As I got older, my palate changed and I craved spicier food. So I ordered Sweet and Sour Chicken less and less. Plus since it's always fried, it wasn't as good for you, and I found myself with totally different cravings, which I'm completely fine with.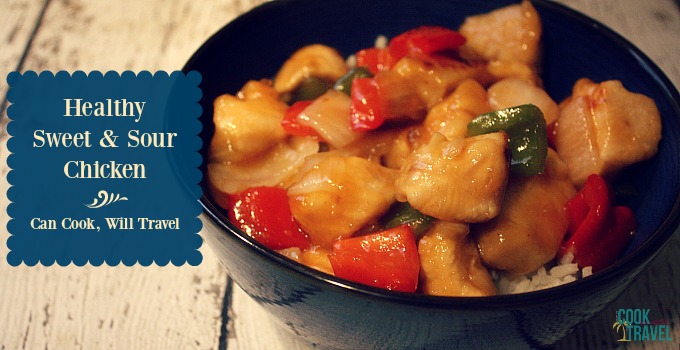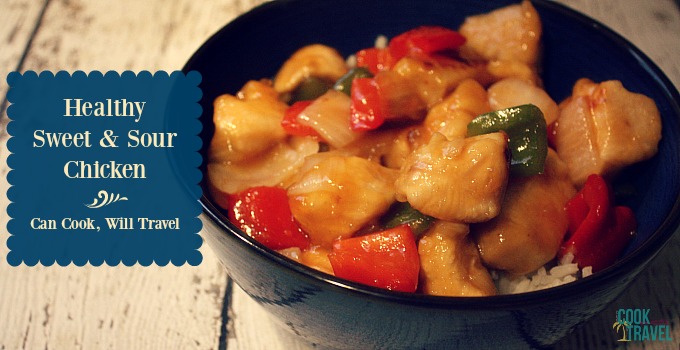 But the other day as I was thinking on great Asian flavors, I was reminded of my love of sweet and sour chicken back in the day. And I realized that I hadn't had it in forever. So I started hunting for a recipe so I could right that wrong and take a trip down memory lane. I quickly stopped my search as soon as I stumbled across a Healthy Sweet and Sour Chicken version from Creme de la Crumb (cute name, right?!) over on Pinterest.
This healthy sweet and sour chicken dish is lightened up by not frying like the traditional recipe. Instead it's sautéed on the stove, and I have to be honest, I was slightly curious how it could compare.
I'm happy to report that it was even better than I remember and having this be a healthy dish was just icing on the cake.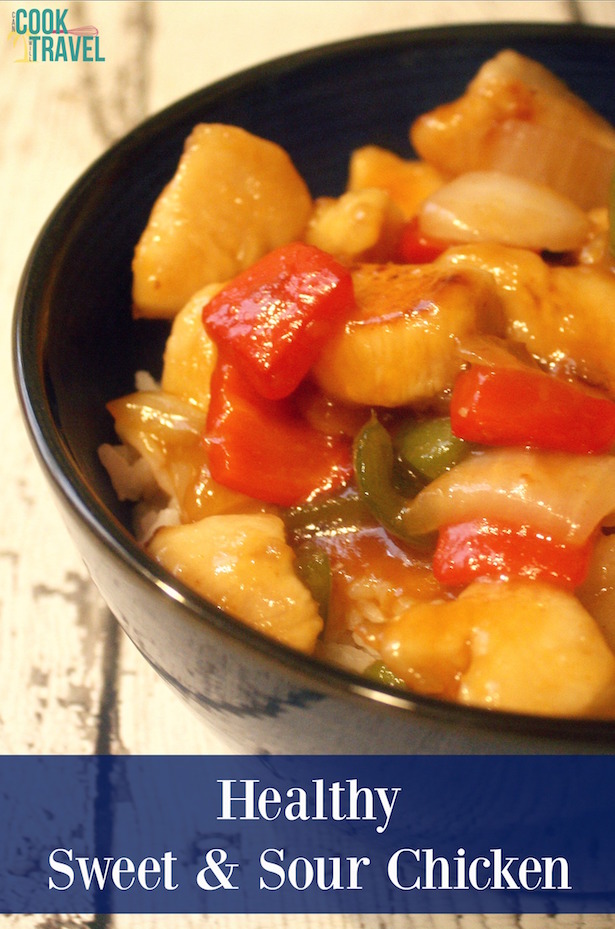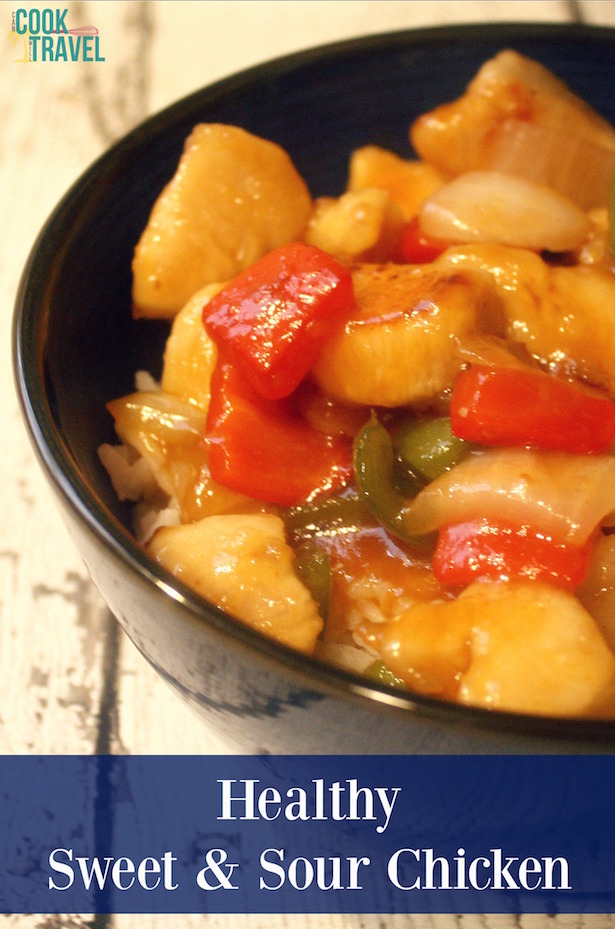 So here's how this recipe breaks down. Essentially you'll pound your chicken to 1/2-inch thick (sorry to my neighbors for all of the racket during this step) and cut it into 1-inch cubes. Then toss the chicken with corn starch until each piece is completely coating. The corn starch helps the chicken get a bit of a crust without the traditional heavy batter.
The sauce is next. You'll bring sugar, apple cider vinegar, soy sauce, garlic powder, onion salt, and ketchup to a boil. Then mix some cornstarch and water together and add it to the sauce and stir until it's thick. Just reduce the heat at this point and stir it every so often.
In a large pan heat a nice drizzle of oil (I used olive oil) and then add the chicken and get it cooking for 5 minutes stirring fairly regularly so that each piece starts to cook. Then add onions, green peppers and red peppers to the chicken and keep stirring away until the chicken browns. The mixture will start to thicken a bit too thanks to the cornstarch. Once the chicken is brown and cooked all the way through, pour the sauce over the top and toss to coat the meat and veggies.
That's it! Serve it with your favorite rice, if you'd like, and dig in.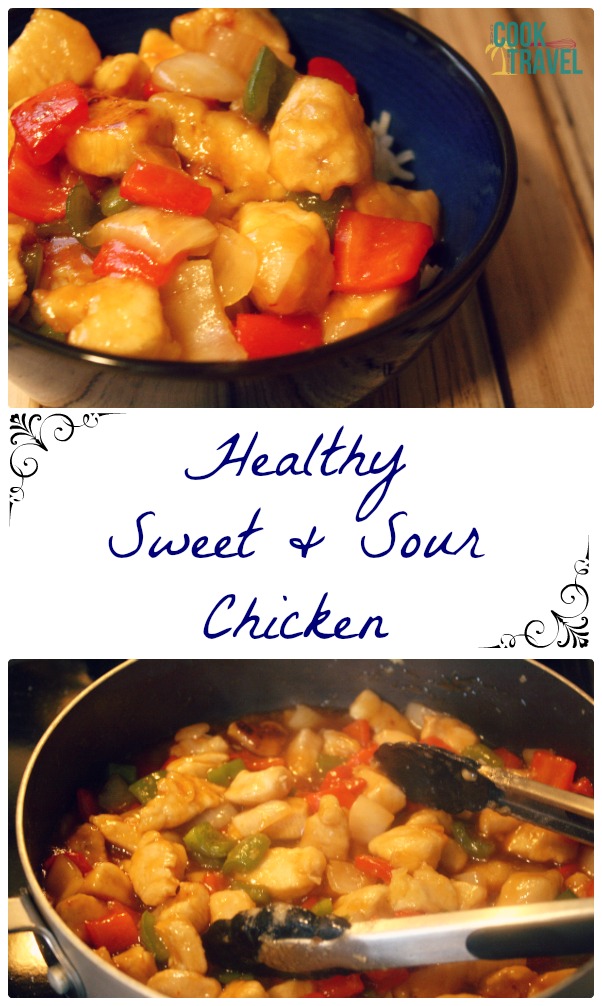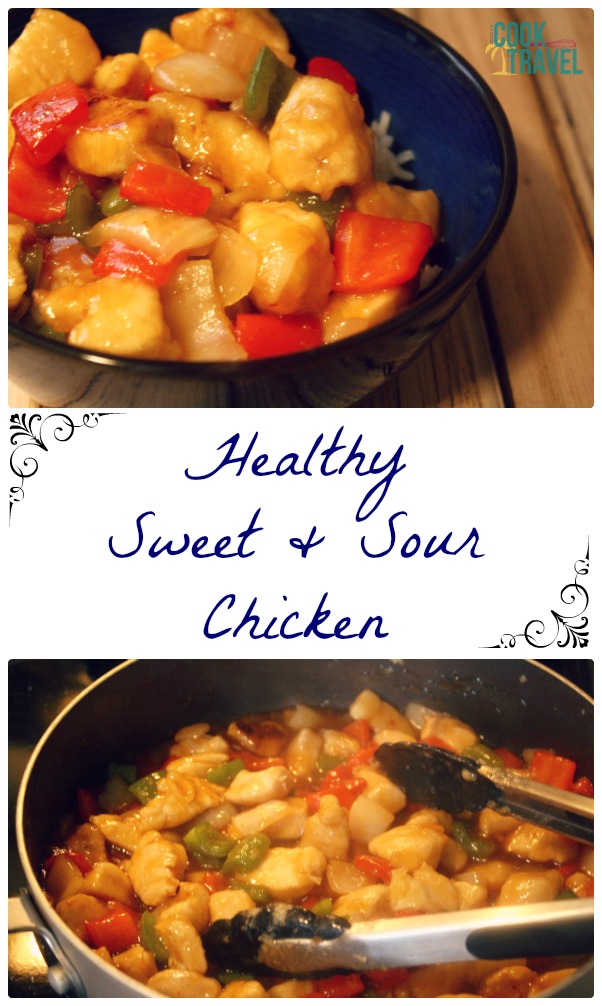 I must admit that this dish was one that after the first bite I said out loud how good it was and how much it reminded me of that standard Chinese favorite, but it was better and healthy!
So my fellow Chinese food lovers, go on and get everything you need for this Healthy Sweet and Sour Chicken and enjoy! Click that link for the recipe and step by step instructions. Happy stir-frying!!
A look back:
One year ago: Sticky Honey Lemon Ginger Chicken = One Light, Bright Dinner!
Two years ago: Crock Pot to the Rescue with Honey Sesame Chicken
Three years ago: Learning to Love Salads – Part 12: Tuna Pasta Salad
Four years ago: Creamy Avocado Pasta…My New Favorite Pasta Dish
Five years ago: The Deliciousness that is Israeli Couscous
0