I'm completely adoring this Cookbook Love series I started a few months ago, if I'm being honest. Sometimes you forget about things you have and I am finding this cookbook adventure to be a great way to reconnect with cookbooks I haven't cracked open in a while or inspiring me to pick up a new one that looks fab. And the latter is exactly what happened with the cookbook Cravings by Chrissy Teigen.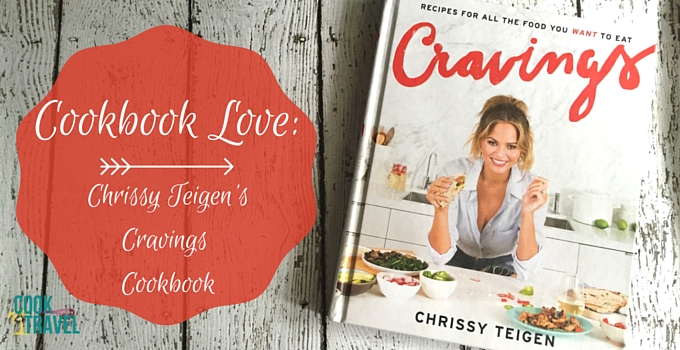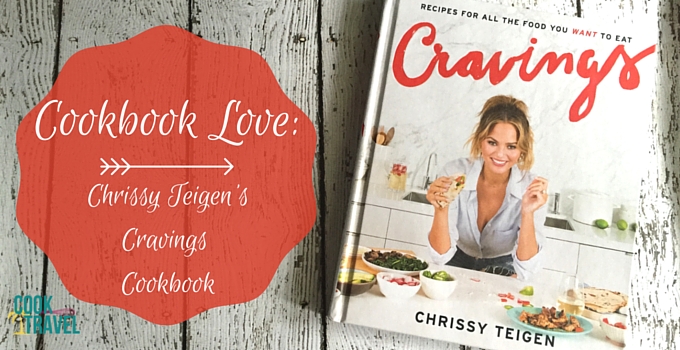 Why Chrissy:
It seems like, to me any way, that Chrissy has been EVERYWHERE in the past 6-12 months.
First off she's a successful model so you see her face (and hot body) all over the place.
Second, she is the color commentator on Spike TV's Lip Sync Battle TV show (inspired by Jimmy Fallon's lip sync battles). Watching the lip sync battles is always a fun time.
Third, she is taking over Instagram with her delicious looking food shots and photos of her brand new baby, the adorable baby Luna.
Fourth, and newest to me is that she is a total foodie. I discovered this randomly when I found a show she did with the Cooking Channel called Chrissy Teigien's Hungry (love this name, btw!). It was a fun little episode showing her and her fiancé (now husband), John Legend, doing some serious wedding menu tasting. It was adorable. And after the show was over, I discovered she had a food blog that was inspired by her IG posts of food and people wanting to learn more.
Her blog is called So Delushious and is a fun site to visit get your hands on some of her recipes and see what great meals she's been enjoying.
Cravings Cookbook Organization:
You are going to find a little bit of everything in this cookbook, which I totally love. First off, you get an intro from Chrissy to understand why she created this cookbook, her food background (cuz we all have them and they are all unique and cool), and what to expect as you flip through.
She then throws in a 2-page section called "Before you start cooking". It's a great little cheat sheet of the types of salt, pepper, hot sauce, and even Parmesan cheese she loves. Along with a few basic cooking tips, which if you're a newbie in the kitchen would be super useful.
Finally you get to the heart of the cookbook with 10 chapters featuring different recipes ranging from breakfast, salads, and noodles and carbs (love that chapter name and its contents) to things to serve at parties, Thai recipes from her mom, and a whole lot more.

What's to Love About the Cravings Cookbook?
As someone who has a bit of a tendency to swear like a sailor (yes, I'm working on it), I get a lot of pleasure finding other potty mouths who don't give a sh!t either. And by the time you finish reading this book, you absolutely have a sense of who Chrissy Teigen is. Which boils down to this book is real and really fun. She doesn't take herself seriously at all, which I appreciate.
Let's talk photos here. Not only are there tons of mouth-watering photos of food, but you get some hilarious and playful photos of Chrissy, her famous hubby, her parents and her dog even makes an appearance. But seriously the photos of the food are stellar.
Yes this cookbook has a recipe index. And yes I adore that.
This book is not what you would expect when you hear a model has put out a cookbook. It isn't filled with diet recipes, but instead is filled with freaking good food that is indulgent but also has a whole chapter devoted to salads "for when you need them" as she puts it. You get real food with quality ingredients. And knowing that Chrissy gets down and dirty with guilty food makes me feel a bit better about life in general. Hence the title of the cookbook: Cravings.
You get such a wide variety of recipes in this cookbook ranging from standards like scrambled eggs and tomato soup to more adventurous Thai recipes, and standard recipes that Chrissy adds her culinary twist to like green bean casserole and guacamole that you have to check out for yourself!
This cookbook is gorgeous! It's not one that I plan to store on a shelf in a bookcase, collecting dust and glance at once a year. Oh no! This beauty will most definitely be residing on my coffee table leading to constant browsing and laughter. (I told you, she's funny!) The physical cookbook is well made and sturdy and doesn't have one of those book sleeves that drive me crazy – it's really well designed.
Crave-worth Cravings Recipes:
HERE ARE SOME OF THE RECIPES THAT ARE AT THE TOP OF MY LIST FROM THIS COOKBOOK TO WHIP UP SOON:
Pull-Apart Buttermilk Biscuits with Sausage Gravy – Say what?! I'm craving biscuits and gravy?! Yes, I actually desire to eat this dish for the first time in my entire life. The combo of ingredients and process has my interest in this dish piqued for the first time . . . well, ever.
Pot Pie Soup with Crust Crackers – Next to pasta, potatoes are a favorite ingredient of mine, and naturally I've always loved pot pie. Whether it's homemade or that little frozen meal in the aluminum tin that I remember eating as a kid, I'm a fan. And turning it into a soup intrigues the hell out of me.
Il Buco-Style Kale Salad – Yep, I love kale, and that's no secret as you can tell browsing my blog. But what caught my eye about this recipe is that it is full of quality ingredients that aren't froufrou, are easy to find, and that you know are simple yet delicious.
Lemony Arugula Spaghetti Cacio e Pepe – Another really simple dish that is clean with a bit of heat that you could whip up in no time with ingredients you likely have on hand.
Sesame Chicken Noodles – I'm always a fan of cooking with ingredients that are a bit foreign to me and different than what I grew up eating, and there are a ton of Asian ingredients in this recipe and it sounds too delish not to whip up.
Crab, Cream Cheese, & Scallion Wontons – Because who doesn't love wontons?! Lord knows I do! This combo sounds amazing.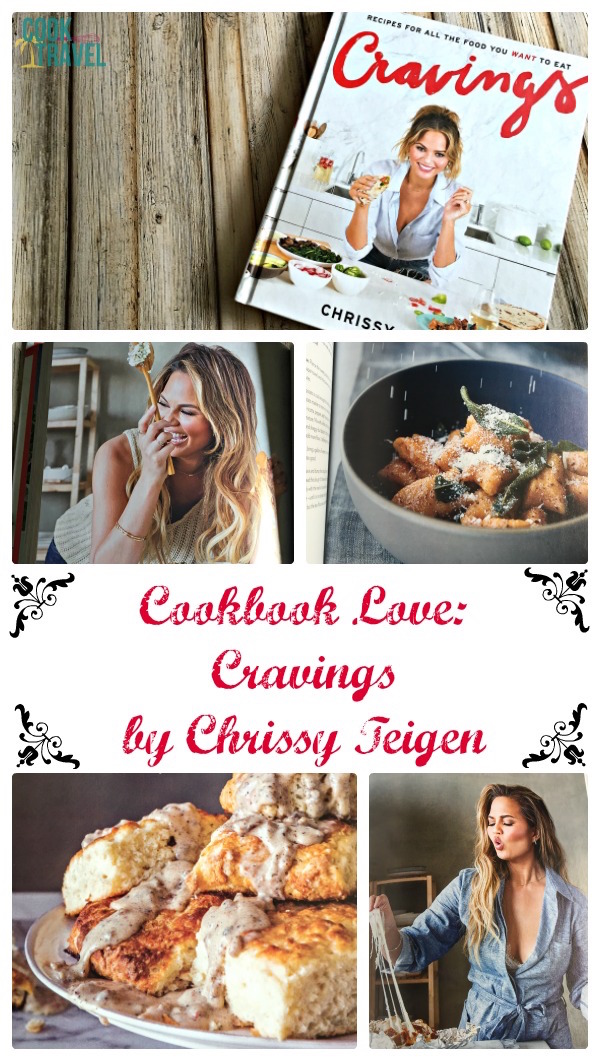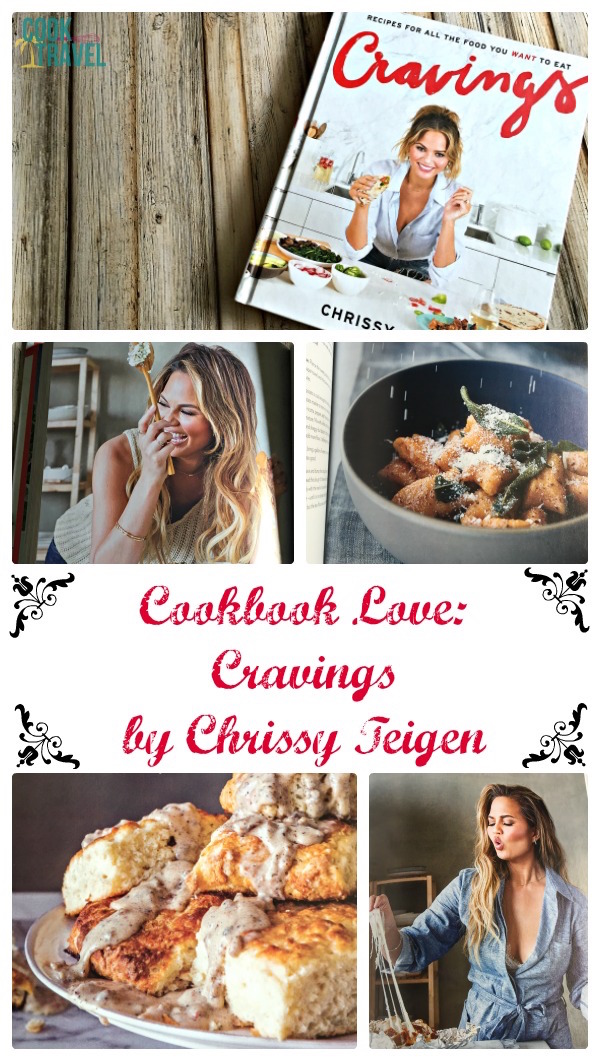 I didn't even make it halfway through this cookbook before racking up a huge list of recipes that are completely crave-worthy. I certainly could continue to add more to the above list of recipes, but this post would have the potential to go on forever.
So let that be your cue to just go pick up this gorgeous, hilarious, and drool-worthy cookbook called Cravings. I have a feeling that you will not regret it. But you have been warned that this will be packed with lots of guilty pleasures, simple dishes with a slight twist, a bit of goofy humor and fabulous photos throughout.
And now I'd adore hearing from you! Let me know what you think and if you've checked out Chrissy's blog or her Cravings cookbook? Have you tried any recipes of her's yet? I don't think you'll regret it!
Stay inspired & start collecting cookbooks!
~Kelli
0