You know when you start a month (or year or week) and think you have an idea or a plan for how it will go? That's kinda how I thought June would be. So I had made a plan and started to follow it, and then I sort of adapted to some change. So this month's blogging round up totally showcases that, which is funny.
I always start a month knowing what recipes I'll make and topics I'll talk about with you on the blog. So I had this over-arching plan of healthy stuff and trying new things. But it totally evolved into way better posts and content than I had initially planned.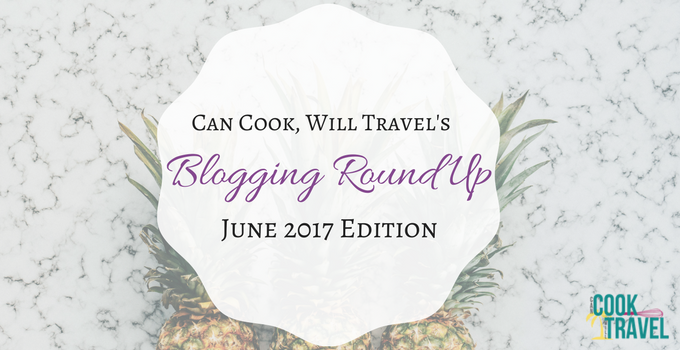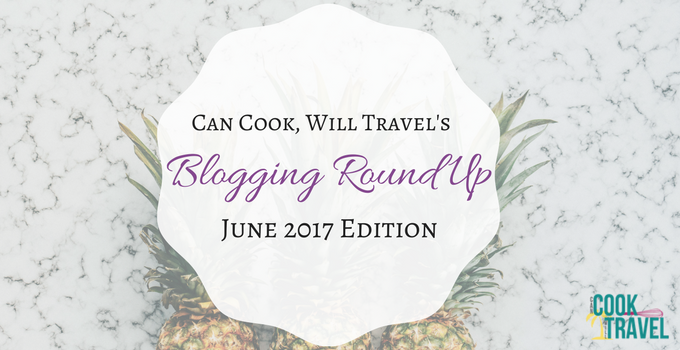 I love your input and ideas, because I get lost in "me" and lose sight of what you need. So by all means, tell me anytime that you want to see certain things here, because I really love that input and insight.
Right now healthy eating consumes me a bit. I did 8 weeks of Tone It Up's Bikini Series, which I mentioned in last month's roundup. Then last week I did their 7 day Slim down as a really easy, clean eating and exercise way of de-bloating and just feeling great. I highly recommend that community, in case you can't tell. So spending the past 9 weeks super focused on clean eating and staying active, I definitely craved some inspiration from my readers on what your needs. Because I am totally aware that not everyone is on this wellness journey that I am, but I love talking about it too.
If you've followed me much, then you'll hopefully notice a bit of a pattern with my blogging. I always post new content here on Wednesdays and Fridays. Wednesdays are kinda what I call my "Share fest" or "Weekly Crush" posts where I share cool stuff, themed recipes, thoughts, inspiration, discoveries I've made, etc. And then Fridays feature new recipes I've made along with step by step photos.
When I started preparing for June's blogging roundup and looking at the recipes, it was really interesting. The recipes started off with this bright, tropical feeling and then transitioned to a more healthy version of a couple of favorite foods of mine that I totally think of as comfort food.
It was in my Wednesday posts that I totally saw this theme of my planned content and then how it evolved. So I used my Cookbook Love post to introduce you to an ingredient I use a lot. And then the other 2 posts totally came from my friend Britt and my sister Megan.
So let's dive into each of these posts a little and see how June's Blogging Roundup turned out:
June's Recipe Blogging Roundup:
Breakfast:
I love breakfast so much, so I never skip this meal. A few months ago cereal was the main thing I ate, but in my effort for clean eating, I've been trying new stuff including smoothie bowls (#obsessed) and overnight oats. I'm a big fan of making overnight oats, because it's such a HUGE time saver in the morning. So I made this Key Lime Pie Overnight Oats recipe as a way to make my overnight oats a bit more tropical and exciting. Oh goodness, this healthy breakfast is a winner!
Appetizer:
I really love French Onion Dip, but it's not something I eat much these days in my dairy free cooking ways. But I started realizing I hadn't made a dip in several months (travesty!), so it was time. And I was craving my old favorite dip, because I loved it for dips and topping potatoes. So it was decided that I'd make my own Homemade French Onion Dip dairy free version and sub out the sour cream with a vegan version. Oh AND it includes caramelized onions which made this dip! Yum!
Main Dishes:
Ahhh, this Chili Lime Mango Chicken Bowl is so freaking good! You basically marinate chicken breasts in this mango, lime, and spice filled sauce. Then bake it in the oven until it's juicy, and then I added it to a bowl with quinoa and kale and fresh mango and more sauce. Oh goodness gracious, I adored this recipe so much!
I was feeling pretty nostalgic the week I created this Top Heavy Chicken recipe, because my Grandma inspired it. Recently I was telling my friend Angi about a photo of Grandma that I needed to frame. She cooked fabulously and inspired 2 generations to love cooking, so putting my twist her recipe felt full circle. Thanks, Angi, for this awesome idea! So I made this yummy chicken breast topped with cauliflower rice, onion, roasted red pepper, green peppers, and tomatoes and it was stellar! The chicken makes a healthy dish but comes together easily, and smells just like Grandma's recipe. I know I made her proud!
June's Weekly Crush Blogging Roundup:

Cookbook Love:
After going to the store for more chia seeds, I realized that not everyone knows what to do with them. The cashier was super curious what I did with chia seeds, which are SO good for you! So when I saw this Chia Seed Cookbook sitting on my mom's cookbook shelf, it inspired me to share it so we all have more ways to use chia seeds. They're versatile, can be cooked with, added to meals, etc. So hopefully this cookbook will inspire you to start eating this superfood a whole lot more. Smoothies are my favorite way to add them to my daily diet.
Recipes for Beginners:
This post has in mind a couple of my friends who get a bit intimidated in the kitchen. So I created this post with 16 recipes that are perfect for cooking newbies, but they're also some of my favorites too. I mean even those of us who are pros in the kitchen still like some easy recipes. I created a guide with all 16 recipes, so I hope you find some new, easy dishes to whip up!
Dips for Summer:
A shout out to my sis on this post, because she and I LOVE dips. And she was wanting some dips that would be great for warm weather, which is what got me creating this 25 Summer Dip Recipes list. This is kind of the ultimate dip list from ones that looked totally delicious from searching around Pinterest. So tons of shout outs to other bloggers in this post along with some of my favorites I've made. If you love dips, then you'll love this post for sure!

This month's blogging roundup was a testament of my being cool with going with the flow and changing things up. I loved the inspiration my friends provided this month, because it ended up in some pretty stellar posts. All 4 recipes hit the spot, and the 3 share fests share tons of great info and dishes to inspire you to get out and cook!
I'm pumped for you to make these recipes, and I'd love to know what from June's blogging roundup excites you! And as you can tell, I love hearing from you and what you want more of. So comment below and tell me if you would love to see something specific featured on the blog!
If you're interested in learning how to eat and cook dairy free, check out my 5 days to dairy free challenge. And if you're loving the blog and want to keep up with all of my recipes and posts, be sure to join my newsletter here and you're also going to get a free gift of my favorite kitchen tools I can't live without.
Stay inspired & discover new things!
~Kelli
0