As you know, I've been pretty passionate this year about eating healthy. I mean I try to eat pretty well all of the time, but in 2017 I've definitely been paying more attention to what I eat. So this month I was drawn to The Chia Seed Cookbook.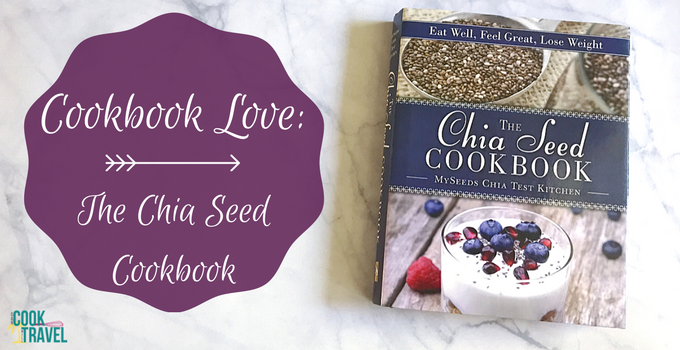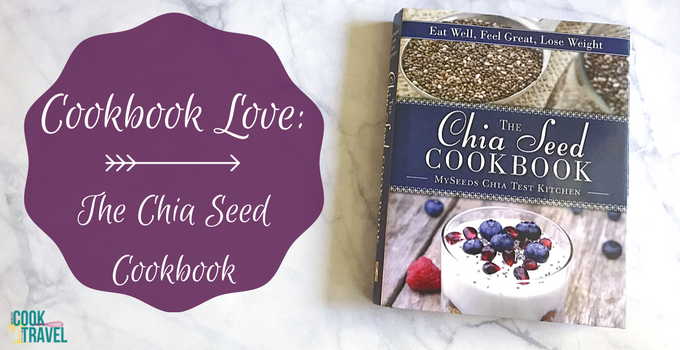 Anytime I start watching what I eat, chia seeds always seem to make an appearance in my food. From overnight oats to muffins to smoothies to even more, I'm always sure to have chia seeds on hand.
On a quick run to the grocery store last week, I was buying more chia seeds, and the clerk had a funny look on his face. Then he asks me "What do you do with these?". My brain started reeling with all the possibilities, but in an effort to not overwhelm him I told him smoothies were a great way to use them. But that got me to thinking that while I use this powerful ingredient all of the time, not everyone may feel as confident.
I'd really been feeling uninspired when picking out this month's cookbook feature, and I was hoping my mom's many bookshelves of cookbooks would change that. It totally did, because I zeroed in on the Chia Seed Cookbook and pretty much stopped looking. It's really the perfect way to introduce yourself to the chia seed in lots of approachable recipes.
Why the Chia Seed:
Growing up my only knowledge of the chia seed was through the corny infomercials for The Chia Pet. You know what I'm talking about with the little animal shaped planter that you smear the chia seeds on and it magically starts growing. The last thing I thought is to want to eat those!
But it turns out that chia seeds are incredibly good for you, and they are actually part of the mint family. This particular species is found in Central and Southern Mexico and also in Guatemala.
All you have to do is google "chia seeds" and you'll find countless resources telling you all about the amazing benefits. Let's do a quick recap of a few of my favorite benefits:
BALANCES YOUR BLOOD SUGAR – I know I've mentioned that diabetes runs in my family, so for a decade now I've been watching how much sugar I heat. And I can always feel my blood sugar drop when I get "hangry", so this is a big bonus to me.
ADDS OMEGA-3 OIL TO YOUR DIET – I know that this is great for my skin, heart, and cholesterol, and chia is a great plant source of it. But I'm also not great about eating protein like fish daily. So when I forget to eat meat, at least I know that I'm getting what I need from chia seeds.
MORE ENERGY – Yep, since chia is a complete protein, it's a great way to raise my energy levels. When I work from home, my energy can drain so this is such a big plus.
HIGH IN ANTI-OXIDANTS – Not only do chia seeds help fight free radicals in your body that can age your skin, but they also stay fresh for up to 2 years!
There are so many more benefits to chia seeds, so check out the MyChiaSeeds.com website for more info. They are the group that put together this cookbook and also sell chia seeds making it super convenient for you to order them for yourself!

Chia Seed Cookbook Organization:
The Chia Seed Cookbook couldn't be more simply organized, which is awesome. The first stop in the book is the introduction. You'll learn a little info on the chia seed and also what chia gel is. So chia gel is basically 9 parts filtered water to 1 part chia seeds, and what's so cool about chia seeds is that when they are placed into liquid, they form this cool gel along the outside. So they can make a great thickening agent.
Then the book dives into the top 10 benefits to adding chia seeds to your diet, and a few are what I mentioned in the previous section. The basic concept here is that it's a great ingredient for adding much needed fiber and protein into your diet, and brings a lot to the table for your health.
After that, it's all about the recipes. So you're only 12 pages in and are already to the heart of the cookbook, which is awesome.
You'll see lots of breakfast options, then it's onto sides, sandwiches, and burgers. Next up are chia dinners followed by chia desserts. Finally you'll find an appetizers and snacks section followed by a beverages section. And yes, there is an index.
So the organization is pretty standard, but also a breeze to find what you need!

What's to Love About the Chia Seed Cookbook?
I love that this book doesn't mince words and just gets right to the recipes straight away!
There's a huge range of recipes, because the theme is that each recipe incorporates chia seeds.
You'll find healthy dishes and indulgent dishes, so there's something for everyone.
Perfect for any level of cooking skills. Whether you're a pro in the kitchen or just learning, these recipes are totally approachable.
Info for each recipe. Whether it's a tip or a little background or info on an ingredient, there's a picture and tidbits about each recipe to help you out.
Crave-worthy Chia Seed Cookbook Recipes:
Sunny Sweet Potato and Chocolate Chip Muffins
Cranberry Chia Couscous
Chia Tabbouleh Salad
Southwest Chia Bean Burgers
Quick Chia Taco Salad
Chia Curry
Fresh Chia Lime Soup
Marbleized Chiffon Cake
Ultra Chewy Chia Chocolate Chip Cookies
Chocolate Chia Banana Swirl Bars
Apple Gingerbread
Warm Chicken & Spinach Dip
Chia Watermelon Slice Popsicle
Green Tea with Mint, Lemon, & Chia
Hopefully today's post gives you a bit more insight into how awesome chia seeds are. One thing I love is that they don't affect the flavor of what you're cooking. So if you want to go look at some recipes featuring chia seeds that I've done, here are a few I've tried and determined they were totally blog worthy.
Those are all yummy recipes that I will definitely make over and over again. That smoothie is my current obsession, but the chia seed pudding is crazy good too.
So after talking about the Chia Seed Cookbook now I gotta know: What are your thoughts on chia seeds? Are you new to that world or have you been using them in recipes? What's your favorite way to use chia seeds, if so? Let's carry on the convo in the comments below!
Stay inspired & cheers to the mighty chia seed!
~Kelli
0