I think my current cravings and food I'm making right now are telling me that I really need to be on a tropical island. First it was the Tropical Turmeric Chia Smoothie, which was in my recent post on turmeric 2 weeks ago. Then it was the Mango Chicken Quinoa Bowl from last week. Now I'm making Key Lime Pie Overnight Oats. Yep, I'm definitely wishing I were laying on a beach with a Mai Tai or Pina Colada in hand at the moment.
But until that vacation comes (probably need to schedule it, huh?), then these tropical recipes will have to do. I've been making lot of overnight oats recipes lately as part of the Bikini Series that I'm doing, so I wanted to make my own version. Daily I'm declaring my love for lime as I add it to nearly everything, so a lime version is inevitable.
That's where this Key Lime Pie Overnight Oats idea came from. I took a lemon version of overnight oats from Tone It Up and brought in a ton of coconut and lime flavors. I have to say that I'm totally loving how this breakfast turned out, because it's refreshing and even better than I imagined.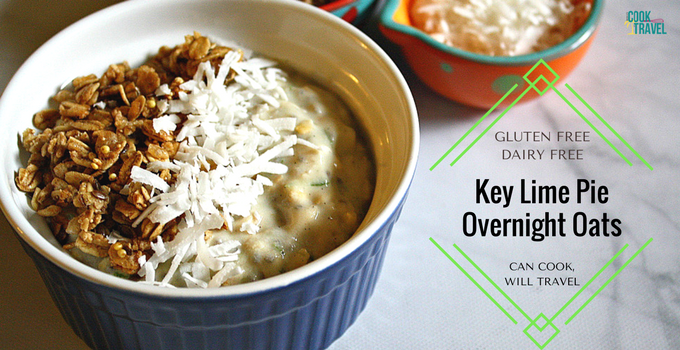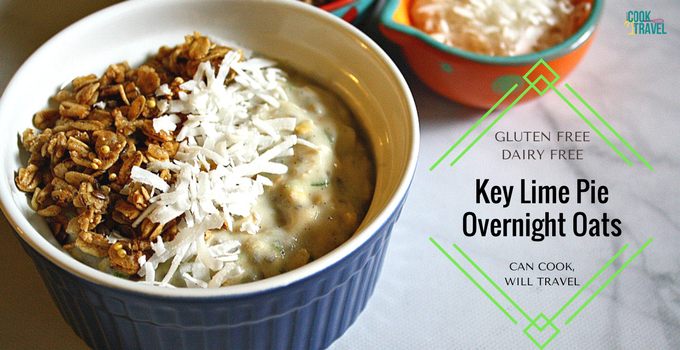 What's different with this Key Lime Pie Overnight Oats recipe from others I've made is the addition of yogurt. Now you can totally use Greek Yogurt if you want, but I went with a coconut based yogurt from So Delicious, to keep it dairy free. Plus I loved that it kept with the coconut theme.
The Key Lime Pie Overnight Oats couldn't be easier to make, which is why I love whipping up overnight oats in general. Just mix together rolled oats, yogurt, protein powder (I'm a huge fan of the Tone It Up plant based protein powder called Perfect Fit), coconut (or almond) milk, chia seeds, honey, vanilla, coconut flakes, and the juice and zest of 1 lime. Stir it all up and divide between 2 containers, and then let it refrigerate overnight. I use mason jars or a glass jar with an attached lid, because it keeps it well sealed.
Then grab the jar in the morning, because you now think and plan ahead and breakfast waits on you! You can eat it as is or top it with some granola and coconut flakes for some added crunch.
This may be my favorite overnight oats recipe for Summer, because it's really bright and refreshing with the lime flavors. The Key Lime Pie Overnight Oats end up being such a perfectly energizing breakfast after my morning cardio (usually a really long walk) before I start my work day.
I love how the yogurt adds a creamier texture, and the honey balances out the tartness from the lime. Plus the coconut yogurt, milk, and flakes all give a tropical undertone so you can pretend you're on vacation!
If you're a fan of lime like me, then you must try this Key Lime Pie Overnight Oats recipe! So click that link for the recipe and step by step instructions, and you'll be eating healthy in no time! Happy overnight oats making!!
A look back:
One year ago: Spaghetti Aglio ed Olio is a Simple & Sexy Dish
Two years ago: Quinoa Breakfast Bowl with Kale Chips . . . Oh Yes!
Three years ago: Egg and Kale Breakfast Wraps…Get Your Breakfast Wrap On
Four years ago: Hello Comfort Food: Enchilada Pasta Casserole
Five years ago: For the Kale of It
Six years ago: Homemade Pesto…Oh the Varieties!
5