So recently I wrote a fabulous post featuring 25 dips for Summer that will have us all eating well when it's hot out. And then I started thinking that I haven't done some good dips in a while. It's probably because more than half of that list had dairy in some form in them, and I've been trying to eat and cook fairly dairy free this year. So it was totally time to change that with this French Onion Dip recipe.
I love a great French Onion Dip, because it's savory and very versatile. One of my favorite ways to enjoy French Onion Dip is to top my baked potato with it, but that's not exactly healthy. Needless to say, I haven't eaten that combo in a while until this week!
Another memory I have of French Onion Dip is when I went to a couple's shower for my awesome friends, Kelly and Tommy. There were these slices of roasted potato and some dip that I literally couldn't stop eating. Her sister Carrie informed me that it was just French Onion Dip, so my mind was a little blown. And that memory inspired this dip.
Traditionally French Onion Dip has sour cream in it, so I swapped out that for a Vegan sour cream. Then it was just a matter of playing with the flavors. My first step was to caramelize some onions, which is pretty crucial to making a stellar dip. It wouldn't have been the same without it, so take 20-30 minutes to caramelize away!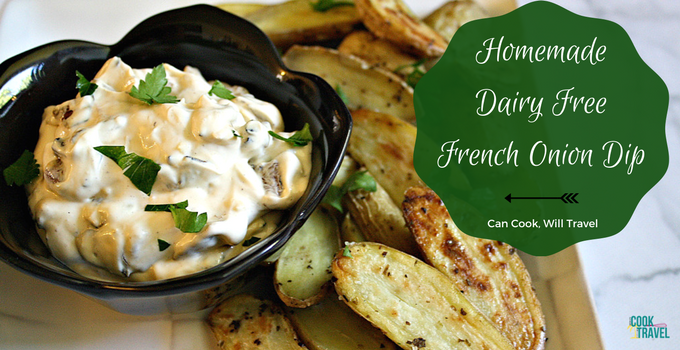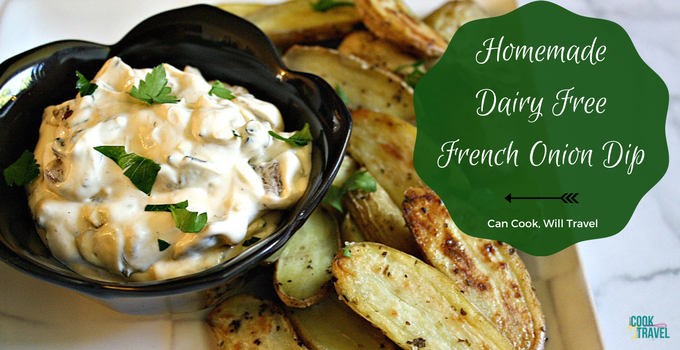 My onions looked more burned than a golden brown, so concern that they wouldn't work in the dip crossed my mind. But they tasted great and were so good in this dip, so if yours get a little darker looking, you'll probably be okay. Once the onions caramelize, let them cool completely.
Once the onions are cool, combine some mayo (I went with an olive oil based mayo), the "not actually sour cream sour cream", minced garlic, the caramelized onions, Worcestershire sauce, salt, and garlic powder. Mix that up, and then let it sit in the fridge for at least 2 hours. Once the dip chills for a while, I taste and adjust the seasonings. I chose to add some fresh lemon juice, more Worcestershire sauce and salt. Oh holy yum!!
You can serve this French Onion Dip with whatever you desire, because it's crazy versatile like that. It would be great with your favorite chips, crackers, and veggies. But because I wanted to go back to that memory of the shower, I went with potatoes.
I sliced up some adorable fingerling potatoes and tossed them with olive oil, salt, pepper, dried basil, and dried thyme. You could use a variety of spices like Italian herbs, Herbs de Provence, dried oregano, and absolutely dried rosemary. But I went with what I had on hand, and baked them for 20-30 minutes so they get golden brown and tender.
Let the potatoes cool, and then dip them into this creamy French Onion Dip and you'll be in dip heaven!
Here's what I loved about this French Onion Dip: First it was quite creamy and after it set in the fridge it was super dip-able. Second, the sweet bite into a caramelized onion hits the spot, so I kept them diced. If you have onion haters or people who don't like the texture of onions, you could blend them into the dip.
I honestly forget that as I eat the dip that I made it, until I take a bite of the sweet onions and realize how much better it tasted.
So when you want a dip to please the masses, whip up a recipe (or two) of French Onion Dip! And don't forget to roast some potatoes too. I'm telling you, this will be devoured in no time, and no one will know that it's dairy free! Love that, so click that link for the recipe and step by step instructions! Happy dipping!
A look back:
One year ago: How to Drink Pimms Like the Brits
Two years ago: Beer Cheese Dip is Mmm, Mmm Good!
Three years ago: Spaghetti Squash is So Cool – Part 2: Spaghetti Squash Mac 'n Cheese
Four years ago: Lunchtime Gets Fancy – Mexican Quinoa and Guacamole
Five years ago: Not-So-Saucy Pasta
Six years ago: Learning to Love Salads: Part 2 – Quinoa Salad
1