I love this time of year in the States with lots of cookouts, BBQs, parties, and any excuse to be outside. And a lot of this outdoor fun definitely centers around food and drinks in my book. And to me, there's nothing better than enjoying some light dishes and I'm a big fan of appetizers. So today's post is all about my top Summer Dip Recipes for you (and me)!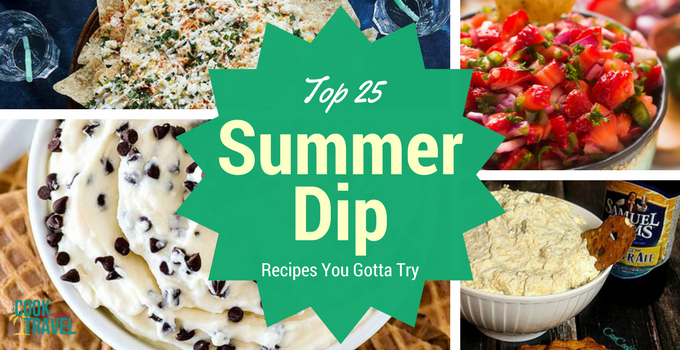 Dips are just the best, and I love them year round. But there's something about Summer dips that are a bit lighter and perfect snacks or party appetizers. Also, they're usually super easy to whip up, so bringing them to a party is a breeze.
Plus if you've got a pretty healthy dip on hand, then it's great to snack on in the afternoon. Now if you're following me, you know that this year I've been eating dairy free, but this post does include dips that do include some dairy, just because some of them are my favorites of all time. So if you're looking for those without dairy, I'll denote those with (DF).
I can't wait for you to enjoy these Summer dip recipes for whatever the occasion calls for. You'll find I have these 25 Summer Dips broken out into the following categories, and click the link to go directly to that section:
Fruit & Sweet Dips – Who needs dessert when you have sweet dips on hand?!
Cheese Based Dips – Loaded with cheese, who wouldn't love them?
Veggie Dips – These dips are chock full of veggies!
Guac & Salsa – I'm a sucker for guacamole and salsa, so this deserved its own category.
Healthy Dips– Oh yes, let's enjoy some dip that's a little less sinful, shall we?
Top 25 Summer Dip Recipes to Whip Up:

Fruit & Sweet Dips:
Raspberry Fruit Dip – Fresh raspberries combined with cream cheese and powdered sugar makes me think you can't go wrong. It looks like my favorite raspberry concrete, which I'm now craving.
Cannoli Dip – All I want to reference here is Grumpy Old Men, but I'll spare us both the jokes. Instead, let's chat about how amazing this dip sounds with cream cheese and ricotta as the base and includes mini chocolate chips and a waffle cone for dipping. Um, twist my arm on this!
Pina Colada Fruit Dip – This dip sounds fabulous and goes along with my tropical cravings I've had lately. Cream cheese and cool whip make this a light and creamy dip, and coconut and pineapple bring in the pina colada twist. Okay, where's my beach towel and bikini?!
Peanut Butter Marshmallow Fluff Dip – This dip sounds sinfully delicious, I must say. It's simply cream cheese, marshmallow fluff, peanut butter, and whipped cream all combined and then devoured (I'm assuming). Let's face it, they had me at peanut butter.
Key Lime Pie Cheesecake Dip – The final sweet dip is one that's right up my alley because it starts with "Key Lime Pie". Luckily I always have my overnight oats to satisfy those cravings in a healthier way. But this sounds damn good, I must say with cream cheese, sugar, milk, and then lime juice and zest. Fine, sign me up! I'll eat it!

Cheese Filled Dips:
Beer Cheese Dip – This fabulous dip is one of my favorites, and it couldn't be easier to make, Just combine cream cheese, ranch seasoning, beer (I love a good quality ale), and cheddar cheese and your'e done. Dang, I'm suddenly thinking I'll need to make this for a cookout soon!
Taco Ranch Dip – When I'm thinking of a perfect Summer dip recipe, this dip ALWAYS comes to mind first. It's a super simple dip with great flavor that just gets better and better the longer it sets in the fridge. Seriously you MUST try this one.
Bacon Cheddar Dip – Do we really need to discuss further why this dip sounds like a winner? I mean there's bacon and cheddar cheese, so I think we all need to try out this dish ASAP. Seriously I think I just started drooling for a moment, but I'm back.
Fully-Loaded Ranch Dip – This one seems pretty similar to the previous dip with fewer spices but it includes some Ranch dressing and seasoning packet. However, I'll never give up the chance to try out a dip with bacon!
Tex-Mex Fresh Corn Dip – Now THIS is what I'm talking about for a Summer dip recipe. With fresh corn aplenty this Summer, this dip is perfect as it features roasted corn in a creamy and spicy dip. Um, yes this dip will do just fine thank you!

Veggie Filled Dips:
Greek Dip – I adore Greek flavors, so it's a no brainer that this dip should make my Summer Dip Recipes list. It seems a lot like a traditional layered dip that starts with a cream cheese & yogurt layer, followed by roasted red pepper hummus and then a layer of regular hummus. Then top it with tons of veggies like tomatoes, cucumbers, Kalamata olives, and of course Feta. Sounds delicious to me!
Mexican Street Corn Dip – Here's another corn dip but this time the corn is sautéed in butter with onions and garlic. Then you make a cheese sauce with Monterey Jack cheese (yum!) and milk and heavy cream. Top it with cilantro and cotija cheese, and dig in with some tortillas. Don't mind if I do!
Cowboy Caviar (DF) – My mom's bestie, Nancy, makes a killer bean and corn dip that I love and this one sounds similar. It sounds a bit sweeter with the addition of some sugar, but I love how colorful and pretty it is.
Dill Pickle & Garlic Dip – I think the way to my friend Kara's heart might just be this dip. She LOVES (that's an understatement) pickles, and this dip has both pickles and pickle juice. It's all combined with cream cheese, sour cream, scallions, garlic, hot sauce and fresh dill. How great does that sound at a picnic?!
Cobb Dip – This is a layered dip with the flavors of a Cobb salad, so if you love that salad you'll love this dip. There's a base of cream cheese, sour cream, and Ranch mix. Then all the veggies, bacon, and cheese are added to the top. Sounds fab to me!
Avocado Feta Crack Dip – This is almost like a guac with a Greek twist. You'll combine tomatoes, onions, garlic, lots of seasonings and Feta together. Then fold in the avocado and dig in. Sounds fab, and I'm guessing it's called "crack dip" for a really good reason. #Addicting
7-Layer Dip – I'm such a fan of a classic 7-layer dip with refried beans and sour cream and cheese. Add on the classic taco toppings, and how the heck can you go wrong. So since I've never made a 7-layer dip before on the blog, here's a great one to go try!

Guac & Salsa:
Pineapple Bacon Guac (DF) – Okay I need to try this dip ASAP. You basically cook bacon and then add pineapple to it until it's caramelized. Then stir that combo into some fixings for guacamole and dive in. I think this sounds fabulous!
Strawberry Jalapeno Salsa (DF) – I love a great, sweet salsa, and how fabulous does this combo sound?! Thinking about it reminds me of the strawberry gazpacho I made a few summers ago, so how can this salsa not be delightful?! Plus strawberries are delicious this time of year, so this is a perfect addition to my Summer Dip Recipes list.
Salsa Verde (DF) – I adore salsa verde, and I know I'll be making this recipe again when my friend Rebecca has tomatillos for me. I originally made it for a delightful enchilada dish last year, and it's so delicious! Eat it on its own as a dip or add it to your favorite recipes. Yum!
Summer Corn, Pineapple & Black Bean Salsa (DF) – This corn salsa sounds so bright and refreshing with the pineapple and corn. Seriously it's just packed with veggies and is gorgeous and colorful! Yep, I definitely need to give this recipe a try!

Healthy:
Skinny Poolside Dip – This is a dip that is packed with veggies and mixed in with low-fat cream cheese and ranch dip. With a little elbow grease to combine it, you'll come up with a delicious dip. In fact, my dad requested I make it again within about 2 days of it being gone. Anything for my daddy – LOL!
Healthy Avocado Black Bean Dip (DF) – Everything about this dip sounds fascinating. It almost seems like a creamy hummus texture would be the end result and it's filled with veggies and black beans. Yes, this is going to have to happen in my kitchen soon!
Baba Ganoush (DF) – When I think of Baba Ganoush, I think of my mom, because she loves it! This is an eggplant based dip with tahini and lemon juice and olive oil. And I must admit that I'm a pretty big fan of Baba Ganoush myself, so I think I need to make it soon.
Skinny Taco Dip – This is a lighter version of 7-layer dip with reduced fat cream cheese and Greek yogurt. Pile on the veggies and dig into this healthier twist on one of my favorite dips that was a must in this Summer Dip Recipes post.
I don't know about you, but I foresee a whole lot of dip making in my future this Summer. The only problem is that I'm not sure which of these Summer Dip recipes to start with! But the great part of this post is that it's broken into categories, so hopefully, that will help us both narrow things down based on our cravings.
I'm dying to know which of these Summer Dip Recipes has caught your eye, so comment below and let me know! And also tell me what your favorite summertime dip is!
Stay inspired & get to dipping!
~Kelli
0