Well February is winding down on us already, and that means it's time to do this month's Blogging Roundup. And I gotta say it's been a delicious and healthy month here at Can Cook, Will Travel.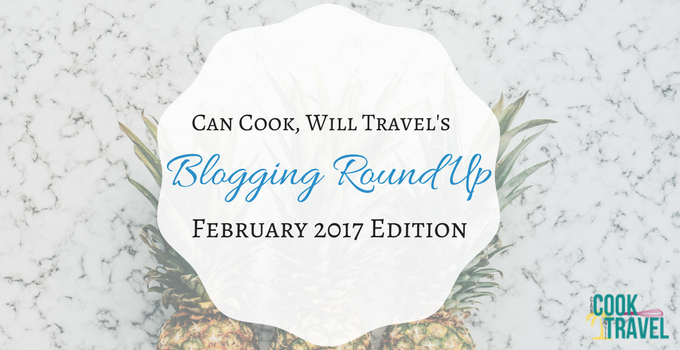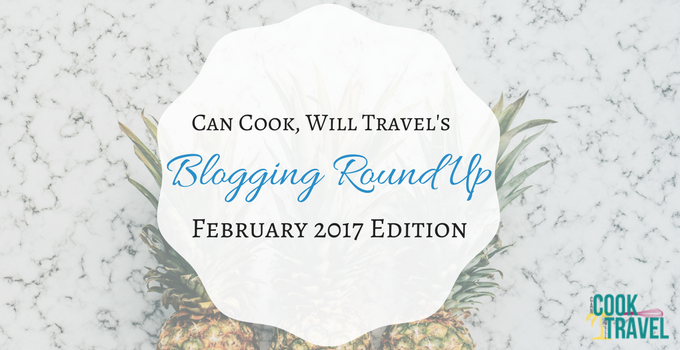 How has your February been so far as we're in the last full week of the month? Mine has been great, honestly. I've explored a lot with food this month, worked super hard on some big goals I'm setting for myself, and made time for fun in my life.
The older that I get, the more I'm realizing how fast time truly flies by. And with that comes the lesson to not sweat the small stuff and to get the most out of each day. So when an opportunity comes your way, say yes even if it scares you a little. (That's how you know it's going to be good, I've decided.)
And if work or some other part of your life is stressful, give it to God, and maybe care just a little less. I'm not saying not to do your best or be invested, but don't put so much pressure on yourself to have it all figured out. Breathe, let it play out, and have faith in the journey you're on.
This month I just relaxed and played and tried new stuff in life and on my blog. From 3 crazy good recipes that are all dairy free to 3 weekly crush posts that will have you feeling great about what you create in the kitchen. It's been a month of sharing info that I really hope helps you become the kitchen rockstar you want to be.
So let's kick off this month's Blogging Roundup, shall we?!

February's Recipes Blogging Roundup:
Soup:
I must say that I was pretty sad when this Roasted Brussels Sprouts & Cauliflower Soup was all gone. By roasting these vegetables in the oven, they give such a great flavor when pureed in this soup. And it makes the soup so creamy and is super healthy and dairy and gluten free! Trust me, you won't miss the dairy in this one!
Salad:
Oh Asian Pasta Salad, you are so incredibly yummy! I keep saying this, but it's 100% true that if you like pasta and you like sushi, then this salad will make you so happy. This pasta salad is dairy free and gluten free, is packed with delicious veggies, and the dressing is seriously lovely! I cannot wait for you to make this Soba Noodle Salad dish ASAP!
Side:
Armed with my new wok and spiralizer, I happily whipped up these Stir Fry Zucchini Noodles! They're easy to make, don't require many ingredients, and are pretty fun to cook as well. I added a touch of heat to the dish to amp up the flavor, and you'll easily forget you're not eating noodles, because these noodles taste so great!
Main Dish:
This might be my new favorite healthy meal to make regularly! This Turmeric Sweet Potato Healing Bowl is so easy to make ahead and enjoy all week long. The turmeric mashed sweet potatoes are so good AND they don't require dairy. Add in some brown rice (or quinoa), arugula, and a fried/poached egg topped with a lemon dressing and pistachios, and it's a complete meal that will make you want a second helping! At least it did me. I can't even tell you my favorite part, honestly. It was all SO good!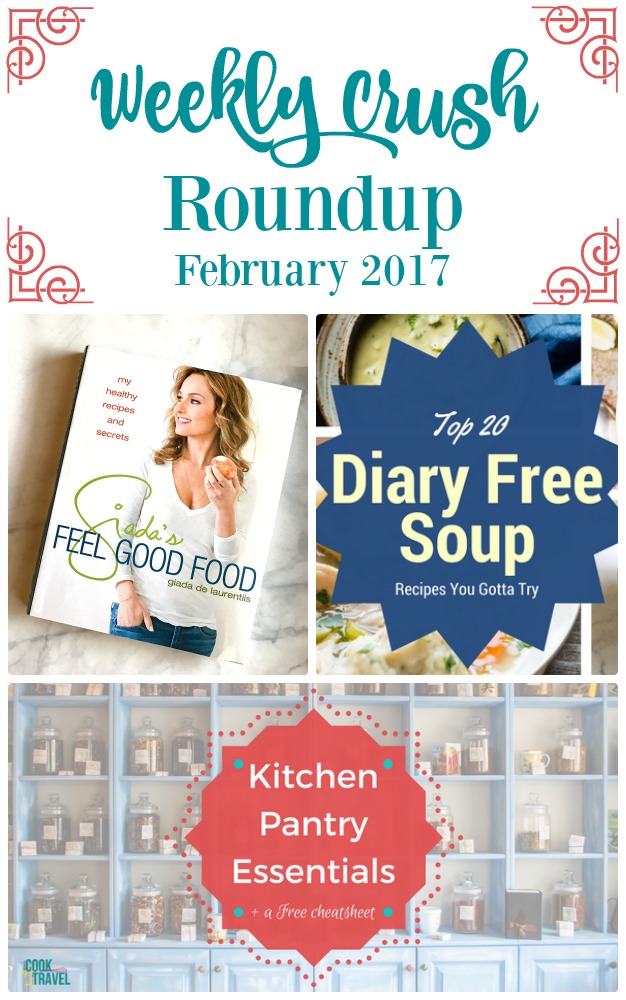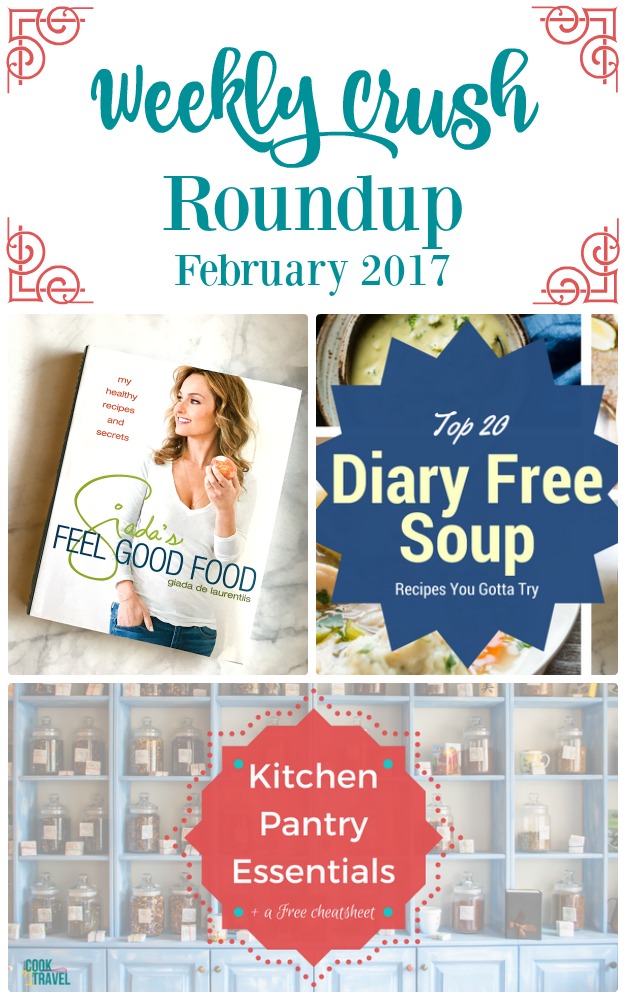 February's Weekly Crush Blogging Roundup:
Cookbook Love:
I'm a big, big fan of this month's cookbook feature with Giada's Feel Good Food Cookbook. It's one that has sat on my bookshelf for a few years now, and I am so glad that I picked it back up. It brought me the Asian Pasta Salad above, along with some seriously great recipes AND tips to live in balance. This book is one of my favorites that Giada has done so far.
Your Kitchen Pantry:
If you haven't checked out my Kitchen Pantry Essentials List post, you'll definitely want to. Especially if you always feel like you have nothing to eat. I know I have those moments, when I want fast food because I have nothing to cook. But in the past year as I've restocked my pantry from scratch, I've had a lot fewer of those moments. Get your free cheatsheet so you always know what to keep on hand in your pantry.
All the Soups You Need:
When it's cold out, all I crave is soup. And was afraid with the dairy free cooking I'm doing that I'd be missing out on some good soup recipes. But as I did some searching, I found 20 Dairy Free Soup Recipes that you are going to LOVE. And as I researched my own blog recipes, I found that I'd been making tons of crazy good soups that are also dairy free for years now. Here's your ultimate list of soups that you can come back to again and again for healthy and crazy good recipes!
[thrive_2step id='7382′][thrive_leads id='7381′][/thrive_2step]
To be sure you're staying up to date on all things Can Cook, Will Travel, click the button above to sign up for my weekly newsletters. It's a great way to find out all the happenings and I also share some fun stuff and exclusive gifts to my subscribers. So what are you waiting for? 🙂
What are you enjoying from this month's blogging roundup, and what do you want to see more of on the blog? I'm always listening and want to know what you think, so comment below!
Stay inspired & keep discovering new stuff!
~Kelli
0