So I had a totally different plan on what my Cookbook Love feature would be this month. However, after last week's stellar Asian Pasta Salad from the cookbook, Giada's Feel Good Food, I had to make a change of plans.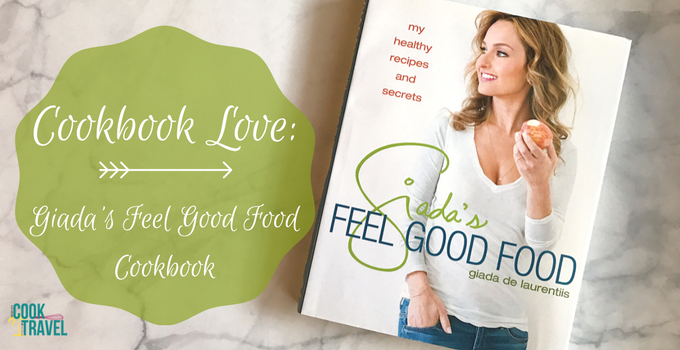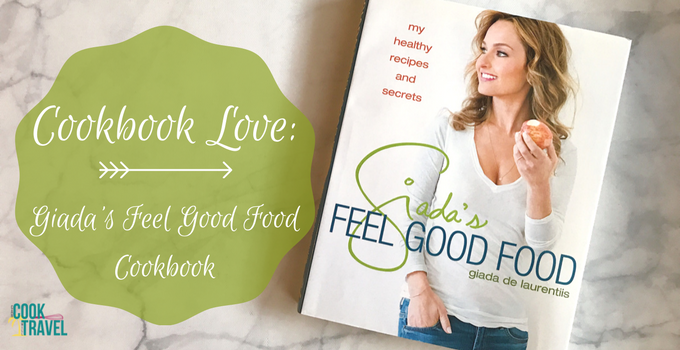 You see, in my journey to eat less dairy, I kept thinking that I'd end up making sacrifices. What I'm finding is that this is something that I can totally do. And while this Feel Good Food cookbook isn't brand new, it's one I'd forgotten about. (As I tend to do with my cookbooks until I started this blog series.)
And what I discovered in this book suddenly made me love Giada de Laurentiis even more. I'm not even sure what possessed me to pull this book off my shelf, but I'm incredibly glad it did.
Why Giada?
I'm sure I've mentioned it a lot over the years here, but Giada is my culinary idol for a lot of reasons. Featuring her in my cookbook series was a given, and I actually highlighted her Happy Cooking cookbook back in April of last year.
And when I was drawn to this cookbook last week, I'll attribute it to divine intervention. You see I wanted to make something seriously so good but nothing dairy free was inspiring me. And then I cracked up Giada's Feel Good Food cookbook and had completely forgotten how great it was.
See the thing with Giada is that she is tiny, but she cooks these big, bold flavors that would make any Italian fat and happy. So how does she stay so little? I always assumed she ate teeny tiny portions of her decadent dishes, which she probably does to an extent. But this book really unlocks her secrets to eating healthy and staying healthy.
And one thing I love is that she actually has a TON of dairy free recipes, along with gluten free, vegetarian and vegan that are marked throughout the book. It's as if the Universe knew that I needed some inspiration and Giada was the perfect person to inspire me.
After all, literally every recipe of hers that I've ever tried has been fantastic. So if these are the recipes she eats often, they must be good. And so far I've made 2 things for my blog from this book and they were both stellar and dishes I'll be remembering for a long time.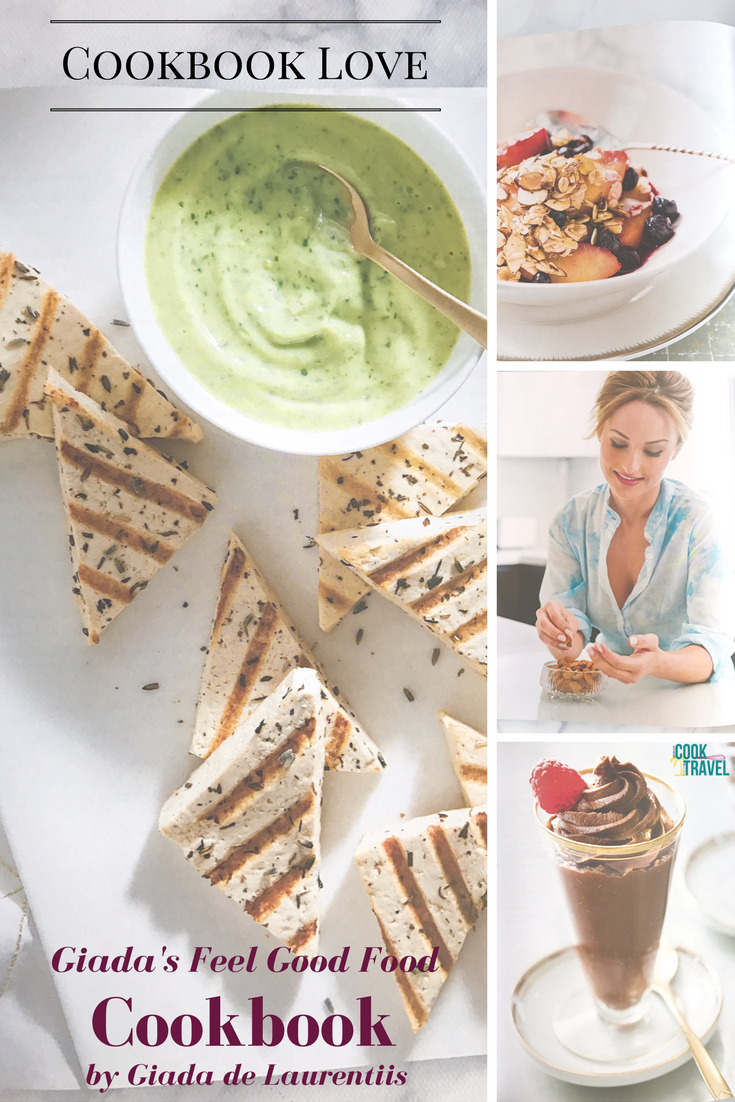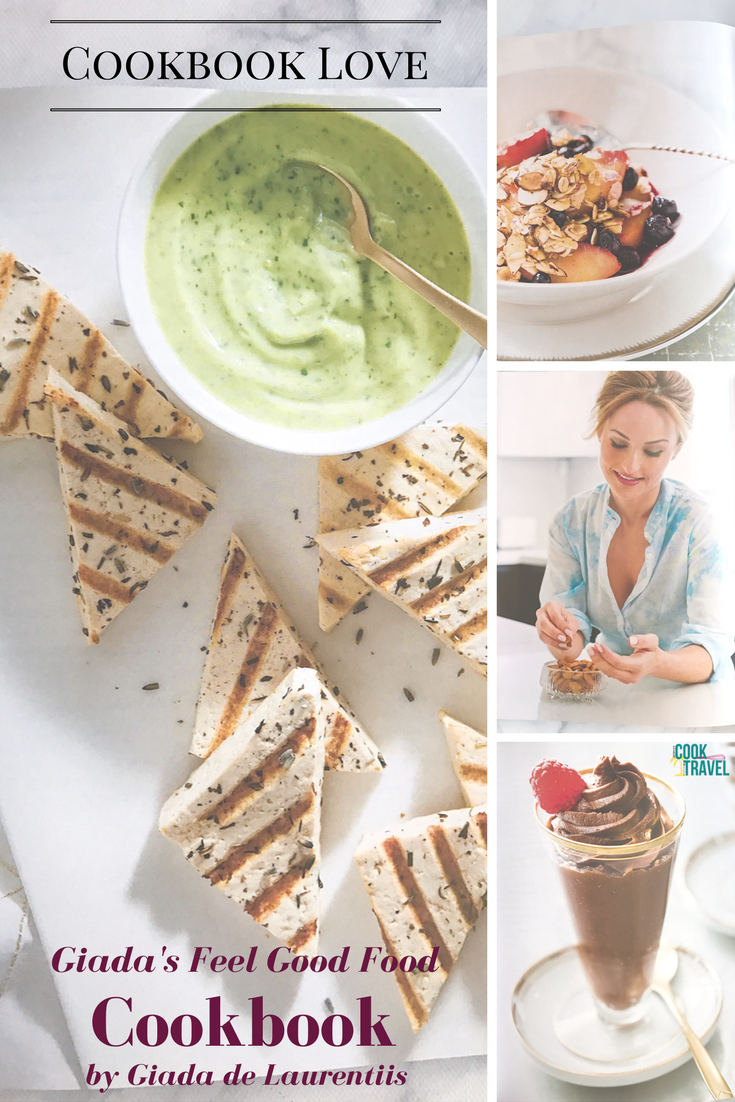 Giada's Feel Good Food Cookbook Organization:
Cookbooks are all slightly unique in their own organizational way. But I'm finding most of them will give me the standard intro, index at the end, and recipes in the middle. But the layout of the rest is always just slightly different, which I love.
Always read the intro to every cookbook before you think about making the recipes. That's my rule of thumb, because you get a vibe for what the cook's goals are for this book and it also puts you in a different mindset when you approach each recipe.
In Giada's Feel Good Food Cookbook, you'll find that these are the recipes that Giada eats most often, and the ones that she counts on to keep her feeling great with tons of energy. So this book is packed with tons of whole grains, complex carbs, lots of protein, fruits and veggies. So nothing here to feel guilty eating.
You'll find a section on breakfast foods, then one on juices and smoothies, and then the standard lunch, snacks, dinner & dessert chapters. One thing I love after the intro is this calendar that Giada put together on how to eat 4-5 small meals each day by giving you some dishes you could make each day. Such great inspiration and it gives you some ideas on how to structure your eating habits.
You'll also find 1-2 page spreads throughout the cookbook where she gives her tips and secrets that people always ask her. From her hair and beauty routines to packing tips and what items she always travels with. It's all really useful stuff, and I definitely love how organized she is when packing, because I pretty much detest the packing process.

What's to Love About Giada's Feel Good Food Cookbook?
Introduction – Giada has written a ton of cookbooks over the years, but this intro lets you know that you're not getting the typical Italian recipes. She's about to let us in on her healthy eating secrets and I love that! And guess what? She actually does splurge when traveling or occasionally at home like the rest of us want to. So now we know how to reset, detox, or just get a bit more energized.
Month of Meals – I touched on this in the previous section, because sometimes when you find a cookbook it's a bit overwhelming. You're given a ton of recipes and you don't know where to start. This month of meals is perfect if you find yourself wanting to throw in the towel before you start.
Nutritional Info – Not enough cookbooks give nutritional info, and they especially don't give sugar amounts. That is always the first thing I check on a label, because really since 2007 I've been watching how much sugar I eat. Seven grams or less is ideal but then you know if you go over that it's a bit of a splurge and eat accordingly…that's my plan at least.
Dietary icons – These little "v" (vegan) "vg" (vegetarian), "gf" (gluten free) and "df" (dairy free) icons on the different recipes sold me on this book. Honestly, they did. And what I'm finding is that I can still take a non dairy free recipe and change up a few ingredients to make it dairy free if it's one I'm dying to try.
Tidbits Throughout – I also touched on this a little in the organization section above, but it's great to get a bit of insight outside of the kitchen to see what this favorite chef does in her daily life that makes her look and feel lovely, and what makes her life easier.
Info on each recipe – Don't just give me the recipe and instructions and move on . . . I love a bit of insight or a little tip in an intro paragraph. It might be a cooking tip, or a way that she prefers to serve or eat a dish, or maybe just an explanation on an uncommon ingredient. I like a little bit more info!
Gorgeous Photos of course – It's a given that a book with great photos will pull me in. And I'd expect nothing less from Giada than gorgeous images of food and her life to keep me interesting and feeling inspired.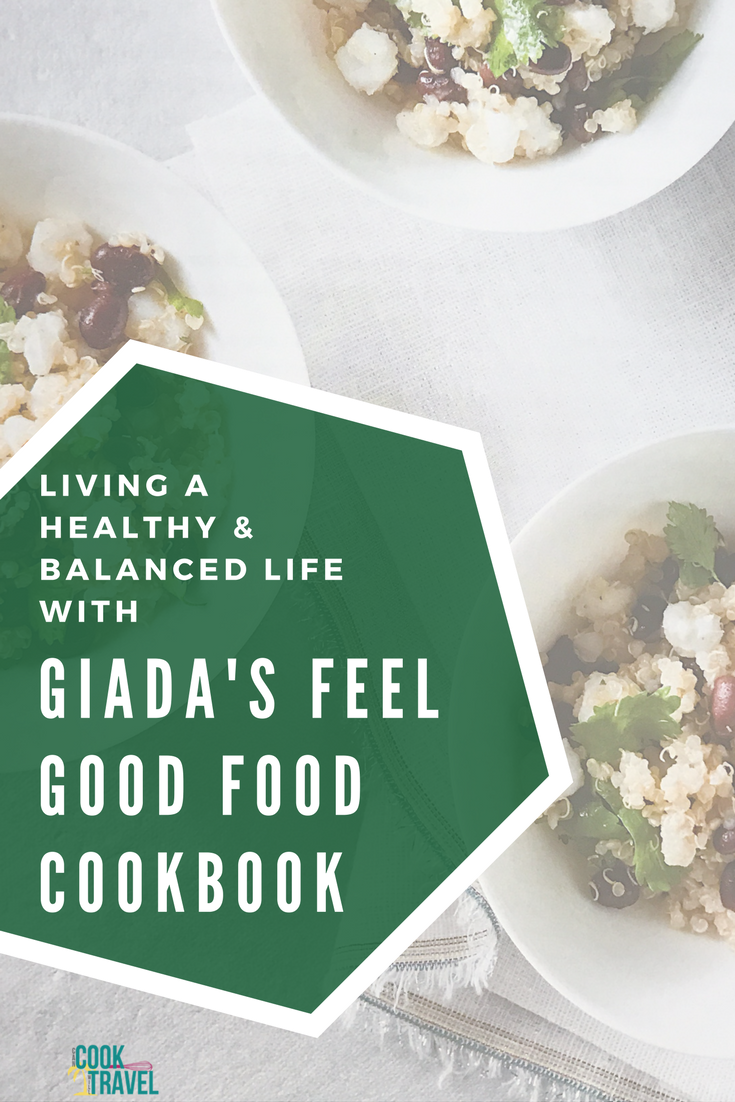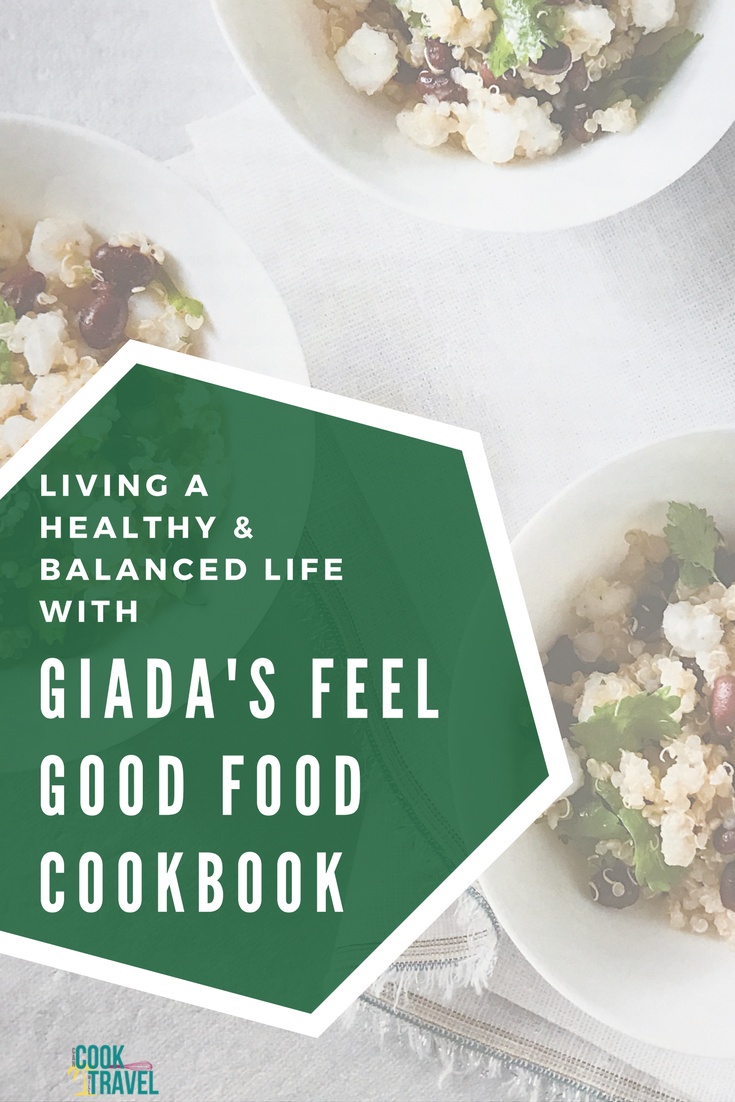 Crave-worthy Feel Good Food Recipes:
Breakfast Bulgar Wheat with Poached Berries – I've never worked with bulgar wheat before, but it seems like a super healthy oatmeal option.
Orange-Scented Almond and Olive Oil Muffins – While they aren't dairy free in her cookbook, I think I could easily make them so. Score!! See, I'm feeling inspired already!
Egg, Kale & Tomato Breakfast Wraps with Hummus – This one is delicious! I actually made it back in 2014, and I still think/drool about it often. And it's dairy free, my friend!
Turkey, Kale, & Brown Rice Soup – This sounds lovely on a chilly day. Plus it should be super easy to make this one dairy free.
Brown & Wild Rice with Brussels Sprouts – Oh Brussels sprouts, you say? Yep, sign me up! I think it'd be dairy free if I made my own chicken broth, so that's fabulous!
Halibut Ceviche Salad with Avocado Salsa – She had me at "Ceviche". I love ceviche, because I'm my mother's daughter. She taught me to have a great, diverse taste in food, and she adores ceviche. It's such a light, refreshing salad. Yum!
Soba Noodle Salad – This is the dish I made last week that had me falling for this cookbook! Seriously, my friend, please make this recipe ASAP, because it's THAT good!
Shrimp, Avocado, & Mango Rolls – Dairy free sushi rolls?! 'Nuff said. 🙂
Grilled Salmon & Pineapple with Avocado Dressing – One day when I have a grill, I'm totally making this. I've lately been really craving salmon, and seeing this simple recipe reminds me why. Yum!
Avocado-Chocolate Mousse with Raspberries – Because this sounds too weird to not try! Seriously I'm always intrigued by odd combos, and this is a dairy free mousse that looks amazing!
Spiced Pumpkin-Raisin Cookies – Oh yep, and they're dairy free too! Seriously, Giada, you and this fabulous cookbook are making me SO happy right now!
Well what more do I need to say? If you're looking for healthy recipes for allergies or dietary reasons, then this is your cookbook. And if you're just looking for great, healthy food and don't care about whether your food is vegan or gluten free or has milk products in it, guess what . . . this is your cookbook too!
Let's all strive to eat a bit better and care a bit more what food we eat, shall we?! In the long run, I think we'll be thanking ourselves big time! And Giada's Feel Good Food Cookbook can help us get there. So tell me, what kind of food do you love to cook or are you trying to eat gluten free or dairy free like me? I'd LOVE to know! Comment below and let's chat!
Stay inspired & grow your cookbook collection!
~Kelli


0