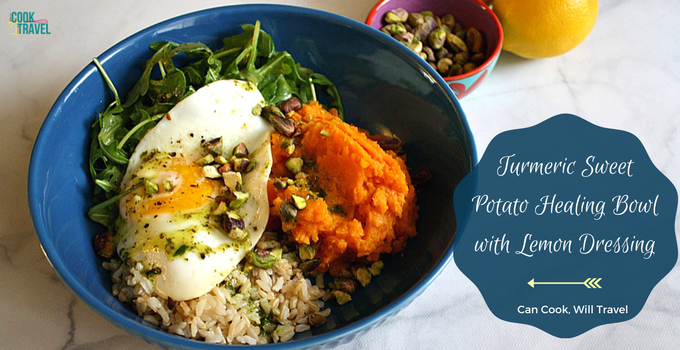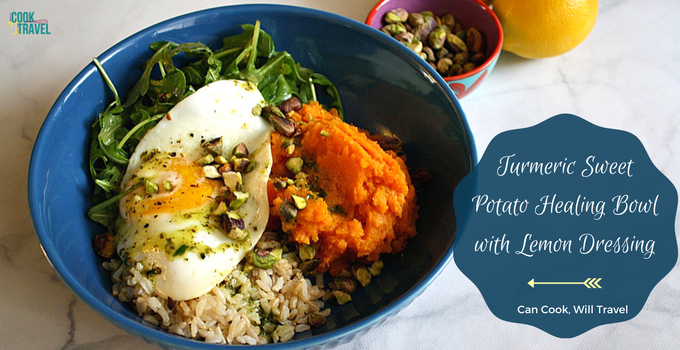 (This Healthy Sweet Potato Bowl recipe can be found on the site Pinch of Yum here.)
Step by Step Instructions:

Healthy Sweet Potato Bowl is one of my favorite recipes I've made lately, and this delicious dish requires the following ingredients: Chicken Stock (or broth), Olive Oil, Baby Arugula (or favorite mixed greens), Agave, Salt, Fresh Parsley, 1 Lemon, 1 Egg (per serving), 3 cloves of Garlic), 2 Sweet Potatoes, cooked Brown Rice, Turmeric, and Pistachios (or favorite nuts).

Start by peeling the potatoes and then cut off the ends.

Grab a sharp knife, and dice the potatoes, which I like to do by slicing into about 1-inch pieces.

Then cut each round into about 9 pieces so you have fairly even sized pieces.

Then mince the garlic. You can mince just 2 or all 3, because 2 cloves you'll need for the potatoes and 1 clove is needed for the dressing.

Grab a saucepan and heat about a tablespoon of olive oil over medium heat.

Once the oil is hot, then add the potatoes to the pan and stir for about 2 minutes.

Then add 1-2 teaspoons of turmeric (add 2!) and stir until the spice coats the potatoes.

Then add 2 cups of stock and 2 cloves of minced garlic. Allow the mixture to heat to a boil. Then once it bubbles, turn the heat down to simmer for 10 minutes or until the potatoes are tender.

While the potatoes cook, I started to make the dressing for the Healthy Sweet Potato Bowl. First measure out 1/3 cup of olive oil and then add it to the blender.

Then juice your lemons until you have 1/4 cup, which is about 1 lemon.

At this point my potatoes were simmering away, so stir occasionally until they're tender when poked with a paring knife.

To the blender add the oil, lemon juice, the other clove of garlic, 2 teaspoons of agave, and 1/4 teaspoon or so of salt.

Then add 1/4 cup of parsley leaves.

Then blend until the dressing is combined.

I went ahead and cracked my egg and then started making my sunny side up egg, and if you're curious how I did that, just follow the instruction for the egg in this recipe.

Finally I chopped up my pistachios so that I was all ready when it was time to put this yummy Healthy Sweet Potato Bowl together.

Once the potatoes are tender, transfer them to a bowl and season with salt and pepper. Then add a little of the broth to the potatoes.

Then mash away the potatoes until they are the consistency you like, and feel free to add a little more broth if needed.

Now it's time to put this Healthy Sweet Potato Bowl together!! First toss a nice handful of arugula with a little dressing and once it's coated add it to your serving bowl.

I made my rice in advance and just reheated it. So I added about 1/2 cup or so of the potatoes and rice to the bowl. Then to complete this Healthy Sweet Potato Bowl just top with your eggs, chopped pistachios, and a light drizzle of dressing. And then dig in and seriously enjoy, because this is one healthy and insanely yummy dish! Happy bowl-eating!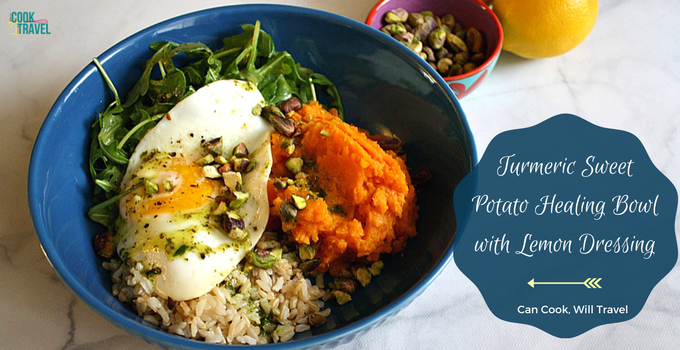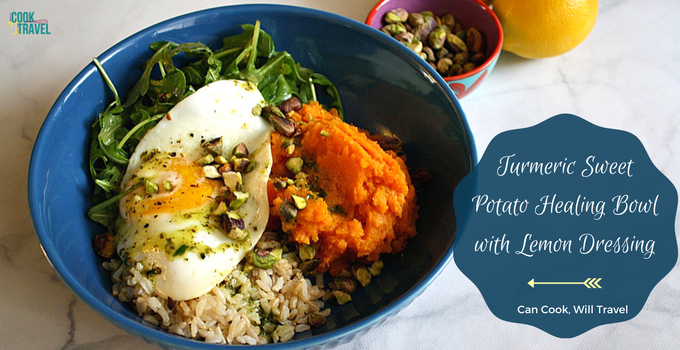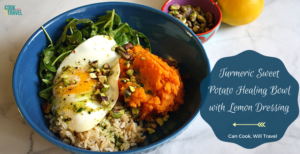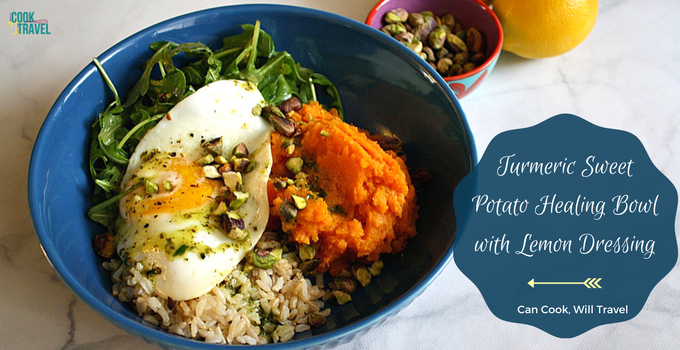 Print
Turmeric Sweet Potato Healing Bowl
Yield 5 servings
This bowl of grains, greens, and sweet potatoes is packed with flavor and makes you happy you're eating so healthy!
Ingredients
TURMERIC MASHED SWEET POTATOES:
2 large Sweet Potatoes, diced
1 tablespoon Olive Oil
1-2 teaspoons Turmeric
2 cloves Garlic, minced
2 cups Chicken Stock (or Veg/Chicken Broth)
LEMON HERB DRESSING:
¼ cup Lemon Juice (the juice of about 1 lemon)
⅓ cup Extra-Virgin Olive Oil
1 small clove Garlic
2 teaspoons Agave
¼ cup Parsley Leaves
¼ teaspoon Salt (more to taste)
HEALING BOWLS:
Egg (Fried, Poached, or Scrambled)
Brown Rice or Quinoa
Arugula (or your favorite green)
Pistachios, chopped (or favorite nuts for topping)
Instructions
Start by making the sweet potatoes. Heat a sauce pan over medium heat and add about a tablespoon of olive oil to the pan. Once the oil is hot, add the sweet potatoes and stir for about 2 minutes. Then add 2 teaspoons of turmeric to the pan and stir until the sweet potatoes are coated.

 

Add the garlic and chicken stock or broth to the pan and once the liquid starts to bubble, turn it down to simmer for about 10 minutes or until the potatoes are tender.

 

While the potatoes cook, combine all of the dressing ingredients in a blender and puree until well combined.

 

Once the potatoes are tender, transfer them to a bowl and add salt and pepper along with a little of the broth and mash. Continue adding liquid if needed until they're your desired consistency.

 

Cook your egg (1 per serving) using your desired method. I did a sunny side up egg, but poached or scrambled work too.

 

When it's time to put your bowl together, start by tossing your arugula (or greens) with a little dressing until the greens are coated. Then add a nice handful to a bowl along with about 1/2 cup each of brown rice and mashed turmeric sweet potatoes. Top with the eggs and some chopped pistachios. Then drizzle some more dressing over the top and dig in! Enjoy!
Notes
Quick Tip: You can make the brown rice or quinoa in advance. I made about 2 cups worth for this dish.
Courses Lunch
Nutrition Facts
Serving Size 1/2 cup
Amount Per Serving

Calories 382

% Daily Value

Total Fat 23 g

35%

Saturated Fat 4 g

20%

Unsaturated Fat 18 g

Cholesterol 186 mg

62%

Sodium 272 mg

11%

Total Carbohydrates 38 g

13%

Dietary Fiber 3 g

12%

Sugars 3 g

Protein 11 g

22%
* Percent Daily Values are based on a 2,000 calorie diet. Your daily values may be higher or lower depending on your calorie needs.


24