Last year when I moved back to Kansas City, I basically had to start over on stocking my kitchen with food. What I found was that there were definitely basics that I needed on hand immediately, and along the way I've found myself using some ingredients more than others. So that got me thinking about what my favorite kitchen pantry essentials are.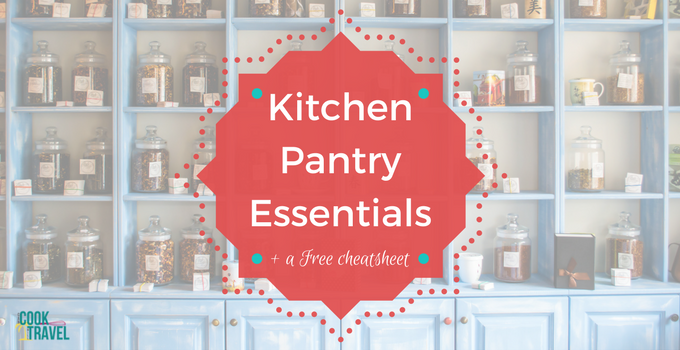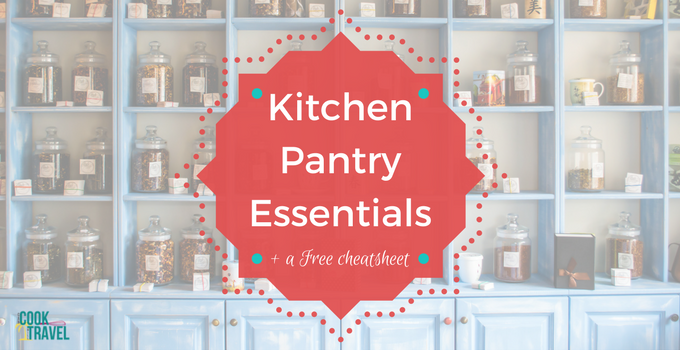 There are the essentials you need so that you can cook pretty standard fare. Then there are the bonus pantry essentials that I always have on hand, and you might consider these more specialty items that really can become essentials based on what cuisines you're cooking and what your dietary restrictions are.
So if you really love Asian cuisine like I do, you may need certain sauces and spices. Whereas if you love cooking Mexican or Italian styles you'll find yourself gravitating towards different oils, spices, and sauces.
And as I started to make my list, I realized that it was a bit out of control, but in a good way. There are so many different ingredients that I use for different reasons, and I decided it was only right to share them ALL with you. So I've broken down my kitchen pantry essentials into the following sections:
Click on a link to jump to that section:
Oils & Vinegars
Spices
Baking
Canned Goods
Pastas & Grains
Misc. Stuff


Oils & Vinegars:
These items are the base of so much of our cooking, and if you have a few essentials and then add to it as you need different items you'll be in good shape!
The Essentials:
Olive Oil
EVOO (extra-virgin olive oil, that is)
Grapeseed Oil (I love this for everyday cooking in place of vegetable oil)
Coconut Oil (from my morning coffee to popcorn to baking I use this oil daily)
Apple Cider Vinegar
White Vinegar
The Bonuses:
Sesame Seed Oil
Toasted Sesame Seed Oil
Peanut Oil
Rice Vinegar/Sherry Vinegar
Balsamic Vinegar

Spices:
You can flavor a dish or dessert to perfection with the right spices. And while spices aren't always super cheap, they do tend to last you a while. Here are the ones I'm grabbing on the regular:
The Essentials:
Cinnamon (so versatile and amazing for you)
Garlic Powder
Smoked Paprika (this very well may be my very favorite spice to cook with)
Red Pepper Flakes (a little goes a long way)
Cayenne Pepper
Peppercorns (to keep my pepper grinder full)
Kosher Salt
Iodized Salt (aka "table salt")
The Bonuses:
Sesame Seeds (regular or black)
Turmeric (I find myself going out of my way to find recipes to use turmeric in because it's so good for you.)
Himalayan Pink Sea Salt (This salt is really flavorful but also great for your health.)
Cardamom (Add a little to some sliced apples to make this fruit more special and keep the calories low.)
Allspice (Amazing for baking)
Ground Ginger
Curry Powder

Baking:
Baking is one of my favorite ways to de-stress and relax, so this category is a super fun one for me.
The Essentials:
AP Flour (that's all-purpose flour…or replace with gluten free flour if you prefer.)
Sugar
Baking Powder
Baking Soda
Vanilla Bean Paste (I use this magical ingredient anytime I need vanilla extract. That's why it's one of my essentials.)
Semi-sweet Chocolate Chips or Dark Chocolate Chips (Great for baking AND snacking!)
The Bonuses:
Honey
Pure Maple Syrup
Agave Nectar
Almond Flour (great gluten free option)
Coconut Flour (another great gluten free option)
Pure Vanilla Extract (Make sure it's really good quality)
Shredded Coconut
Favorite Nuts (Almonds, Pistachios, Walnuts, Pecans, and Pine Nuts are my go-to's)

Canned Goods:
Sometimes when you're not in the mood to leave the house and go to the store, you find yourself scrounging to find SOMETHING to eat. But odds are good that if you have these canned goods, you're well on your way to a decent (and healthy) meal.
The Essentials:
Black Beans
Garbanzo Beans – (The beans are great for salads or roasting as snacks, so I love having a can or two.)
Corn
Diced Tomatoes
Tuna – (For more flavor, then get the kind packed in oil.)
The Bonuses:
Artichoke Hearts – (So good in salads and pasta dishes)
Bamboo Shoots – (I make my own version of ramen a ton, so I love topping my ramen with bamboo shoots.)

Pastas & Grains:
Oh pasta and grains really are the foundation of our diets. I tend to eat from this list for nearly every meal, I think.
The Essentials:
Spaghetti/Linguine – (Regular, Whole Wheat, or Quinoa or Bean-Based pastas, because then you have options.)
Ramen – (Yep, the cheap kind you ate in college, because you can make it a bit more grown up.)
Brown Rice
White Rice
Quinoa
Quick Oats
Old Fashioned Oats
The Bonues:
Soba Noodles – (These are yummy, and they're a great gluten free noodle alternative.)
Rice Noodles – (Not only are these delicious, but they're so cool.)
Steel Cut Oats – (Because, hello, healthy grain!)

Misc Stuff:
Now this list doesn't really fall into the above categories, so they get their own! And these are really great add ons to meals you cook.
The Essentials:
Bread Crumbs – (I prefer Panko, because they give a better texture.)
Hot Sauce – (Frank's is one I always have on hand, since it adds great spice.)
Jalapeno Tabasco – (Trust me on this one, because I wouldn't steer you wrong.)
The Bonuses:
Coconut Milk – (As I cook more dairy free recipes, then this ingredient is quite useful.)
Nutritional Yeast – (Another useful ingredient for dairy free eating.)
A well stocked pantry can seem like a serious investment, but if you add to it over time, it's much more reasonable. Hopefully this list will get your kitchen in tip top shape, and then with these kitchen pantry essentials you will have no problem creating culinary masterpieces.
My advice on this is to stock up with the essentials first, and then once you have that stuff, start adding in the bonuses. And of course if you have dietary restrictions, adjust accordingly for things like flour and pasta and so on.
So take 10 minutes and really start looking at what's in your pantry, and you will probably find that you already have a lot of these kitchen pantry essentials already. So fill in the gaps, and you'll be eating well in no time!
Stay inspired & happy organizing!
~Kelli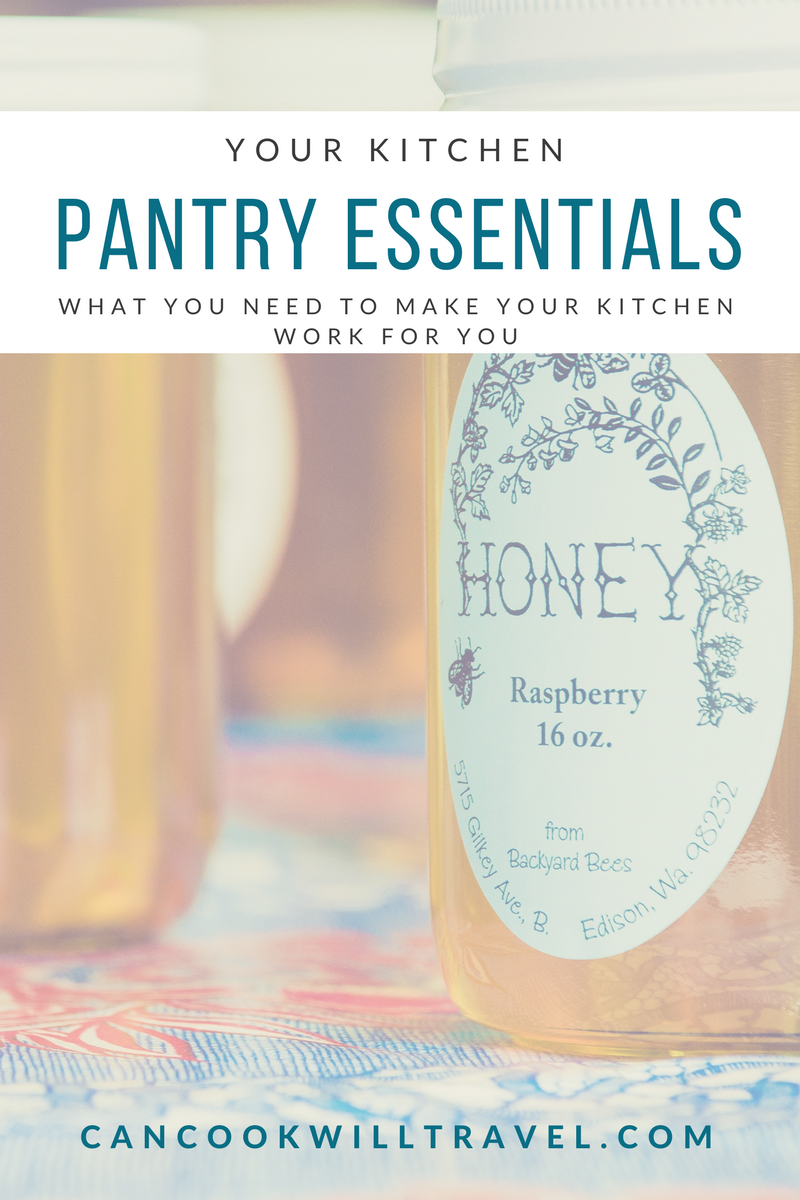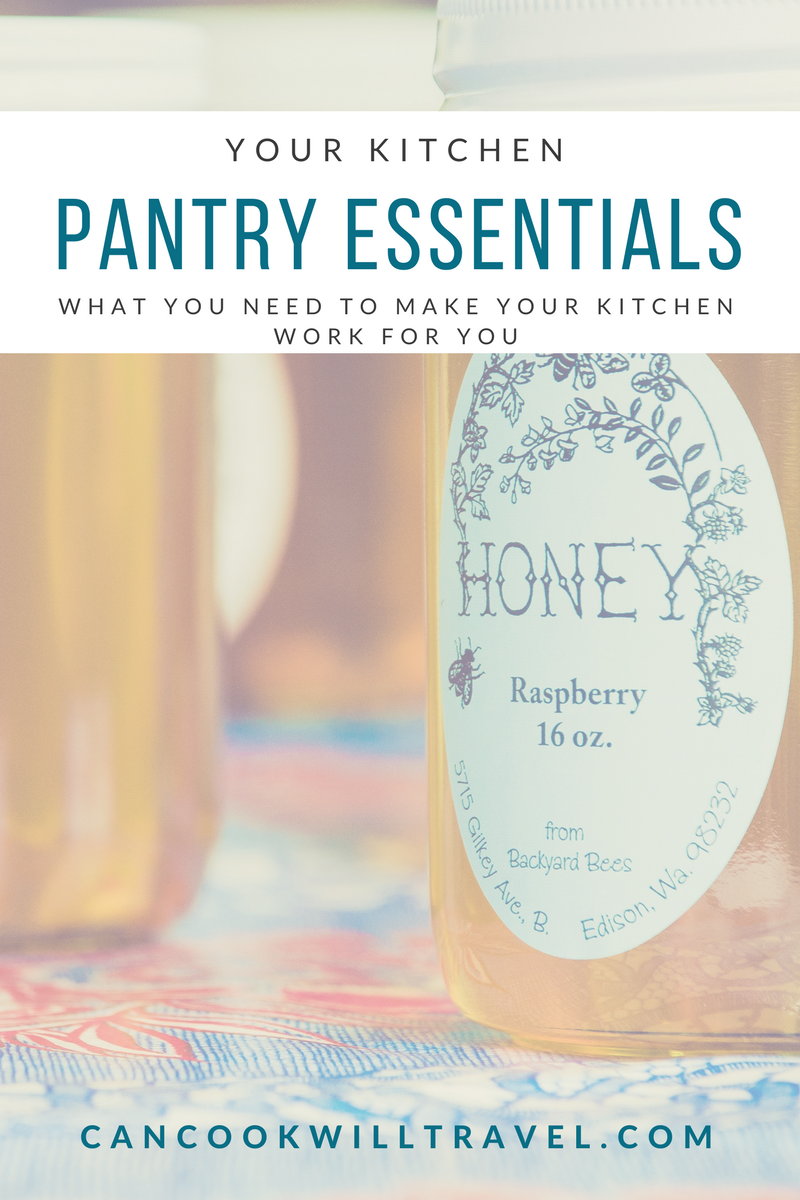 0