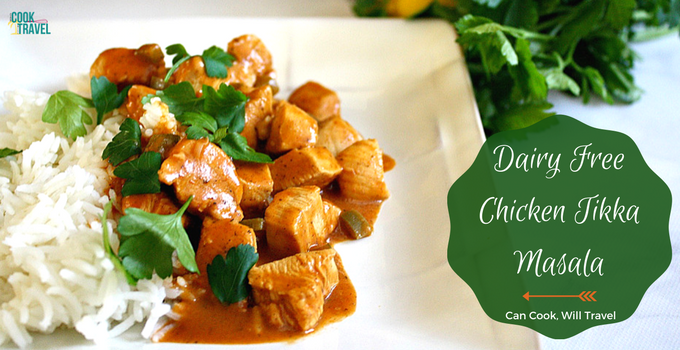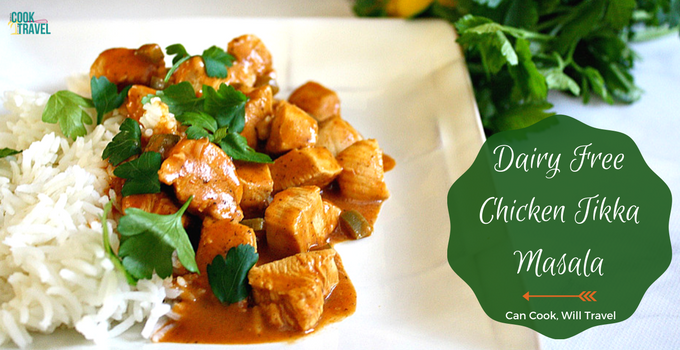 (This Dairy Free Chicken Tikka Masala recipe is inspired by Savory Tooth, so click here for that recipe.)
Step by Step Instructions:

You will soon be enjoying this Dairy Free Chicken Tikka Masala, because it only requires a few ingredients and comes together in under 30 minutes. So here's what you'll need: Salt, Basmati Rice, 2 cups of Coconut Cream (or heavy cream if you're cooking with dairy), Ground Ginger, 1 can of Tomato Sauce, Garam Masala, non-dairy Butter (I like Earth Balance), Dairy Free Yogurt Alternative (I used the So Delicious brand), Ground Pepper, Fresh Parsley, 1 Lemon, at least 12 ounces of Chicken Breasts, Paprika, 1 Jalapeño, and 5 cloves of Garlic.

Start off by making your marinade, so add 1 cup of plain non-dairy yogurt, 1 tablespoon of Garam Masala, 1 tablespoon of lemon juice, 2 teaspoons of black pepper, and 1/4 teaspoon of ground ginger to a large bowl.

Then stir the marinade until it's well combined.

It's time to dice the chicken, so I prefer to dice it by slicing it across the chicken breast. While dealing with raw chicken isn't my favorite, I've found it's easier to cut on a paper towel so it doesn't slide on the cutting board.

So then cut each slice of chicken into 3-4 bite-sized pieces.

Then add the chicken to the marinade.

Stir the chicken into the marinade until it's well coated, and then cover with plastic wrap and refrigerate for at least 1 hour.

It's almost time to make the sauce, so cook the rice now, so you're not waiting on it to eat.

Then mince 5 cloves of garlic, and I used my awesome garlic twist.

Carefully dice your jalapeño and remove the seeds and ribs, because that helps reduce the heat level. One tip is that I will use latex gloves or even put my hand in a plastic baggie, so then I don't touch the jalapeño to protect my fingers from getting juice on them.

Here's the chicken and marinade mixture after about an hour, so it's officially time to cook the Dairy Free Chicken Tikka Masala!

Heat a nonstick skillet over medium-high heat, and then add the chicken and marinade to the pan. Then cook the chicken for about 5 minutes or until it's cooked through.

Now it's time to add the flavor, so add a tablespoon of nondairy better, the chopped jalapeño, and minced garlic to the pan. While the mixture cooks, stir until the garlic begins to brown for about 2 minutes.

While this was my first time working with coconut cream, I found it rather easy to deal with. One tip here is to give the cream a good stir before using so it's well incorporated, and then measure out 2 cups.

Then add the can of tomato sauce, coconut cream, 4 teaspoons of garam masala, 1 teaspoon of paprika, and 1/2 teaspoon of kosher salt.

Stir the sauce, and then let it come to a boil.

Once your sauce starts to bubble, reduce the heat to a simmer (low or medium low), and then let it simmer for 20 minutes as you stir occasionally.

After about 20 minutes the sauce thickens a bit and you're ready to enjoy, so serve the Dairy Free Chicken Tikka Masala over basmati rice or with naan. Then top with some fresh parsley or cilantro for some freshness and color. Happy chicken tikka masala eating!!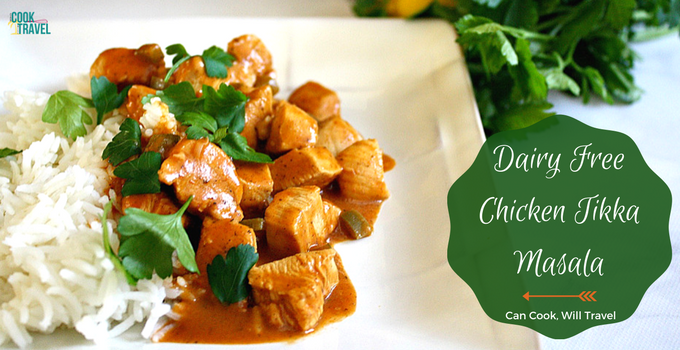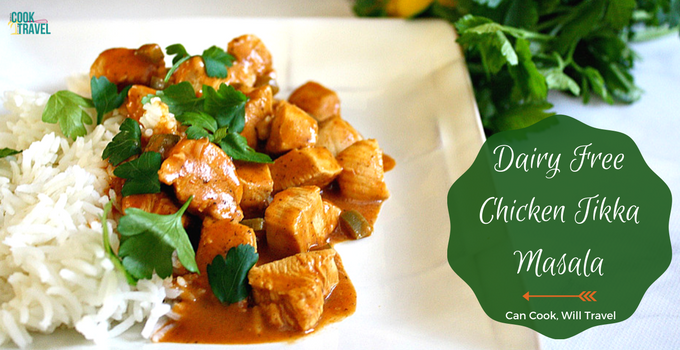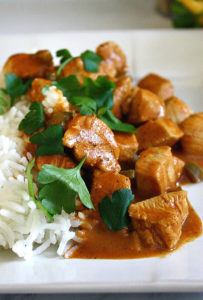 Print
Chicken Tikka Masala
Yield 4 servings
This gluten and dairy free Chicken Tikka Masala is simple and crazy good!
Ingredients
For Chicken Marinade:
12 ounces boneless and skinless Chicken Breasts, diced
1 cup plain Non-Dairy Yogurt (or Greek yogurt works too)
1 tablespoon Garam Masala
2 teaspoons Black Pepper
1/4 teaspoon Ground Ginger
1 tablespoon Lemon Juice (about half a lemon)
For the Sauce:
1 Jalapeño, seeded and diced
5 Garlic Cloves, minced
1 tablespoon Non-Dairy Butter Alternative (like Earth Balance or regular butter)
15 ounce can Tomato Sauce
2 cups Coconut Cream (or heavy whipping cream if you prefer)
4 teaspoons Garam Masala
1 teaspoon Paprika
1/2 teaspoon Kosher Salt
For Serving:
Basmati Rice or Naan
Fresh Parsley or Cilantro
Instructions
To begin, you'll need to marinate the chicken. Begin by dicing your chicken into bite-sized pieces. Then in a large bowl combine the yogurt alternative (if you're going dairy free like me), garam masala, lemon juice, black pepper, and ground ginger. Then add the chicken and stir so the chicken is coated. Cover the bowl with plastic wrap and refrigerate for at least an hour.

 

Once your chicken has marinated, you can start cooking! You can cook your rice or naan now or this would be something you could make ahead.

 

For the sauce, you'll heat a nonstick pan over medium-high heat and add the chicken and marinade to the pan. Stir regularly for about 5 minutes or until the chicken is pretty fully cooked.

 

Then add the garlic, non-dairy butter, and jalapeño to the chicken and cook for a couple of minutes or until the garlic starts to cook and brown.

 

Finally add the remaining ingredients including the tomato sauce, coconut cream, paprika, garam masala and salt. Stir and bring the mixture to a boil, and then reduce the heat to medium-low and let the sauce simmer for about 20 minutes or until it thickens.

 

Serve the chicken tikka masala over basmati rice or with naan and dig in! Enjoy!
Notes
Quick Tip: You can make the basmati rice in advance, and you can marinate the chicken early as well to save time.
Courses Dinner
Cuisine Indian
Nutrition Facts
Serving Size 1 cup
Amount Per Serving

Calories 314

% Daily Value

Total Fat 20 g

31%

Saturated Fat 13 g

65%

Unsaturated Fat 3 g

Cholesterol 49 mg

16%

Sodium 932 mg

39%

Total Carbohydrates 16 g

5%

Dietary Fiber 4 g

16%

Sugars 6 g

Protein 20 g

40%
* Percent Daily Values are based on a 2,000 calorie diet. Your daily values may be higher or lower depending on your calorie needs.


1