After last week's apple cocktails post, apples were on my mind. And I love the versatility of this Fall fruit, so I knew featuring it must happen. So in today's post I'm bringing you a huge list of apple recipes that will have you fully prepared for Fall.
So my earliest memory of an apple is actually pretty funny. I was about 3 or 4 and found myself at the babysitters with a shiny apple placed in front of me. Now I was used to it being cut up, because that's how we rolled at the Wallace household. So I was kinda clueless how to attack this fruit that I knew I loved. Well time passed, my babysitter walked over and was a little concerned because the entire apple was gone. Yup, I ate the entire damn thing, and just looked at her like "well, what was I supposed to do?!".
Years passed by and I've learned to cut up apples like a champ, so fear not!
I think my favorite way as a kid to eat apples were sautéed in a skillet with some butter and cinnamon (super easy and crazy good). But I also could never turn down some hot apple cider or a slice of apple pie.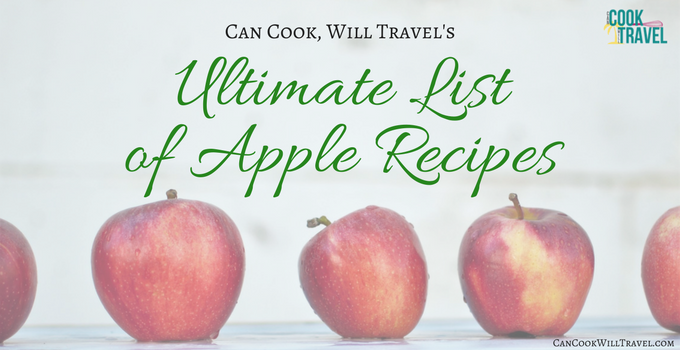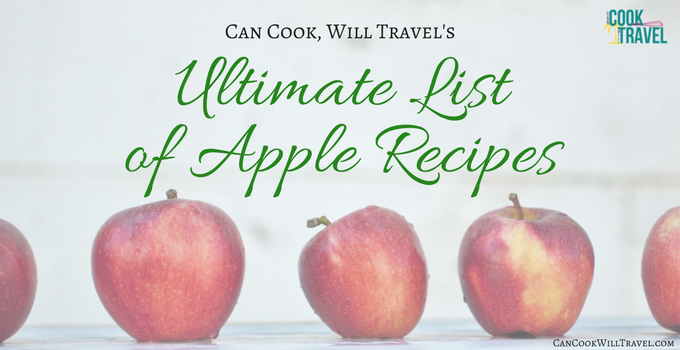 Apples add such great, yet mild, sweetness to an apple recipe whether it's the star of the dish or not. And after nearly 7 years of blogging, I'd definitely experimented with apple recipes a fair amount. Every attempt has been pretty memorable, I must admit.
So today's apple recipes post features apples in so many different ways, and I'm pretty excited to share it. Note that for any recipes I found that appeared gluten or dairy free, I've denoted a GF or DF next to it so it's easy for you to spot.
I've also organized these apple recipes into the following categories, so click on the link to go straight to that section:
Breakfast– My favorite, and the most important, meal of the day!
Muffins & Breads– I have this thing for making muffins and breads, because they always taste comforting.
Soups & Salads– Apples are the perfect addition to soups and salads and you'll find a few creative dishes here.
Side Dishes– These apple recipes will be perfect for your Fall, Thanksgiving, and holiday tables this year.
Main Dishes– Yep, apples can be the perfect accompaniment to your main dish to kick them up a notch.
Pies & Tarts– Because when you think of apples, you usually think of apple pie.
Cakes & Sweets– All of the rest of the desserts are in this category and there are some fabulous apple recipes to be found!
Drinks– Well we can't end a good apple recipes roundup without a few apple-inspired cocktails, now can we?!
Now let's dive into these apple recipes, shall we?!
Breakfast:
Apple Pie Pancakes – If you love pancakes and pie, then this recipe must happen. Your kitchen will smell fabulous, and your stomach will thank you!
Apple Cinnamon Stovetop Oatmeal (GF) –  For my fellow oatmeal lovers, then please tell me how delightful this recipe just HAS to taste!
Apple Cheddar and Sausage Breakfast Strata –  Oh yes, I could definitely wake up to this strata baking away. Sourdough, bratwurst, sharp cheddar, and apples are just among a few things that make up this breakfast dish.
Apple Scones – Because the world needs more scones in it, and this recipe sounds divine! Sign me up.
Muffins & Breads:
Apple Cinnamon Bread (DF) – I'm such a fan of sweet bread recipes, because baking is my happy place. And how amazing would your kitchen smell with this bread baking away in the oven?!
Glazed Apple Crumb Muffins – Oh you must click that link and look at how crazy good these muffins are!
Easy Caramel Apple Monkey Bread – I kinda love this idea, because I think the apples must help make the bread less rich. Or at least I'd like to think so as an excuse to try this recipe myself!
Soups & Salads:
Kale Autumn Salad (DF & GF) – I adore this kale salad packed with roasted squash and fennel along with apples, cranberries, pepitas, and a fabulous lemon maple dijon dressing. So I'm betting you'll love this too!
Spiraled Apple Cranberry Salad (GF) – Break out your spiralizer, and then get to making this salad. It sounds so fresh, refreshing, and delicious with goat cheese and pecans and dried fruit added in!
Creamy Maple Brie & Cheddar Apple Soup – I'm too intrigued by this recipe to not include it here, because it's like an apple pie meets savory soup. Then it's topped with granola and sounds delicious on its own or with a sandwich!
Side Dishes:
Apple Cranberry Sauce – I love cranberry sauce, and this version lets the apple sweeten it a bit yet still allow for the tart cranberries to shine. Seriously it's so good!
Paleo Roasted Brussels Sprouts (DF & GF) – Apples, bacon, and Brussels sprouts all in one delicious side dish – so this MUST happen!
Maple Cinnamon Sweet Potatoes & Apples (DF & GF) – Can't you just imagine serving this up on Thanksgiving Day or anytime during the holidays, really? Because I totally can!
Main Dishes:
Apple and Bacon Stuffed Acorn Squash – I'm not sure much else could taste like fall than this acorn squash filled with a delicious apple and bacon mixture. I can't wait to re-make this recipe this month!
One Pan Pork Chops with Apples & Onions (DF & GF) – Not only does this dish look GORGEOUS (click that link), but it also makes me wish for scratch and sniff computers. This one is a must-make that's going on my list soon!
Apple Quesadillas with Bacon & Cheddar – I forget how much I love the combo of apples and cheddar cheese, so how can this not be delicious?!
Crock Pot Pork Chops with Cranberries & Apples (DF & GF) – This recipe reminds me just how much I love to cook pork chops, but I don't do that enough! Oh I think my crock pot is calling my name, so what about you?!
Pies & Tarts:
Apple Galette with Sour Cherries & Goat Cheese – Sweet yet tart and creamy makes this tart a total winner! Plus it's really gorgeous and rustic, and galettes are so easy to make!
Apple Cranberry Pie – This pie makes my top 2 pies list, which is not easily done. It's sweet yet tart and insanely delicious!
Bite-Sized Apple Pies – Not only are these adorable apple pies great for portion control, but they're adorable and super easy to make!
Snicker Caramel Apple Pie – Um, this recipe exists?! Yeah, I'm going to need someone to make this one for me ASAP, because I'm drooling at the thought!
Cakes & Sweets:
Apple Thyme Cake – If you love apples, then you really must make this apple thyme cake! It's warm, spicy, with a touch of thyme to make it really delightful. Yum!
Apple Pie Cinnamon Rolls – This recipe is like if cinnamon rolls and an apple pie had a baby, and then you're clearly in dessert heaven! They look so freaking good!
Slow Cooker Apple Crisp (DF if using coconut oil) – Because when does apple crisp NOT sound delicious. And getting to use the slow cooker just seems like a smart choice!
Salted Caramel Apple Pie Bars – So you put together caramel over squares of apple pie flavors, and I'm guessing this is a winner!
Old-Fashioned Apple Upside Down Cake – I gotta say this recipe intrigues me, so it easily made the list.
Caramel Apple Cheesecake Bars – Warm spices, caramel, and cheesecake all in one bite?! So I need to experience this dessert, and I think you probably should too!
Drinks:
Warm Bourbon Honey Apple Cider (DF & GF) – Picture yourself sipping on this as you put up the Christmas tree or enjoy quality time on Thanksgiving. Because that is what this drink is made for!
Maple Bourbon Apple Cider (DF & GF) – This cocktail goes down smooth and warms you up from the inside out!
Homemade Apple Pie Vodka + Apple Pie Spritzer (GF & DF) – It's a two-for-one kinda post, which I totally love. Plus I love the idea of making your own infused vodka, so there's that!
30 apple recipes and counting have been shared, and I'm sure I'll be adding more to this post over time. I honestly don't really know where I'll start with recipes to make, but perhaps a pork chop one, since I said I hadn't made chops in ages. But then again, those desserts look fabulous too!
Do you have a favorite apple recipe or apple story like me, because if you do I'd love to hear it! I'm dying to know which apple recipes you're excited to try out, so comment below and let's chat!
Stay inspired & fire up the oven!
~Kelli
0