My love for the season continues with this Pumpkin Scones recipe I'm sharing today. I'd think by now you probably know about my love for pumpkin. But this year alone, I've already shared a killer dairy free Creamy Pumpkin Pasta and an ultimate list of pumpkin recipes. So check those out if you haven't yet.
But what I really love to bake are scones. I love how easily they come together, and how tender they are on the inside with a slight crust on the outside. Scones really have become a favorite treat of mine, so I couldn't believe I hadn't made any this year.
And since I love all things pumpkin and scones, why not combine them into one recipe? When it comes to baking, I don't want to riff too much with the flour and leavening agents. But I do like to take an existing recipe and switch it up a tad.
The site Damn Delicious has become one I find myself drawn to a lot, and Chungah had a Starbucks copycat pumpkin scones recipe that I really wanted to try. I did swap out the dairy products and brown sugar for my usual alternatives, but otherwise it looked too good to touch.
So let's talk about what I think is the key to a really good scone: frozen butter. In this case I used Earth Balance's Vegan butter sticks and diced up 1/2 cup of butter and froze it. I'd say freeze it at least 30 minutes, because you want the butter to not get soft as it works into the flour mixture. And that vegan butter alternative works so well!
I also used almond milk in place of milk for the scones and the glazes, and again it's an easy substitution. My final switch up was swapping out brown sugar for coconut sugar, so I could have a little less refined sugar in my foods. It works so well in this recipe!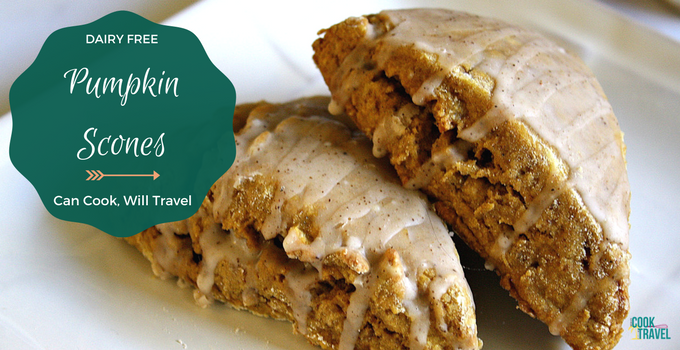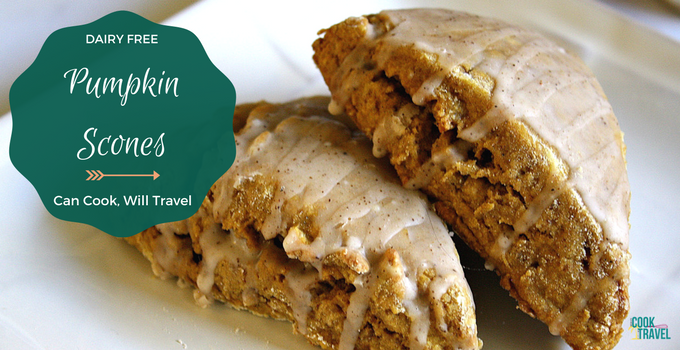 The scones themselves are pumpkin-y yet still filled with lots of delicious spices like nutmeg, cloves, ginger, and cinnamon. Just mixing up the dry ingredients, I knew this recipe would be a winner!
The key for combining scones is not to overwork the dough, because you want tender, light pumpkin scones. The alternative leaves you with really tough food, which you don't need in your life. I like to shape the scones with my hands, and then cut them with a bench scraper. This makes them look really rustic, but I love that!
You can do without the glaze if you want, which is what I usually do. However these scones aren't sweet, and I thought the glaze would be fun. Damn Delicious gives you two glazes, so I did both and they ended up being really simple to make.
These Pumpkin Scones smell amazing thanks to the plethora of spices in the dough. One whiff as I was storing them had me practically melting they smelled so good. And the texture is seriously perfect as it's soft and tender yet still a little flaky with a great crust. And that hint of sweetness from the glazes with each bite, rounds it all out perfectly!
I can't wait for you to try this Pumpkin Scones recipe this season, so click that link for the recipe and step by step instructions! I know you'll adore it as much as I do! Happy scone baking!!
A look back:
One year ago: Smokey Roasted Butternut Squash Saved Me
Two years ago: Get Your Soup on with Chicken Avocado Lime Soup . . . It's Soooo Good!
Three years ago: Learning to Love Salads – Part 16: Black Bean Quinoa Salad with Chipotle Steak
Four years ago: Pumpkin Bread Slimmed Down
Five years ago: Fried Rice – Quinoa Style!
Six years ago: Crazy Good Tortellini Kale Soup
21