This week I really wanted to focus on finding some healthy snacking options for myself (and you!). Snacking is something that I've definitely been working into my eating routine as much as I can lately. It all started with my green smoothie challenge (which I am still doing each day!) and I've been craving some healthy, easy options. That's where these Dark Chocolate Sea Salt Almonds came in.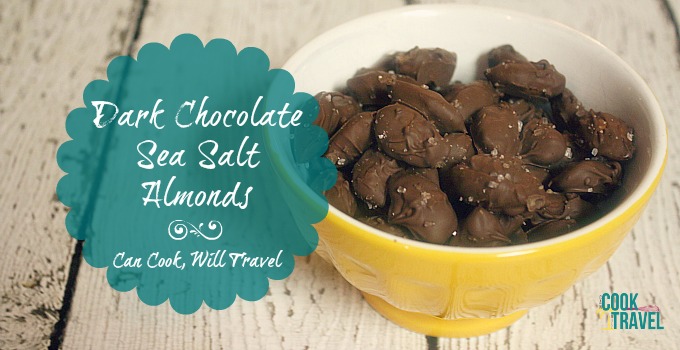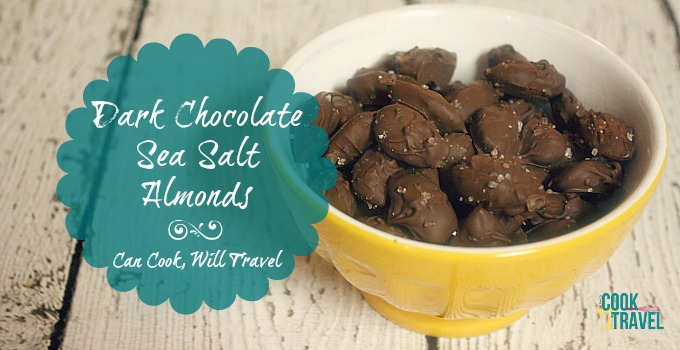 I've been eyeing this recipe for a while from the site Sally's Baking Addiction. I know I've already expressed my love for Sally and her glorious recipes before (these monster cookies are AMAZING!), so I trusted that she wouldn't steer me wrong this week. And luckily she didn't!
She pretty much had me at "dark chocolate" if I'm being honest. And the Dark Chocolate Sea Salt Almonds really couldn't be much easier. All you do is melt your dark chocolate (I used a semi-sweet, good quality chocolate) and once it's melted coat your almonds really well.
Here's where you get to practice your patience skills . . . which is always a challenge for me. You'll use a dipping fork, or we have a granny fork, to help you transfer the almonds from the bowl to a lined baking sheet and tap off the extra chocolate. You want to make sure you don't have huge clumps of almonds and transfer them one at a time if you can. That will make storing them and snacking on them a lot more handy.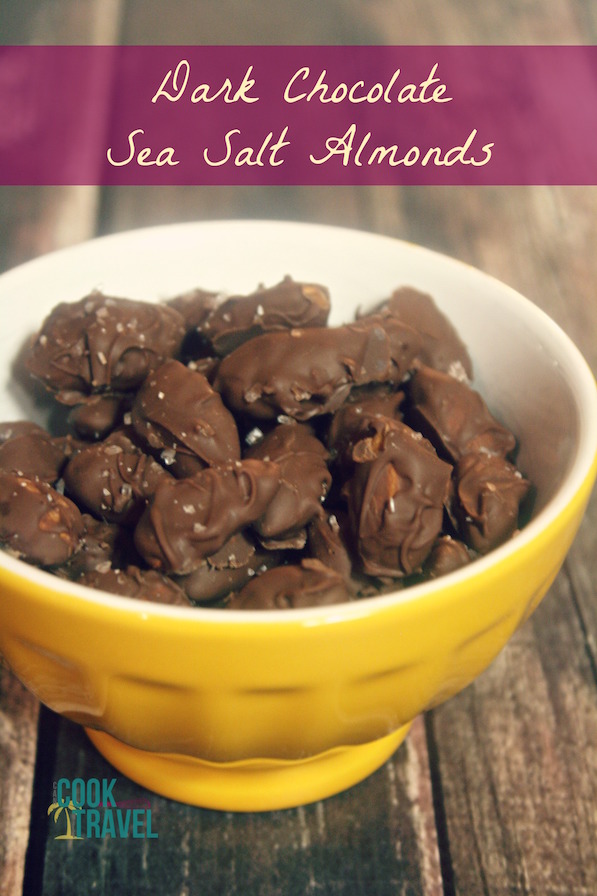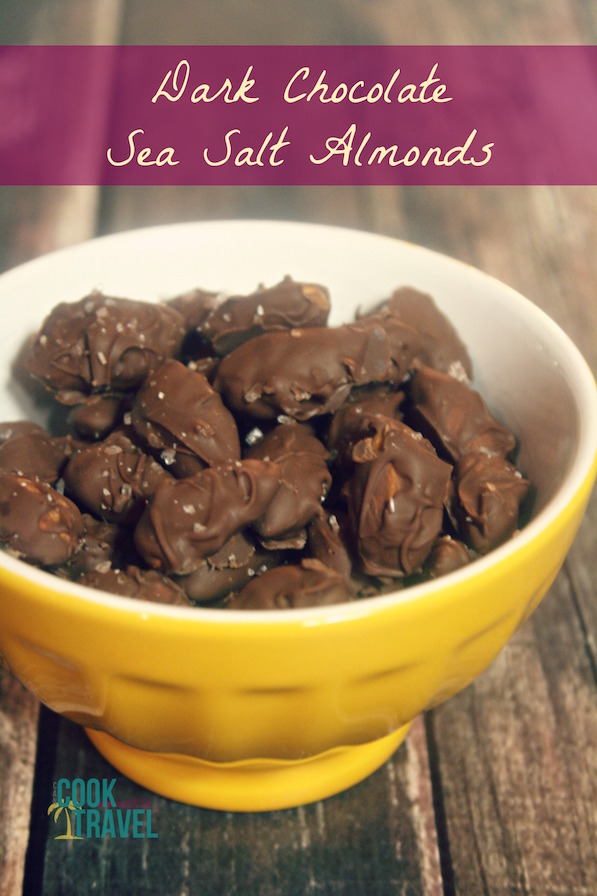 Then top with course sea salt and raw sugar. Full disclosure here that I didn't have any raw sugar on hand . . . gasp! So I kinda cheated and used some sugar crystals that we often use for topping baked goods to make them prettier. That worked great although it isn't quite as healthy as raw sugar. But hey, nothing is perfect!
I left my almonds sitting on a sheet pan to set up for a few hours, so that the chocolate would harden a bit and not be messy to eat. And that's it! A bit of patience and you're left with some stellar, healthy Dark Chocolate Sea Salt Almonds to snack on. And Sally says that they can be stored in a covered container in the fridge for 4 weeks or so, so it's worth the effort! Yum!!
My advice when you make these is to keep them in the fridge and enjoy them while they are still cold. I think this does 3 things: 1) It makes the almonds a bit more crunchy; 2) The chocolate won't melt as easily so they're not messy; 3) You can really taste the sea salt a lot better, which really brings out the flavor of the chocolate. These are stellar! So excited to have them on hand to snack on now.
I cannot wait for you to try these Dark Chocolate Sea Salt Almonds for yourself. Be sure to click that link for the recipe and step by step instructions! Happy snacking!
A look back:
One year ago: Smoothie Slimdown: Cinnamon Apple Smoothie
Two years ago: Swoon-worthy Caramelized Onion and Bacon Mac 'n Cheese
Three years ago: It's Tea Time – Part 2: Earl Grey Shortbread Cookies
Four years ago: Broccoli Cheese Soup . . . Delish!
Five years ago: All You Need is Love . . . And Cinnamon Rolls (In My Humble Opinion)
0