Where the heck has 2016 gone? I literally cannot believe that Thanksgiving is next week. It seems like the Summer just started. But that doesn't change that fact that Thanksgiving is nearly here. It's one of my favorite foodie holidays, where I get to eat an ungodly amount of delightful food. And turkey is fine and all, but it's the Thanksgiving Vegetable Dishes I truly love.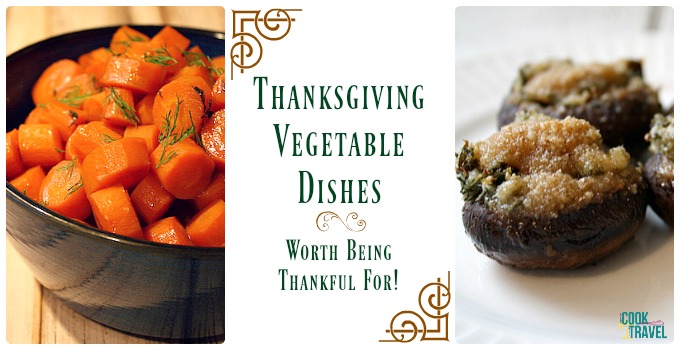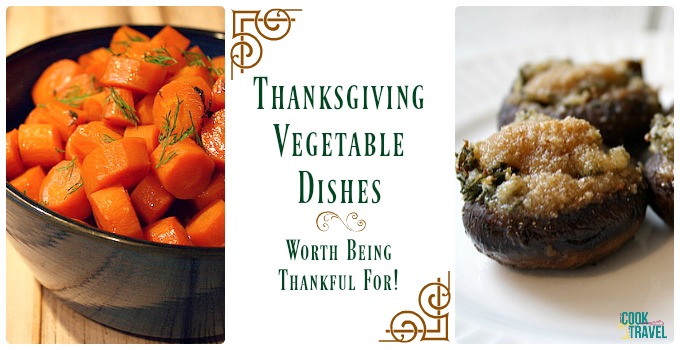 Like mashed potatoes . . . oh how I LOVE mashed potatoes! And cheesy turnips and green bean casserole. Oh man, I'm getting hungry!
So this week I thought it'd be fun to make not one, but two (!!), Thanksgiving Vegetable Dishes. Honestly, I couldn't decide between two recipes I found, so I figured I better make both. Hey, we all deserve options!
I'm focusing on carrots and mushrooms this week. Carrots are so easy to find in any store, and mushrooms are super versatile (sautéed, roasted, put in sauces, soups, used in place of a burger, etc.).
Now the idea with these 2 recipes is that they made carrots and mushrooms just a bit more special since it's Thanksgiving and all. And I KNOW you'll be really proud (and excited) to make these Thanksgiving vegetable dishes and share them with your friends and family.
Thanksgiving Vegetable Dishes to Try This Year: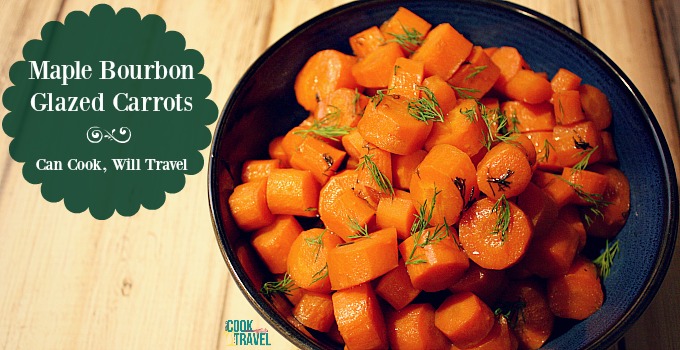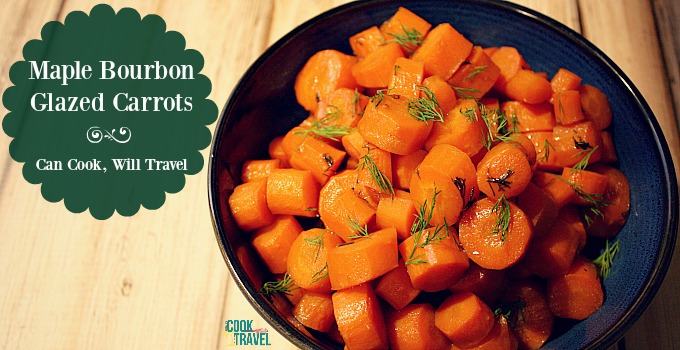 Maple Bourbon Glazed Carrots:
Let's start with the carrots, because they have freaking Bourbon in them!!
Just peel and slice some carrots. And chop up some fresh dill. Already we're on our way to a delicious dish!
Then cook some Bourbon over medium heat, so that it reduces. To that you'll add butter, brown sugar, and maple syrup . . . hey, I didn't say this was healthy! After all, it's Thanksgiving, so live a little! Once the butter melts, add the carrots and dill, along with some salt and pepper.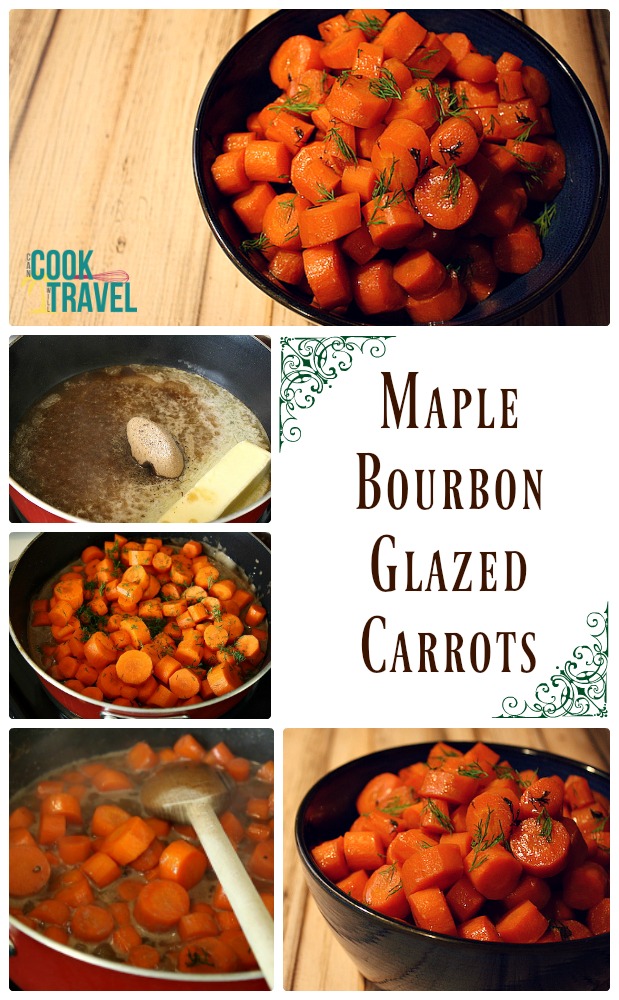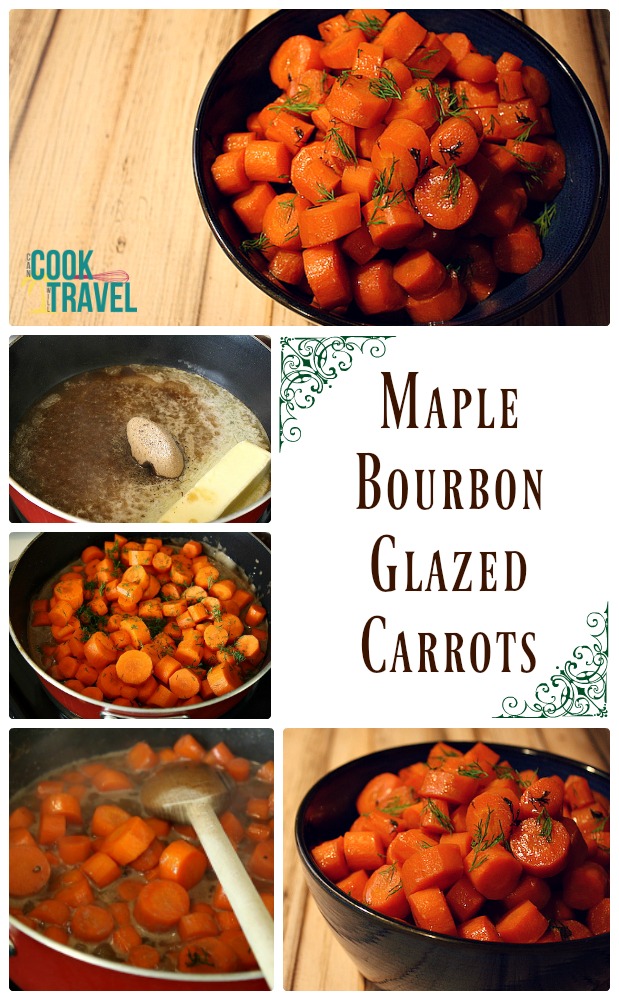 Holy moly does it smell divine at this point. Let the carrots simmer away in the bourbon and sugar-y glaze. And once they're tender, they're all done. Serve right away topped with some fresh dill and you're set! I'd say this can be done in under an hour and closer to 30 minutes, which is amazing when it comes to cooking Thanksgiving vegetable dishes.
Now let's talk flavor. The bourbon is really subtle because you let it reduce a bit so it's not all alcohol tasting. And the butter just makes the glaze glossy and smooth. Then the maple syrup and brown sugar add a deep sweetness in every bite.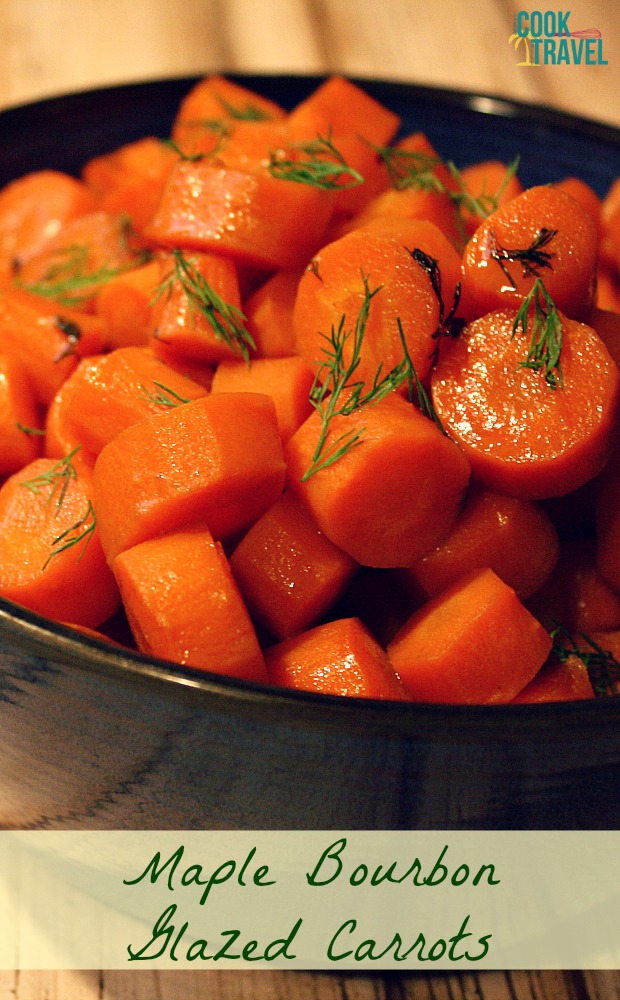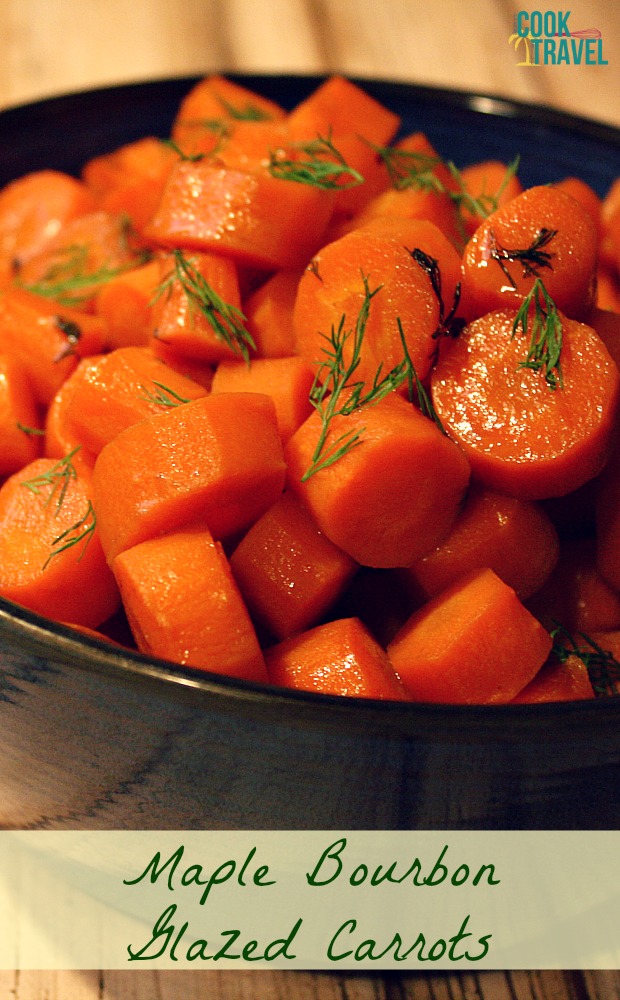 Seriously my kitchen smells divine after making these carrots. They are absolutely anything but boring. I'm pretty sure anyone would become a fan of carrots after eating this dish.
So if you're ready to start devouring these Bourbon Maple Glazed Carrots, then you're wise indeed, my friend! Click that link for the recipe and step by step instructions!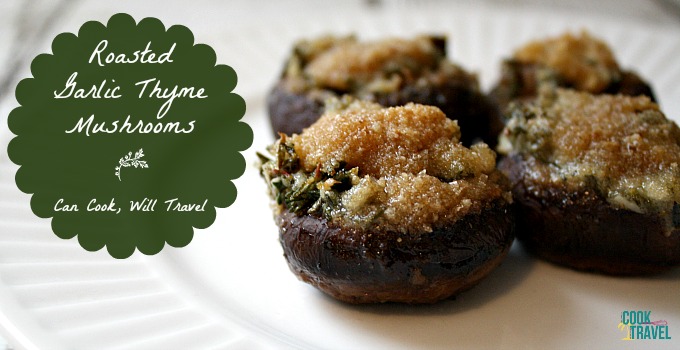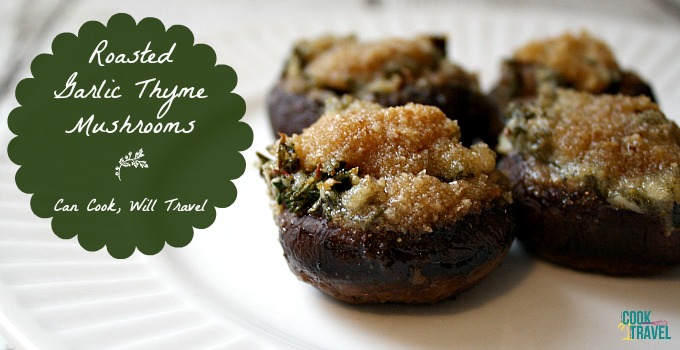 Roasted Garlic Thyme Mushrooms
I don't cook with mushrooms enough. And that's a fact. As a kid, I wasn't a big fan of them unless they were raw, but adult Kelli loves them!
I especially love portobello mushrooms because they are nice and hearty. So that's why I used baby portobellos in this recipe. And this recipe is crazy easy to make.
All you do is clean your mushrooms and trim the stems so they are level and not angled. A tip on cleaning mushrooms:  Mushrooms can absorb water really easily, so the best thing is to grab a damp paper towel and wipe off the dirt with that.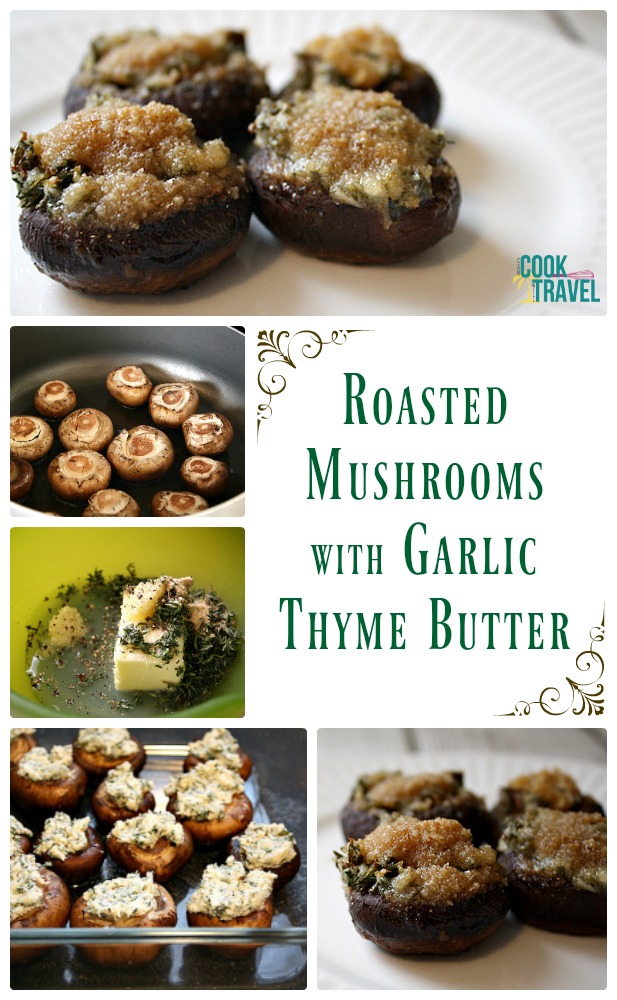 Then sauté them (cap side down) in a bit of oil for a couple of minutes in a nonstick skillet. Place the sautéed mushrooms cap side down in a baking dish. Then mix together the filling of butter, minced garlic, garlic powder, fresh thyme, lemon juice and some salt and pepper. Spoon the filling over the stem end of the mushrooms and sprinkle with bread crumbs. Then bake them until the bread crumbs are golden brown.
I wasn't ready to bake mine when I put them together, so I just popped them in the fridge overnight. Seriously how easy would that be to make these ahead of time, and then pop them in the oven right before you're ready to serve them?! Perfect for Thanksgiving!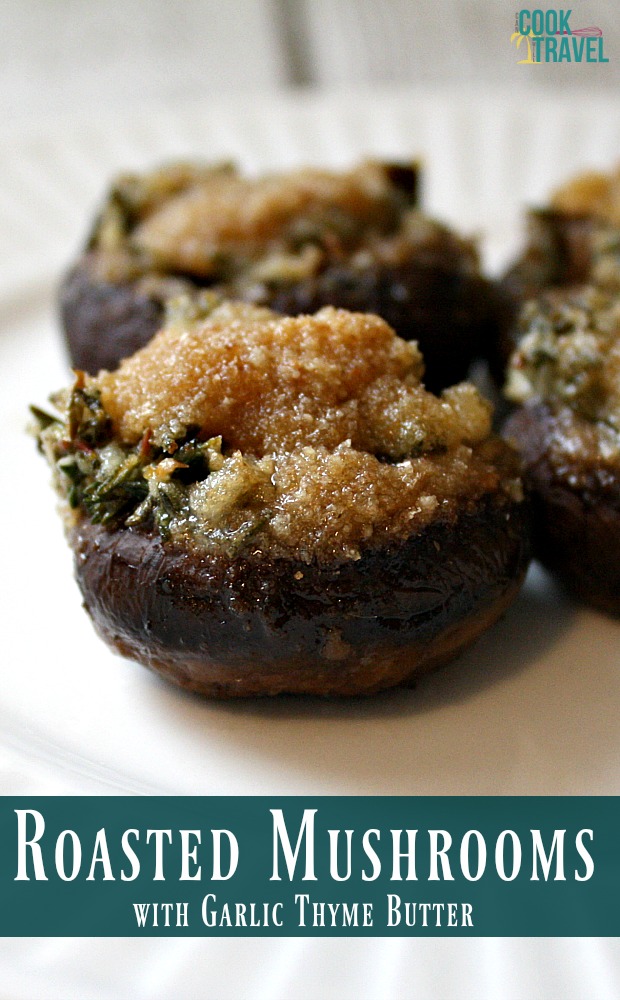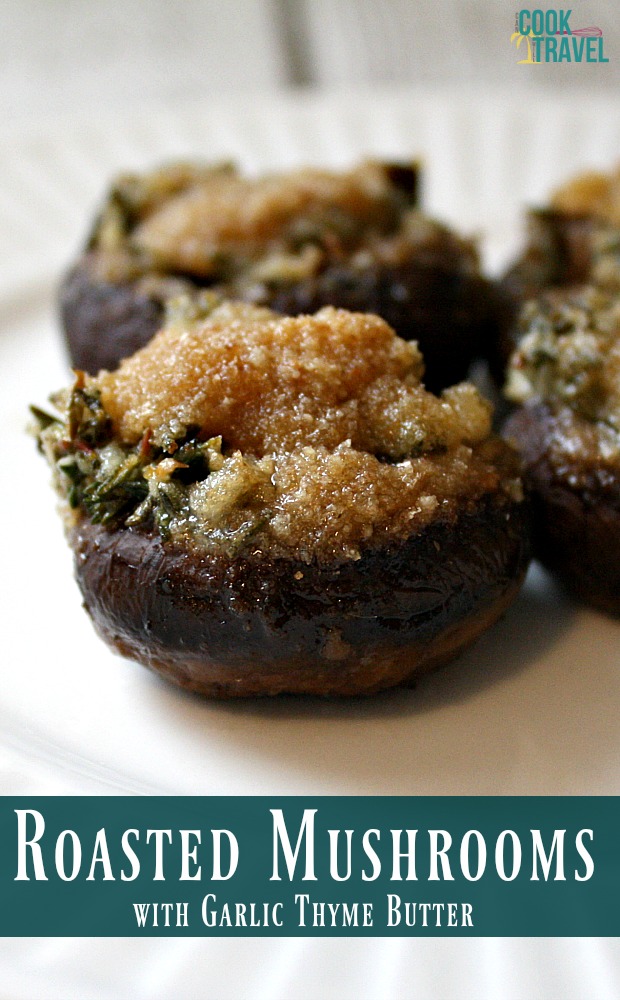 These guys are pretty garlic-y as I'm sure you can imagine. However the fresh thyme and lemon juice help to brighten the flavored butter so it isn't too heavy. I'm so happy about this dish. I won't lie that overnight I was imagining other ways I wanted to cook them if the butter was too much. But I was so wrong. These are crazy good!! And they will disappear quickly when you set them out.
So add these Roasted Garlic Thyme Mushrooms to your Thanksgiving menu ASAP. You'll be so glad you did! Click that link for the recipe and step by step instructions.
So let's recap our Thanksgiving vegetable dishes feature! A carrot dish that will come together in a snap that has a bourbon and maple glaze is an insanely good thing! And these roasted mushrooms with a garlic and thyme butter will make your taste buds sing they are so good!!
Thanksgiving never tasted this delicious, I can assure you! I cannot wait for you to whip these two Thanksgiving vegetable dishes up!
A look back:
One year ago: Apple Pie Pancakes . . . Yes, They're Just As Good As They Sound!
Two years ago: Creamy Broccoli Pasta Couldn't Be Easier
Three years ago: Breaking Tradition with Sausage, Spinach and Feta Quiche
Four years ago: Apple Cranberry Pie … Happy Thanksgiving to Me!
Five years ago: Mini Apple Pies Are Something to be Thankful For
1