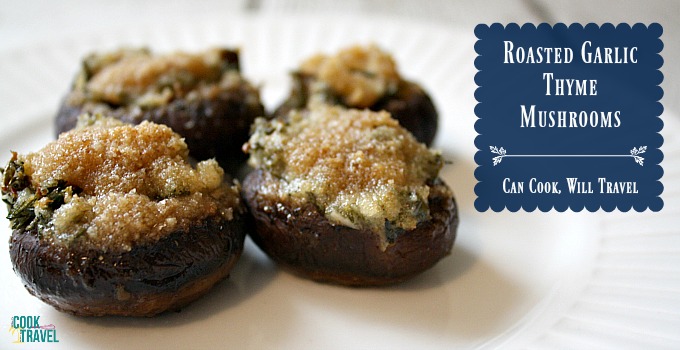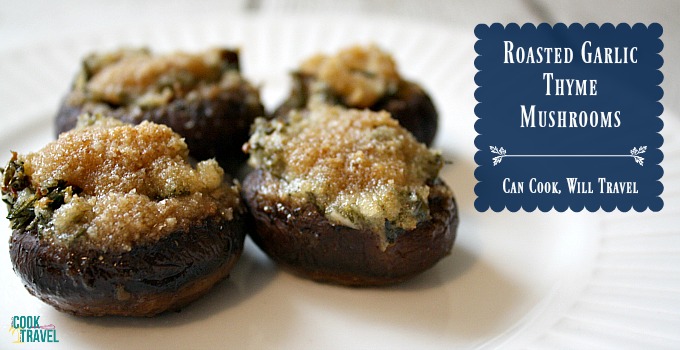 (This Roasted Garlic Thyme Mushrooms recipe can be found on the site CakesCottage.com here.)
Step by Step Instructions:

Roasted Garlic Thyme Mushrooms is not only seriously delicious, but also it's a cinch to make. Here's what you'll need: Garlic Powder, Baby Bella Mushrooms (or pick your favorite variety as long as they are all about the same size), Olive Oil, Lemon Juice, Bread Crumbs, Salt and Pepper, 3 tablespoons of softened Butter, 2 Garlic Cloves, 2 tablespoons of chopped Fresh Thyme.

First off preheat your oven to 400 degrees. Then grab a large, non-stick skillet and heat it over medium-high heat. Add 3 tablespoons of olive oil to the hot pan.

Add the mushrooms to the hot oil, and be sure they are cap side down. Then you'll sauté them for 2-3 minutes. Once they are cooked, place them cap side down in your baking dish. I had about a dozen mushrooms, so I used an 8×8-inch dish.

In a small bowl add 3 tablespoons of softened butter, 2 well minced cloves of garlic, 2 tablespoons of chopped thyme, 1/2 teaspoon of garlic powder, salt and pepper to taste, along with 1 1/2 tablespoons of lemon juice.

Then stir until the butter is well combined, although I found the lemon juice to be a bit hard to combine completely, so don't let that worry you.

Spoon the garlic thyme butter over the stem ends of the mushrooms, and then your Roasted Garlic Thyme Mushrooms are almost ready.

Finally top with bread crumbs, and bake in the oven for about 15 minutes or until the bread crumbs are golden brown. Also you can refrigerate the mushrooms right before the final baking step, so that you can make these ahead of time. Enjoy the Roasted Garlic Thyme Mushrooms right away before they're all gone! Happy stuffed mushroom eating!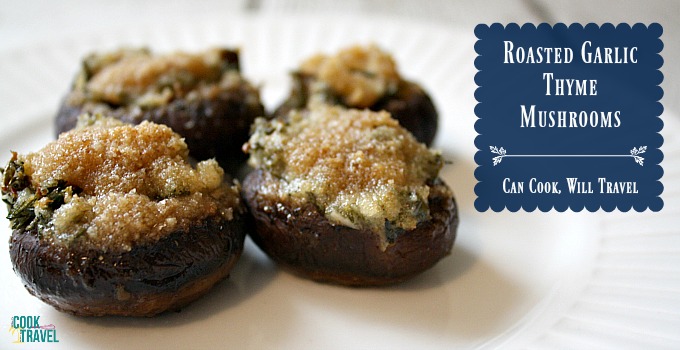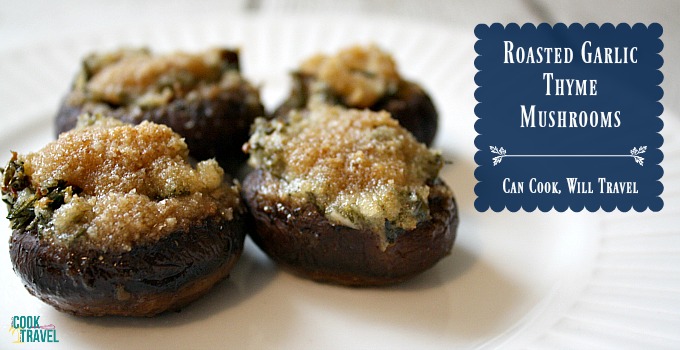 Roasted Garlic Thyme Mushrooms
These stuffed mushrooms are the perfect side or appetizer for the holidays, dinner parties, or just a busy week night. And they are delicious!
Ingredients
16 even-sized Baby Bella or Button Mushrooms, stalks cut level
3 tbsp Olive Oil (or preferred cooking oil)
3 tbsp unsalted Butter, softened
2 cloves Garlic, finely minced
2 tbsp Fresh Thyme, chopped
½ tsp Garlic Powder
1½ tbsp Lemon Juice
Kosher Salt and freshly ground Black Pepper, to taste
5 tbsp Bread Crumbs
Preparation Instructions
Preheat your oven to 400 degrees, so you don't have to wait on it. Then clean your mushrooms using a damp paper towel to wipe away the dirt. Then use a serrated knife to carefully trim the steps so they are level.
Heat your oil over medium-high heat, and once the oil is hot, place the mushrooms cap side down and let them sauté for 2-3 minutes.
Then transfer the cooked mushrooms to a baking dish that will hold them.
In a small bowl, combine the softened butter, chopped thyme, garlic powder, lemon juice, plus salt and pepper.
Finally spoon the garlic thyme butter onto the stem end of each mushroom. Then sprinkle the bread crumbs over the to top of each mushroom.
Bake for 15 minutes or until the bread crumbs start to turn a golden brown. Serve right away and enjoy!
1