I've been wanting to do another fruit leather recipe for a while, but with the weather being cold earlier this year the timing didn't feel right. But now that it's hotter than hell here in KC, I was craving this Strawberry Fruit Leather.
First of all, this fruity treat always reminds me of my childhood, and this recipe in particular gives me all the feels. This Strawberry Fruit Leather is pretty classic, and the instant I took a bite, I was remembering it as a kid. But I like to put my own twist on stuff, and I can tell you that I didn't have a fruit rollup quite like this ever before.
My Strawberry Fruit Leather actually has both strawberries and pineapples in it, along with some zing from fresh lemon to keep it fresh and bright. I liked the pineapple, because it wouldn't overpower the strawberries, which I wanted to be the star.
I also wanted to add lots of warm spices to amp up the flavor even more, so I did! In went cinnamon, ginger, and cardamom, because they're flavors I use a lot. And they are subtle and add some interesting warmth. Now if you really want to get a kick, try my Spicy Tropical Fruit Leather recipe from last year, because it's amazing and has some heat.
But this one is definitely kid friendly, yet they probably wouldn't last long enough for me to share.
Making fruit leather is a process, but the reward is truly that you know exactly what you're eating. In this case it's all clean ingredients that make me feeling great about healthy eating with this treat.
The liquid base is coconut water, fresh lemon juice, and some pure maple syrup, and then I thawed frozen strawberries and pineapples. Finally the above spices and a pinch of salt are added, and blend away until the mixture is smooth.
Then you want to cook down the fruit sauce until it's really thick, which depending on the amount you have, your stove, and pan, may take 15-20 minutes. And you want to stir constantly so it doesn't burn, so you get a great work out along the way!
Once it's thick, the mixture is poured onto a Silpat and spread into an even layer. Now this recipe seemed to make more than my last fruit leather, so my layer was a little thicker. That also means it'll take longer to bake in the oven.
Bake it at 200 degrees for anywhere from 3-4 hours depending upon the thickness of your fruit. Then once it's dry and slightly tacky, let it cool. You'll use waxed paper to help ease off the cooled Strawberry Fruit Leather and then cut it into strips and enjoy!
All told, this took about 4-5 hours, so make sure you plan to make it on a day where you'll be home and free.
Making Strawberry Fruit Leather (or any variety) isn't difficult, but you need certain equipment. A high powered blender is really useful as is a nonstick pan and spatula. Silpats are crazy handy, and in this case are super important to keep the leather from sticking to everything. And finally waxed paper makes removing the Strawberry Fruit Leather from the Silpat a whole lot easier.
It's fruity with brightness from the lemons, and the texture reminds me of my childhood fruit rollup memories. But even better is that this time I know what I'm eating and feel really good about it.
You can get super creative too when it comes to fruit leather using whatever fruits and spices you like. I'll definitely be experimenting more, but in the meantime this Strawberry Fruit Leather will leave me a very happy girl.
Whether you're making healthy snacks for kids or are channeling YOUR inner kid, this Strawberry Fruit Leather recipe is perfect! For the step by step photos and recipe, click that link so you know exactly how it should look! Happy fruit leather making!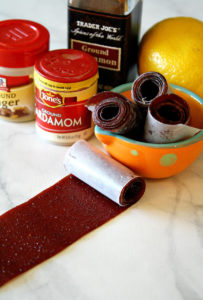 Print
Strawberry Lemonade Fruit Leather
Yield 8 fruit rollups
Healthy snacking that makes you feel like a kid again!
Ingredients
Fruit Leather Ingredients:
6 oz. Coconut Water
2 T. Maple Syrup
Juice of 1 Lemon
2 cups of Strawberries, thawed if using frozen
1 cup of Pineapples, thawed if using frozen
Pinch of Sea Salt
1 t. ground Ginger
1 t. ground Cinnamon
1/2 t. Cardamom
Instructions
Add all ingredients to a high powered blender, and then blend until fully smooth.

 

Now preheat the oven to 200 degrees. Pour the fruit mixture into a saucepan and then bring to a light boil. Stir the mixture constantly for 15-20 minutes, so that the mixture reduces and thickens.

 

Line a baking sheet with a Silpat, and then pour the mixture onto the sheet. Use a spatula to smooth it into as even of a layer as you can, so that it bakes evenly.

 

Bake for 3-4 hours, and start checking at 3 hours to ensure it's baked completely and still slightly tacky when you touch it. Make sure it's baked all the way through though, your you'll have some really soft spots (that will still taste great).

 

Let the fruit leather cool completely, and then gently peel it from the Silpat. Use a sheet of waxed paper to help ease it off of the silicon mat. Cut into about 2" strips and then enjoy immediately or stir in an airtight container.
Courses Snack
Cuisine Healthy
Nutrition Facts
Serving Size 1 fruit rollup
Amount Per Serving

Calories 42

% Daily Value

Sodium 20 mg

1%

Total Carbohydrates 11 g

4%

Dietary Fiber 1 g

4%

Sugars 8 g
* Percent Daily Values are based on a 2,000 calorie diet. Your daily values may be higher or lower depending on your calorie needs.
A look back:
One year ago: Chili Lime Mango Chicken Bowl for the Win!
Two years ago: Huevos Rancheros Breakfast Sandwich . . . Oh Yes!
Three years ago: Skinny Oatmeal Cookie Smoothie . . . Just Like Old Times But Healthier!
Four years ago: Going Back to Hawaii with Kalua Pork
Five years ago: Hellooo Calzone…We Meet at Last
Six years ago: Baked Not Fried
Seven years ago: Time to Make Gazpacho!
1