We're halfway through December, which I can't even wrap my brain around. This year has completely flown by, but at least we get to end it with the holiday season. I adore this time of year with everyone in high spirits, feeling giving, indulging a bit, and appreciating the people in my life. Another thing I love involve baking with holiday flavors, and that's how these Gingerbread Waffles got created.
I love waffles and had a Belgian waffle iron that I hadn't used since the Lemon Blueberry Belgian Waffles early this year. So I suddenly felt the urge to make waffles.
But I didn't want these to be just any old Belgian Waffles, so I started thinking of my favorite holiday flavors. Last year I made some killer Gingerbread and it had me thinking that Gingerbread Waffles could be really delicious.
I did some research and ended up creating my own version that smells and tastes fantastic! Now the previous lemon blueberry waffles were phenomenal, but I'm always looking for ways to improve on things.
So I wanted to see what makes a waffle a Belgian waffle. Turns out Belgian waffles have either yeast or egg whites in them to make them rise and be really fluffy. They have a higher amount of oil/fat so that you get that crispy outside and fluffy inside. Well I didn't want to deal with yeast, so egg whites it is. And I went with coconut oil, because it worked so well in the first recipe.
The "gingerbread" flavors for these Gingerbread Waffles come from sugar in the form of Molasses and coconut sugar to give a rich, deep sweetness, so it isn't uber sweet. And then you must have spices, so I added cinnamon, nutmeg, ginger, and cloves to mine. They all work so well together to create that beautiful holiday-ish scent that permeates the kitchen.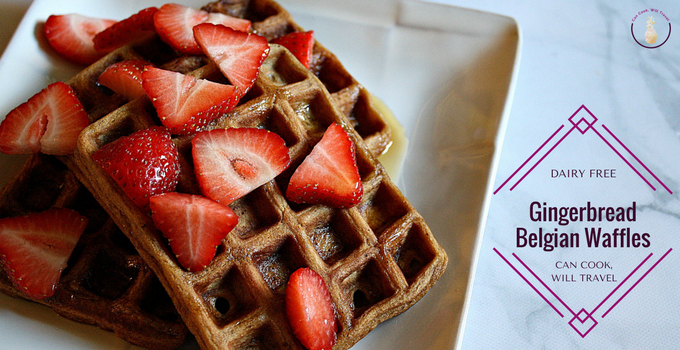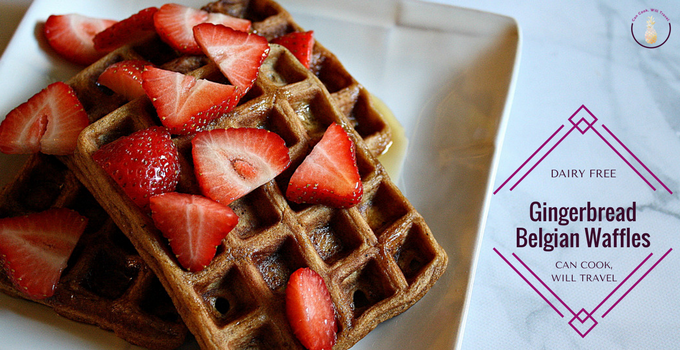 They key is to thoroughly combine your dry ingredients and wet ingredients separately, and then fold in the egg whites. For the egg whites, I put them in my electric mixer and let it run and run until they formed stiff peaks. It was actually perfect timing as it gave me a chance to melt my coconut oil and whisk together my wet ingredients. So don't fear if it feels like they're never going to form peaks, just keep mixing, just keep mixing. (She says channeling Finding Nemo.)
Folding in the egg whites is key here, because you want them to help lighten the batter and give it some air. So don't be too rough as you gently cut and fold them into your batter. Then cook them in your waffle iron using the instructions you have.
My waffle iron makes 2 small square waffles, and takes about 3 1/2 minutes to get perfect waffles. Over all this recipe made 12 Gingerbread Waffles with my iron, but keep in mind that it will depend on the size of your waffle iron on how many you get.
I ended up freezing more than half of the Gingerbread Waffles so that I could enjoy them for the season. Plus I'm going to be out of town here soon, so it's a great way to keep them for a long time.
Here's how I freeze and reheat my Gingerbread Waffles:
Let the waffles cool completely.
Then place on a wire rack of lined baking sheet and freeze them for at least an hour.
Put them in freezer-safe bags, and remove as much air as possible. I love my hand-held food saver I got for Christmas last year, so that's what I used.
Freeze, and when you're ready to enjoy just heat frozen in a 350 degree oven for about 5 minutes or until heated through. Or thaw them out and heat for 3 minutes instead.
Not only do these Gingerbread Waffles make the kitchen smell fantastic and like you've been baking up a storm, but they taste so much like gingerbread. And they're so tasty as I was literally saying "mmmm" with every bite, with the crispy outside and fluffy inside!
I topped mine with strawberries to balance out the sweetness and pure maple syrup, but the world is your oyster! So add your favorite fruit like raspberries or blueberries, powdered sugar, cinnamon, or even whipped cream if you're feeling fancy!
My goal with these Gingerbread Waffles is to keep the sugar low and natural plus make them dairy free, so I'd call this recipe a serious success on that front. So click that link for the recipe and step by step instructions, and start enjoying these waffles ASAP. Happy waffle making!
A look back:
One year ago: Holiday Cranberry Cocktails – 2 Ways!
Two years ago: Peppermint Patties are Holiday Perfection
Three years ago: Cranberry Love – Part 3: Cranberry Chicken
Four years ago: Christmas Cookies with a Twist – Pistachio Cranberry Cookies
Five years ago: Avocados + Spicy Peppers = One Crazy Good Enchilada Dish
Six years ago: Honey Oatmeal Bread – Oh Yeah!
0