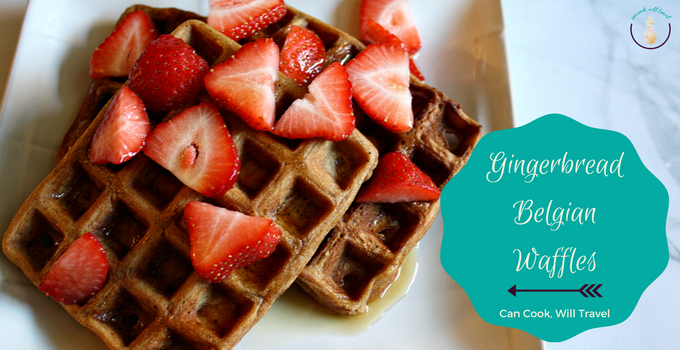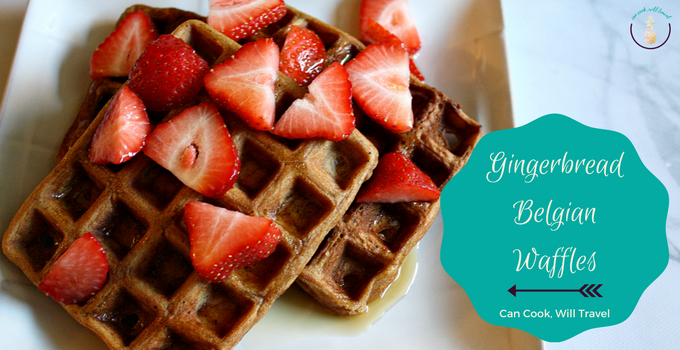 (These Gingerbread Belgian Waffles are inspired by this Gingerbread recipe and this Belgian Waffle recipe, so check em out!)
Step by Step Instructions:

Get ready because these Gingerbread Belgian Waffles are about to be yours, so here's what you'll need: Salt, Baking Powder, Corn Starch, 1 3/4 cup AP Flour, Coconut Sugar, Almond Milk (unsweetened), Molasses, Cinnamon, 2Ginger, Cloves, Nutmeg, Coconut Oil, Vanilla Bean Paste, and 2 Eggs.

Begin by adding all of the dry ingredients to a large bowl, so that includes the flour, 1/4 cup of corn starch, 2 T. coconut sugar, 1 T. Baking Powder, 1/2 teaspoon of cinnamon, and then 1/4 teaspoon each of slat, ground ginger, ground nutmeg, and ground cloves.

Then stir the mixture really well until all of the ingredients are combined.

Now separate 2 eggs, and then add the egg whites to a mixer and mix on high until they form stiff peaks.

It'll take several minutes for the eggs to whip, so you can measure out 1/2 cup of coconut oil while you wait.

You want the oil to be melted, so pop it in the microwave for about 1 minute or until it's totally melted.

Then in a separate bowl combine the wet ingredients including 1 3/4 cup of almond milk, the melted coconut oil, egg yolks, 3 T. molasses, and 1 t. vanilla bean paste.

Now whisk the ingredients until they're totally combined.

Around this time, the eggs had formed stiff peaks (meaning that if you dip your whisk in them, they do not move when you hold them in the air).

Now add the wet ingredients to the dry ingredients.

Then stir the mixture together until it's well combined.

Now add your egg whites to the bowl.

Gently use a spatula to fold the egg white into the batter until it's combined.

Now it's time to make the waffles, so heat the waffle iron, grab some cooking spray, chopsticks and a measuring cup. You'll want to follow your waffle iron's instructions and use the amount of batter it recommends, so mine calls for 1/3 cup of batter per waffle.

Once the waffle iron is hot, spray it thoroughly, add the batter, and then shut the lid.

Then shut the lid, and cool until the waffles are done, which is about 3 1/2 minutes for my waffle iron.

Here are the Gingerbread Belgian Waffles all brown and lovely, so use chopsticks to ease the waffles onto a plate. Then repeat the process with the remaining batter.

Enjoy the Gingerbread Belgian Waffles while they're still warm, or keep them in a 200 degree oven while you make the rest to serve after they're all cooked. Then top the Gingerbread Belgian Waffles with maple syrup, fresh fruit, and whatever else you desire, and happy waffle making!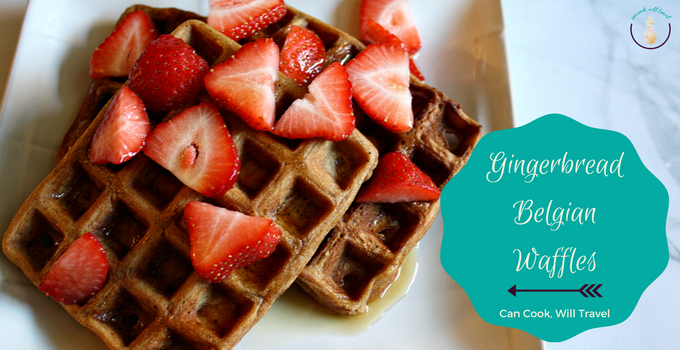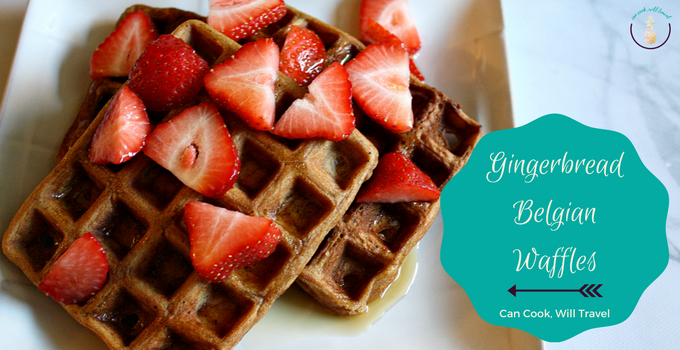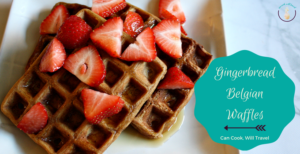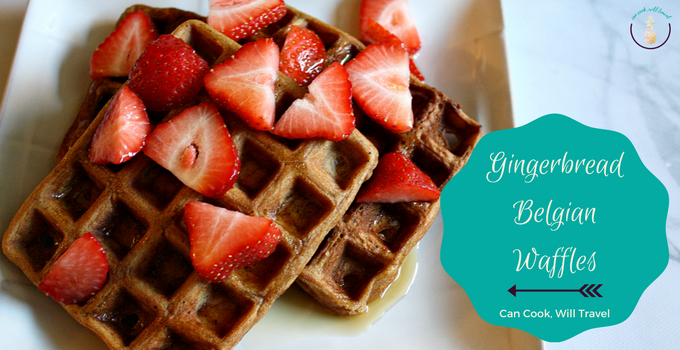 Print
Gingerbread Belgian Waffles
Yield 12 waffles
Check out these amazing, dairy free, and totally gingerbread flavored Belgian waffles. They're light, with a crispy outside and the flavors are crazy good!
Ingredients
Gingerbread Ingredients:
1 3/4 c. AP (all purpose) Flour
1/4 cup Corn Starch
2 tbsp. Coconut Sugar
1 tbsp. Baking Powder
1/4 tsp. Salt
1/4 teaspoon Ground Ginger
1/2 tsp Cinnamon
1/4 tsp Nutmeg
1/4 tsp Cloves
2 Eggs, separated
3 T. Molasses
1 3/4 c. Almond Milk
1/2 c. Coconut Oil (or Canola Oil)
1 tsp Vanilla Bean Paste
Topping Ideas:
Pure Maple Syrup
Strawberries (or your favorite fruit)
Cinnamon
Powdered Sugar
Whipped Cream (if you're feeling fancy)
Instructions
Begin by combining the dry ingredients including AP flour, corn starch, coconut sugar, baking powder, salt, ground ginger, ground cinnamon, ground nutmeg, and then ground cloves.

 

Then separate your eggs, and add the whites to an electric mixer. Mix on high until the egg whites then form stiff peaks.

 

While the whites mix, melt the coconut oil, and then whisk together the wet ingredients including the milk, molasses, oil, egg yolks, and vanilla bean paste.

 

Add the wet ingredients to the dry ingredients, and then whisk until they're well combined. Then add the finished egg whites to the batter and gently fold them into the batter.

 

Now cook the batter in your waffle iron according to the manufacturer's instructions. Then enjoy while it's still warm, or keep the waffles warm in a 200 degree oven while you cook up the rest of the batter.
Notes
Quick Tip: I love making a batch of these waffles, then freezing most of them and enjoying them as I want. Check out the blog post for my tips on freezing these waffles.
Courses Breakfast
Nutrition Facts
Serving Size 1 waffle
Amount Per Serving

Calories 195

% Daily Value

Total Fat 10 g

15%

Saturated Fat 8 g

40%

Unsaturated Fat 1 g

Cholesterol 36 mg

12%

Sodium 877 mg

37%

Total Carbohydrates 23 g

8%

Dietary Fiber 1 g

4%

Sugars 6 g

Protein 3 g

6%
* Percent Daily Values are based on a 2,000 calorie diet. Your daily values may be higher or lower depending on your calorie needs.
0