I'm really starting to get into the holiday spirit here in Kansas City! I'm actually on a family vacation at the moment as I write this, and my mom just turned on Christmas music. So it's kinda perfect timing and ambience to write this post for you on my holiday guide plus how to wrap gifts!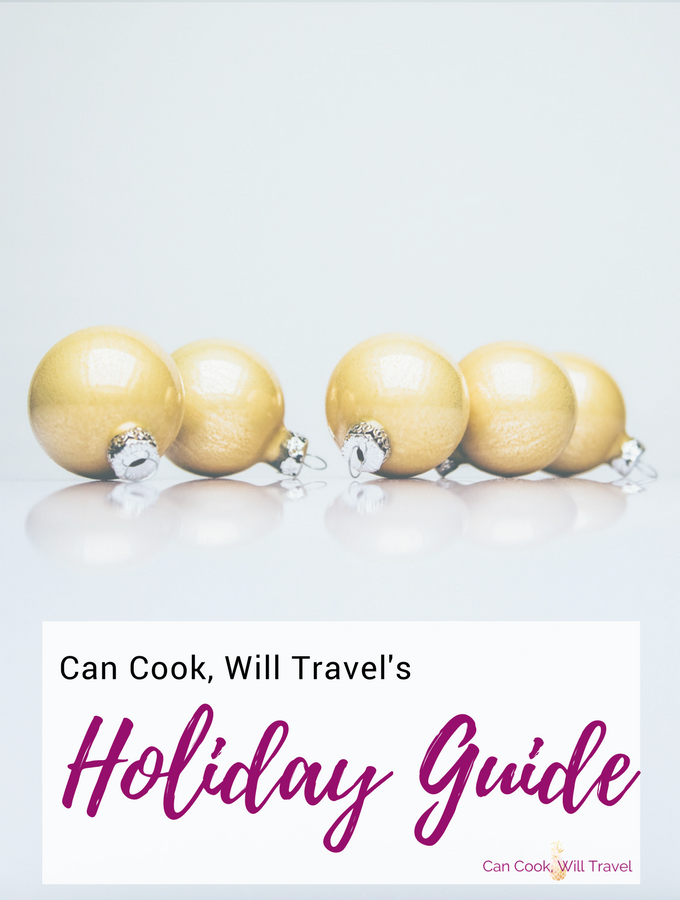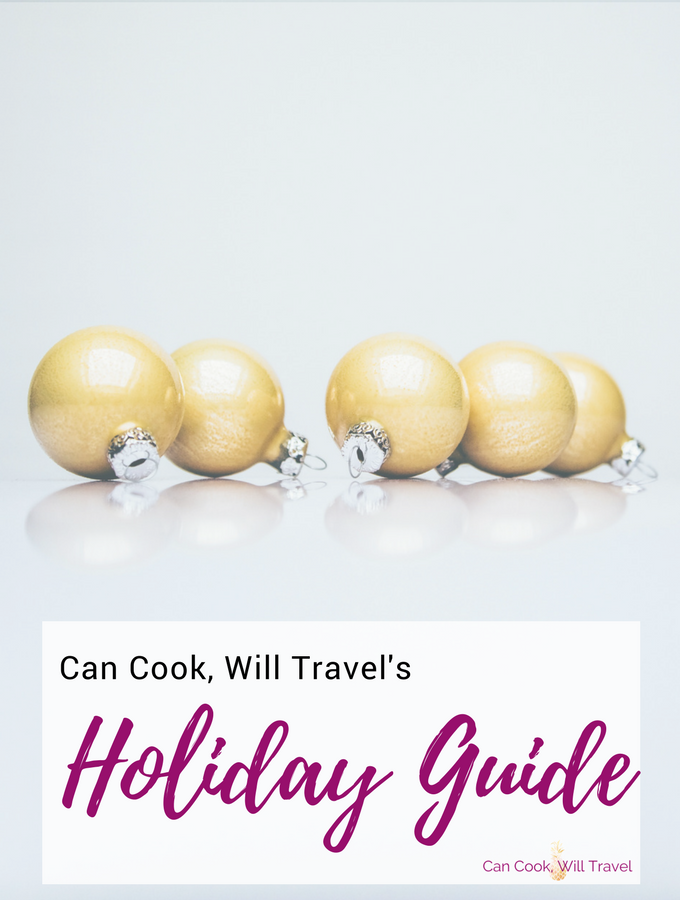 I put up my Christmas tree after Thanksgiving as soon as I had the energy, because I wanted to enjoy it as long as possible. Ah, the glow of the lights at night and looking at the tree and seeing ornaments that I have fond memories of always brings a smile to my face.
Okay but back to this holiday guide post, because there's all sorts of stuff that I'm sharing. When I think of the holidays a few things come to mind: Hallmark/Lifetime cheesy Christmas movies, lighting yummy smelling candles, having the tree on all waking hours, Christmas shopping, and wrapping gifts. Oh and baking – how on EARTH could I forget baking and cooking during the holidays?!
But the reality is that this time of year can be a tad stressful, especially when we're under the gun, feeling uncreative, and procrastinating on shopping. So since I have nearly all of my shopping done already, I felt inspired to write my holiday guide. After all, we're all in this together, so let's make this process as fun as possible. (*Note that there are some affiliate links in this post, which means if you click on and sign up/purchase something then I may benefit.)
This holiday guide covers a few key things:
Holiday Guide – ORNAMENTS
Every Fall my friends (Kara, Kelly, and Laura) and I schedule a day to meet for an ornament exchange. We've been friends for nearing on 2 decades (wow, we're old), since we met at college in our sorority. We meet in our college town where 2 of them live, and eat lunch and then recently have added crafting to our day. And then we exchange ornaments, which is so fun to then look at my tree and be reminded of our friendship!
My point in sharing this story is that ornaments are an inexpensive yet awesome gift if you're looking for stuff to gift a friend, teacher, etc. As a teacher, my mom received so many ornaments over the years and she still loves looking at them on her tree.
Some of my favorite places to buy ornaments are Target and Pier 1 Imports, but I also like going to a local shop and seeing something unique there. My aim when buying ornaments is to go for something that either reminds me of that person or is just really pretty.
If you love DIY and crafty stuff, then I highly recommend making the gorgeous gold leaf ornaments I made last year. I created several in different colors so I had enough to gift but also keep for my own tree. Honestly they're some of my prettiest ornaments on my tree now, and I love that I made them.
So check out the post I wrote in 2016 about how to make these Gorgeous DIY Ornaments!
I've also gifted my family ornaments every year for more years than I can even remember. In fact, I'm SO excited about the ornament I'm getting my mom and sister this year that I almost want to wrap them rather than just put them on a gift like I usually do. And I'm also jealous, so I'll probably order one for myself.

HOLIDAY GUIDE – WHERE TO SHOP & SHOPPING TIPS
I tend to shop based off of people's wish lists. My dad is easy, because he wants the same gift card for all holidays. But for the rest of the people in my life, I usually just see something that makes me think of that person. And voilà that is what they receive.
Here are some of the places I've purchased from this year or have been drooling over for myself:
Places to shop for pretty much anyone:
For the Foodies in Your Life:
Shopping Tips:
Holiday Guide – Gift Ideas
Products I love or are on my wish list:
Kitchen gadgets – Okay I have a LOT of gadgets I use and want, so here are a few I recommend:
Holiday Guide – How to Wrap a Gift Like a Badass:
I decided I really need one of those shirts that says Gangster Wrapper on it (small women's or medium in unisex, hint hint). The fact is that I LOVE to wrap, because there's something so damn satisfying about the process. A fun fact about me is that I wrap as many gifts as I can during the holidays. Usually my family waits until I get home for the holidays, so I wrap every gift we have (including the ones for me – and no I NEVER peek).
Because of said love of wrapping, it makes me sad when people get frustrated or give up on wrapping gifts. So I'm giving you a brief tutorial on how to wrap presents like a badass:
Gift Wrapping Steps:
Get your tools: You need scissors, gift tags, a good pen, tape, and wrapping paper. Also you should choose boxes to wrap that are sturdy and have good corners, so you can wrap it cleanly.
I like Scotch's gift wrap tape, because it goes on invisible, so you don't see the tape lines.
My favorite paper comes from Target, because the rolls are HUGE, styles are endless and the grid on the back helps you cut straight lines.
Place your box upside down in the center of the paper, and then pull up the side of the paper. Pull the paper so it's

at least

halfway up the side, and then note the number of squares you see.
Now cut the paper, so you have the equal boxes per side, so here I have 4 squares per side. If you don't have grid paper, then use a ruler to help you evenly cut the wrapping paper. Trim the paper if necessary if it's a long piece and your box is small as I did here.
Next fold the side closest to you over and tape it near the center of the bottom of the box.
Rotate the box and if the edge of the paper is jagged, then fold it to create a clean edge.
Then fold that side and tape it to the bottom of the box, making sure you pull tightly so that there aren't gaps or wrinkles in the paper.
It's time to wok on the side, and I use a lot of tape. So first take the paper and smooth it down towards the center and tape.
Then push the paper down, and make clean creases along the side as you see here.
Fold the first side in tightly, and then tape it to secure it. Make sure you place the tape pretty low on the box, so it will get covered as you wrap.
Now repeat with the other side.
Fold the bottom up and pull on it to ensure the paper is all nice and smooth and tape.
Flip the box over and now it's upright and ready to be decorated.
Add a bow and gift tag to the card, and get fancy using ribbon or twine if you want. When giving ornaments, add the ornament as a decoration on the finished gift if you're giving multiple items to someone.
Happy Wrapping!!
From ornaments, the importance of them, and where to get them to my favorite holiday shops and gift ideas to how to wrap a gift with ease so it comes out perfectly…we covered a TON in this holiday guide post!
I hope you enjoyed my holiday guide and got some inspiration and are in the holiday spirit even more now! What is your favorite tradition for Christmas? Do you love ornaments, wrapping, cooking & baking, enjoying the lights, putting up the tree?! I'd love to know, so comment below.
Stay inspired & happy holidays!
~Kelli
0