It's been an eventful couple of weeks for me, which is great! I spent a week with my family around the 4th of July holiday, and we had so much fun! We ate a lot, laughed a lot, binge watched some TV, enjoyed fireworks and family time. And I came home worn out but ready for a really healthy meal that I could whip up throughout the week, and that's where this Shrimp Summer Rolls recipe comes in!
Oh and I forgot one thing…I just got an Instant Pot the week before I left for my parents house. I hadn't had a chance to play with mine yet, but I did use my mom's to cook corn on the cob. It was so easy that I couldn't wait to try mine out.
I'd been wanting to make another spring roll recipe, and I was itching to use the fresh produce that I had on hand. My mom sent me home with zucchini and TONS of herbs, and then I found sweet corn at Trader Joe's. All of those items need to be used, and why not figure out how to enjoy them in a spring roll.
Now since we're in the summer, I turned them into "summer rolls", but it's the same idea. Last time I made BLT spring rolls, so this time I wanted to try out Shrimp Summer Rolls. Like a lot of my recipes, I often experiment and play with flavors. So when I started this recipe, I wasn't totally sure how it would come out. Spoiler alert: these Shrimp Summer Rolls are fabulous!
Let's talk about what goes into spring rolls – or Shrimp Summer Rolls in this case:
Rice Paper Wrappers
Shrimp
Corn
Tomatoes
Zucchini
Red Pepper
Fresh Herbs (I used parsley and basil)
The shrimp, corn, and tomatoes all get tossed with lime zest and juice plus some sesame oil. I wanted to them to be a little Tex Mex yet a little Asian, so we've definitely got a fusion of flavors happening.
My shrimp gets cooked for 4 minutes total, and that is all the cooking this recipe requires. The shrimp corn mixture gets combined, and then you thinly slice the zucchini and pepper. All that's left is to put the Shrimp Summer Rolls together.
A few tip on how to use spring roll wrappers:
Don't let the rice paper soak too long or it will fall apart as you try to roll them. I use my hands and once they feel pliable, then out of the water they go!
Enjoy this immediately, because they are sticky and can easily tear if you handle them too much or they rub up against each other on a plate.
You could also bake or fry them if you don't like the texture of the rice paper wrappers as is.
I had to go to 4 grocery stores to find them, so if you can't get your hands on them that's okay. I think this filling would be fabulous in lettuce wraps or collard wraps too!
Personally I prefer to have a sauce to dip my Shrimp Summer Rolls in, so I made 2 super easy ones on the fly. The first is a Sriracha mayo that involves you mixing up the two ingredients. So easy! And the second sauce is a combo of hoisin, tamari, and rice vinegar for a sweet yet tangy sauce.
Being a food blogger is fun, but it also means your food sits a bit as you photograph it to death. So my poor wrappers were tearing, so I just used a fork on them. I drizzled the hoisin sauce over the top, and then dipped my fork in the Sriracha mayo every couple of bites. Talk about some amazing flavors!!
The heat from the mayo gives it some interest and then the sweet, tangy hoisin sauce balances it out. I love the sesame oil for some depth of flavor too with a little nuttiness and Asian nod.
These Shrimp Summer Rolls are super light and refreshing, and I've actually loved playing with rice paper wrappers. So this recipe is a fun way to hone your wrapping skills. Plus it's a light and healthy recipe, so you can eat as a main dish. And if you're a vegetarian, then simply skip the shrimp and make it a veggie wrap as is or add tofu or tempeh.
For the corn, you can use frozen corn if you can't find fresh corn on the cob. But since I found some, I simply pressure cooked mine for 2 minutes in my new Instant Pot. And then you end up with gorgeous corn to enjoy!
Overall the flavors from the Shrimp Summer Rolls are fantastic, because you have sweet from the corn and savory from the shrimp. Plus the crisp and refreshing texture and flavors from the tomatoes, peppers, and zucchinis then add tons of depth.
I can't wait for you to try this Shrimp Summer Rolls recipe, because it's a deliciously healthy meal. So click that link for the recipe plus step by step instructions, and happy wrapping!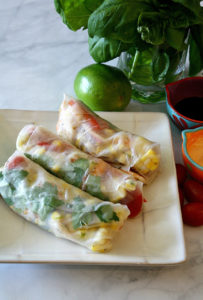 Print
Shrimp Corn Spring Rolls
Yield 3 rolls
With tons of fresh Summer veggies on hand, a fun and healthy way to use them is to put them into a spring roll. And this one is packed with flavor and comes together super quickly!
Ingredients
Spring Roll Ingredients:
3 Rice Paper Wrappers
4 ounces Shrimp, thawed, peeled & deveined
1 ear of Corn, cooked and cut from cob
6-8 Grape Tomatoes, halved
Zest & Juice of Half a Lime
1 t. Sesame Oil
1/2 Red Pepper, thinly sliced
1/4 cup Zucchini, thinly sliced (depends on how large your zucchini is)
Fresh Parsley
Fresh Basil
Sriracha Mayo:
Hoisin Dipping Sauce:
1 T. Hoisin
1 t. Tamari
1/2 T. Rice Vinegar
Instructions
For the Shrimp: Begin by cooking your shrimp using your preferred method. I heated a pan over medium heat with some avocado oil spray, and then seasoned my shrimp with salt and pepper. The shrimp then gets cooked for about 2 minutes on each side. Let the shrimp cool slightly so it can be sliced in half.

For the Filling: While the shrimp cooks, thinly slice the zucchini and red pepper. Then slice the tomatoes lengthwise, and cut the corn off of the cob if you haven't done that yet. In a bowl, combine the shrimp, corn, tomatoes, zest and juice of half a lime, plus 1 teaspoon of sesame oil.

Making the rolls: Grab a large dish that is big enough to hold the rice paper wrappers, and then soak them for 10-20 seconds. I use my hands to feel them and as soon as they're pliable I move the wrapper to a cutting board. Then place the filling ingredients on the wrapper and roll it up. I found I liked the look of the rolls more to add a few leaves of parsley and basil first, then top with the shrimp and corn mixture, and then finish it with a few strips of pepper and zucchini.

For the sauces: Simply whisk together the ingredients for each sauce and use one, both, or your favorite and then enjoy!
Notes
Quick Tip: If you can't find rice paper, use lettuce leaves or collard greens for a healthy wrap!
Courses Main Meal
Cuisine Healthy
Nutrition Facts
Serving Size 3 rolls
Amount Per Serving

Calories 319

% Daily Value

Total Fat 8 g

12%

Saturated Fat 2 g

10%

Unsaturated Fat 6 g

Cholesterol 179 mg

60%

Sodium 506 mg

21%

Total Carbohydrates 33 g

11%

Dietary Fiber 6 g

24%

Sugars 14 g

Protein 34 g

68%
* Percent Daily Values are based on a 2,000 calorie diet. Your daily values may be higher or lower depending on your calorie needs.
A look back:
One year ago: Learning to Love Salads – Part 22: Avocado Tuna Salad
Two years ago: Brie & Nectarine Chicken Quesadilla is a Cinch!
Three years ago: Skinny Poolside Dip . . . We're Gonna Need a Bigger Bowl!
Four years ago: Lemon-Dill Green Beans Makes Summer Very Tasty
Five years ago: Baking Away – Apple Galette with Sour Cherries and Goat Cheese
Six years ago: Say Yes to Sesame Noodles
Seven years ago: Fun with Fennel
0