(Shrimp Corn Spring Rolls quick to make, and for another spring roll recipe, check out this BLT version!)
Step by Step Instructions:

These Shrimp Corn Spring Rolls make for a quick and fun dish, so here's what you'll need: Spring Roll Wrappers, Fresh Basil, Rice Vinegar, Sesame Oil, Mayo, Grape Tomatoes, Sriracha, Tamari, Hoisin Sauce, Red Pepper (or color of choice), One Corn Cob with corn removed, Zucchini, Lime, Fresh Parsley, 4 ounces thawed Shrimp (per serving), and Avocado (optional).

Start off the Shrimp Corn Spring Rolls by doing the cooking part, so heat a nonstick skillet over medium heat. Then add your oil of choice, and I went with avocado oil. Now season the shrimp with salt and pepper.

Add the shrimp seasoned side down to the hot skillet and then cook for 2 minutes. Be sure to season the other side with salt and pepper, because you want the shrimp to have great flavor.

Flip the shrimp after 2 minutes and then cook another 1 1/2 to 2 minutes or until they're brown and cooked through.

While the shrimp is cooking you can thinly slice the red pepper. So I was making enough for one serving, so I only sliced up half of the pepper.

Once the shrimp is cooked, then let it cool slightly while you prep the other veggies.

I made enough for one serving here, so I used a smaller piece of zucchini.

Then I thinly sliced the zucchini and cut each slice into thin strips.

Because you want the Shrimp Corn Spring Rolls to roll easily but have plenty of shrimp, slice them in half lengthwise. Keep in mind that you want to be super careful and then use a sharp knife.

Finally slice the grape tomatoes lengthwise.

Grab your lime and wash it well, then zest about half of it.

In a bowl place the corn, shrimp, and then tomatoes to make our shrimp salad for the Shrimp Corn Spring Rolls.

Add the lime zest, juice of half a lime, salt and pepper to taste, and then about a teaspoon of sesame oil.

Mix the salad together well so all ingredients are well coated.

For the Shrimp Corn Spring Rolls, I made 2 (totally optional) sauces, because I love dipping the rolls. The first is a Sriracha mayo with 1 T. of Mayo and about 1/4 t. of Sriracha, and then whisk it together. Add more Sriracha if you like, so you amp up the spice.

The second sauce is a hoisin sauce where you whisk 1 T. Hoisin, 1 t. Tamari (or Soy Sauce) and 1 t. Rice Vinegar so it's sweet and tangy.

Now grab a large enough dish that the spring roll wrapper will fit and lay flat. Then fill it about 1/3 full of water.

Here's what the spring roll wrapper looks like, and at this point it's stiff, so we need to fix that.

The goal is to soften the wrapper so it's flexible, so place it in the water for 10-20 seconds. I use my fingers to move it around, so I feel how pliable it is. Now sure you don't let it stay in the water too long or it will be more likely to rip.

Remove the wrapper and then carefully place it on a cutting board. Now you can place the ingredients in your preferred order. I found that I liked the look of it best with the herbs laid first, so that's what I did here. Grab a couple parsley leaves and then rip up a little basil to create a little bed.

Add a couple spoonfuls of the shrimp and corn salad on top of the herbs and then top that with the peppers and zucchini.

Now fold up the bottom edge of the wrapper, so it looks like the above.

Then fold in the side like this, so the filling is being held in place.

Finally gently roll the Shrimp Corn Spring Rolls so that they close and you'll be left with this gorgeous guy! Be kind to yourself if you aren't used to working with rice paper, because it is very fragile. So buy extras and don't be afraid if you have to start over. Then serve your Shrimp Corn Spring Rolls right away, because the wrappers will fall apart on you sooner than later. And then dip, drizzle, etc. the sauces over the rolls and enjoy!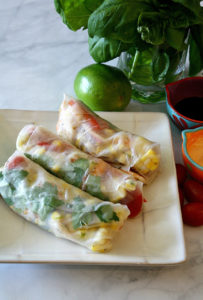 Print
Shrimp Corn Spring Rolls
Yield 3 rolls
With tons of fresh Summer veggies on hand, a fun and healthy way to use them is to put them into a spring roll. And this one is packed with flavor and comes together super quickly!
Ingredients
Spring Roll Ingredients:
3 Rice Paper Wrappers
4 ounces Shrimp, thawed, peeled & deveined
1 ear of Corn, cooked and cut from cob
6-8 Grape Tomatoes, halved
Zest & Juice of Half a Lime
1 t. Sesame Oil
1/2 Red Pepper, thinly sliced
1/4 cup Zucchini, thinly sliced (depends on how large your zucchini is)
Fresh Parsley
Fresh Basil
Sriracha Mayo:
Hoisin Dipping Sauce:
1 T. Hoisin
1 t. Tamari
1/2 T. Rice Vinegar
Instructions
For the Shrimp: Begin by cooking your shrimp using your preferred method. I heated a pan over medium heat with some avocado oil spray, and then seasoned my shrimp with salt and pepper. The shrimp then gets cooked for about 2 minutes on each side. Let the shrimp cool slightly so it can be sliced in half.

For the Filling: While the shrimp cooks, thinly slice the zucchini and red pepper. Then slice the tomatoes lengthwise, and cut the corn off of the cob if you haven't done that yet. In a bowl, combine the shrimp, corn, tomatoes, zest and juice of half a lime, plus 1 teaspoon of sesame oil.

Making the rolls: Grab a large dish that is big enough to hold the rice paper wrappers, and then soak them for 10-20 seconds. I use my hands to feel them and as soon as they're pliable I move the wrapper to a cutting board. Then place the filling ingredients on the wrapper and roll it up. I found I liked the look of the rolls more to add a few leaves of parsley and basil first, then top with the shrimp and corn mixture, and then finish it with a few strips of pepper and zucchini.

For the sauces: Simply whisk together the ingredients for each sauce and use one, both, or your favorite and then enjoy!
Notes
Quick Tip: If you can't find rice paper, use lettuce leaves or collard greens for a healthy wrap!
Courses Main Meal
Cuisine Healthy
Nutrition Facts
Serving Size 3 rolls
Amount Per Serving

Calories 319

% Daily Value

Total Fat 8 g

12%

Saturated Fat 2 g

10%

Unsaturated Fat 6 g

Cholesterol 179 mg

60%

Sodium 506 mg

21%

Total Carbohydrates 33 g

11%

Dietary Fiber 6 g

24%

Sugars 14 g

Protein 34 g

68%
* Percent Daily Values are based on a 2,000 calorie diet. Your daily values may be higher or lower depending on your calorie needs.
0