With it being Shark Week and sticking to the shark/beach theme I've had all week, I decided I needed to carry that into this week's cooking post with a nod to sharks. There are SO many incredibly creative people out there based on my Pinterest searching and their elaborate shark-themed foods, but I knew my time was limited, and I figured odds are good yours might be too. So I thought a dip would be fun and it just had to have some blue corn chips "floating" on the top to give that shark effect. It was a game time decision to settle on this Skinny Poolside Dip that I found on Pinterest. I mean the name is kinda perfect too. Being landlocked, I spent a lot of time at the pool (not the beach) as a kid, but I still had that totally irrational fear that Jaws was lurking at the bottom of the deep end. (Kids, I tell ya!)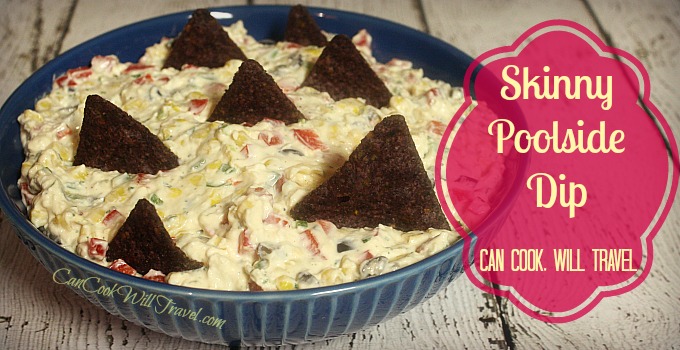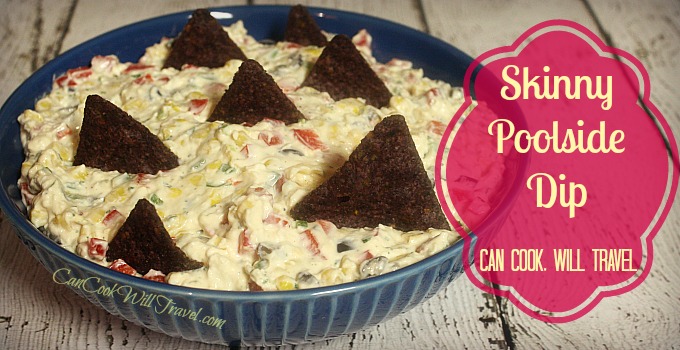 I was going to go with a warm, baked dip but since those are often heavy, I realized that I needed something on the healthier side. Right before I walked into the grocery store, I found this recipe and it looked easy and not overly heavy. We have a winner!
This dip is a cream cheese base. A note on this is that the original recipe calls for fat-free cream cheese. In my family we tend to always go for the reduced fat variety, because the flavor of the fat-free kind isn't always so great. So I went with reduced fat.
Then you pile in the veggies. I drained a can of corn, chopped up a red pepper, drained and diced about 3 ounces of black olives, and finely chopped 2 jalapenos (minus the seeds and ribs). Then in went a packet of Ranch Dressing dry seasoning to the dip. Mixing it requires a bit of elbow grease, so I figure it aided in my work out for the day. Get a sturdy plastic spatula and work the veggies into the cream cheese until it's completely combined. I found myself doing a lot of folding and smushing (technical cooking term there).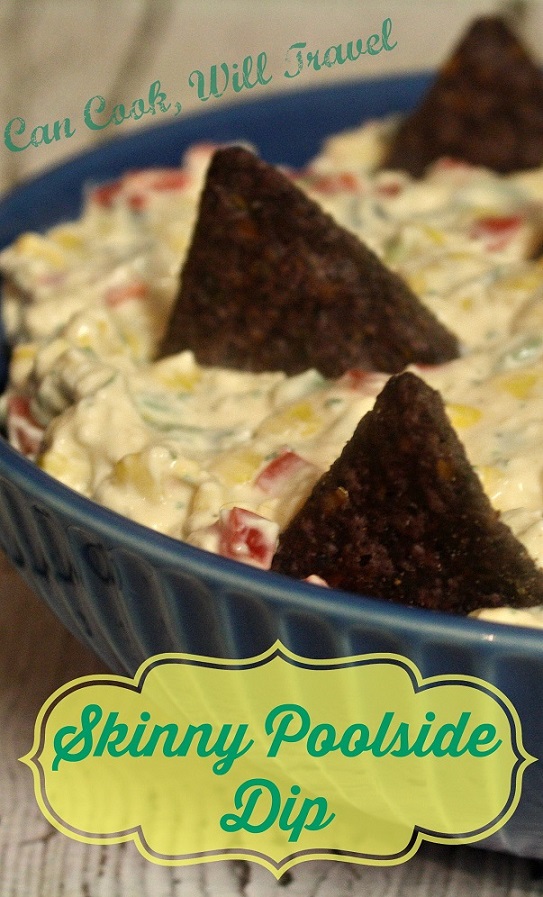 And then enjoy! I had a lot of fun with the Shark Week theme by strategically placing some blue corn chips in the dip to give the shark fin effect. And I have to say the corn chips were delightful with this dip! I was afraid the dip would be too spicy with 2 jalapenos, but I didn't find that to be the case at all. I was also concerned when mixing that maybe I was going to need more liquid so it wouldn't be a stiff/dry dip, but alas the more you mix, the creamier it gets.
Grab the few ingredients you need for this Skinny Poolside Dip and whip it up ASAP. It's perfect when it's warm out and is great for barbecues and get togethers when you need to bring something. Plus it's much more guilt-free especially if it's swimsuit season! Click the link above for the recipe and step by step instructions. Happy sharking…whoops I mean snacking!!
A look back:
One year ago: Lemon-Dill Green Beans Makes Summer Very Tasty
Two years ago: Baking Away – Apple Galette with Sour Cherries and Goat Cheese
Three years ago: Say Yes to Sesame Noodles
Four years ago: Fun with Fennel
6