I love carbs. Bread and pasta, I'm talking to you. I can't help it! But I've been wanting to try my hand at spring rolls for a while now. My good friend Rebecca has a gluten allergy, and she's made them for me a few times now. I've always thought I should do something with rice paper and now seemed like a great time to whip up these BLT Avocado Spring Rolls.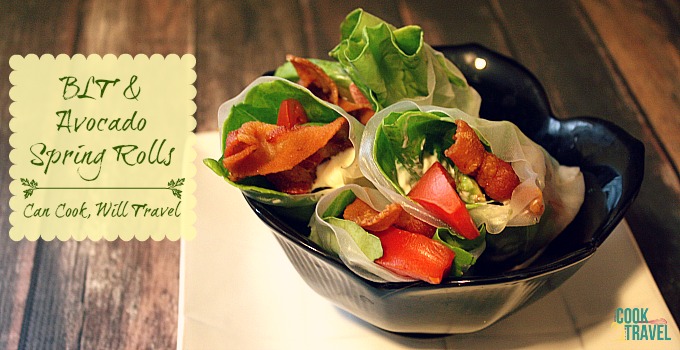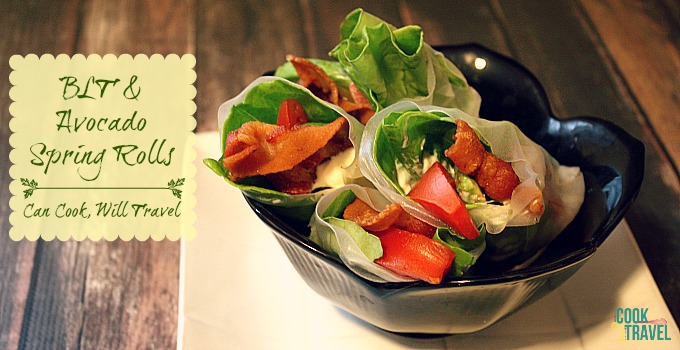 Here's the thing. When I think of Summer, certain foods pop into my head: Fresh basil, fresh tomatoes, and BLTs are at the top of the list. With fresh tomatoes in season, my family (being the former hog farmers that we are) love a good BLT!
I'm picky about my BLTs. I know what I like. I actually like a good bacon and tomato sandwich. Forget the lettuce. And I enjoy eating mine with a bit of mayo and jalapeño Tabasco sauce.
But I was intrigued by this BLT Avocado Spring Rolls idea from the blog Avocado Pesto. After all, while I like bread, it likes me a little too well, if you know what I'm saying. So swapping it with rice paper seemed too interesting not to try.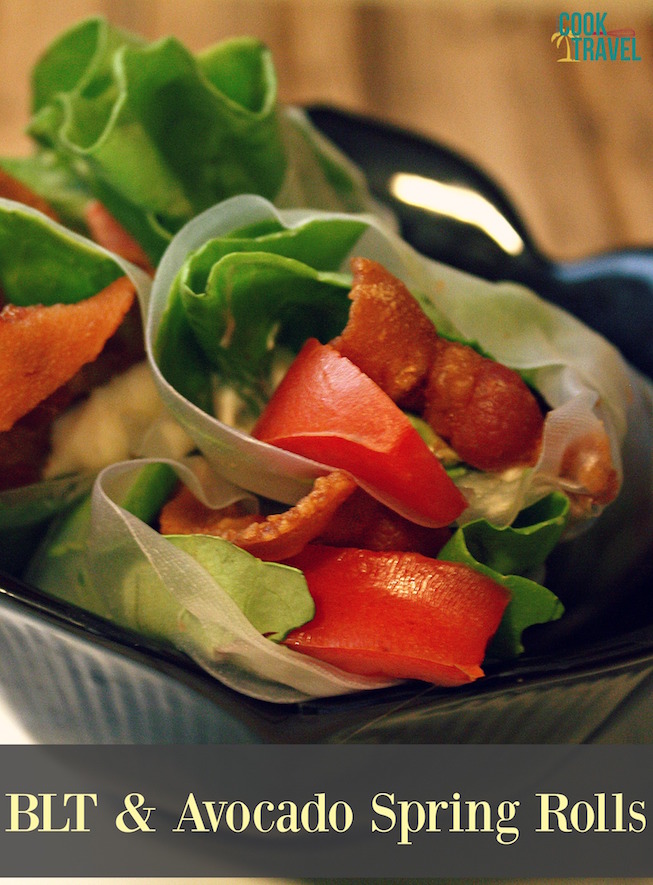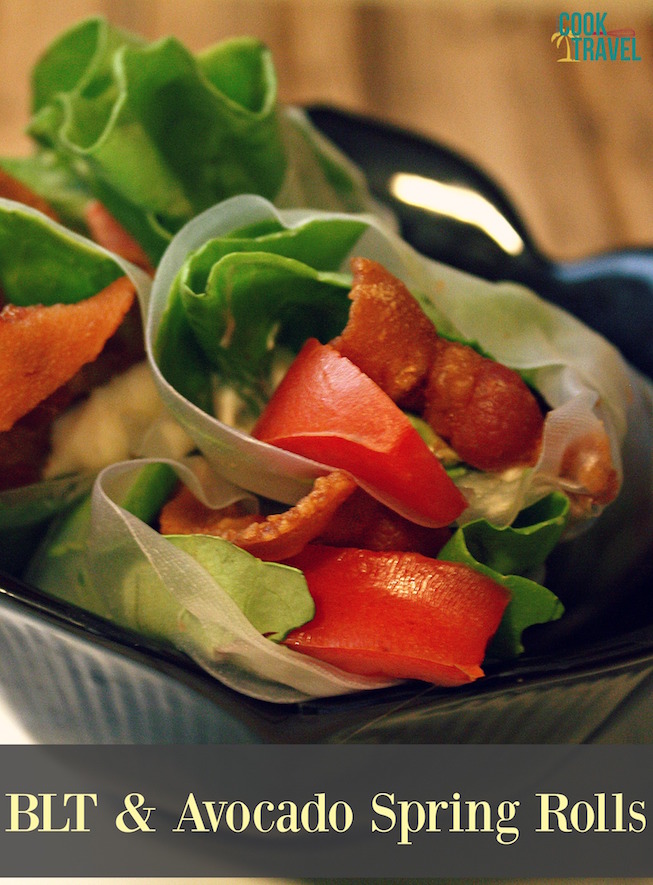 Here's the scoop: If you're new to making spring rolls, there is a bit of an art to it that I'm still trying to master. It's a balance of letting the wrapper soak just long enough, being careful it doesn't rip, and also wrapping the rolls tight enough that they hold together. But I actually found making them to be pretty fun once I got over the initial intimidation of "how the h*ll do I do this?".
Simply cook your bacon (I used my brand new NuWave that I love!), and as it's cooking, slice a tomato and avocado. Clean off your lettuce leaves. I'd go with a pretty soft lettuce like butter or bib lettuce. I used bib lettuce and the leaves were not huge, so I used 2-3 leaves per roll.
Here's the layering order I went in. Once the wrapper is soft, lay it on a large plate. Then down the center lay 2-3 lettuce leaves. I found that if I spread the mayo on the lettuce and then put the leaves down that it was less messy and I probably used less mayo. (I also was super sneaky and added some jalapeño tabasco to my mayo to add a nice heat.)
Then lay a few tomato slices and avocado slices down. You'll use about a quarter of a tomato and avocado per roll. Two rolls is a serving, so since I was experimenting on just me, I cut the recipe in half. Plus it gave me a great chance to make these BLT Avocado Spring Rolls the next day and get some more wrapping practice in. Top the veggies with 2 slices of bacon.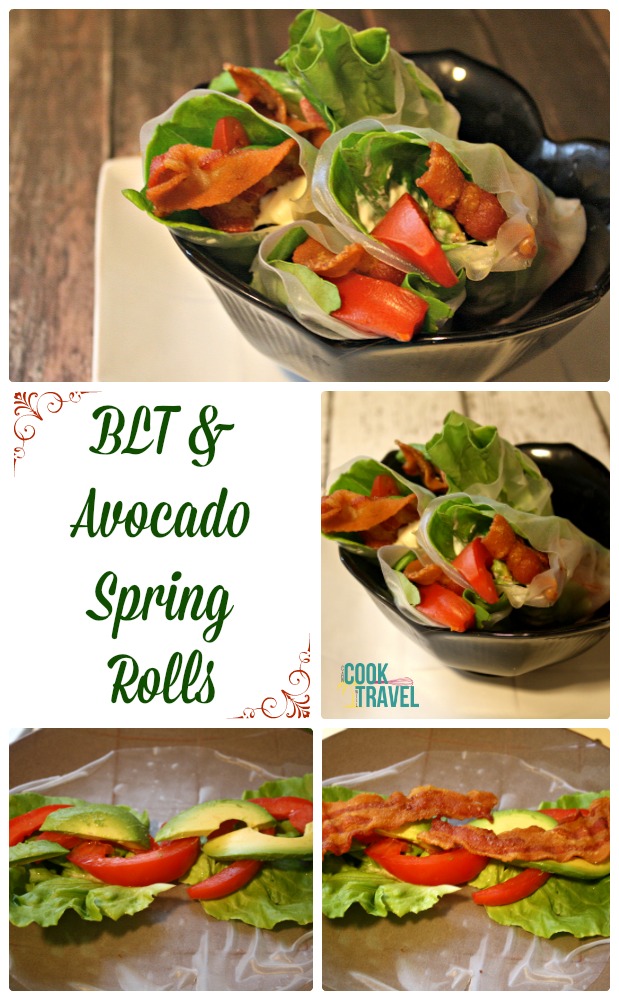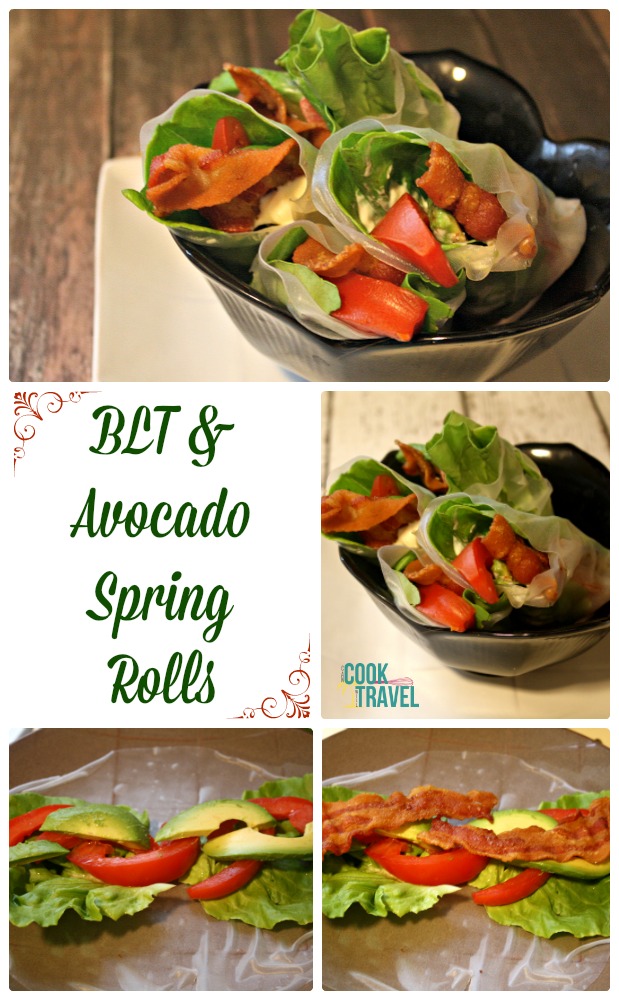 Then comes the wrapping. The wrappers are very delicate, so you have to gently but tightly fold one end over the filling and give it a bit of a turn so that you squish the filling together for a tighter roll. This recipe comes from Vicky at the site Avocado Pesto, and I like her idea of leaving the ends of the rolls open. I think it allows you to have more of a filling, plus the rolls are a bit larger. So that's the route I went, and I'm glad I did. Then just cut your rolls down the middle once they're done, and dig in.
These BLT Avocado Spring Rolls are messy, but they are super tasty. And I will happily admit that I got all of the BLT taste I love without missing the bread at all. No joke! You've got the smokey bacon, fresh tomatoes and creamy avocado giving you lots of great textures. The mayo (and bit of heat) adds a little flavor and binding. And it's all wrapped in a rice paper wrapper that suddenly makes this one interesting BLT!
If you've been wanting to enjoy BLTs with a little less guilt, or maybe you're like me and wanted to try out this whole spring roll thing, then this BLT Avocado Spring Rolls recipe is for you. Be sure to click the link for the recipe and step by step instructions!
A look back:
One year ago: Peanut Butter Mug Cake = A Healthy, Fun Dessert
Two years ago: Creamy Pesto Chicken Tortellini Saves the Day!
Three years ago: Learning to Love Salads – Part 14: Greek Tortellini Salad
Four years ago: Couscous with Flavor…I Can't Believe It!
Five years ago: Beets. They're What's for Dinner (This Week)
0