Yes, this dish sounds a bit weird. I get that, which is kinda what interested me about it. Could a Chicken Quesadilla with Brie & Nectarine Jam be good? Oh yes, my friend, it can! And when I was needing a light and easy dinner, this recipe totally fit the bill.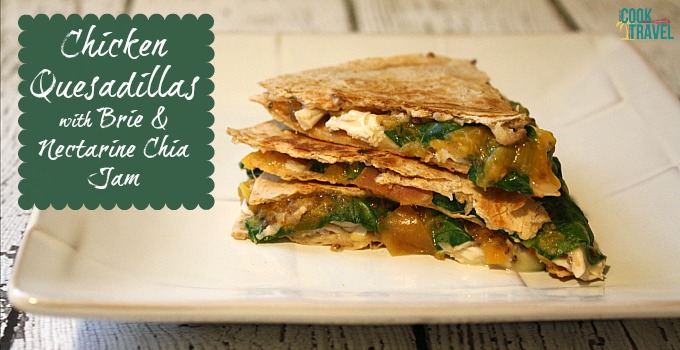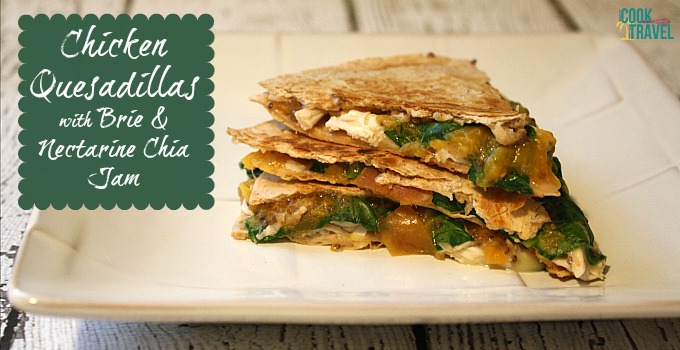 I first found this Chicken Quesadilla recipe on Pinterest (of course) over at the blog The Almond Eater. And her recipe has a layer of homemade apricot chia seed jam, which sounded great! But I decided to go with a nectarine version of the jam, because I was curious how it would work and the nectarines at my local grocery stored looked (and smelled) fabulous. So I followed Erin's recipe for the chia seed jam, and instead of 8 apricots, I used 4 large nectarines. Otherwise her recipe worked like a dream!
This was my first try at homemade jam of any kind. What really drew me to making my own rather than using store-bought jam, was that I had everything except the fruit, it looked insanely easy, and I love being able to control what goes in my food. I think you could make this with about about any stone fruit (apricots, nectarines, plums, peaches, etc.).
Cut the fruit into bite-sized pieces, bring it to a boil with a little water and honey. Then let it simmer for 10 minutes or so. Mash the fruit to get your desired consistency. Then you'll remove it from the heat and stir in the chia seed. Once the jam is at room temperature, refrigerate and eat it up! I loved that this jam was lower in sugar, healthier, and it wasn't super sweet so you could really taste the fruit. It's great on toast or English muffins, and I topped some Greek yogurt with it for a snack, which was a lovely idea!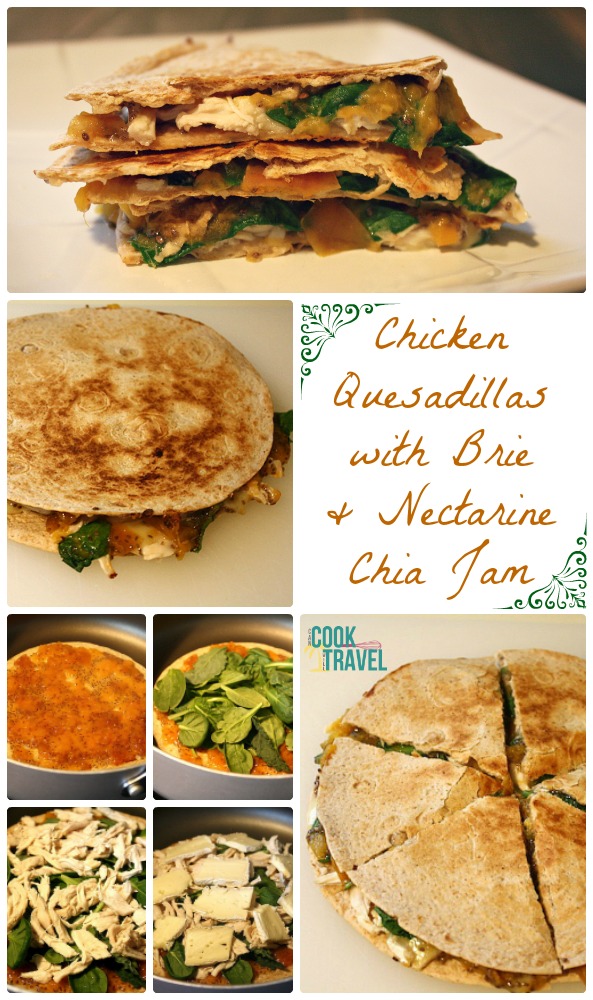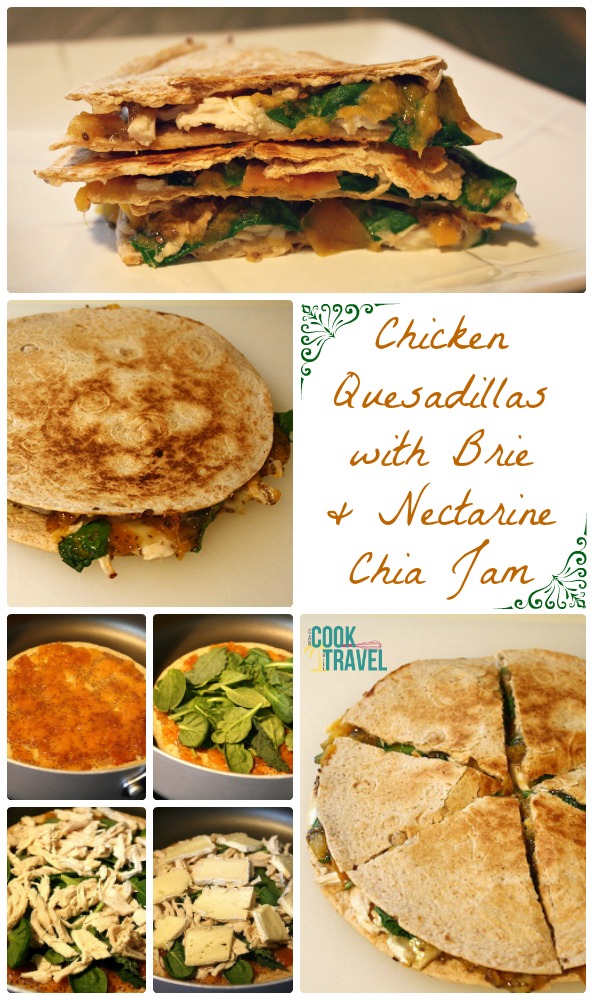 The Chicken Quesadilla comes together super quickly. I made the jam a day ahead, and had already poached some chicken for an uber yummy noodle dish, so I reserved half a chicken breast (that's for one serving of the quesadilla in case you are making multiple servings). So with the chicken and jam already done, it was just a matter of throwing it all together.
A note on the chicken: You can cook it in the skillet with some olive oil as Erin at the Almond Eater suggests, or poach yours for a slightly healthier option, which is what I did.
Put a layer of the jam on a whole wheat tortilla, and place in a large skillet (no oil required – yay!). Add the spinach, chicken, and sliced brie and top with one more tortilla and grill each side. That's it!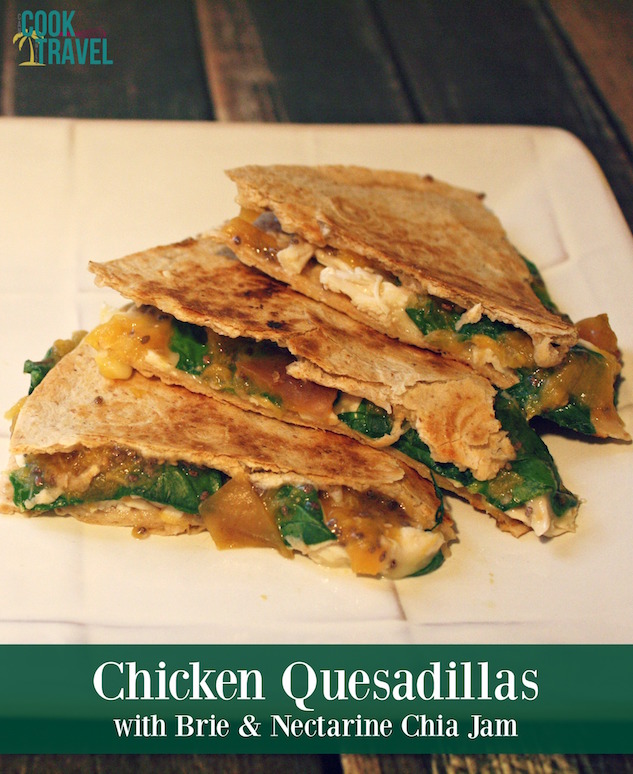 Let's talk flavor of this Chicken Quesadilla. You have a bit of sweetness (although not too sweet) from the nectarine jam, nice texture from the chicken to literally give it a meaty bite, the spinach for some color and healthiness, and finally the smooth, creamy, and mild brie rounds out the flavors. Add a crispy tortilla crust, and you've got a light, healthy, and delicious meal.
So yep, this Chicken Quesadilla with its homemade nectarine jam and brie sounds a bit odd, but it's fun to make and even more enjoyable to eat! I can't wait for you to try this recipe out too, so click that link to get to the recipe and step by step instructions! Happy quesadilla eating!!
A look back:
One year ago: Skinny Poolside Dip . . . We're Gonna Need a Bigger Bowl!
Two years ago: Lemon-Dill Green Beans Makes Summer Very Tasty
Three years ago: Baking Away – Apple Galette with Sour Cherries and Goat Cheese
Four years ago: Say Yes to Sesame Noodles
Five years ago: Fun with Fennel
0