You know when you move and find yourself really missing a certain restaurant (or 12 in my case)? Well lately I've definitely been missing my favorite pizza restaurant called Spin Pizza located in KC. Spin is this awesome pizza place that has gourmet pizzas that you can customize a bit with different crusts and sauces. It really got me in the habit of experimenting with my pizza topping combos, which was why I was super excited to try this Peach, Brie, and Bourbon Onion Pizza by Teach. Eat. Love.
Don't get me wrong, I love a good sausage pizza, but I'm pretty intrigued when I see cool toppings like potatoes, apples, caramelized onions, goat cheese (hello!), roasted garlic … I could seriously keep going. In case you can't tell from all of the cooking I do here, I like to be a bit adventurous and try different flavors. So when I read that brie, peaches, and bourbon caramelized onions were co-existing on one pizza I had to try it out!
What was really perfect was that this time of year we have a TON of peaches around. I love snacking on them just sliced up, but when I can find new ways to eat them, I'm totally game! And we already had brie on hand along with a vidalia onion.
The only things I needed were some greens (arugula, spinach, whatever you like) to top the pizza with and some bourbon. We're not big bourbon drinkers, but I was curious how the bourbon onions would be. (They were fabulous!)
I actually whipped up my own pizza dough, but buying it in the store is such a time saver. I particularly love Trader Joe's pre-made pizza dough. Pizza dough is so easy to make, that even if you don't have time or access to pre-made dough, it's a cinch to make your own.
Definitely the most time-consuming part was caramelizing the onions. Admittedly I could have gotten way more caramelization on mine, but I got impatient (and hungry!). Once you get some color on the onions, pour in a little bourbon and cook until the bourbon has cooked off. It really gives you a sweet onion that plays well with the other ingredients.
Once the onions are done, putting together the pizza is super easy. A couple of tools that are handy would be a baking stone and a pizza peel. If you don't have those, no worries – a baking sheet will work too. Just put some cornmeal on the bottom to help the pizza not stick. I rolled out my dough rather rustically and then put some cornmeal on the pizza peel and then laid the dough on the peel. (You might hold your baking stone over the dough and make sure the pizza won't be bigger than your stone.)
I built the pizza right on the peel. First a light layer of extra-virin olive oil, followed by some slices of brie. I used a double creme brie that is seriously out of this world! Slice it somewhat thin so it bubbles up more quickly. Next add the peaches over the top and finally top with the caramelized bourbon onions.
I popped my baking stone (with a little cornmeal on the top) in a preheated oven for 3-5 minutes so it started to get warm. Then I opened the oven and used the peel to transfer the pizza right onto the stone. It worked like a charm. And bake for 5-8 minutes or until the crust starts to get brown and the brie is bubbling. Yum!
Take the pizza out and add a little handful of fresh greens to the top. I used some spinach that I tore into bite-sized pieces. Now if you want to make some balsamic glaze you can top the pizza with that. I ended up using a drizzle of really good quality balsamic vinegar over the top.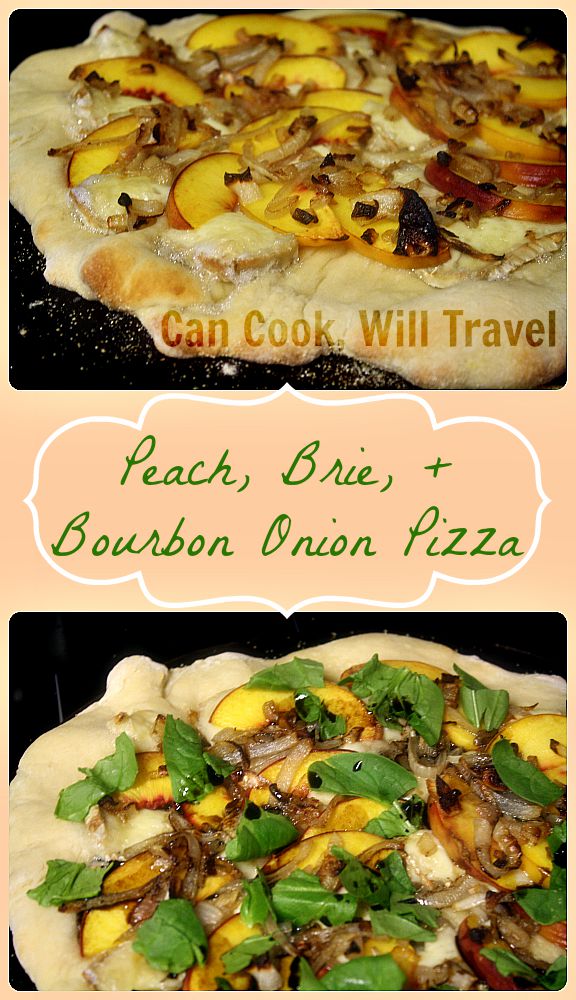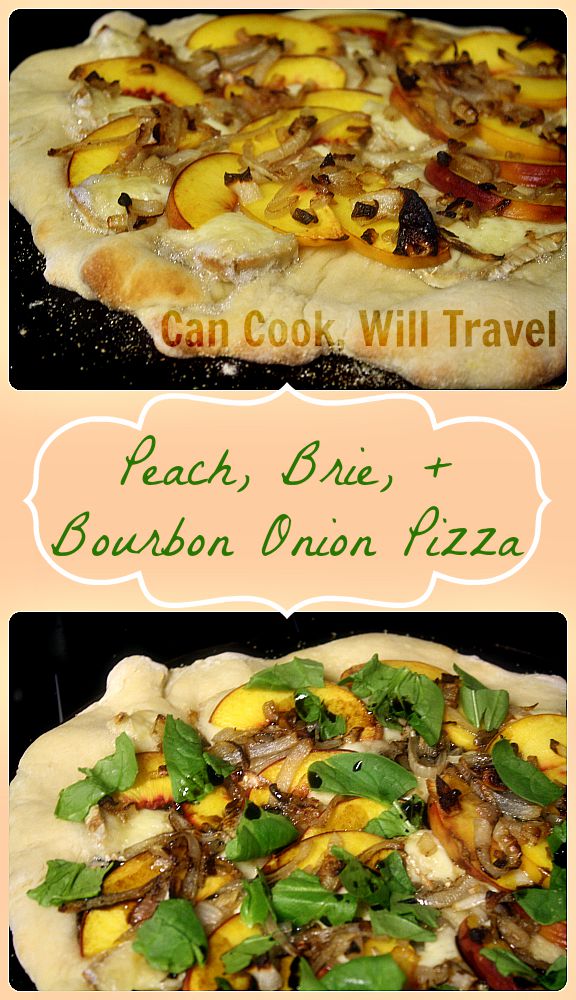 Oh. My. God. This pizza was delicious!! The brie was rich, the onions were packed with flavor, and the peaches were these lovely sweet additions to each bite. And my pizza dough made the perfect pizza.
If you love gourmet pizzas and want to make one at home, this pizza is a perfect one to try!
So be sure to add this Peach, Brie, and Bourbon Onion Pizza to your cooking arsenal. And click that link for the recipe and step by step instructions! Happy pizza baking!
A look back:
One year ago: Spicy Quinoa Crusted Chicken…Nom Nom Nom
Two years ago: Making Pizza Healthier with Eggplant Pizza
Three years ago: Low Cal Chocolate Muffins – Yes, You Read That Correctly!
Four years ago: Zucchini Makes Me Happy
0