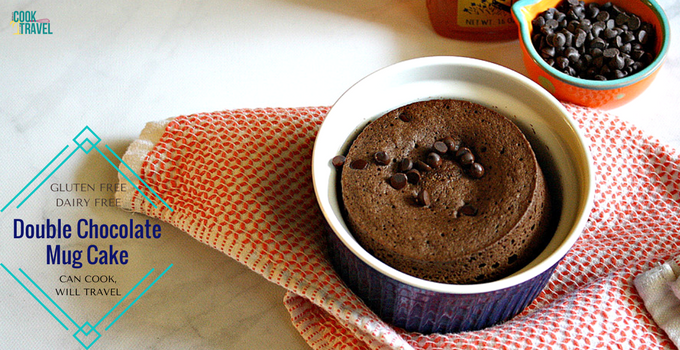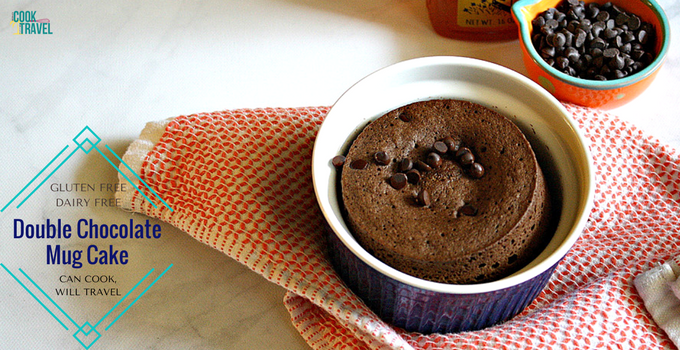 (This Healthy Chocolate Mug Cake is inspired by one found at Running with Spoons here which is a fun site!)
Step by Step Instructions:

I love how easy this Healthy Chocolate Mug Cake is to whip up for healthier chocolate cravings, so here's what you'll need: Baking Powder, Protein Powder (I love the Tone It Up brand at Target), Coconut Flour, 1 Egg, Mini Chocolate Chips (the Enjoy Life brand is great if you need an allergy friendly version), Honey, Cocoa Powder, Almond Milk, Cinnamon, Vanilla Bean Paste, and Salt (not pictured).

Begin by measuring out 1 tablespoon each of protein powder, coconut flour, and cocoa powder into a small bowl or mug. Then add 1/4 teaspoon of baking powder, a pinch of salt, and 1/2 teaspoon of cinnamon to the mixture. I used a small bowl, because I decided to use ramekins for my mug cake, because my mugs are large (just like I like my cup of coffee in the mornings).

Then whisk all of the dry ingredients together.

Now add 1/4 cup of almond milk and a tablespoon of honey to the dry ingredients.

Whisk until it's well combined.

Then add the vanilla (and cinnamon if you forget it like I did).

And then add the egg as well, and stir until the batter is smooth.

Finally stir in about a teaspoon of mini chocolate chips.

Now your batter is ready, so pour it into your ramekin or small mug. So I'd say if your mug is around 8 ounces or so, you should be just fine.

Finally top with a small sprinkle of chocolate chips and microwave for 2 1/2 to 3 minutes or until the cake is fully cooked. You can then top with a tiny amount more of chocolate chips if you desire, and enjoy immediately! So happy healthy cake making! Also if you love mug cakes, you'll love this Peanut Butter and Chocolate Chip Mug Cake!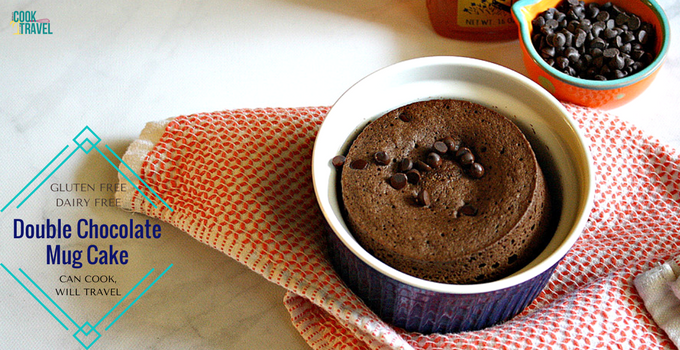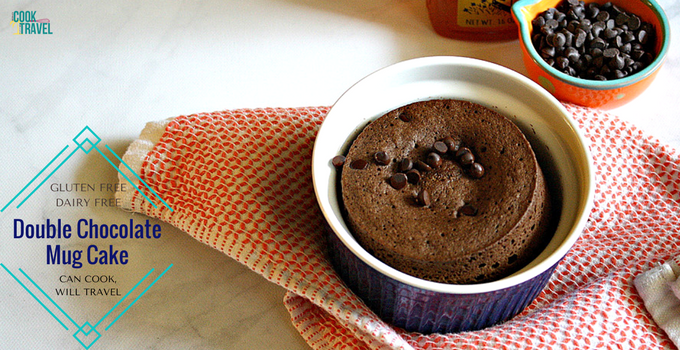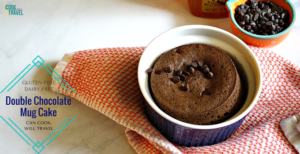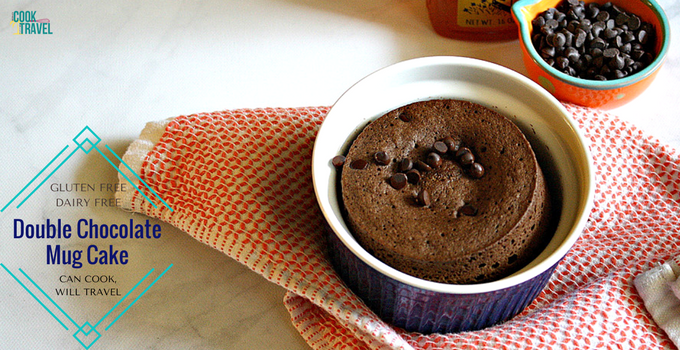 Print
Healthy Chocolate Mug Cake
Yield 1 cake
I love this recipe for an easy sweet treat without all the guilt!
Ingredients
Mug Cake Ingredients:
1 T. protein powder
1 T. coconut flour
1/4 tsp. baking powder
1 T. cocoa powder
1/2 teaspoon cinnamon
Pinch of salt
1/4 cup of almond milk
1 T. honey
1/2 teaspoon of vanilla bean paste
1 Egg
1 T. DF mini choc chips
Instructions
In a small bowl or mug, whisk together the protein powder, coconut flour, cocoa powder, baking powder, cinnamon, and a pinch of salt.

 

Then add the wet ingredients to the bowl including almond milk, honey, vanilla bean paste, and an egg. Whisk until the mixture is totally combined. Then add about 1 teaspoon or so of chocolate chips to it and stir to combine.

 

Pour the mixture into your small mug or ramekin and microwave for 2 1/2 to 3 minutes or until it's cooked through. You can use a toothpick to test it or just know that once it rises and you can smell it, you're good to go. Top with a sprinkle of more chocolate chips if you desire, and enjoy!
Notes
Quick Tip: If you're like me and only have large mugs, then a ramekin is a perfect solution!
Courses Sweets
Nutrition Facts
Serving Size 1 mug cake
Amount Per Serving

Calories 292

% Daily Value

Total Fat 13 g

20%

Saturated Fat 6 g

30%

Unsaturated Fat 1 g

Cholesterol 215 mg

72%

Sodium 566 mg

24%

Total Carbohydrates 21 g

7%

Dietary Fiber 6 g

24%

Sugars 19 g

Protein 17 g

34%
* Percent Daily Values are based on a 2,000 calorie diet. Your daily values may be higher or lower depending on your calorie needs.
0