Life begins at the end of your comfort zone.
Wow I absolutely love that quote, because it's crazy how true it is! When I think back on the awesome times, experiences, and memories in my life, they all began when I stepped outside of my comfort zone. Every damn one of them. So I wanted to talk today about this topic a bit on how I've experienced it in my past and present, and ways you can embrace this kind of change.
I've been pretty lucky when I look back on my life so far. I've had amazing travel experiences studying abroad and living abroad, moving there on my own and not knowing a soul, and I could go on just with that brief time of my life.
This blog, this post, this site that you're on and reading right now is another perfect example of what happens when you step outside of your comfort zone. I hadn't a clue how to create a blog, but with perseverance, consistency, and the help of my tech savvy sister, Can Cook, Will Travel was born. The blog evolves every year (hell every month), as I expand and grow my goals and dreams.
So let's chat about how we can step outside of our comfort zone a little every day. These are my 3 favorite ways:
Be a dreamer
Everything starts with a dream, so allow yourself to dream. I actually wrote a post all about dreaming, so check that out here.
One thing I noticed is that the older we get, the less we dream. We become total realists and tell ourselves that our dreams are silly and can never happen. For me, it was either because I needed a real job, so I couldn't pursue my dreams. Or else it was that I convinced myself I'd fail before I even tried. That's a dream killer right there!
But one day I realized that if I wanted to live an extraordinary life (and I'd say most of us do on one level or other), then I had to give myself permission to dream. As a kid I had HUGE dreams of being a ballerina, archaeologist, marine biologist, actress, but what I realized is that it was almost painful for me to remember back to those times. That I'd allowed myself to give up on those seriously cool dreams for one reason or another.
So yeah, maybe I won't be a ballerina or famous actress, but I can still accomplish cool shit. While my dreams may be totally different, they're still pretty awesome.
So I'm about to be a bit vulnerable with you about my dreams. Hey, if I don't put it out there, then I'm just hiding in my comfort zone, right? So my big dreams are to start doing one on one and group cooking lessons, creating courses for you, and to put myself out there a bit more.
Be open
Listen, sometimes we think we know EXACTLY what we want to happen. So when amazing opportunities present themselves, we ignore them because they don't look just like what we thought they would.
Here's a perfect example of this that recently happened to me. So I'm standing in my kitchen after my morning walk, and I actually recall saying out loud: Okay God, Universe, Guides, whoever is listening…I'm ready to serve the world today, so show me what I can do with my gifts and skills to serve.
That same morning I find a message in Instagram from an account I follow who also follows me. She is running a retreat that so aligns with everything that's been a big part of my life (mindset work, empowering thoughts, and being our best selves). It turns out, she wanted to know if I would be interested in being the head chef at that retreat.
Everything in my body started buzzing, so that was crazy. All of the fears popped up, but I literally couldn't stop thinking about it all freaking day long. I had tons of ideas, and I hadn't been lit up like this in so long. That told me everything – I had to try this!
Yeah being a head chef at a retreat had NEVER crossed my mind, so I easily could have ignored the message or politely declined. But I was open to the possibilities, and that truly is the best way to start creeping out of your comfort zone.
I'll pause a bit to share more on this retreat, because I know it's going to be a powerful event. This 5-day retreat is a chance for women to begin to become their healthiest, happiest version of themselves in life and/or business. You'll learn to embrace YOUR unique story and allow it to let you shine and not shrink ever again. To learn more about the retreat and sign up, check it out here & if you join us, let Jess know that I sent you her way!

Be brave
Does it scare you? Then do it!
The moments in life that give you butterflies because they both excite and scare you can change your life. These moments are ones you can easily say no to, but what if you didn't?
I'm not saying do EVERYTHING that comes your way, but those things that excite you should not be ignored. If they linger, get your heart racing, and flood your brain with tons of ideas (like my head chef example did), then I say go for it!
What do you have to lose by taking advantage of the opportunity? But what could you lose if you ignored them? Our comfort zone seems great in theory, but it's not until you get uncomfortable that you start to really figure out who you are and what you're meant to do.
Anyone can sit in their comfort zone and watch the world pass them by. Watch people around them taking small, yet extraordinary actions and transform their lives. But it takes a bit of bravery and guts to go after your dreams and live to your fullest potential.
So dream (all dreams big and small), be open to all opportunities that come your way (no matter the form they take), and be brave and go after the opportunities that scare and excite you!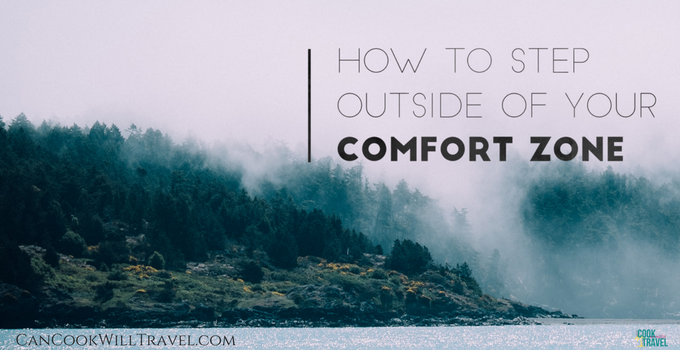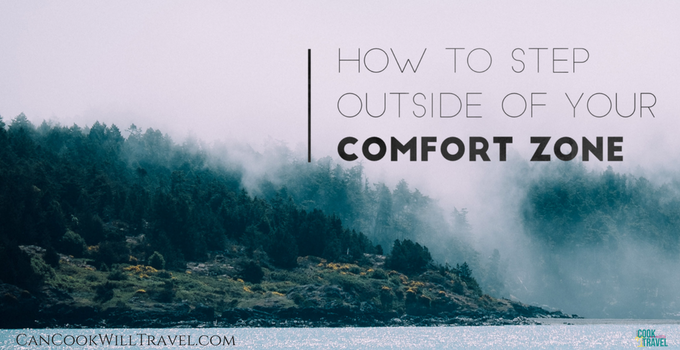 Here are a few examples of times that I've gone outside of my comfort zone and NEVER regretted those decisions. I guarantee that my life is 100% improved every time I got uncomfortable:
Being a senior in high school and deciding to go to a huge state university where I knew about 5 people.
Joining my sorority as a freshman in college, where I made some of the best friends of my life.
Studying abroad over a summer to a city I dreamed of visiting.
Taking a huge chance and moving abroad to that very city a year later where I didn't know a single soul.
Getting my Master's degree in a foreign country when I couldn't see the end in sight. Taking small steps each day got me through that degree and I'm proud of the work I did.
Changing career courses to a field I knew pretty much nothing about (that I've now been in for 11+ years).
Starting my blog with a tiny vision of what it could be.
Investing in my dreams.
Going totally outside of my comfort zone with a high end photo shoot to improve my branding.
Seriously I could go on and on, but you'll see some are huge steps and some are smaller. But they are all pretty critical to my growth. And they were all way outside of my comfort zone, which has always been a great decision for me.
So what will you step outside your comfort zone? I'd love to know! Comment below and tell me, if you don't mind sharing. Whether it's a career change, pursuing your passions, taking up a hobby you forgot about, traveling more, a big move, etc., they're all the right choice for you, so go for it!
Stay inspired & get the heck outside of your comfort zone!
~Kelli
1