I love desserts. Especially chocolate desserts. Strike that..even more if those chocolate desserts also have peanut butter, cuz is there really a better combo?! But this week I'm traveling, and I've also been trying to give you some healthier foods lately. So when I found a healthy Peanut Butter Mug Cake (that I added chocolate too, cuz duh!) on Pinterest, I knew I'd found my next dish.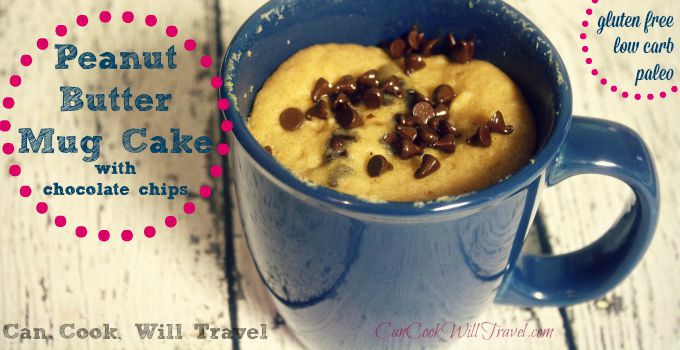 So in case you aren't familiar, a mug cake is basically a cake you make that is a single serving and can be "baked" in the microwave in a mug. I've never made a mug cake before, so I was pretty excited to try one out.
And then add in the fact that it's healthy AND I had all of the ingredients on hand…well yeah it's a done deal! So let's talk about how healthy it is for you. It's gluten free, paleo, and it's low carb. Well that ticks a ton of boxes for us, right?!
It's really easy to whip together too. Just whisk coconut flour and baking powder together. Then add in your liquid ingredients including coconut oil, an egg, vanilla bean paste (or extract), maple syrup for some sweetness, almond milk (or coconut milk if you'd rather), and of course the natural peanut butter. Because I love me some chocolate, I also added a tiny amount of mini chocolate chips as well.
Once the batter is mixed together, just pour it into a microwave safe mug and "bake" it on 100% power for 2 to 2 1/2 minutes. Mine was perfect at 2 minutes, so just keep an eye on yours as it gets to that 2 minute mark. Plus it was really fun to see the cake rise in the mug. And there's no need to spray your mug ahead of time as there is plenty of oil from the coconut oil and peanut butter to prevent sticking.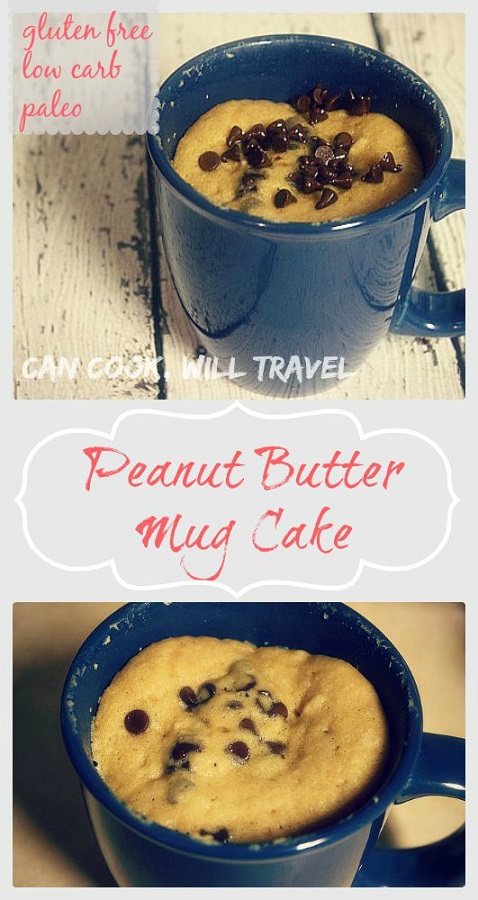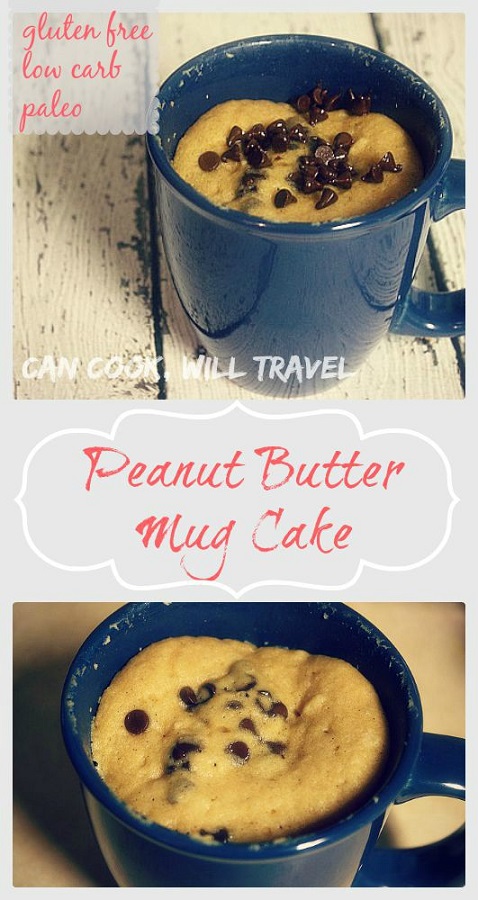 I topped the cake with a couple more mini chocolate chips before baking it and added a tiny bit more when it came out of the microwave.
I was pretty impressed with my first mug cake, and it was really great! I loved that it wasn't super sweet and wasn't really rich tasting either, so it felt lighter and less heavy. And the taste had a nice hint of coconut and peanut butter with the melty chocolate working its way in…yum, yum!
I can't wait for you to try this Peanut Butter Mug Cake for yourself. It's low carb, gluten free & paleo, so what the heck are you waiting for?! Click that link for the recipe and step by step instructions! Happy mug cake baking!
A look back:
One year ago: Creamy Pesto Chicken Tortellini Saves the Day!
Two years ago: Learning to Love Salads – Part 14: Greek Tortellini Salad
Three years ago: Couscous with Flavor…I Can't Believe It!
Four years ago: Beets. They're What's for Dinner (This Week).
2