I love having great snacking option on hand, and it's even better when I made them. But lately I just haven't had the time or energy to do that at all. However I've made a few recent healthy changes, and I was suddenly inspired to make this Spiced Almond Granola recipe.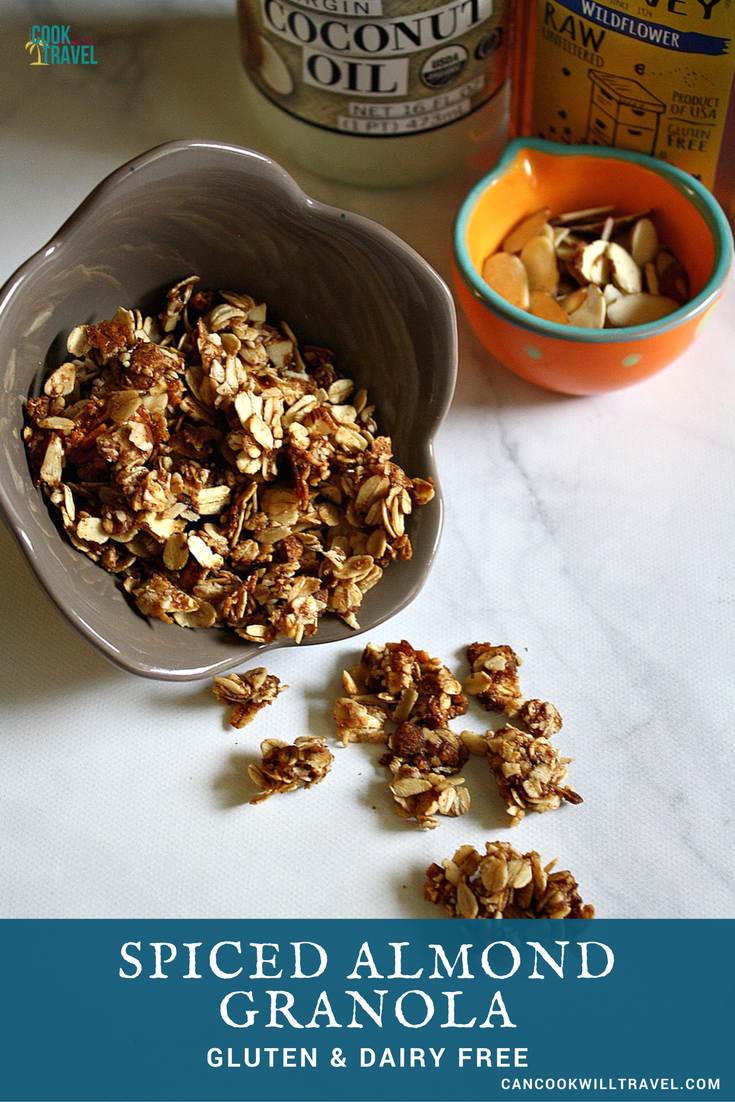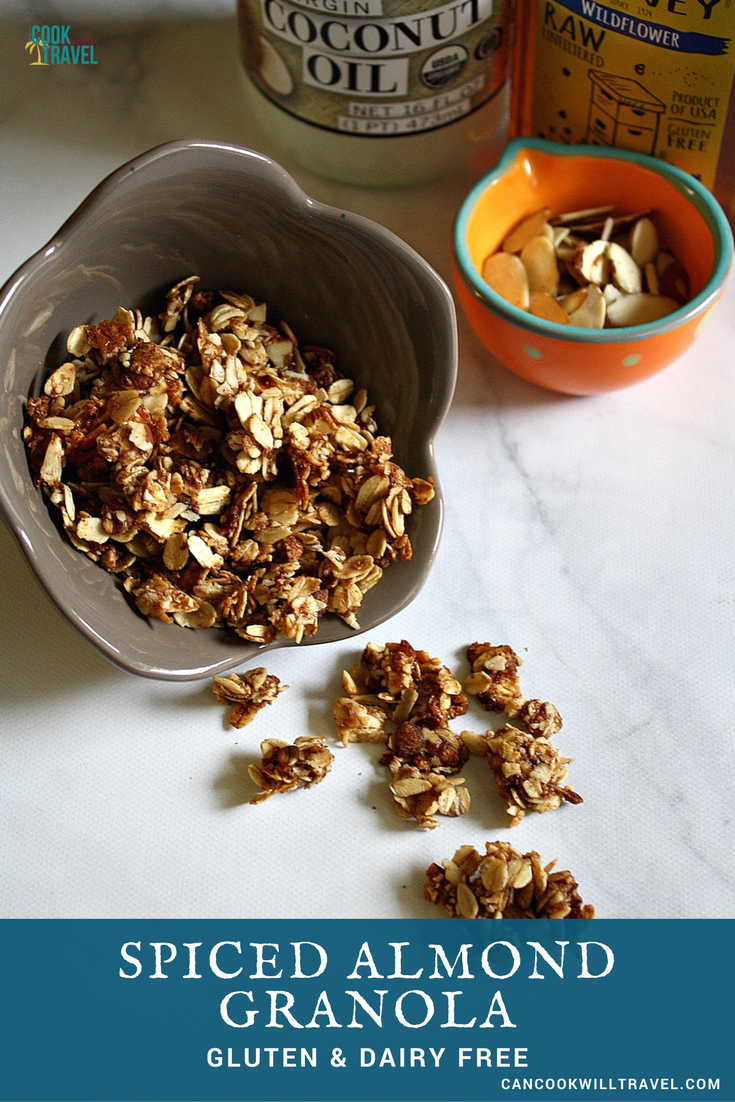 I've definitely made eating well and being active more of a priority for me so far this year. It started with me reducing how much dairy I eat on a regular basis, so that I felt better. You'll find that not only is every recipe I've made in 2017 delicious, but they're also all free of dairy.
Then I started up my green smoothie drinking habits that I abandoned last year. Life was so insanely busy with traveling and moving and seemingly never being home in 2016, so the smoothies came to an end. But now that I've got my Vitamix and am feeling slightly more organized, I'm back to enjoying green smoothies. And you'll find I was inspired by this month's cookbook feature, so check it out. Last week I shared this yummy Acai Smoothie Bowl recipe I found in that cookbook that I know you'll LOVE.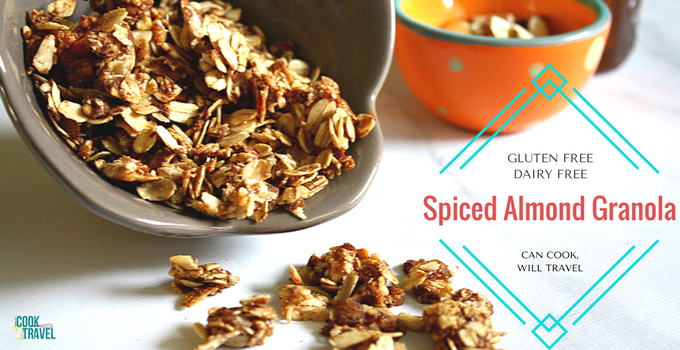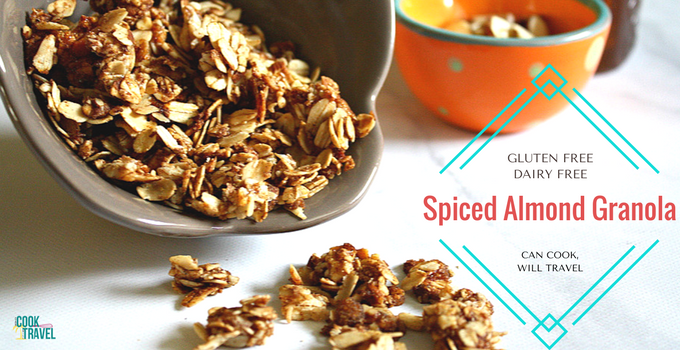 There's this great granola recipe I made a few years back that I adore, but I wanted to let it inspire me to create my own. That's exactly where this Spiced Almond Granola came into the picture. Plus I needed granola to top my smoothie bowl with, so I might as well make my own. After all that way I know exactly what is in my food.
So let's talk about what's in this granola. It's a base of old-fashioned oats along with some finely chopped almonds and roughly chopped almonds. I love the texture and flavor the almonds give. Then I added in a little brown sugar and honey, but I reduced the amount of sugar from the other recipe, and I honestly couldn't tell at all. Add in plenty of cinnamon along with some salt, cardamom, and allspice.
Finally melt coconut oil and add some almond flavor and vanilla bean paste. Stir it all together. Then bake the granola and stir halfway through. Let it cool on the counter and then devour.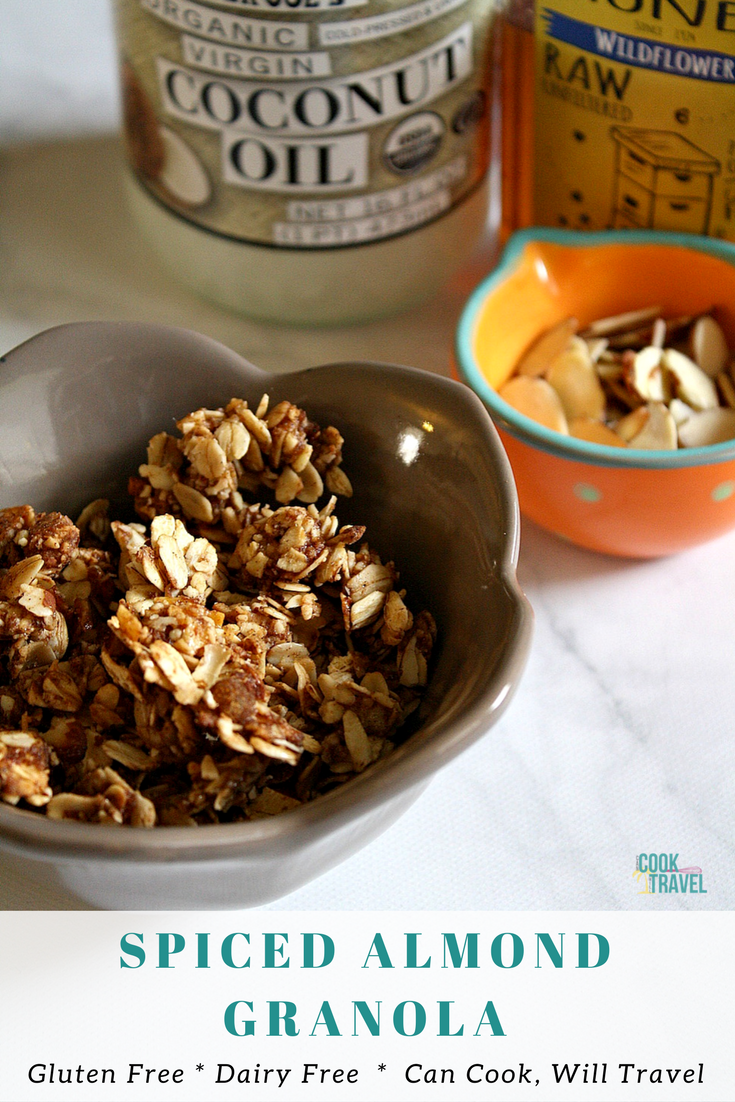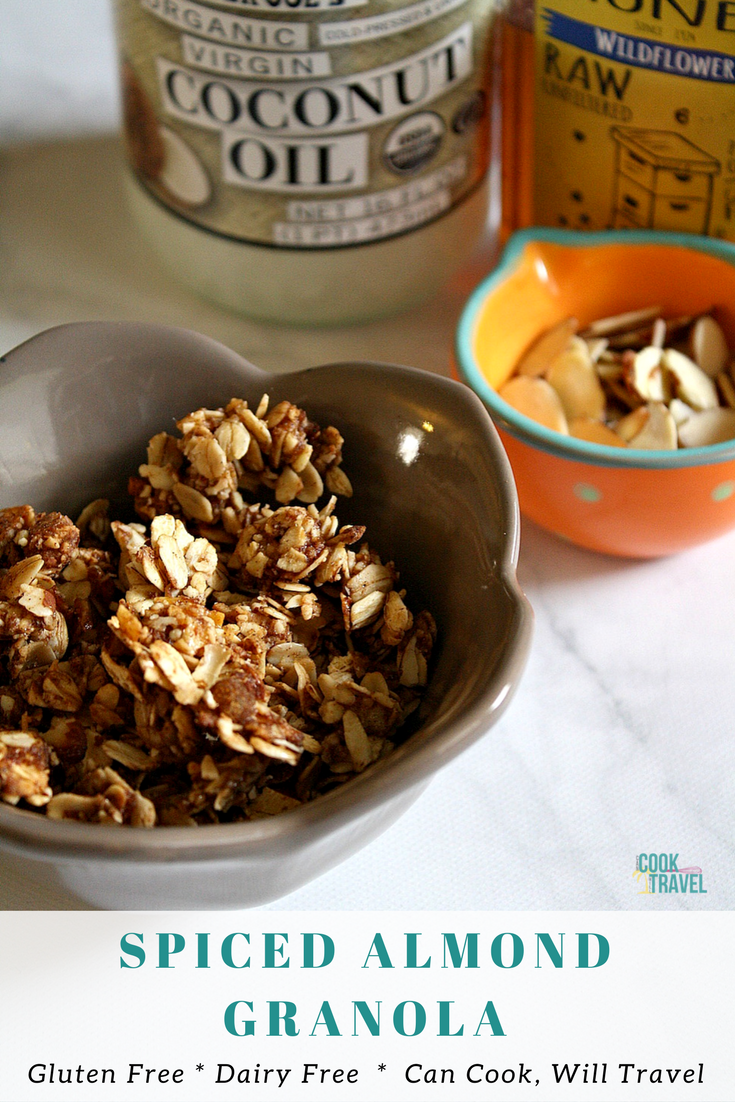 The previous granola recipe was great but the addition of the spices and reducing the brown sugar and honey just took it all to a new level of deliciousness. I love what salt can do in just about any recipe, especially a sweet one. It has this great way of enhancing the flavors, and the warmth from the cinnamon and allspice really come through. Plus the cardamom has this almost lemon-y flavor to it that brightens up the granola.
You'll adore this Spiced Almond Granola, plus it makes a ton! That way you can easily eat it for a snack, share it, top your smoothie bowls with it, and even take it on a road trip! Click that link for the recipe and step by step instructions, and you'll be enjoying it in no time! Happy granola making!
A look back:
One year ago: Sesame Chicken Noodles, Hello Love!
Two years ago: Now this Tomato Soup is Worth Craving!
Three years ago: Who Loves Stir Fry?! Time for Hot and Sour Stir-Fried Shrimp!
Four years ago: Learning to Love Salad – Part 11: Shaved Brussels Sprouts Salad
Five years ago: Cupcakes & Beer
Six years ago: Challenge: Soufflé


0