For this month's Cookbook Love series feature, I wasn't quite sure what book I wanted to share with you. I have a whole bookcase full of cookbooks, but I just couldn't decide. And then I spotted my Simple Green Smoothies cookbook, did a quick flip through it and knew without a doubt that this was the one for April!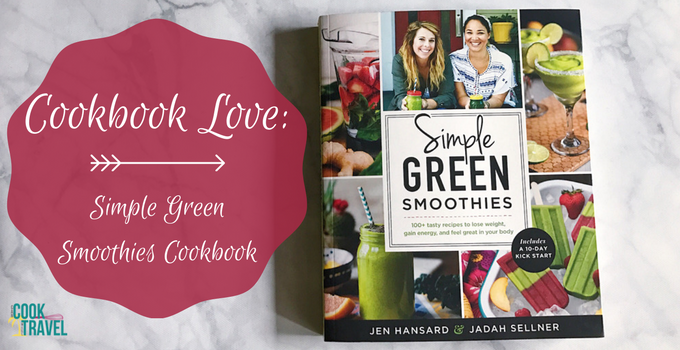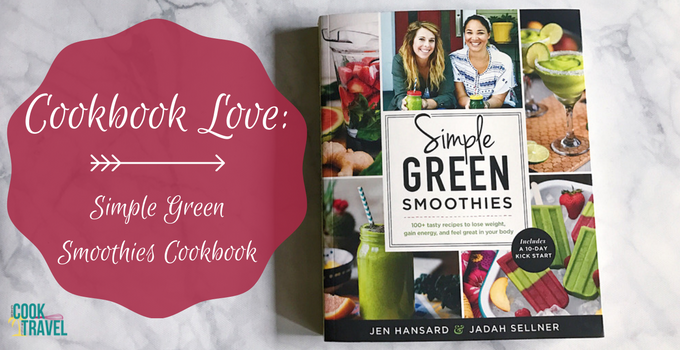 Last year I wrote about a green smoothie challenge I did in January where you make 1 green smoothie a day for 30 days, and I absolutely loved it. These smoothies are packed with greens (usually spinach or kale) and tons of veggies and water or a nut milk.
Now that I have my fabulous Vitamix, I'm pretty excited about drinking more green smoothies again. My old blender could barely handle basic tasks, so I wasn't about to try making smoothies with it. But oh boy, this Vitamix is about to be put to work!
So it made total sense to feature the Simple Green Smoothies cookbook as it was well-timed with my Vitamix purchase. I thought that this would just be a book of smoothie recipes, but I was wrong. If healthy eating is on your agenda, then I know you'll love this book.
Why Simple Green Smoothies?
A book full of smoothies, you say? Why do I need that? Well it's pretty easy for most of us to not eat enough good-for-you ingredients each day. A smoothie is a perfect way to get TONS of veggies and fruits in your daily diet in one delicious drink.
Simple Green Smoothies is brought to you by Jen Hansard and Jadah Sellner, and these two friends found a bond over green smoothies that is completely infectious. They started finding that as busy moms they lacked energy and had bad food habits, but one simple daily change (drinking green smoothies) changed all of that.
I loved the idea that just this one change each day shifted their lives in a super healthy direction. Before these 2 ladies knew it, their husbands and kids were also loving the green smoothie lifestyle. And what I found to be true, which Jen and Jadah noted, is that once you start drinking the green smoothies, your body starts craving super healthy food.
I've been following Simple Green Smoothies now for about a year and a half, and if you're into good-for-you food, then you probably ought to follow them on Instagram and even join their smoothie challenge. One change in the last year is that Jadah has gone off on her own, so Jen and her hubby are running the show. And they have all sorts of great food & smoothie challenges to join in addition to this fabulous book.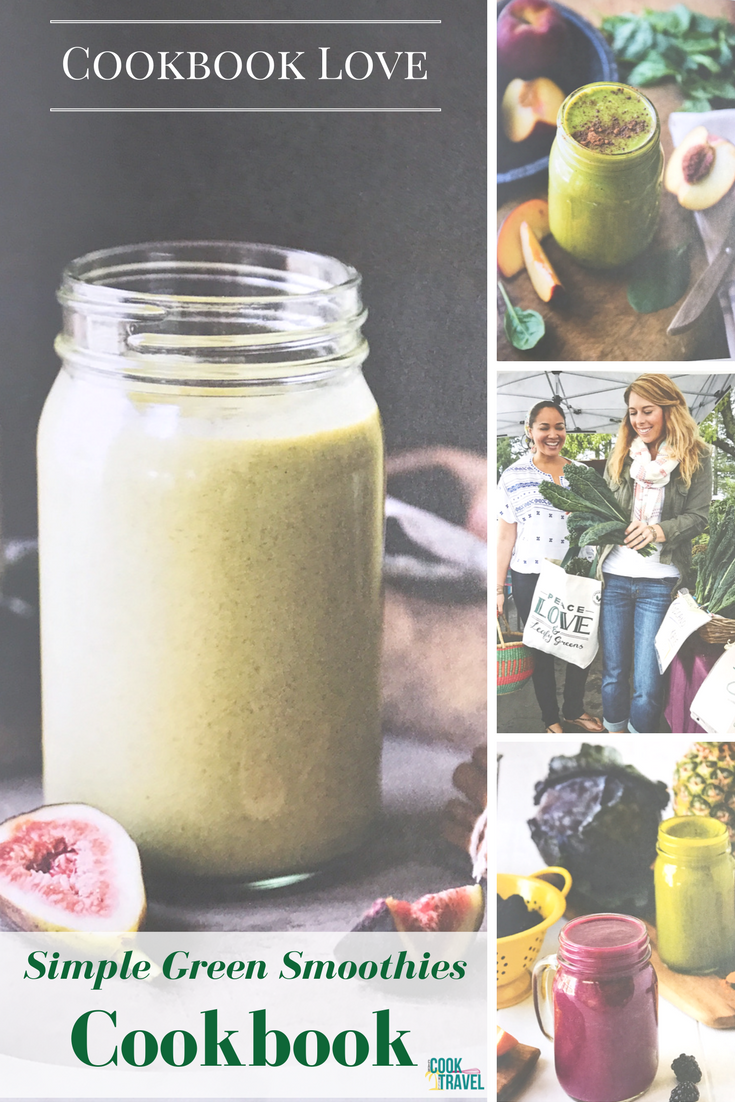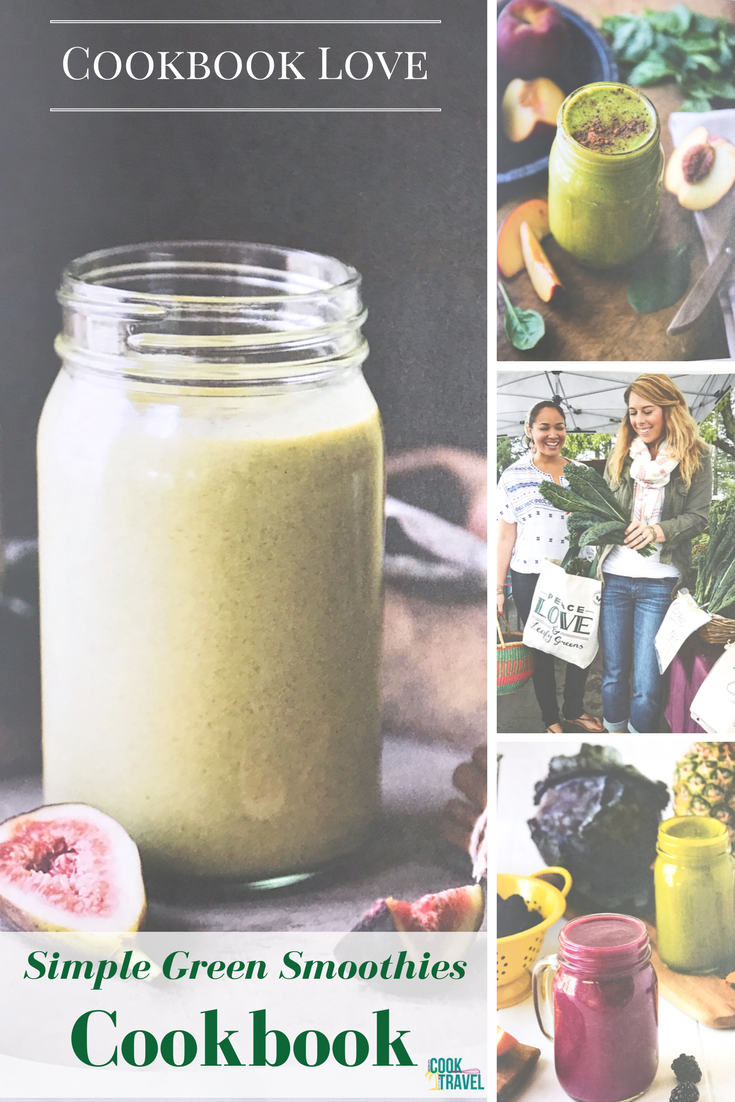 Simple Green Smoothies Organization:
The organization of this cookbook is really interesting actually. It starts off with an intro on Jen and Jadah's stories, and then you get into Part 1. This first section is all about the green smoothie lifestyle, as they guide you along in how to make this one habit something you can sustain.
You'll learn the tools you need, guidance on different blender models and products they love. Then they provide you with a 10-day kickstart with 10 easy and basic smoothies you can make for 10 days straight. Once you begin enjoying these green smoothies, they go deeper by showing you how to incorporate more greens into your smoothies and how to boost them to be meal replacements with good-for-you ingredients.
Part 2 of the Simple Green Smoothies cookbook is jam packed with recipes, as the girls guide you along with some of their favorites. You'll find 10 chapters here that you can dive into based on what your needs are. Maybe you're looking for more energy, clearer skin, to lose weight, for healing purposes, and more. Every recipe highlights the simple ingredients and leads you to success and inspiration on this healthy journey.
The final section of the book is about their community, and joining that 30-day challenge I mentioned in the beginning of this post. I loved the challenge, and held myself accountable by posting a smoothie picture each day of my daily smoothies. This section is packed with resources like conversions, substitutions, and what fruits and veggies provide which vitamins and minerals. This is your time to geek out on being healthy and smart about what you eat. Then you'll find a super helpful index at the end, so you can look up what you have on hand and get inspired on how to use it.

What's to Love About the Simple Green Smoothies Cookbook?
Relatable – These ladies are just like us with their cravings and busy lives, so they prove we've got this too.
Smoothie Making 101 – From tips and tricks, to things to avoid, this book will make you a smoothie making champ!
Healthy – No filler ingredients or food that isn't necessary here! Plus the recipes are all gluten and dairy free, since those are 2 things that people often have issues with. Love that!
Product Info – I love that they share what products they've used and loved. From the types of blenders to use to how to fill those blenders for the best smoothie, to what they love to drink their smoothies in and how to travel with them. Seriously so much great info here!
Learning the Formula – Learn the formula to making the perfect green smoothie so that you can start making your own favorite version with the foods you love.
1 Simple Change – This isn't about a total overhaul of your diet, although you may feel the need to eat better once you start drinking green smoothies. It's about making this a healthy habit that you can sustain in your daily life.
Gorgeous photos – Every image is fresh and pretty and honestly makes me want to eat better and go blend up a smoothie ASAP. In fact, I'm on my way to the store for frozen fruit and greens in a few minutes!
Smoothies and Beyond – After you learn how to make smoothies, then they show you how to make your own nut milks, "hot chocolate", smoothie bowls, and more.

Crave-Worthy Simple Green Smoothies Recipes:
Beginner's Luck – I've made this smoothie several times, and it's a perfect one to start with!
Peach Coconut Dream – Because I'm a sucker for peaches especially in the Summer!
Strawberry Carrot Cooler – I never thought of adding carrots to a smoothie, but it's great way to get this healthy veggie into your diet.
Caramel Cashew Delight – They had me at "caramel".
Spa Cleanser – Because I'm all for making my skin glow.
Pineapple Mojito – How can that be bad?? Fresh mint is so good!
Mighty Matcha Mango – I'm  curious about this matcha craze right now, so what a fun way to try it out.
Blue Steel – Okay partially I'm highlighting this because it makes me laugh and think of Zoolander. But when I saw basil was in it, I was sold!
Sweet Turmeric Twister – This smoothie reminds me of my daily lemon water with a little turmeric added in. Yum!
Mint Julep Sweet Tea – Um, yum, because this sounds so delicious and Southern!
Blue Lavender Ice Cream – Yep, I'm all ears, because this recipe sounds so interesting!
Mexican Hot Chocolate – Blend up ingredients in the blender for a dairy free and totally delicious hot chocolate!
Buy Your Copy Here:

I could keep going on and on as these are just a handful of simple green smoothies that sound AMAZING! So fire up your blenders and grab this cookbook, and you'll be eating healthy every day with this simple habit.
I cannot wait for you to explore the Simple Green Smoothies book. Honestly, if I were to envision a cookbook that I would make for green smoothies, this would be it. It's completely comprehensive, leaving no stone unturned for things you might want to know. Tons and TONS of recipes to inspire you, and then a fabulous community to join for support. Follow Jen along this fun adventure, and inspiration to eat your fruits and veggies every day happens naturally.
Has anyone else done the 30-day simple green smoothies challenge? How'd it go for you? I kinda dropped off the bandwagon a bit last year because I traveled and moved and was gone a ton. But I'm ready to start blending again. Who else is with me? Comment below!
Stay inspired & happy healthy eating drinking!
~Kelli


0