Yep, you read that right . . . Cupcakes & Beer. It made me do a double take too when I first came across this fabulous recipe on Spoon Fork Bacon, which is a wonderful site full of inventive dishes, including these Blue Moon Cupcakes that I highly recommend.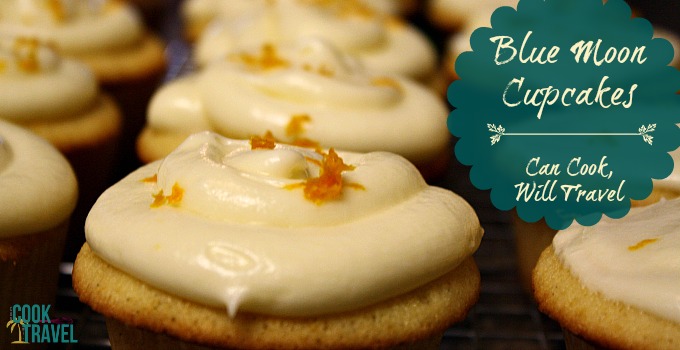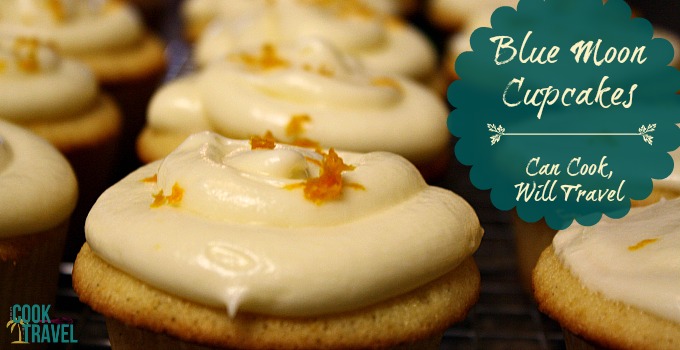 Knowing how much I love to bake (and how much I enjoy beer), I felt it was my duty to try out this recipe, which features Blue Moon beer. Blue Moon Belgian White beer was what I used and is a lovely wheat beer that is typically served with an orange wedge. So it was no surprise to me when I saw orange zest and juice as a key player in these cupcakes.
First off, the cupcake batter was very light and airy (the key being the addition of room temperature butter and Blue Moon), and it creates a moist, and light cupcake. I also loved that you could actually taste the wheatiness of the beer in the cupcakes, which was very cool. As an added bonus, I just had to finish off the bottle of beer I opened after making the batter…oh darn! 😉
The frosting for these cupcakes worked so well with the beer-flavored cakes. It is a cream cheese and butter frosting with a touch of orange flavor that comes from fresh orange juice. Delish!
One thing that I did alter was that the recipe is for mini cupcakes. I didn't have a mini cupcake tin, so I just made regular sized cupcakes and baked them a few minutes longer. That just meant that eating these yummy cupcakes was extended just a little longer, because there was more to eat! Plus with a recipe like this, it just called for you to enjoy Cupcakes & Beer!
Now you will need a few things to pull this recipe off. You'll need some sort of microplane grater for grating the orange zest. I love my microplane grater, but there are other great brands out there. Also, my Kitchen Aid stand mixer came in handy more than once this week. If you don't have a stand mixer, then a hand mixer should meet your needs as well. Some sort of a sifter is necessary for both the cupcakes and the frosting. I use a hand-held fine mesh strainer as my make-shift sifter and it works like a charm. You will also need a muffin/cupcake tin and cupcake liners when you're baking these guys too. I also illustrate two methods to frost the cupcakes. I used a pastry bag with a large, round tip, but you can also use a small, offset spatula to ice them if you'd rather.
If you enjoy baking and beer like I do, then Cupcakes & Beer inspired treat is a must-try recipe! Or if your interest is just piqued about what this cupcake tastes like, then click here for the recipe and step by step instructions. You will not regret it, I promise!
What I was cooking up a year ago: Challenge: Soufflé
Holy cow, my mouth still waters thinking about the two soufflés I tackled a year ago. I started off with a goat cheese soufflé that was absolutely killer, and then I finished the week with a dark chocolate soufflé that will knock your socks off…I think I hear a soufflé calling me now…I'm coming!!
0