I've been eating a LOT of quinoa lately, so it's been on my mind. In fact, I've been eating it every week in various ways, and this week I started thinking back on some of the awesome dishes I've made with it over the years. They're all so delicious, that I couldn't help but share 7 quinoa dishes that have become some of my favorites on my blog over the years.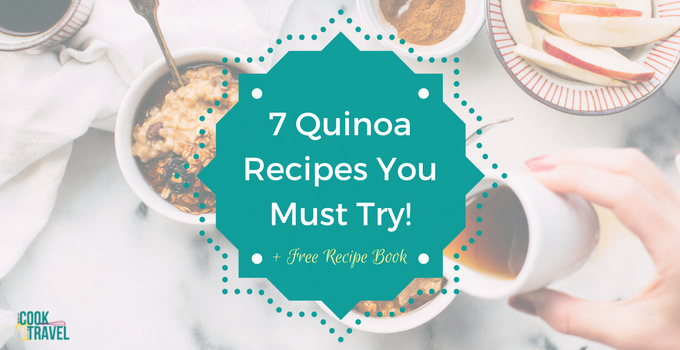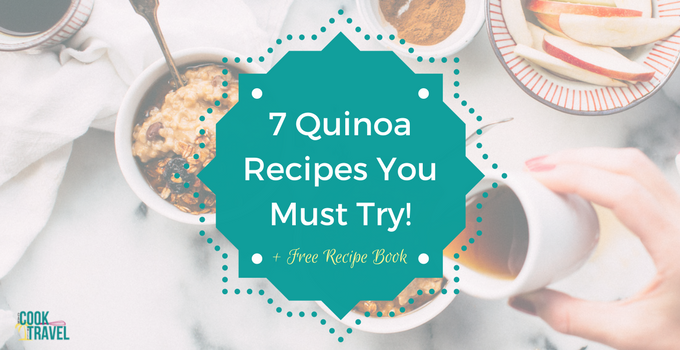 First off, let's chat about quinoa. I know that I talk about it on occasion here, but I wanted to have a bit of a refresher. If you're not familiar with quinoa, it's a seed that comes from the Andes region of South America originally.
What's really great about quinoa is that it's not a grain, so it's a complete protein. You'll find it packed with twice as much fiber as you'd find in grains. Plus it's got a lot of protein in it. So if you're trying to eat healthy, it's a great substitute for carbs like pasta, rice, oats, and cereals.
Lately I've been eating it with tossed in with a salad. Or I'll mix it with chicken and other veggies for a main meal. It's a food that's great to eat any time of day, and helps give you energy. Seriously this is one ingredient I always have on hand, and it comes in a few different colors so you can play around with the look of it a bit. I tend to cook with the traditional white color, but you'll find red and black varieties too.
In today's post, I'm cover 7 of my favorite quinoa dishes, and I've broken them down into 3 categories as I tend to eat quinoa:
Breakfast
Salads
Main Meals
[thrive_2step id='7824′][thrive_leads id='7823′][/thrive_2step]
Let's Dive Into the 7 Quinoa Dishes You Don't Want to Miss!
QUINOA BREAKFAST BOWLS: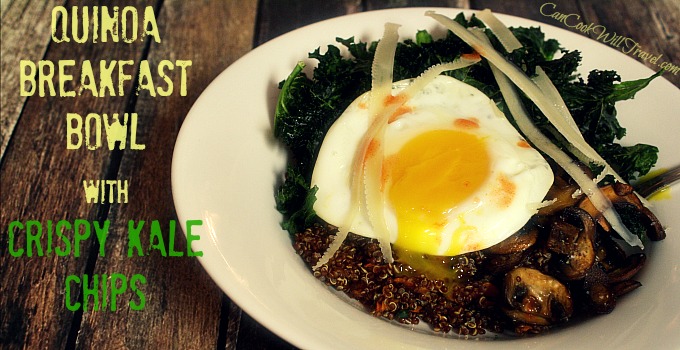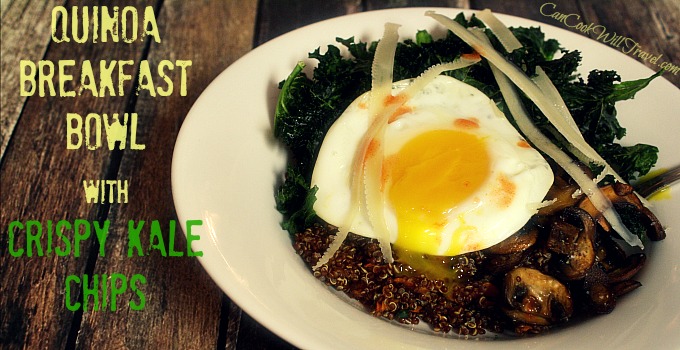 If you're looking for a hearty and filling breakfast, look no further than this dish. The recipe has 4 components to it including quinoa (flavored with carrots and garlic), crispy kale chips, sautéed mushrooms that are divine, and topped with a fried egg. I'd like to tell you which of the 4 parts of the dish I liked the most, but it's kind of a toss up.
First off the quinoa being flavored as it cooked with carrots and garlic makes it even more special. The kale chips are probably the best I've ever made, and the mushrooms are so delicious. And anything topped with a fried egg makes me happy, as I've mentioned many times.
You'll be walking away from this breakfast meal full but pretty guilt free thanks to all of the healthy components. Originally with this dish I topped it with shaved Parmesan, but skip it for a dairy free option, and I doubt you'll even notice. So good!
When it comes to a bowl of oatmeal for breakfast, this is my go-to way to make it. In my ever-expanding recipe arsenal, I always keep this quinoa dish close at hand. As a kid, I would never complain when oatmeal was for breakfast. Sometimes it'd be homemade from my mom, and other times it'd be a packet of flavored instant oatmeal that the microwave created. Add a touch of brown sugar and almond milk, and it's delightful.
Now this particular recipe combines steel cut oats cooked with quinoa, and then add almond milk and vanilla. Top with with berries and your favorite nuts and a tiny drizzle of maple syrup, and breakfast is suddenly better. It just is.
What I love about this quinoa dish is that it makes about 3-4 servings, and it reheats really well. So whether you're cooking for yourself or a crew, it's a simple and healthy option to keep on hand.
QUINOA SALADS: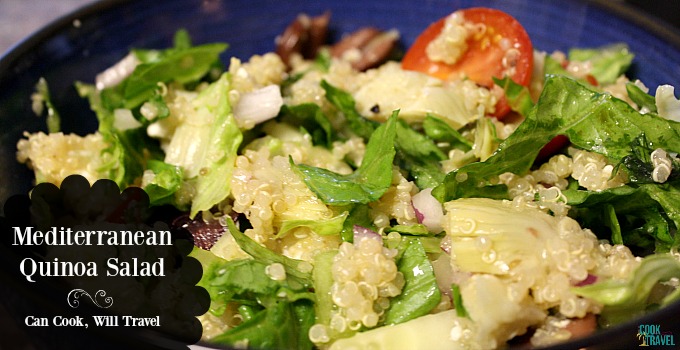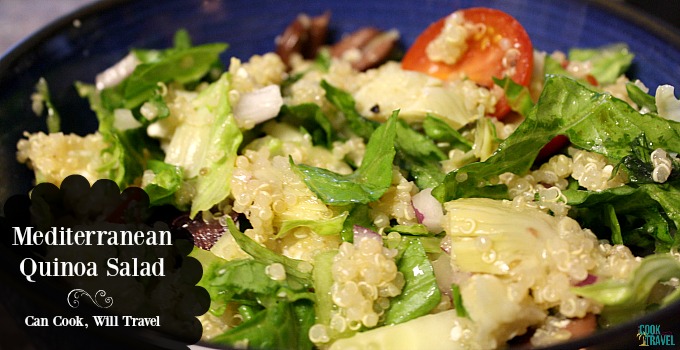 What is it about the Mediterranean flavors that make me love them so? Oh it's probably the excuse to eat artichoke hearts, olives, and olive oil now that I think about it. And if I'm going to "Mediterranean up" a salad, there's no doubt those flavors will have it tasting oh-so-good!
This is a basic lettuce salad (I prefer romaine) with artichoke hearts, basil, tomatoes, parsley, lemon, olives, and cucumbers tossed together. And then add in some cooked quinoa for a boost of protein and texture, and you're about to understand why I love this quinoa dish.
I don't love salads, truth be told. It's why you'll find my "Learning to Love Salads" series of blog posts is a TON of posts in it. I especially have a hard time enjoying a boring lettuce salad. So I love when pasta or quinoa or chicken are the stars to make it different. But there's something about adding some quinoa to a salad that instantly makes it better to me. If you love Mediterranean flavors, you'll love this quinoa dish! And the original recipe calls for Feta, but you can totally skip it like I do these days for a dairy free meal.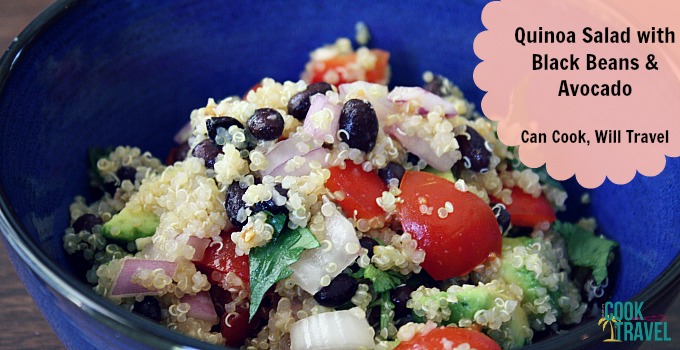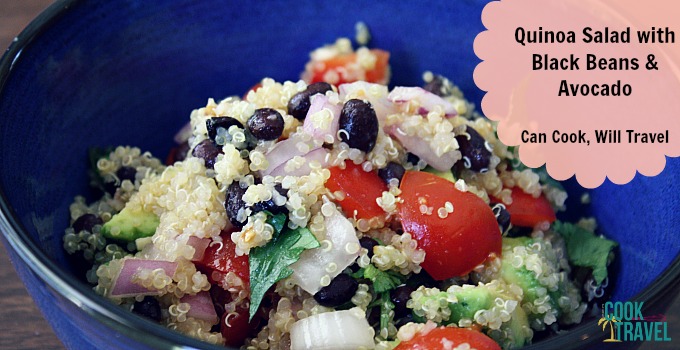 This salad is absolutely amazing, and is one of my favorite salads to this day. I made this quinoa dish in the first year of my blog, and I've remade it a lot as has my sister. When we talk about quinoa salad, it's just assumed that this is the recipe that we're referring to. In our minds it's the best of the best.
I think I partly go for this dish because there isn't any meat in it, because I really don't need meat at every meal. It's just a fresh, veggie filled salad pulled together with quinoa. You'll find black beans, tomatoes, avocado, a red onion, bell pepper, a stellar lime and cumin sauce, and even cilantro. I'm not a fan of cilantro on its own, but it really does serve a purpose in certain recipes like this one. It keeps it light and fresh, so I won't leave it out.
There is literally nothing bad in this dish except some extra virgin olive oil, but for the entire salad it only has 1/2 a tablespoon. So it's a light, healthy salad that is colorful and totally delicious. If you make no other meal from this list, then make it this one, please!
QUINOA MAIN MEALS: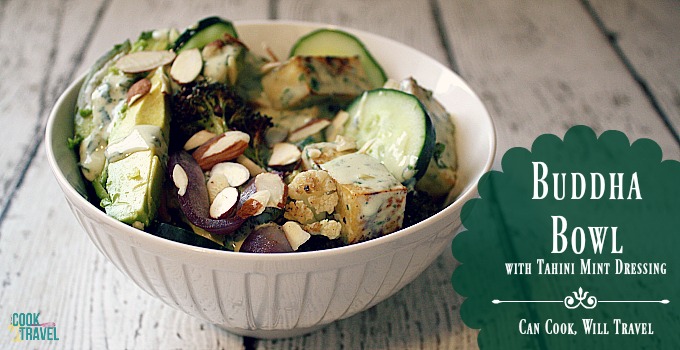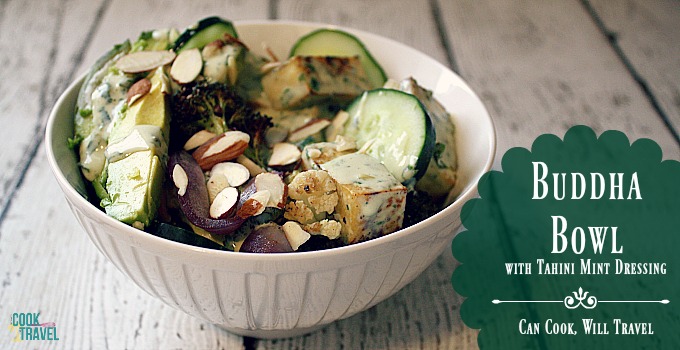 Last summer was the first time I'd made a Buddha Bowl as they're sometimes known. Buddha bowls are basically bowls of several healthy components. You'll find your favorite greens, roasted or raw veggies, and some kind of a grain like quinoa, rice, faro, etc in this bowl. Then you can top the Buddha bowl with a yummy dressing, or your favorite nuts or seeds.
This meal is great for making ahead, by cooking the quinoa in advance, tofu (which is another protein I chose for this dish), and roasting your veggies. You can use whatever veggies you like, and I went for cauliflower, broccoli, and red onion, and they were so good. Add then add cucumbers, avocados and almonds to complete the Buddha Bowl.
To tie it all together, this great Tahini dressing is the perfect choice. With lemon, fresh parsley and mint, and some salt and pepper, it's about all you need to have a killer dressing for this quinoa dish! Yum, this is such a fabulous meal!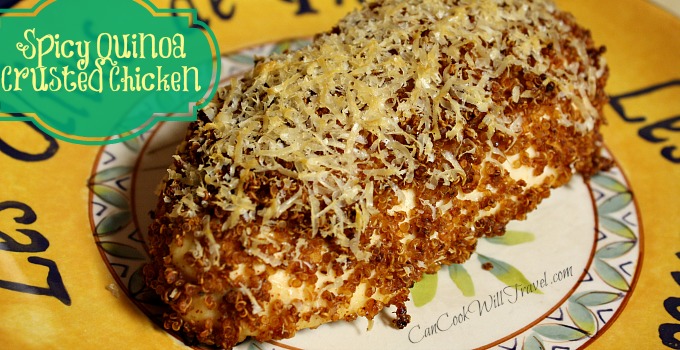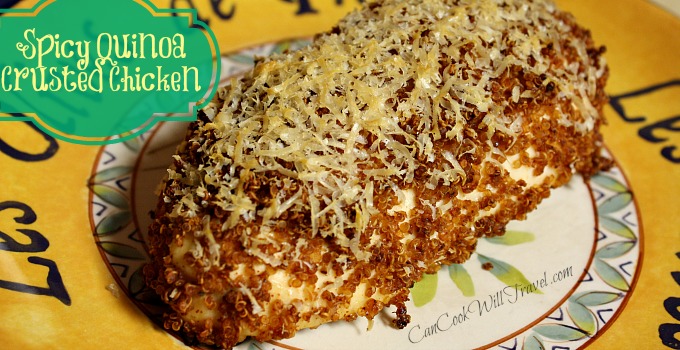 Chicken can be boring, and I think we'll all agree with that. So I'm all for jazzing up chicken and cooking it in different ways to mix it up a bit. And this quinoa dish is a fun way to enjoy chicken.
This quinoa dish takes some time, so know that going into it. You have to first cook the quinoa, then flavor it up with tons of great spices. After that, you put a layer of the quinoa on a baking sheet, and bake it to dry it out a little bit. Then dip the chicken in egg whites and then coat it in the quinoa, and bake away until the chicken is cooked through.
The chicken bakes perfectly and the quinoa crust added a little crunchy texture. Originally I topped my chicken with Parmesan, but you could skip that and even add in some nutritional yeast with the spices to give it a cheesier note. That way you've got yourself a delicious dairy free option, but you aren't losing that cheesy flavor. Such a fun way to enjoy chicken!
Last but not least is this oh-so-yummy and most popular of quinoa dishes. I love that the quinoa gets cooked along with black beans, tomatoes, corn, and jalapeños so that the flavors infuse into it.
Once it's cooked, the meal is basically done, so enjoy it immediately. I love topping mine with salsa, some cilantro, and lazy guacamole. Lazy guacamole comes together in a matter of minutes, so you really must make it sometime. You just mash fresh avocados with a little lime juice and salt and pepper, and that's it. How lazy (whoops I mean easy) is that?!
It's absolutely a popular dish for a very good reason on my blog, because it's simple and flavorful and healthy. I love making a meal of this healthy quinoa recipe and could easily eat it every week. And just leave out the sour cream and shredded cheese we typically smother stuff with for Mexican food, for a dairy free version. And I promise that you won't miss it! Yum!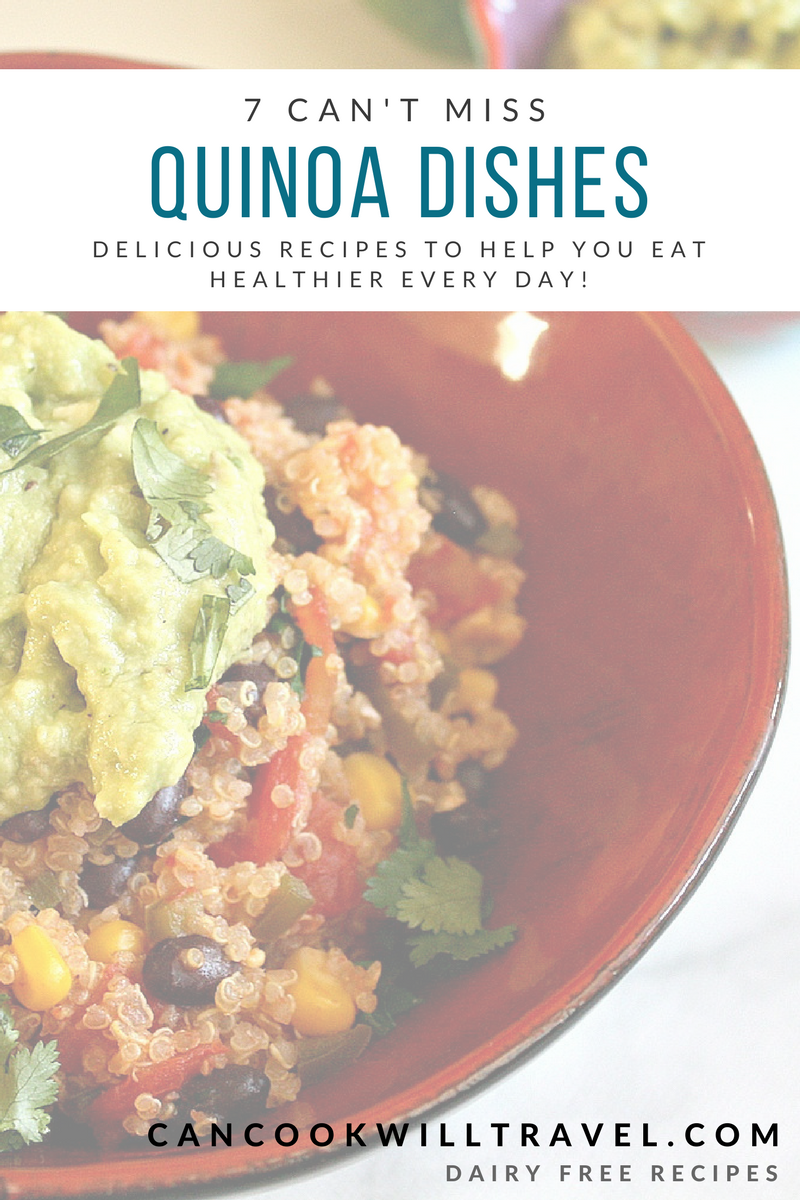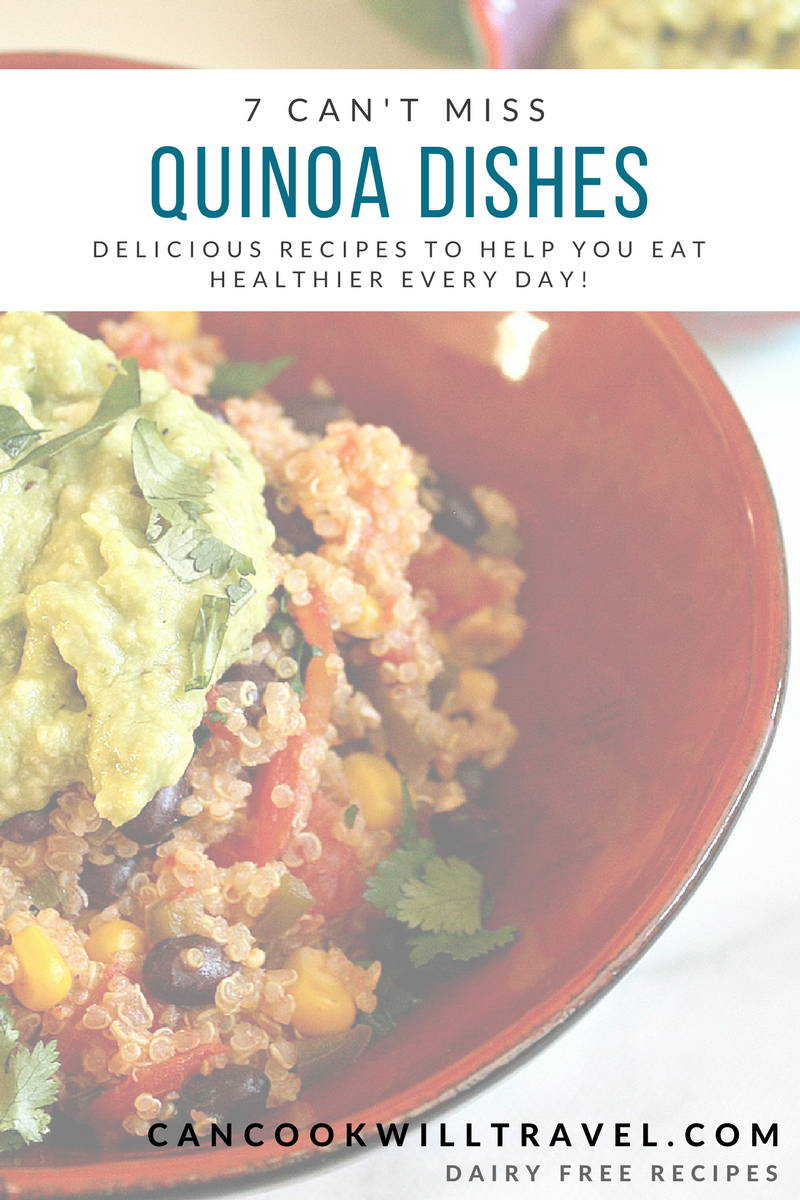 Now those 7 quinoa dishes offer you a wide range of ways to enjoy quinoa. And from Mexican to Mediterranean to just plain good and healthy, good food abounds! If you love quinoa like I do, then these quinoa dishes are a no brainer. And if you just aren't sure about the stuff, definitely give a few of these recipes a try and you may be convinced.
And I've made it even easier for you by creating a recipe book for all 7 of these recipes! Download the recipe guide here, and start cooking up some healthy quinoa dishes!.
Are you a fan of quinoa dishes like me? Let me know below what your favorite way is to enjoy quinoa or why you haven't tried it if you aren't a fan. This ingredient is a perfect and delicious way to infuse healthy eating into your daily routine. Enjoy!
Stay inspired & happy quinoa cooking!
~Kelli


0