As any self-respecting food blogger should, I LOVE cooking shows! I remember watching them when the Food Network came around in the mid '90s. I already loved to cook and bake way back then, but suddenly I was addicted to those shows. Suddenly I was introduced to so many different cooking techniques and food from around the world right from our Missouri farm. I quickly became an adventurous foodie! Fast forward to modern day, and not much has changed when it comes to my joy for the Food Network and Cooking Channel. The one thing that does change are the shows. And one of my latest favorites is Dinner at Tiffani's.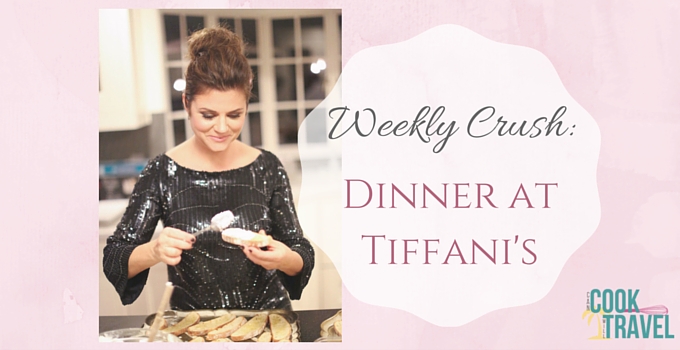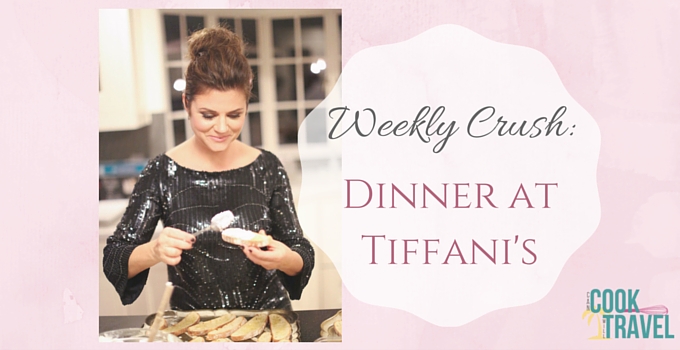 Have you seen it yet? If not, then you're in luck, because it's the beginning of season 2 over on the Cooking Channel and they like to replay season 1 a fair amount. Yay!! I got hooked last season, and was so excited to see season 2 start up last week that I knew I had to share it with you.
So let's chat a bit about everything there is to love about Dinner at Tiffani's:
BLAST FROM THE PAST:

This show is so fun, because it reminds me of when I was growing up watching Saved by the Bell. That's because Kelly Kapowski, I mean Tiffani Thiessen, hosts this show. Just kidding, but it's fun to see people you loved from your childhood all grown up. Love that!

WISHING I WAS ON THE GUEST LIST:

I obviously love trying out recipes I find (as you can tell). And the recipes on Dinner at Tiffani's always look fantastic. To the point that I really do need to start featuring some of her dishes on my blog. She is great at fusing comfort food with a healthy, Cali twist (or sometimes Texan twist since her husband is from Texas). So yeah, I am pretty sure that being her dinner guest would be fun & delicious!
Here are a few of her recipes that I've been drooling over lately:

THE GUESTS:

Speaking of guests … The premise of her cooking show is that Tiffani loves hosting dinner parties with her friends in real life, and that's what inspired this show. You get to catch up with some of her favorite celebs that she's worked with over the years.
She pretty much had me at the first episode with Nathan Fillion, because he's completely hilarious! But you also get to see a few Saved by the Bell cast members, and a ton of other people you know as well. It's fun to learn more about them in the real world.

AWESOME TIPS:

It's easy to see that Tiffani is a fabulous cook and host, and she shares tons of tips. You'll find some fun cooking tips as she puts her guests to work, products you "need" (like an awesome Mason jar shaker she used in season one that I can't stop thinking about and I kinda want her measuring spoons too – funny enough!), and she also gives great tips about hosting.
She'll let you know how she plans out her meals, what dishes she can make in advance, and she gives you ideas on decorating the table and often has fun party themes. It kinda makes you want to channel your inner Martha Stewart a bit, but in a fun, hip, glamorous way with ease.

TIFFANI KNOWS HER COCKTAILS:

Alcohol always seems to come into play usually in the shape of a fun cocktail that goes along with her theme (or the occasional use of beer in her recipes which I can totally get behind!).
And this past year or so, I've really wanted to start making more drinks on my blog, so I'll happily take some inspiration from this show.
Here are a couple of cocktails that have certainly piqued my interest and perhaps yours too: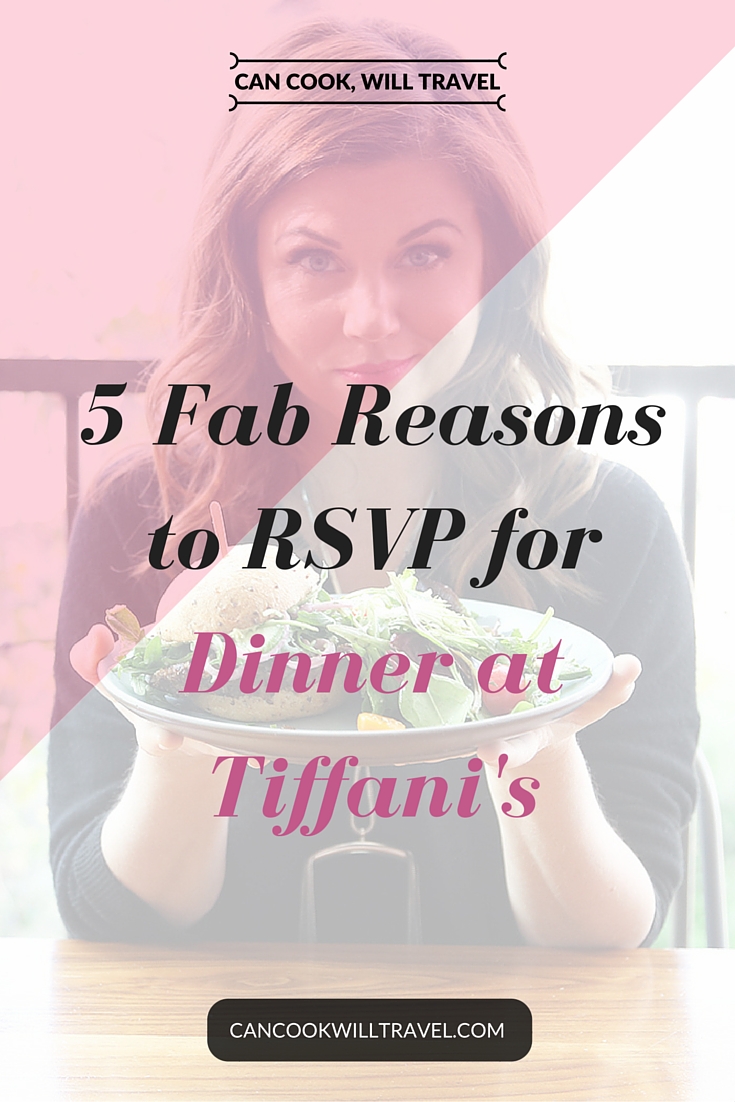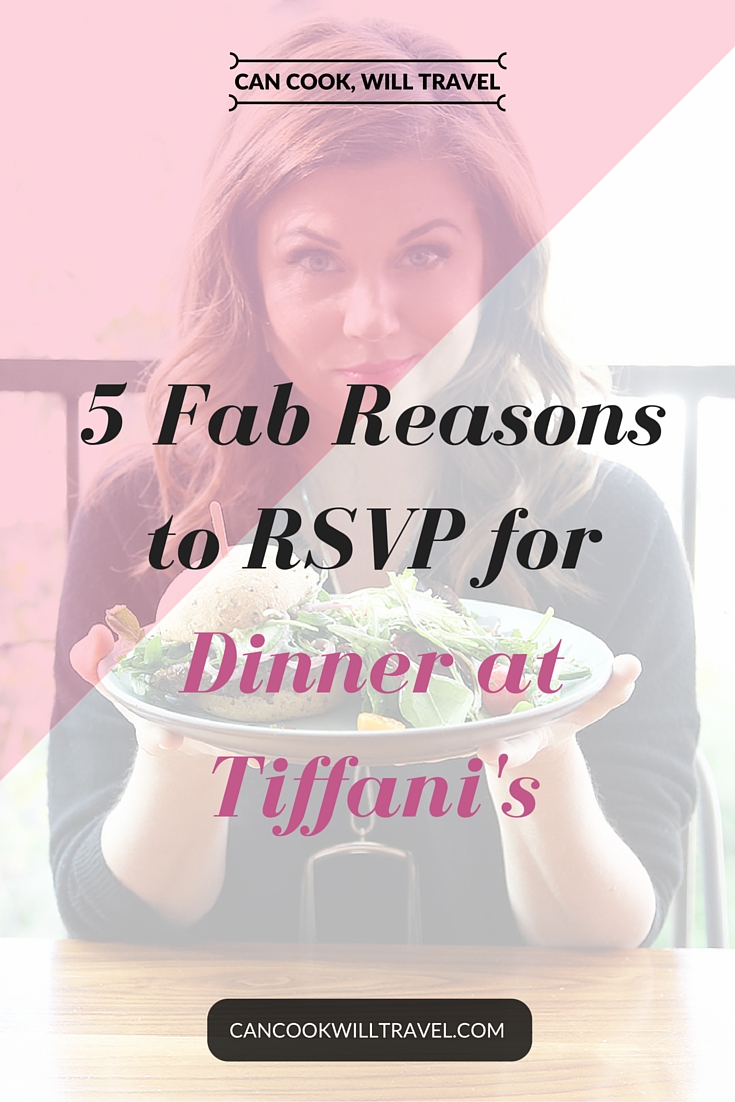 I really could go on and on about this cooking show. It's cute, fun, comfort-food heaven, and we get a glimpse into the "normal" lives of celebrities. I'm totally a TV and movie junkie, so when you do a mashup of food and celebrities, I'm a happy girl!
I have a few more favorite cooking shows I'll be sharing in the future, but with Dinner at Tiffani's second season starting back up, this was the perfect chance to remind you to tune in.
(Dinner at Tiffani's airs on Wednesday nights at 8pm EST/7pm CST on the Cooking Channel, so be sure to set your DVRs.)
Now I'd LOVE to hear from you!! Comment below and let me know what your favorite cooking show is! Have you caught Dinner at Tiffani's yet?!
Stay inspired & go crush on Dinner at Tiffani's too!
~Kelli
0