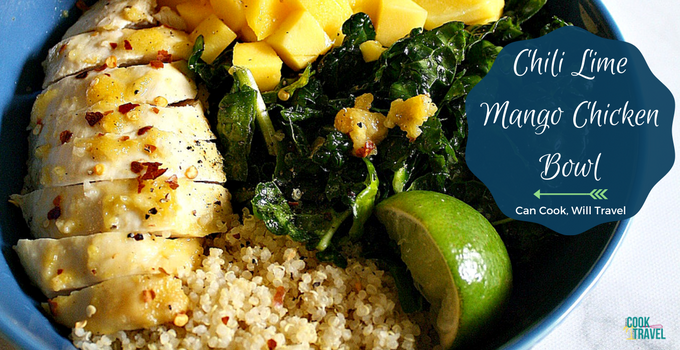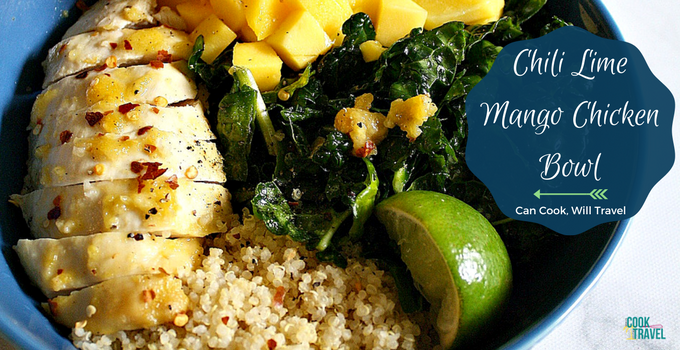 (This Mango Chicken Quinoa Bowl is my tiny twist on the one at Cotter Crunch, so check that out here.)
Step by Step Instructions:

I can't wait for you to try this Mango Chicken Quinoa Bowl, so here's what you'll need for your grocery list.: Salt & Pepper, All-Natural Pineapple Juice (or fresh orange juice works too), Sweet Chili Sauce, Agave Nectar, White Wine (I used Pinot Griogio), Olive Oil, Red Pepper Flakes, 1 Mango, 1 Lime, 1 Garlic Clove, 2 Chicken Breasts (about 4-6 ounces), and about 1/8 cup of chopped shallots. Not pictured are Kale & Quinoa for the finished bowl.

Start off by peeling the mango, and I like to slice a little off each end for a flat surface. Then carefully use a sharp knife to peel around the mango.

The pit of a mango is a bit tricky, because it's quite long and hard to see. So carefully cut around the pit to get the fresh fruit, and notice that it won't be really pretty and you'll have jagged pieces, but it'll all taste delicious!

Then discard the seed and dice up the fruit.

Now let's make the marinade, which you can make up to 24 hours in advance of cooking. So add in about half of the mango you cut, and save the rest for the bowl, along with the chopped shallot, 1 tablespoon of chili sauce, about 1/4 of a lime juiced, 1/8 cup each of agave nectar, wine, olive oil, and pineapple juice, plus salt and pepper to taste.

Pop the lid on, and now we're ready to blend up the marinade for our Mango Chicken Quinoa Bowl!

Blend away until the mixture is smooth, and it'll take a few seconds for that to be done.

You'll see the marinade is smooth and a lovely orange color, so you're all set. Now here's what I wish I'd have done, reserve maybe 1/4 cup or so of this marinade to use as a dressing for your Mango Chicken Quinoa Bowl.

Now clean up 2 chicken breasts and place them in a large plastic zip bag.

Then pour the remaining marinade of the chicken.

Seal up the bag and then use your hands to toss the chicken around a bit to ensure it's fully coated in marinade. Because I didn't want a mess in my fridge, I put the bag in a glass dish in case it leaked, and refrigerate from 3-24 hours.

Now it's time to cook the chicken for the Mango Chicken Quinoa Bowl, so knowing that I would need to broil this, I went with a cast iron skillet. So I went ahead and preheated the skillet over low heat while the oven preheated to 425 degrees.

Then pull the chicken from the fridge.

Once the skillet has warmed up, carefully add the chicken and sauce to the skillet. I flipped mine after about 30 seconds, and then placed the skillet in the oven for about 20 minutes.

As the chicken cooked, I placed about 2 cups of dinosaur (or lacinto) kale in a small bowl or double this for 2 servings.

Then I added about 2 teaspoons of extra-virgin olive oil to the kale.

Kale can be a bit bitter, so use your hands and massage the oil into the greens for about 2 minutes. This will help to give the kale a milder taste, and it's totally worth getting your hands a bit dirty.

After 20 minutes, I checked the internal temperature of the chicken was at least 165 degrees (or you can cut into it to make sure it's cooked through), then I turned on the broiler for about 2-3 minutes to start to crisp up the chicken. I didn't end up letting it get too brown, because the sauce was starting to burn a bit in the pan.

Transfer the chicken to a cutting board, so that it can cool and then after about 3-5 minutes slice the chicken. To create the Mango Chicken Quinoa Bowl, add the kale, about 1/2 cup of cooked quinoa, about 1/2 of the remaining diced mango, and the sliced chicken to a bowl. Add a little red pepper flakes to the Mango Chicken Quinoa Bowl for an added kick, some cilantro for green if you have it (which I didn't), and then drizzle some of the marinade you reserved over the top of the quinoa and kale to tie it all together. Enjoy this Mango Chicken Quinoa Bowl, and happy healthy eating, my friend!!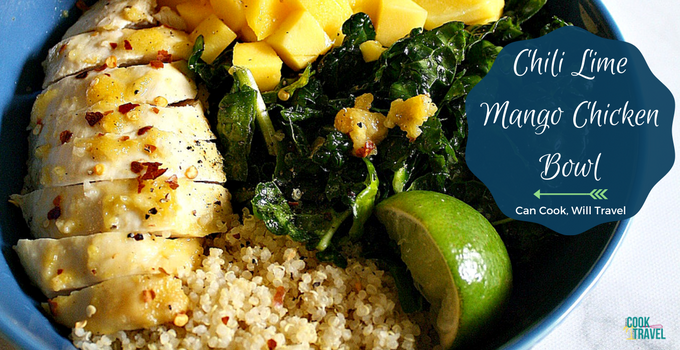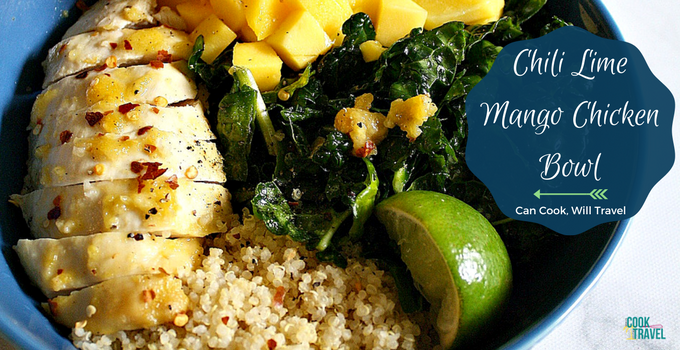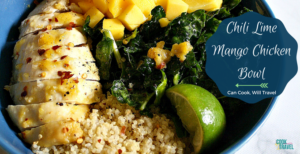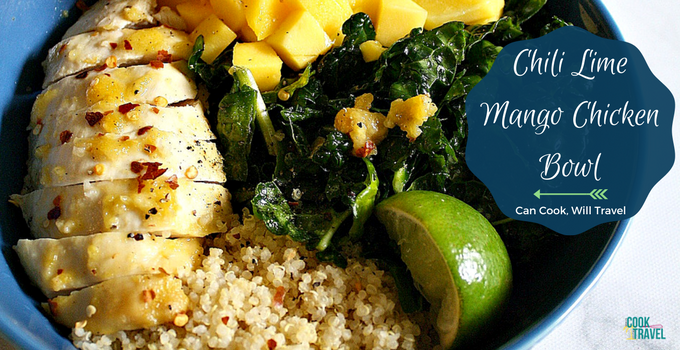 Print
Mango Chicken Quinoa Bowl
Yield 2 servings
I absolutely love this dish for a super flavorful chicken recipe that is so healthy!
Ingredients
Chicken & Marinade Ingredients:
2 skinless Chicken Breasts (4-6 ounces each)
1/8 cup White Wine (Pinot Grigio)
1 Mango, peeled and diced(half for the sauce)
1/8 cup Olive Oil
1/8 cup All-Natural Pineapple Juice (or juice from a fresh orange)
1 T. Sweet Chili Sauce
1/8 tsp Sea Salt
1/8 tsp Black Pepper
1/2 T. Lime Juice (about 1/4 of a lime)
1/8 cup Agave Nectar (or honey)
1/2 tsp Garlic
1/8 cup chopped Shallot (or Red Onion will work)
Bowl Ingredients:
4 cups Kale
2 tsp. Extra-Virgin Olive Oil
Salt & Pepper to Taste
1 cup Quinoa, cooked
Rest of chopped Mango
Red Pepper Flakes
Instructions
Begin by prepping all of the ingredients for the marinade including dicing the mango, mincing the garlic, and chopping the shallot (or red onion).

 

Add half of the chopped mango, along with sweet chili sauce, lime juice, agave, shallot, white wine, olive oil, pineapple juice, garlic, and salt and pepper to a blender.

 

Blend until the mixture is smooth and reserve 1/4 of the mixture. Then place the chicken in a plastic bag and add the remaining marinade to the bag, seal, and flip the chicken a bit to ensure it's coated with the marinade. Refrigerate the chicken for 3-24 hours, and once the chicken has marinated, proceed to the next step.

 

Preheat the oven to 425 degrees, and put the chicken and marinade from the bag in the pan. I used a cast iron skillet, so I preheated mine on the stove over low heat and added the chicken and marinade once the oven was preheated.

 

Bake for 20-30 minutes or until the chicken is cooked through and is about 165 degrees with internal temperature. Then turn the oven to broil on high for 3-5 minutes to form a crust on the chicken, if you'd like. Just make sure your dish is safe to be heated to 500 degrees and crack the oven door anytime you're broiling.

 

Once the chicken is done, remove it from the oven and place the chicken on a cutting board to sit for 3-5 minutes. Then slice and put your bowl together. For the kale, massage it with olive oil for 1-2 minutes and then add it along with 1/2 cup of quinoa per bowl and split the remaining mango between bowls. Add the chicken and drizzle the reserved marinade over the kale and quinoa and add red pepper flakes to the chicken for a little spice. Enjoy!
Notes
Quick Tip #1: Marinade the chicken for up to 24 hours in advance
Quick Tip #2: Reserve about 1/4 cup of the marinade as soon as you make it for drizzling over the finished bowl. Yum!
Courses Lunch
Nutrition Facts
Serving Size 1 chicken breast
Amount Per Serving

Calories 353

% Daily Value

Total Fat 9 g

14%

Saturated Fat 1 g

5%

Unsaturated Fat 6 g

Cholesterol 66 mg

22%

Sodium 282 mg

12%

Total Carbohydrates 41 g

14%

Dietary Fiber 2 g

8%

Sugars 36 g

Protein 27 g

54%
* Percent Daily Values are based on a 2,000 calorie diet. Your daily values may be higher or lower depending on your calorie needs.
0