Well November has come on and gone, and in looking back, all I know is this is one busy month! Truly I think as I write this I'm finally just stopping, so this month's blogging roundup nearly seems like a blur to me.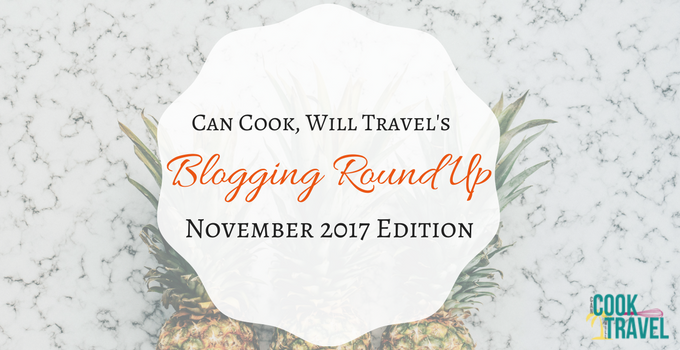 From traveling to Austin (see below) to Vegas for work to home for Thanksgiving, I've truly been going all over the place. But I do love to travel, so it's been nice to explore a new city and do some new things with my coworkers in Vegas. And it's always great to enjoy holiday traditions with my family.
For me, November is a time of being thankful, and I must say that there's a lot to be thankful for. I'm the luckiest girl when it comes to my family, because while we've lost several important people over the past decade plus, our family has also become even richer with lots of little kiddos in the mix.
And I'm also expressing thanks for all of the incredible people in my life, including you! I have amazing friends, coworkers, and a great fella and readers too, so thanks for taking the time to make my blog work even more meaningful.
November is also a time of crazy good food and sharing lots of great things here on the blog. I have a recipe for every category in your life, and then I'm sharing tons of things that Autumn just begged me to share. From a new blog series, to travel tips, must-make recipes, and more, there's so much to catch you up on.
So let's dive into November's blogging roundup, shall we?!
November's Recipe blogging roundup:
Breakfast Recpe:
It's fair to say I love all things scones, so naturally making Pumpkin Scones had to occur. And these tasty little treats were so perfect for the Fall, because they were filled with spices and couldn't have been more lovely at breakfast time. I adore how rustic and simple it is to make scones, so I can't wait for you to try this holiday variety!
Salad:
I need more salad in my life these days, and this Kale Autumn Salad is such a great option. It's literally packed with your favorite Fall flavors in the form of apples and roasted butternut squash but you also get the lovely dressing, poached egg, and crunch from pepitas. Seriously this one is so freaking tasty and healthy!
Side Dish:
I grew up on acorn squash, but we never ate anything like Roasted Maple Acorn Squash before Generally we'd roast it cut in half, so cutting it in half moon shapes and flavoring up was totally new to me. But I can't give this recipe enough props for not only being healthy but also being easy and crazy good!
Main Meal:
Sometimes at dinner or lunch time, you desperately need a healthy dish and that's exactly what this Roasted Veggie Tahini Bowl gives you! This bowl is filled with brown rice, diced chicken, roasted veggies, and a fabulous tahini sauce. With every bite, you're totally thankful for this healthy recipe!
Drink:
My boyfriend and I had this apple cider cocktail last month, and it inspired me to try my hand and not one, but 2 Apple Cider Cocktails. I'm showcasing one drink served over ice and one that is to be sipped on when it's warm, and both are totally delicious. So pick your poison, and whip one of these drinks up right away for a Fall drink that's delightful!
November's Weekly crush blogging roundup:
New Blog Series:
I decided to start up a new blog series this month called "What to Cook in…", and I really enjoyed it. The idea is to share recipes that you can use this year with in season foods. This month I was featuring all things squash and beets plus apples and cranberries sharing TONS of good recipes with you. I can't wait for you to try some of these recipes that are my favorites of the season!
Apple Recipes:
Tis the season to eat lots of apples, so this Ultimate List of 30 Apple Recipes was perfectly timed, I must admit. You'll find 30 recipes of all kinds highlighting apples and inspiring you for ways to enjoy this seriously good fruit. I've scoured Pinterst and my blog for recipes you won't want to miss.
Traveling to Austin:
I wasn't expecting this trip to Downtown Austin early in the month, but I'm always up for an adventure. My boyfriend and I headed there completely last minute, where we booked our flights and hotel Monday and headed there Tuesday. It was such a fun surprise of a trip once I got past the work-related parts of it. So I'm sharing where we stayed, ate, and what there is to do in this fun city!
Holiday Side Dishes:
Ahhh the holidays are my favorite time of year, because people are in great spirits and are giving and happy. So naturally eating is a huge part of our lives right now, so I wanted to share my favorite holiday side dishes to help you get though the season. I know holiday parties, get togethers, and more face us all, so here are some of my favorite side dishes that you can make right now. They're perfect for the season and will be such a hit!
Wow what a busy but delicious month, if I do say so myself! You'll find a crazy amount of recipes that are perfect for Fall in this month's blogging roundup. And i can't wait to see what you think!
So let me know by commenting below what recipes you're most excited for! Not only am I curious but it also helps me to know what you want to see more of. I can tell you that it's safe that you won't go wrong with any of these dishes!
Stay inspired & keep discovering cool stuff!
~Kelli
0