I love June! Not only is it my birthday month, but it marks the start of Summer, vacations, warm weather, enjoying the outdoors, and tons of fresh veggies and time spent chilling on the porch outside. At least I hope you're doing all of those things too! So this month's blogging roundup is packed with tons of great stuff!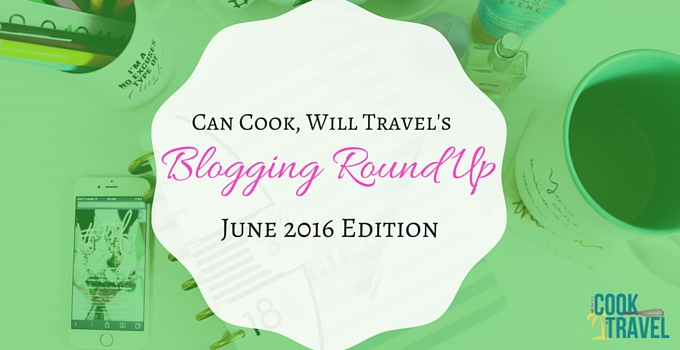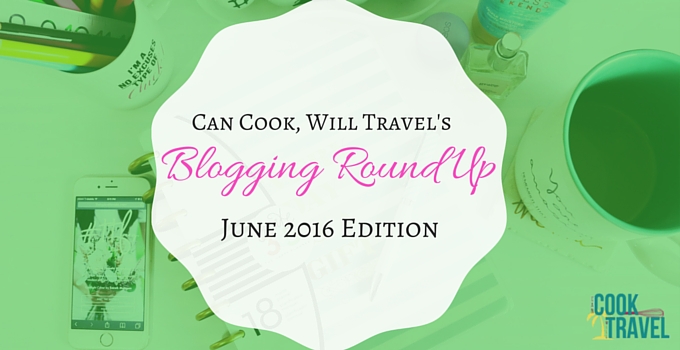 When it comes to recipes, there's a little bit of everything. From a killer breakfast sandwich to my all-time favorite cocktail, plus a super healthy salad and great Italian dishes, I've got you covered from sun up to sun down this month.
And my weekly crushes for June were so much fun to share. Once again I've got a cookbook that is fabulous, recipes that are total drool-worthy, a fun road trip, and a kitchen tool I use on a weekly basis that is awesome.
So without further ado, let's get this blogging roundup party started and check out the fun that was June!
Recipes Blogging Roundup:

Breakfast:
If you love Tex-Mex and breakfast sandwiches, then this Huevos Rancheros Breakfast Sandwich is pretty much calling your name. Do you hear it?? Not only is it fast to throw together, which I love, but it's got all of the flavors you love with Huevos Rancheros. With the avocado, refried beans, salsa and an egg on an English muffin. Holy moly, this one is crazy good!
Italian Love:
Italian is one of my favorite cuisines. So it shouldn't be too shocking that I made 2 Italian dishes this month. The first is Spaghetti Aglio ed Olio, which is Italian for Spaghetti with Garlic Oil, and it's simplicity pretty much makes it perfection. It's not heavy but still tastes like an indulgence, because of the importance of each ingredient. You make a little garlic oil and add some heat from red peppers, a bit of parsley and Parmesan cheese, toss it with your pasta and your stomach will be insanely happy!
I recently went to a restaurant called Bottega in Napa, and when my boss ordered the Ricotta Gnocchi, I was totally having foodie remorse. I hate when that happens! While my food was fabulous, I'd been eying the gnocchi. So I decided, hey I'll just make my own! So I did, and holy smokes was it easy and delicious! Each pillow of cheesy goodness practically melts in your mouth. And you can serve it with a light marinara sauce or a lovely brown butter sauce. Pick your favorite, so long as you pick this gnocchi recipe! Yum!!
Healthy Salad:
Nothing says Summertime to me like fresh fruits and veggies, which always has me wanting to try a new salad recipe. That's where this Pesto Zucchini Corn Quinoa Salad came into the picture. It is packed with good for you ingredients that will have you not only enjoying your food, but knowing that it's seriously good for you. This is one salad that I can certainly get on board with.
Birthday Cocktail:
It's my birthday month, so to celebrate I decided to share one of my favorite cocktails of all time – Pimms and Lemonade! Pimms is a British liqueur that I drank up when I lived over there. And my spin on Pimms and Lemonade is a bit healthier as I swapped out the sugar-heavy lemon-lime soda for some diet ginger ale. And guess what?! It tastes just as good, and it's way better. Plus it's gorgeous filled with fruit. To me, enjoying this cocktails on the deck with a great book or good conversation, well it just doesn't get much better!
Weekly Crush Blogging Roundup: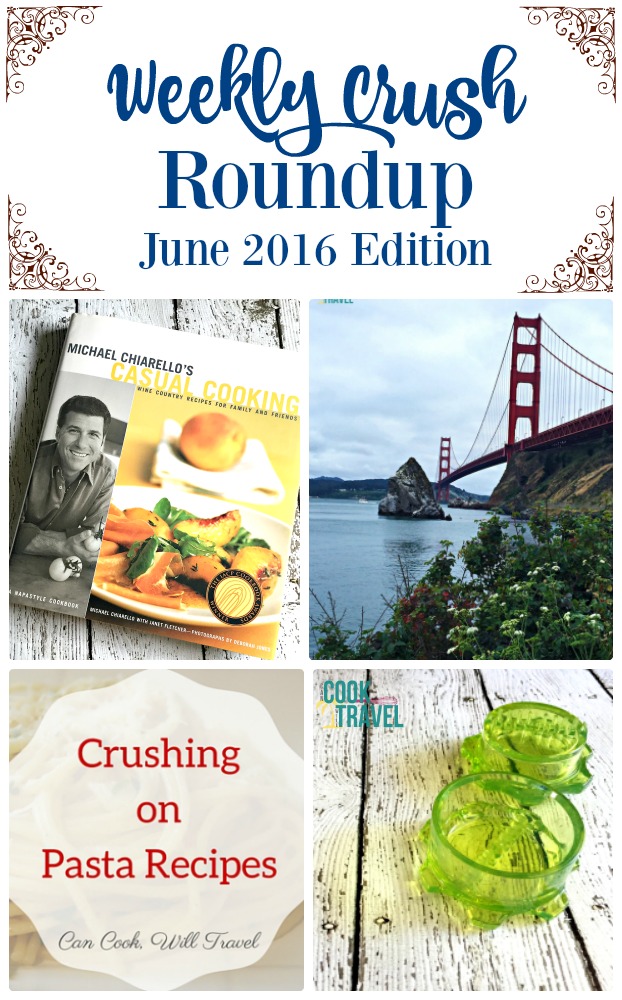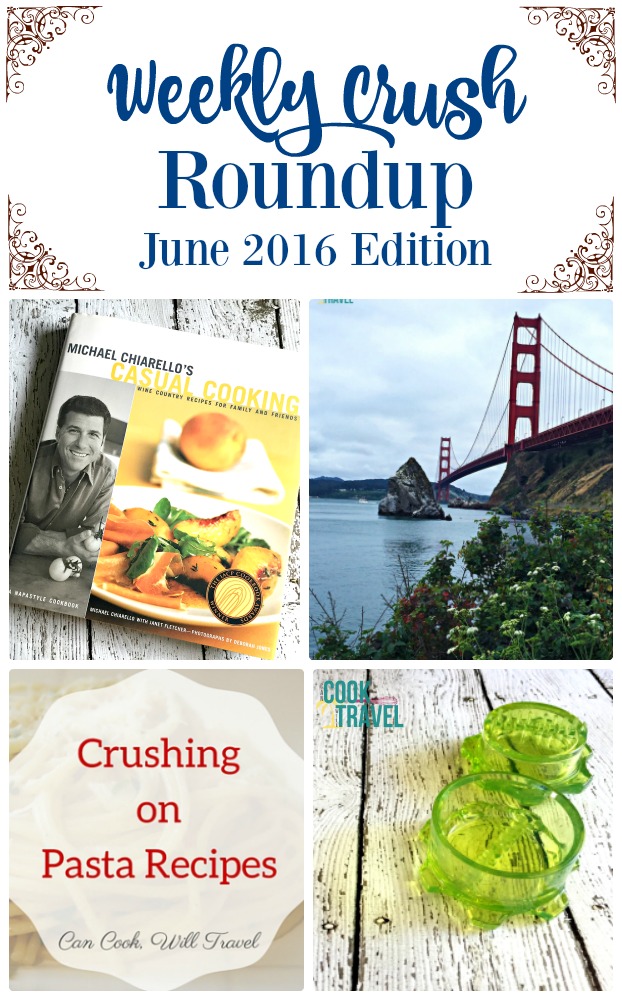 I was totally inspired by my first trip to Napa for this month's Cookbook Love post. After eating a seriously wonderful meal at Michael Chiarello's Bottega restaurant in Yountville, just outside of Napa, I was itching to dive into one of his cookbooks that has been in my cookbook collection for a while now. I picked Casual Cooking and was seriously loving everything about it. Including the above Spaghetti with Garlic Oil . . . wow is that pasta proof that this cookbook is a treasure!
It was a no-brainer that I would feature some of my all-time favorite pasta recipes on my blog this month. After all, I was channeling my inner Italian chef with the spaghetti, gnocchi, and cookbook feature. And if you are like me and are a bit crazy for pasta, then click this link for some killer pasta dishes that will leave you dreaming of them for a long time. These are the best of the best from my blog!
It's been a while since I've done a travel feature, and after an impromptu few hours in San Francisco, well I was so excited to share about that trip! In just 4 hours or less, I feel like my coworkers and I got a little taste of what San Fran has to offer, and I cannot wait to make it back to the city and explore it even more. From the Golden Gate to Chinatown it was a quintessential San Fran road trip! And I got some pretty fun pictures along the way.
I wanted to change it up this month and feature a kitchen gadget that I use all the time. And that's where this oh-so-handy Garlic Twist tool comes into play. It's a clean, easy way to mince garlic without smelling like garlic for hours. And there's a whole lot more this tool can do, so check out why it's become a favorite kitchen staple whenever I'm cooking!
Well, my friend, that about wraps up all that was June here with this month's blogging roundup. There's a little something for everyone when it comes to food, and some cool travel experiences, killer pasta dishes, and a few of my favorite cooking related things at the moment . . . it was a fun month for sure!
I'd love to know what you're enjoying from the June edition of this blogging roundup and what you want to see more of on the blog. Comment away and let me know!
Stay inspired & happy discovering!
~Kelli
0