Hooray it's Shark Week! I hope you enjoyed it as much as I did. So naturally it inspired me to cook something with fish. And all I could think was: Fish tacos! You either love them or are scared. I understand the fear. I was once afraid. But come to the Dark Side, my friend, because fish tacos are a very good thing. It's been many moons since I cooked up tacos of any kind on my blog, but I was craving them and these Fish Tacos with Sriracha Aioli Slaw sealed the deal!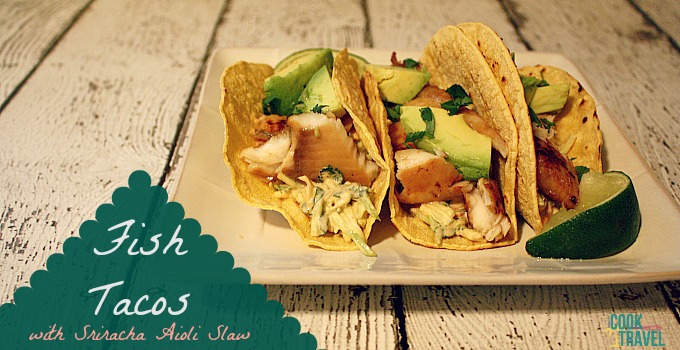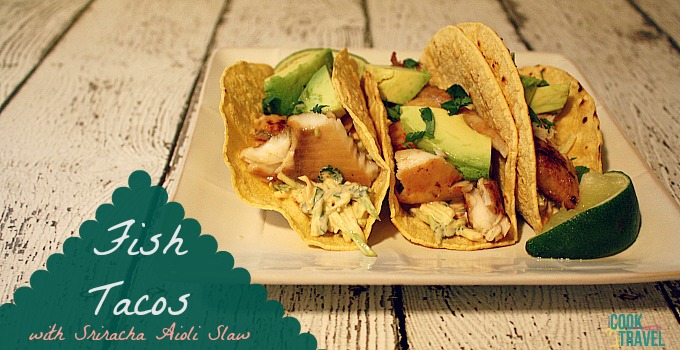 Let's talk about the anatomy of a good fish taco. To me, you've got the fish, a slaw of some kind, avocados, and limes are a must all snuggled into a little corn or flour tortilla! So I'm happy to report that these fish tacos checked all of the above boxes and are stellar.
Typically when I order fish tacos, I go with crispy fish rather than grilled. The flavor and texture are always spot on, and I feel like it's a splurge. But when I make them at home, not only is grilling the fish easier, but it's also a healthy option. And the way I usually go.
There are some serious layers of flavor going on with this recipe, which I found on the site Hapa Nom Nom. Definitely gotta check out more of that blog based on this recipe.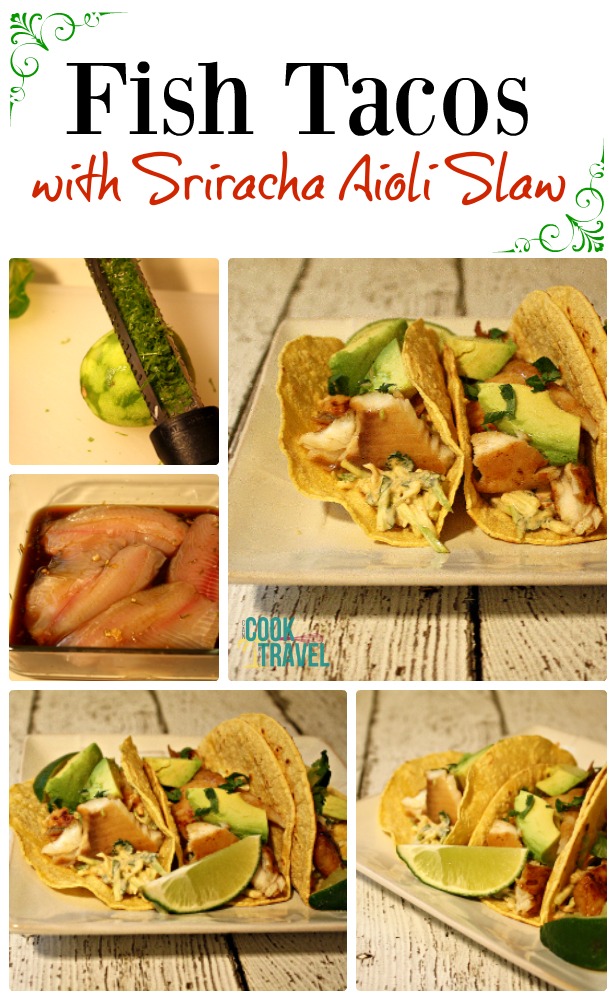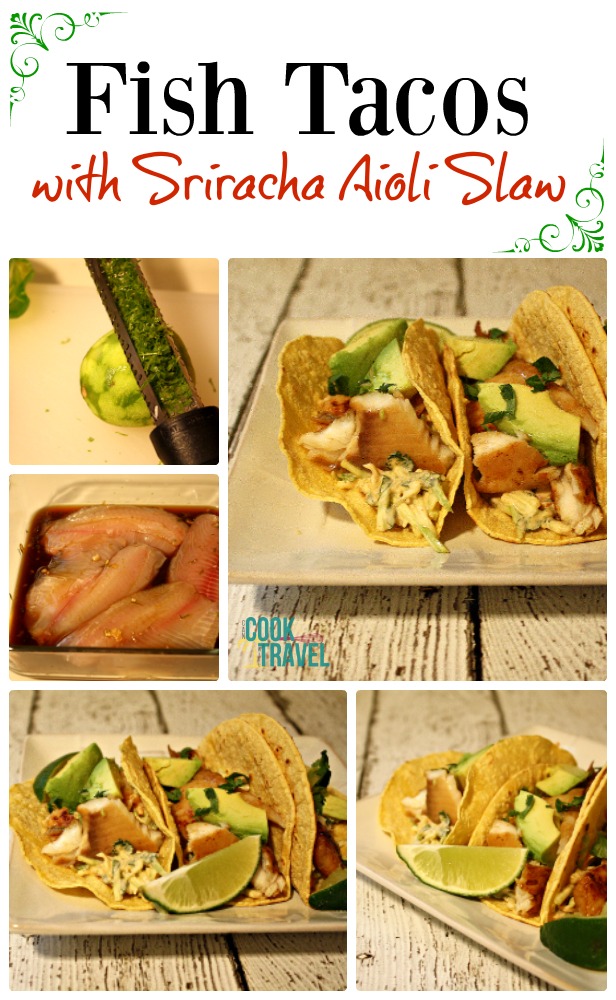 The tortillas are corn tortillas, which is great since they're gluten free. And when it comes to the fish, I like tilapia filets as they are thinner and don't dominate the taco, but really most white fish you like will work. The fish is marinated it in this stellar soy sauce, orange juice, lime juice, and garlic marinade. Oh I wish you could smell the marinade. And as the fish cooked, it smelled just lovely! The fish ended up almost being slightly caramelized from the soy and citrus marinade. #Delish
But to me, the star of these fish tacos is the Sriracha Aioli Slaw. It adds the perfect crunch and spice and sweetness all in one bite. The aioli is a mix of mayo, Sriracha, minced garlic, red and green cabbage and shredded carrots (I cheated and used cole slaw mix to save me some time – it was a fabulous idea!), chopped cilantro, and salt and pepper. Mix it all up and pop it in the fridge until you're ready for it. It really gets better the longer it sits.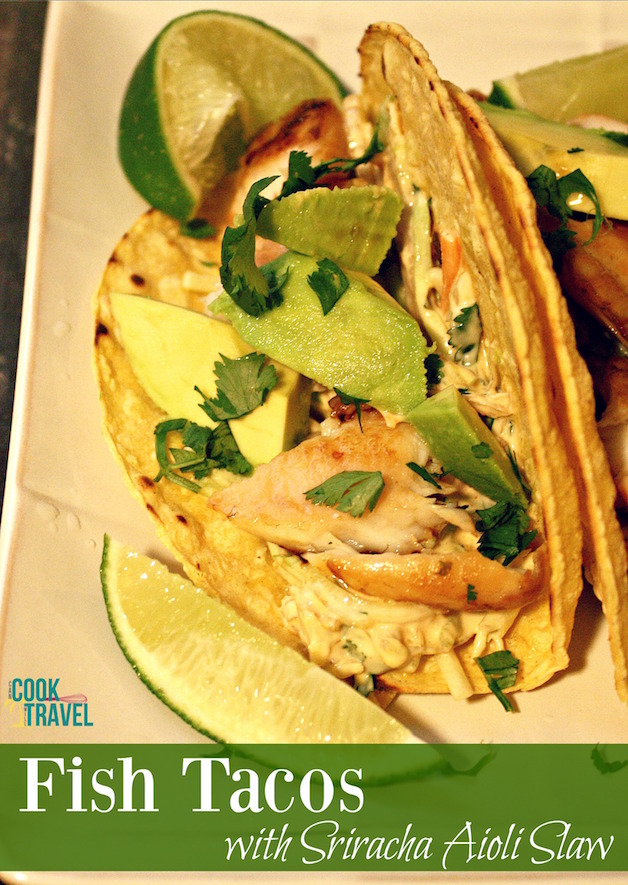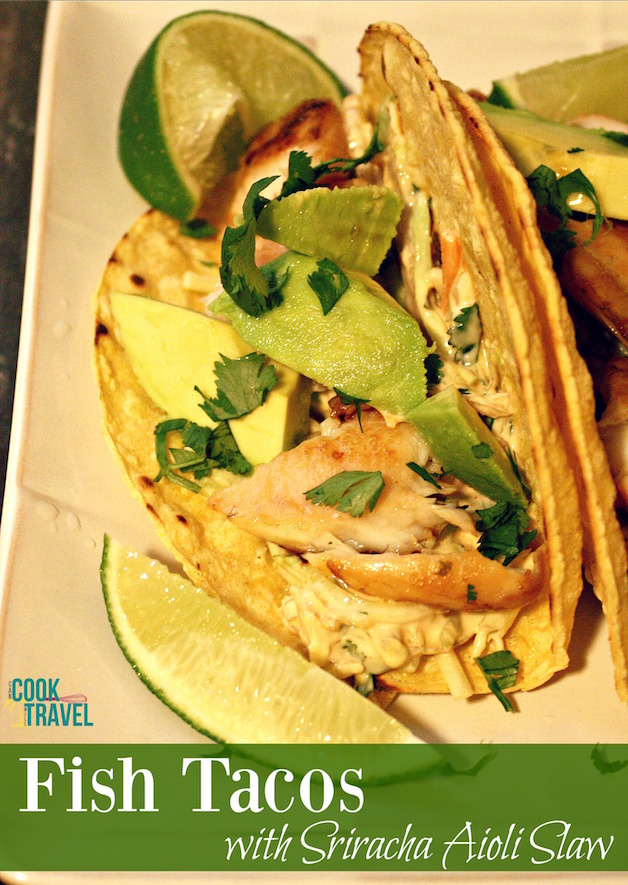 You'll heat up the tortillas to get a slight char on them in a hot skillet, and then grill the fish, which takes 5 minutes or less. Pop a (healthy) layer of slaw in the tortilla and top with chunks of fish and avocados. Then some lime juice to round it off. You can also top with sour cream, but I skipped that part just to not waste calories, and it really didn't need it. But I'm sure it'd be delicious . . . cuz it's sour cream and all.
So yep, there ya go! Fish Tacos with Sriracha Aioli Slaw is about to make your next meal a little less ordinary and a whole lot more flavorful. Be sure to click that link for the recipe and step by step instructions. It's definitely worth making! Happy taco making!
A look back:
One year ago: Lemon Spaghetti (or Linguine in this Case) Is a Family Favorite!
Two years ago: Spicy Basil Chicken – Tell Me More!
Three years ago: Pasta + A Fried Egg = Lemon Parmesan Angel Hair Deliciousness
Four years: Blueberry Lemon Bundt Cake = One Stress Free Girl!
Five years ago: Learning to Love Salad – Part 4: Chicken and Couscous Salad
0