Last week I was in California for a work trip, and I was lucky enough to get to make the trek to Napa for this particular adventure. Hey, if you're going to be traveling for work, you might as well be doing it in Napa! And this Casual Cooking cookbook suddenly became the perfect cookbook to feature in this month's Cookbook Love series.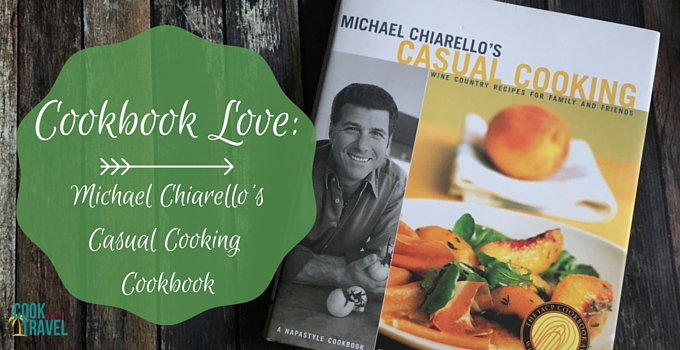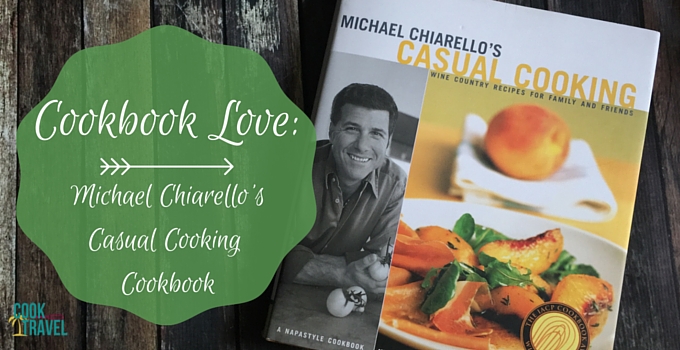 We were on the move a lot in and around Napa (literally), so we didn't get to do a ton of Napa-esque stuff. But one thing we did do was journey to Yountville, California and dine at Michael Chiarello's Bottega restaurant. So naturally since I had a few of his cookbooks, it seemed like an ideal time to dig into one myself and share what I found.
Why Michael Chiarello?
I love his style of cooking. I'm a huge fan of Italian food, and he definitely adds a California twist to his dishes.
I've been watching Michael for years on the Food Network as well as Top Chef Masters, and he's a bit of an icon in his field.
It's easy to relate to this chef's love for food. Just like me, he realizes what a huge impact cooking and food has in our lives. Some of my favorite moments with friends and family have been over cooking and bonding over great food, and Michael celebrates that with every dish he cooks up.
Having just enjoyed a meal at Bottega, I can attest that the flavors in his food are divine! And he has a cookbook called Bottega as well that I'm sure is worth checking out.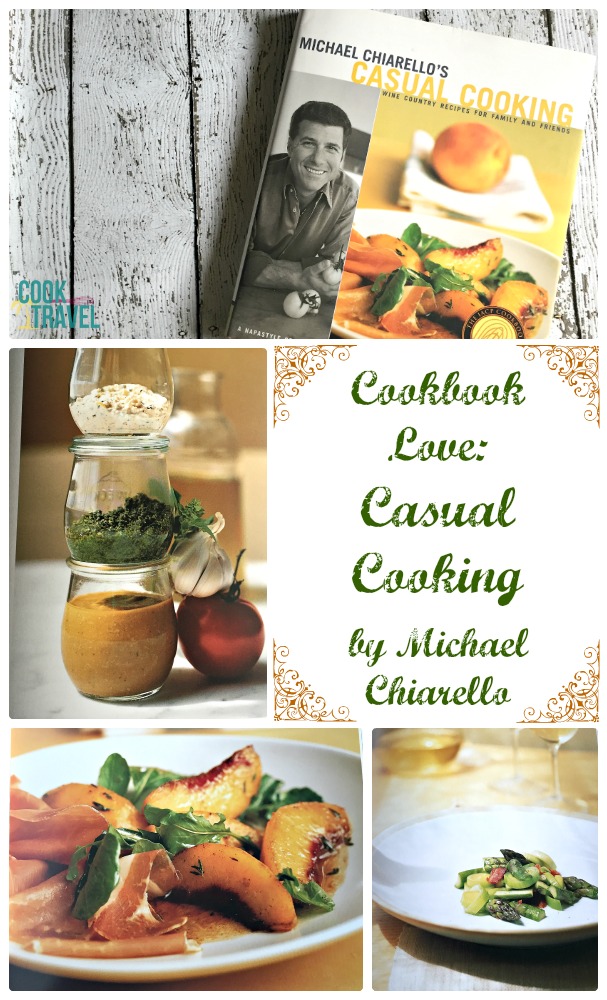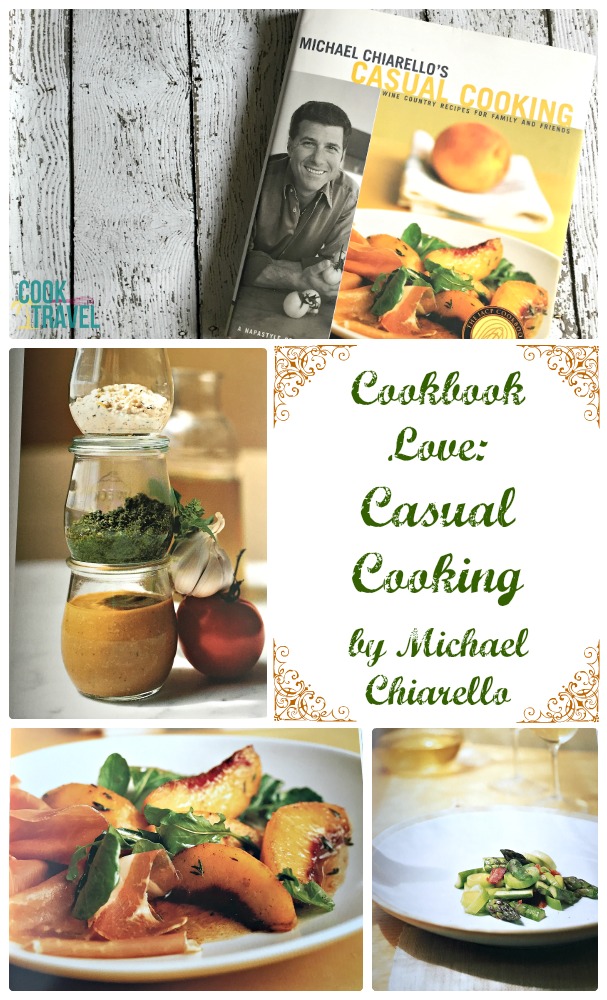 Casual Cooking Organization
It's always important to know what to expect when you get a cookbook, and this one is pretty standard and packed with fabulous content. It opens with an introduction. I'm a big proponent of reading a cookbook's intro before purchasing and certainly before diving into the recipes. Understanding where the author's inspiration comes from and what their goals of the cookbook are helps you to get a better idea of how the recipes will turn out. And this book is all about enjoying food and creating memories at the table with your friends and family.
The next section is probably my favorite part of the Casual Cooking cookbook. Michael is all about the pantry and devotes a good segment of this book to setting up a pantry that will set you up for culinary success. So he tells you what his favorite food is to keep on hand that he purchases and then also some easy but useful recipes that you should make and keep on hand. This includes everything from seasoning mixes to infused oils to rubs/coatings to flavored butters. I can see how everything in this section would be insanely useful and add great quality flavors to dishes.
The remaining sections of the cookbook are packed full of recipes complete with gorgeous photos, which I'm a huge lover of. After all, we eat with our eyes first. You'll find segments for Appetizers, Soups & Salads, and Sweet Things, but the rest of the chapters are more ingredient driven focusing on eggs, sandwiches, pasta, rice and grains, meats and veggies. If you're in the mood for a certain type of food, this book's organization makes finding something to cook a breeze!
Plus like all proper cookbooks, Casual Cooking includes a handy dandy index. There's also a short area on resources for finding some of the good quality ingredients that Michael uses. And at the end is a chart showing you various equivalents that are useful when cooking.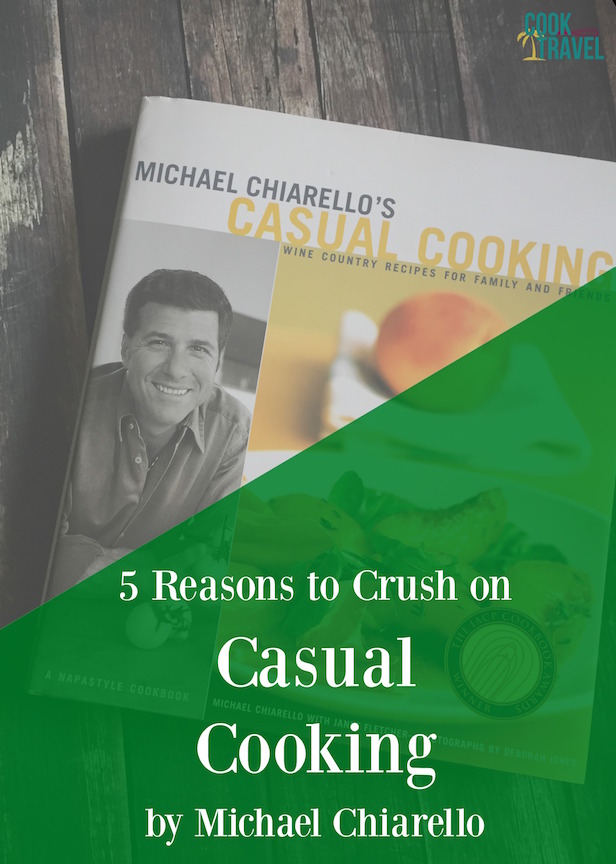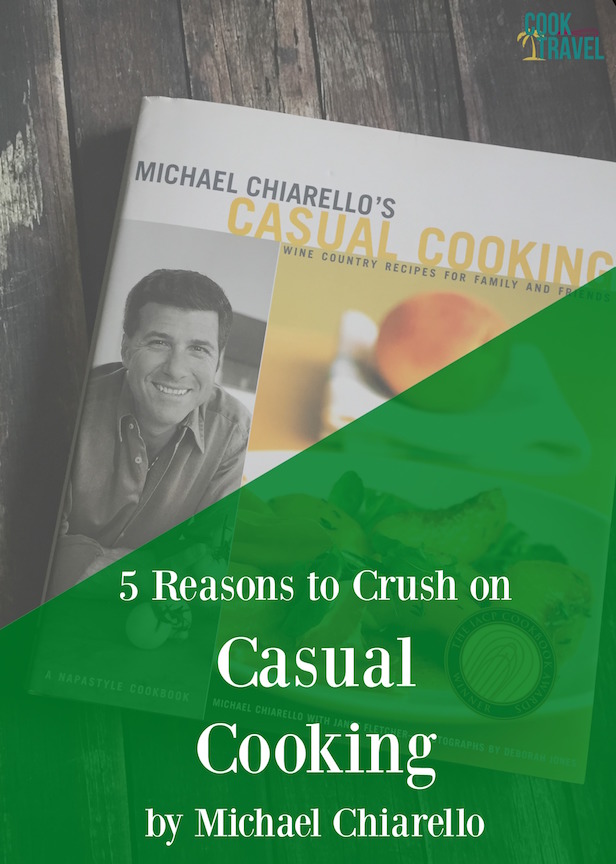 What's to Love About the Casual Cooking Cookbook?
Michael Chiarello has tons of cookbooks that he has put out over the years, but I was drawn to this one for its focus of bringing wine country inspired recipes to your table to create wonderful moments with friends and family. Because THAT is what life is truly about: Good food and good company!
He shares so many great, basic recipes for making your own compound butters, simple marinaras, infused oils, ricotta cheese. It makes tackling things you could buy easy to make at home, so that they are better for you and you can control the quality of what you eat.
The photographs are lovely and makes it so much easier to see how a recipe you're reading should turn out. I like to know what to expect and be inspired when it comes to plating the food.
I love that Chef Michael highlights using veggies that are in season and maximizing those flavors. So there's a lot of variety throughout the cookbook and really helps to highlight the food rather than masking it with lots of flavors.
Many of the recipes have a section at the bottom called "Michael's Notes" that gives you more insight into the recipe and includes tips that the chef does for that specific recipe. So it helps you with cooking tips and gives you bit more insight into why you cook something a certain way or in a specific order. It's almost like a mini cooking lesson right there.
Crave-worthy Casual Cooking Recipes:
Spaghettini Aglio Ed Olio – I love how simple this recipe is to highlight a love for pasta.
Tomato Steak with Baked Goat Cheese and Herb Salad – Not only does this recipe highlight goat cheese (yum!), but it also makes tomatoes the star of the dish. Encouraging you to enjoy a simple salad that focuses on fresh, in season tomatoes.
Butternut Squash and Apple Soup – This combination is such an intriguing one that reminds me of an applesauce I made years ago, and I think it would be stellar in soup form.
Warm Peach and Prosciutto Salad  – I literally cannot WAIT for fresh peaches this summer to make this salad. It sounds divine!
Panzanella for each season – I've always wanted to try my hand at panzanella and Chef Michael gives you 4 recipes (1 for each season) so that you can make it year round and highlight the ingredients that are in season. Love that!
Soft Polenta with Greens and Basil Oil – Simple ingredients make this dish come together and sound like a big hug in the form of comfort food.
Oh wow are there so many more recipes I could have listed as I flipped through Casual Cooking. So if you're looking for dishes that remind you of good, home cooked meals with seriously yummy flavor and highlight the food around you . . . well, then you gotta grab this cookbook! And this cookbook isn't fussy and complicated. It's showing you how to use good quality ingredients and create a fabulous dining experience.
And if you're ever in Napa and want a great culinary experience, check out Bottega. The kale salad is divine, the wine pairings are fabulous, the duck is yummy, and the ricotta gnocchi has definitely inspired me to cook up some gnocchi again!
Tell me what you think of this wine country inspired cookbook! Have you been following Michael Chiarello over the years on TV like me? I definitely recommend you checking out this Casual Cravings cookbook if you're a fan of his. I don't think it'll disappoint!
Stay inspired & may your cookbook collection grow!
~Kelli
0