The temperatures are heating up here in the Midwest, and I've definitely got Summer on my brain right now. I'm betting you do too. And the warm weather always makes me want to eat healthy, so I knew it was time for a new salad post. This Pesto Quinoa Salad is not only delicious but really healthy.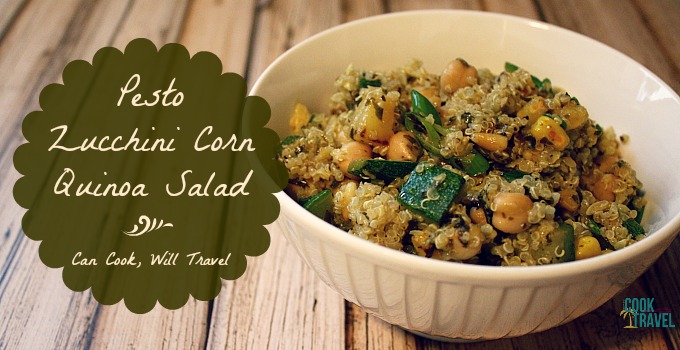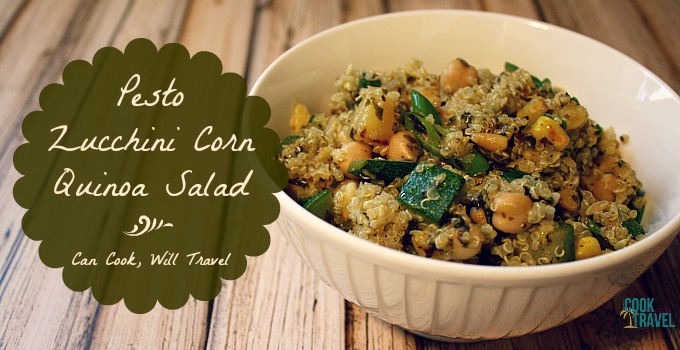 It's a rare occasion when a new salad crosses my path that I begin to crave, and this one from the site Closet Cooking has quickly been added to that short list. I love when I can find a dish that is packed with flavor and veggies, so I feel totally guilt-free eating it!
Here's how it all works. You'll cook your quinoa (either in water or chicken broth), and while that cooks away, the zucchini and corn will get sautéed with a tablespoon of olive oil and garlic until it's tender and browned for added flavor.
Then when both of those are done cooking, grab a large bowl (because this makes a ton!) and toss the quinoa, zucchini and corn, chickpeas, green onions, pesto and pine nuts. Then serve it right away. Seriously, does it get any easier than that?! And loaded with veggies and quinoa, which is really good for you.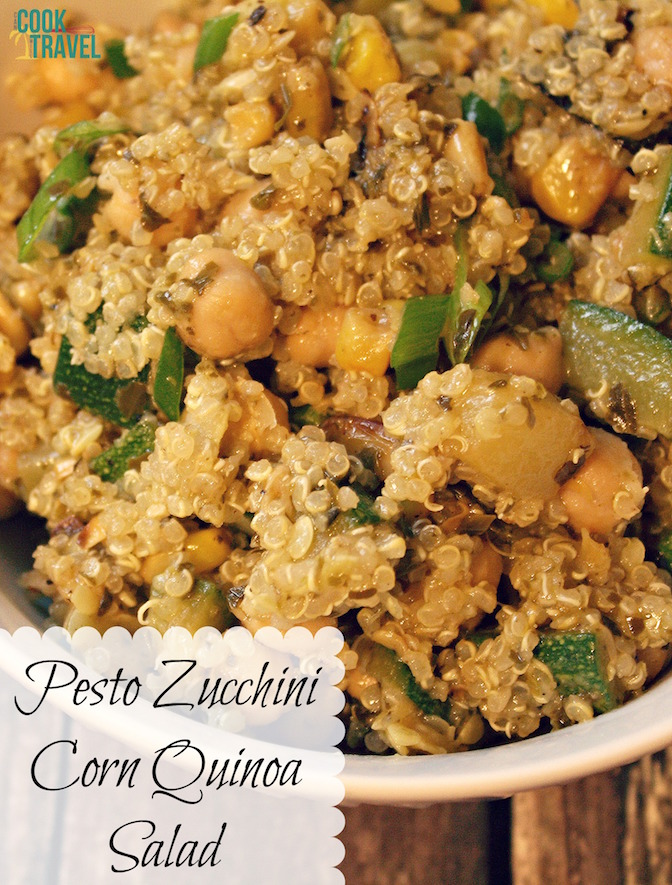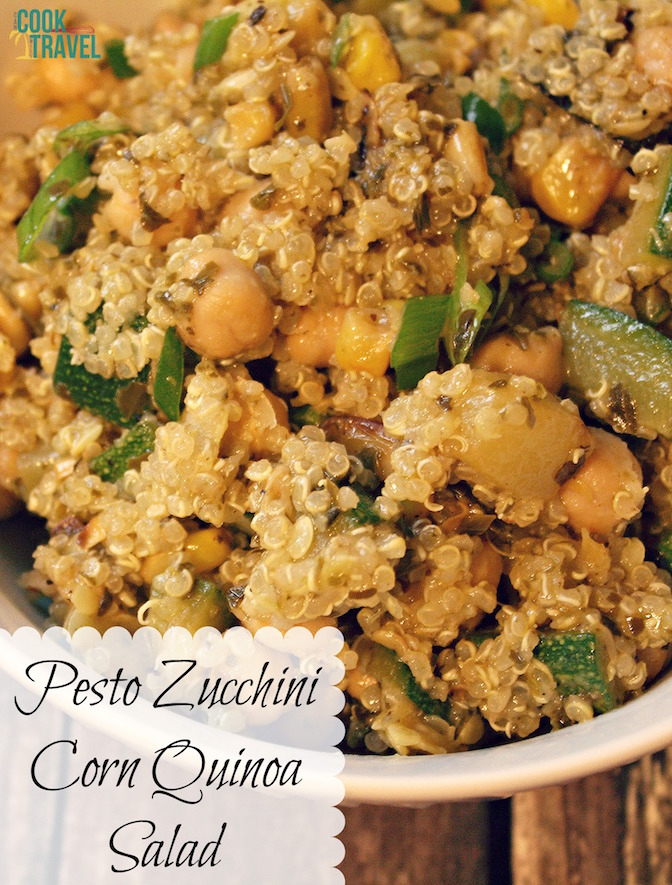 The Pesto Quinoa Salad reheats well or is also great cold. For added tang and creaminess, add some crumbled goat cheese to the salad. You could use Feta too. I love topping this salad with one of these cheese for a slightly salty, tangy flavor.
The zucchini and corn add great texture but also a bit of nuttiness from the browned bits. Then the crunch of the chick peas, the mild onion flavor, crunchy toasted pine nuts, and lemon and basil, make this salad one you won't mind having a lot leftover. Eat it as a whole meal, or serve it with some grilled chicken or fish, and you're feeling satisfied and happy!
So 20 salad recipes later on this blog, and I'm definitely what I'd consider more of a salad fan! In fact, I just craved salad for dinner last night . . . go me!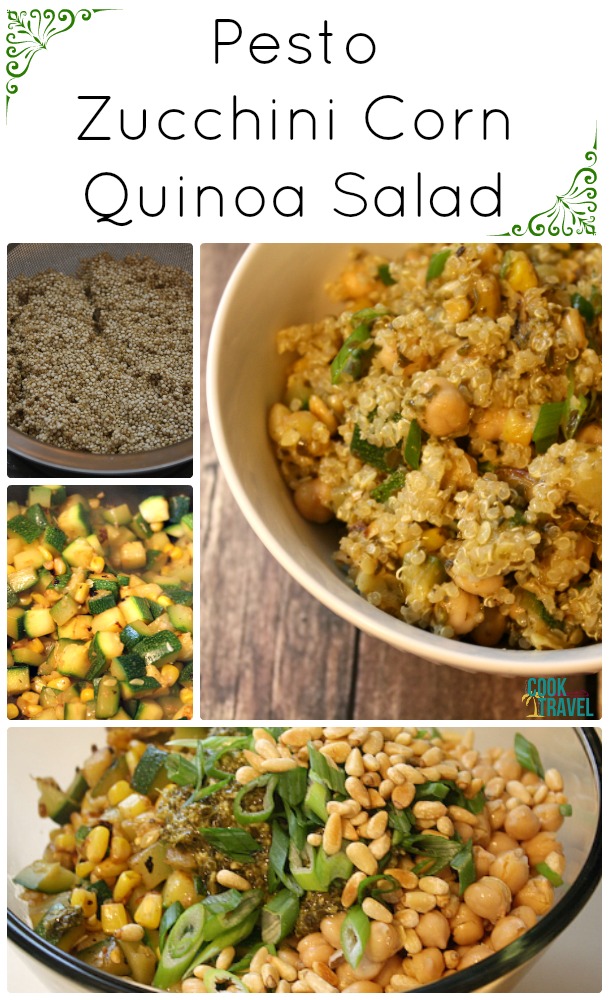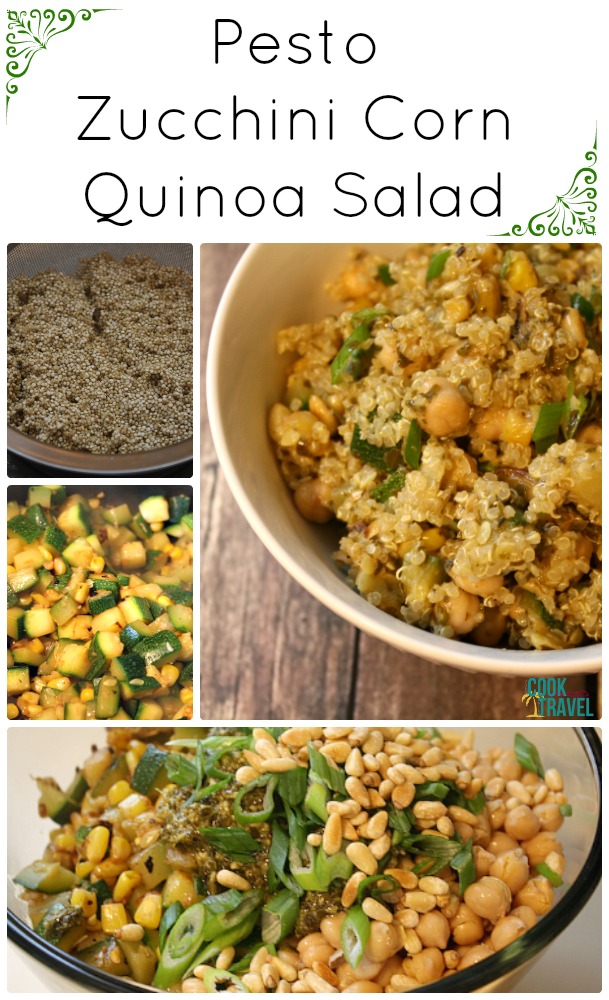 With fresh zucchini and corn being abundant now, it's the perfect time to whip up this Pesto Quinoa Salad recipe. It was a total cinch to make, too. Click that link for the recipe and step by step instructions. Happy healthy eating!!
A look back:
One year ago: Whole Wheat Chocolate Chip Pancakes Make Breakfast a Whole Lot Better!
Two years ago: Feeling Like Popeye: Spinach with Feta and Pine Nuts
Three years ago: Blueberry Scones – Don't Mind if I Do!
Four years ago: Crab Rangoon for Everyone!
Five years ago: Learning to Love Salads – Part 3: Basil Chicken Salad
0